Anna Savino is the epitome of Piemonte panache. Moving to Piemonte (Piedmont) in 2004 from Napa Valley, this California girl grew up with a passion for wine.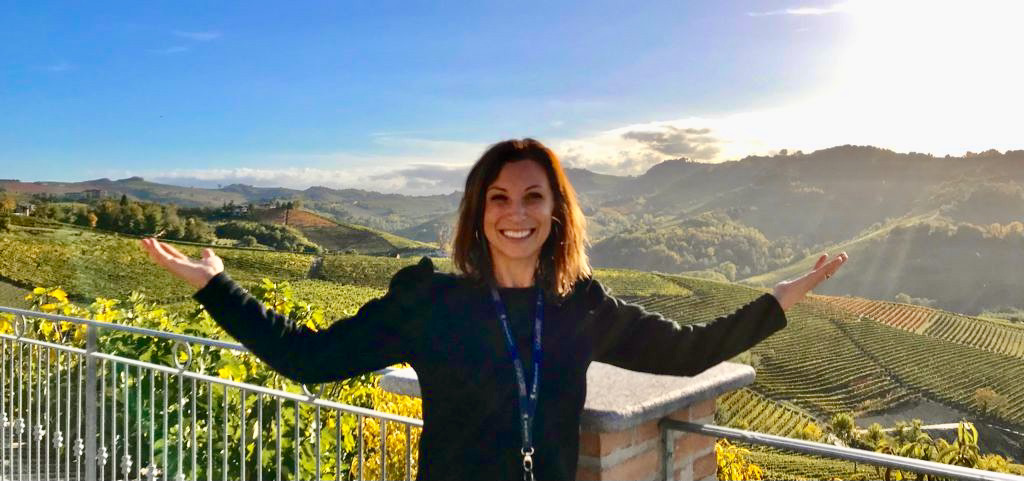 Like harvest time in a Barolo vineyard, Anna's days are busy. Full of lovely people and hard work. Relationships built over years. Exploring the region's wineries and really getting to know them while taking tour groups.
The result is beautiful friendships. Mutual respect sharing the simple philosophy and earth connection of the winegrowers interconnectedness with the natural world their grapes thrive in.
Immersing yourself not just in wine but food, local delicacies, traditions and support make Piedmonte the perfect life.
What brought you to Piedmonte?
"Destiny brought me to Piedmonte." After three months teaching English in Saluzzo in the Alps during winter, it was depressing. One student, an 85-year-old man with a bowtie and cane was sweet but I felt like I was in Switzerland. By spring it was time to leave.
As soon as Anna hit Barolo wine country it was a 'wow' moment. Reconnecting to her Napa roots, being around vineyards was so comforting it felt like home.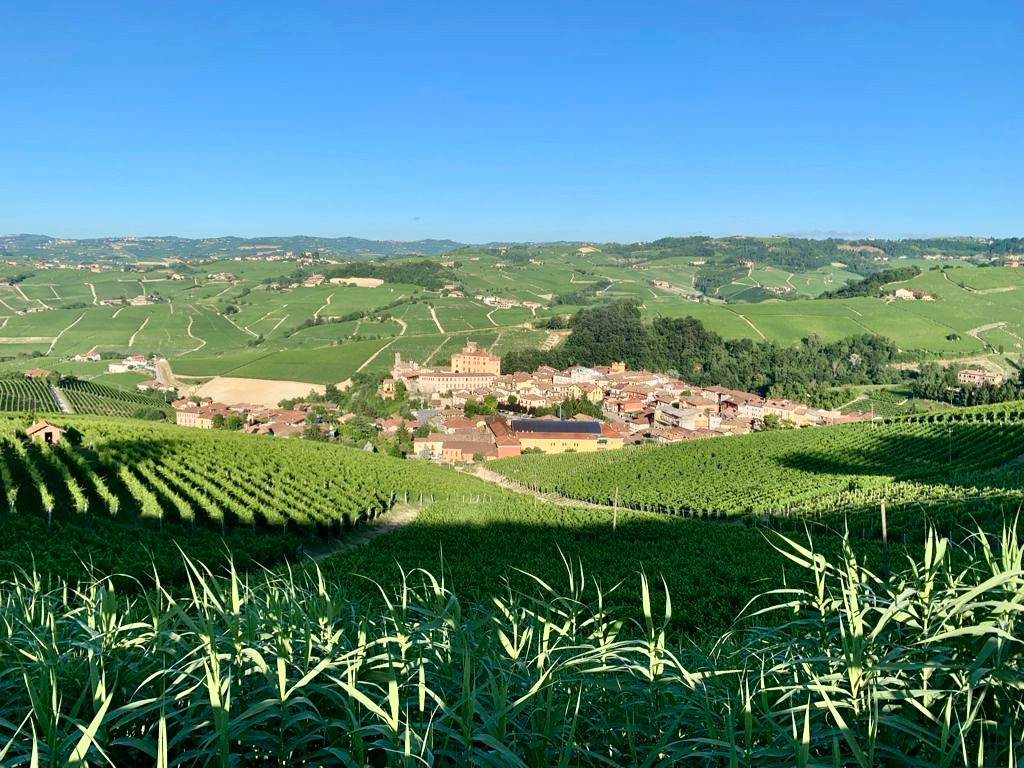 Where is Piemonte?
Located in Italy's northwest it is close to the Alps. Right next to Lombardy on the Italian side. While sharing a border with France on the other, it is a beautiful area.
Full of rich food and famous pairings. Wine and cheese, truffles and perfectly hand made pasta and of course some of the best hazelnuts in the world.
The wines of Piedmont are world-famous. Full of high-quality DOC and DOCG wines, just mention Barolo to any wine lover and watch their eyes light up. It is an iconic wine lovers destination. One covered in every educational wine course worth its weight in grapes.
Being an Italian Wine Correspondent for two years while living in Napa Valley, Anna loves the Piedmonte region. In fact, that is how her wine tour company Italianna Wine Tours got started.
Friends and family all wanted wine tours of the area. Growing organically like one of the vines Anna likes to stop and appreciate, the tour company began to flourish.
Anna says it's because wine just makes you happy and jolly "I've found people are always happy. Wine is connected with food and art. It brings people together".
A Deeper Understanding, a Greater Passion.
Talking with Anna, her words touched me. So I'll let her tell her story…
I fell in love with personal experiences like sitting in a winemaker's kitchen. Or strolling the vineyards with them listening to the rich history.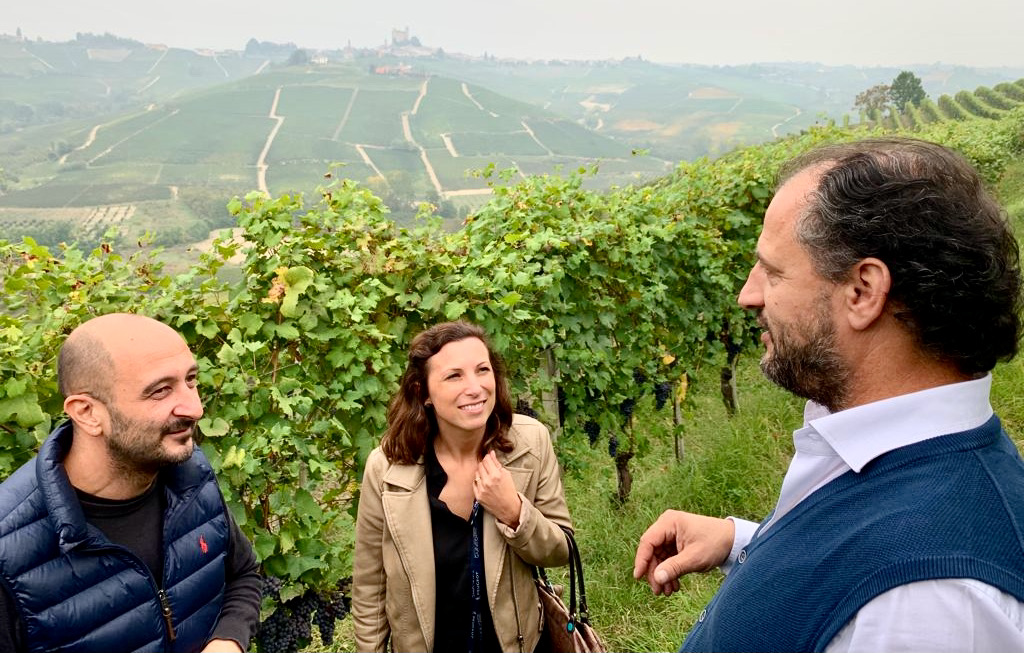 It amazes me how world-class wine is produced but they are still so lovely and humble. Plus, I love that connection to wine, the earth and the people. It's a holistic and deeply connected way to live.

The landscapes are so beautiful. Sometimes I feel like I ask more questions than my clients because the more I learn the more questions I have. My passion grows each time.
"I Wanted to Share My Passion For Wine".
I got into it at the right time before it exploded. Starting Barolo Wine club, allowed me to explore the regions wine more deeply. I am thankful for that.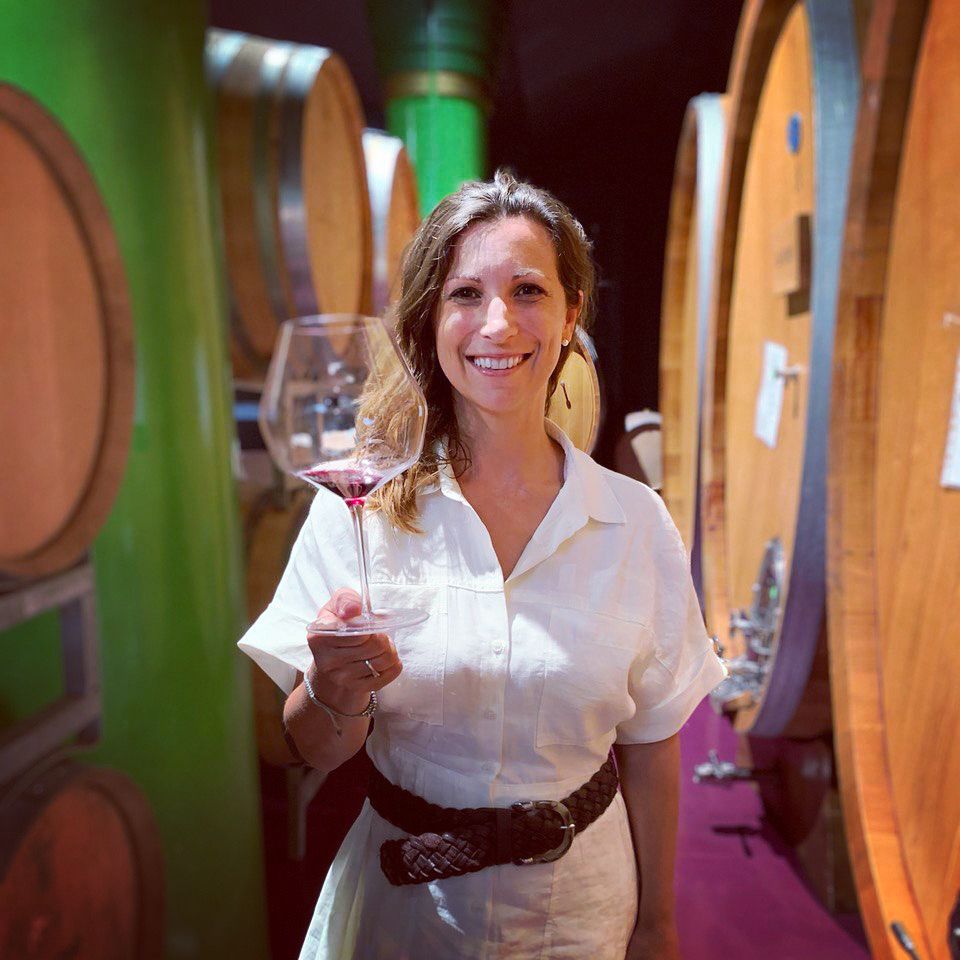 Finding hidden gems. Discovering smaller wineries to offer a great experience.
In my eyes, from the simplest farmers to the top-level producers, they are all perfect.
I love sharing stories. A personal touch. In each wine club selection box, I try to make it special. To go that extra mile. Especially now when people can't travel as easily.
I love to share the story of the winegrower. Most have a history as rich as the Piedmonte soil. It's educating and entertaining to share a family's deep-rooted history. It is a special caring connection. Rooted as deep in the region's towns and communities as the roots of the vines safe in the earth to survive the winter.
I also love that here …
Every Town is Famous
There is beauty everywhere throughout the Piedmont region. Every town is famous for something. We have a tiny town in the flatlands, Cervere, which is famous for its leeks.
Tall, thin and sweet they are made into an art form. There is a 10-course meal based on leeks at their amazing festival.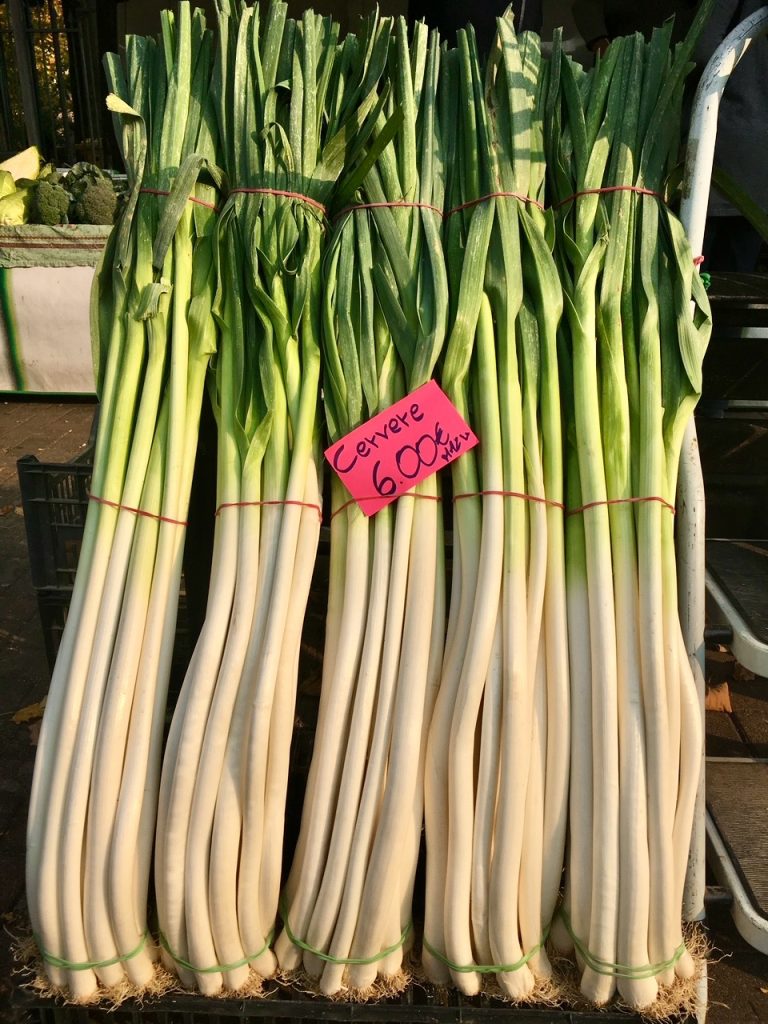 Just like beans are the main star of Centallo, another small town in the Piemonte region.
Walking down the street in my town, Fossano, I'm wrapped warmly as the sweet smell of panettone and bread cooking fills our streets. Like a grandmother's kitchen, it is a warm embrace.
So, what's your favourite wine?
I'm so connected with these wines I'm almost obsessive. But I would have to say Nebbiolo is my favourite variety.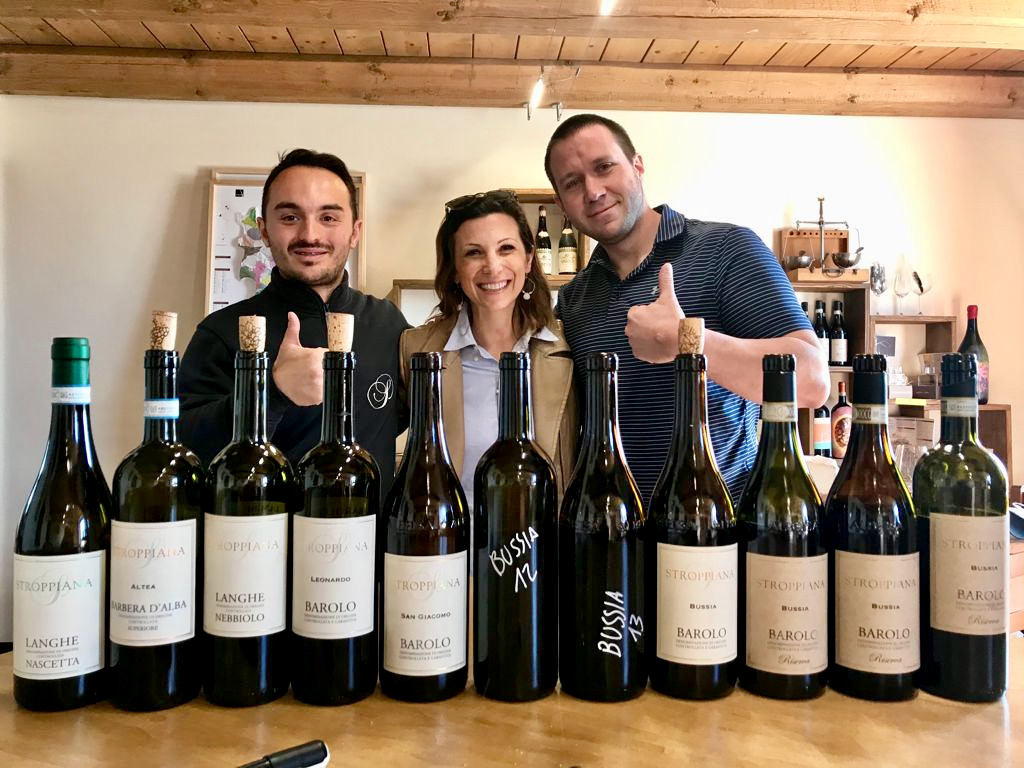 Similar to Pinot Noir, it's a sensitive grape used to make Barolo and Barbaresco. Its many different faces are fascinating and intriguing offering so much variety to wine drinkers within this small area. I find that fascinating.
Starting the wine club was my fun way to introduce people to these amazing lesser-known varieties and wineries. The idea is people will never get bored exploring the regional wine. I bring Piemonte to them.
Truffle Hunting, Cooking & Cheese Tasting
Always with a dog and licenced truffle hunters, this season is fun. It's one of my favourite things. Authentic experiences showcasing an Italian tradition. Sometimes you may have to walk for 40-minutes before you find a truffle. If you find one at all. If not, then it's been a great day out.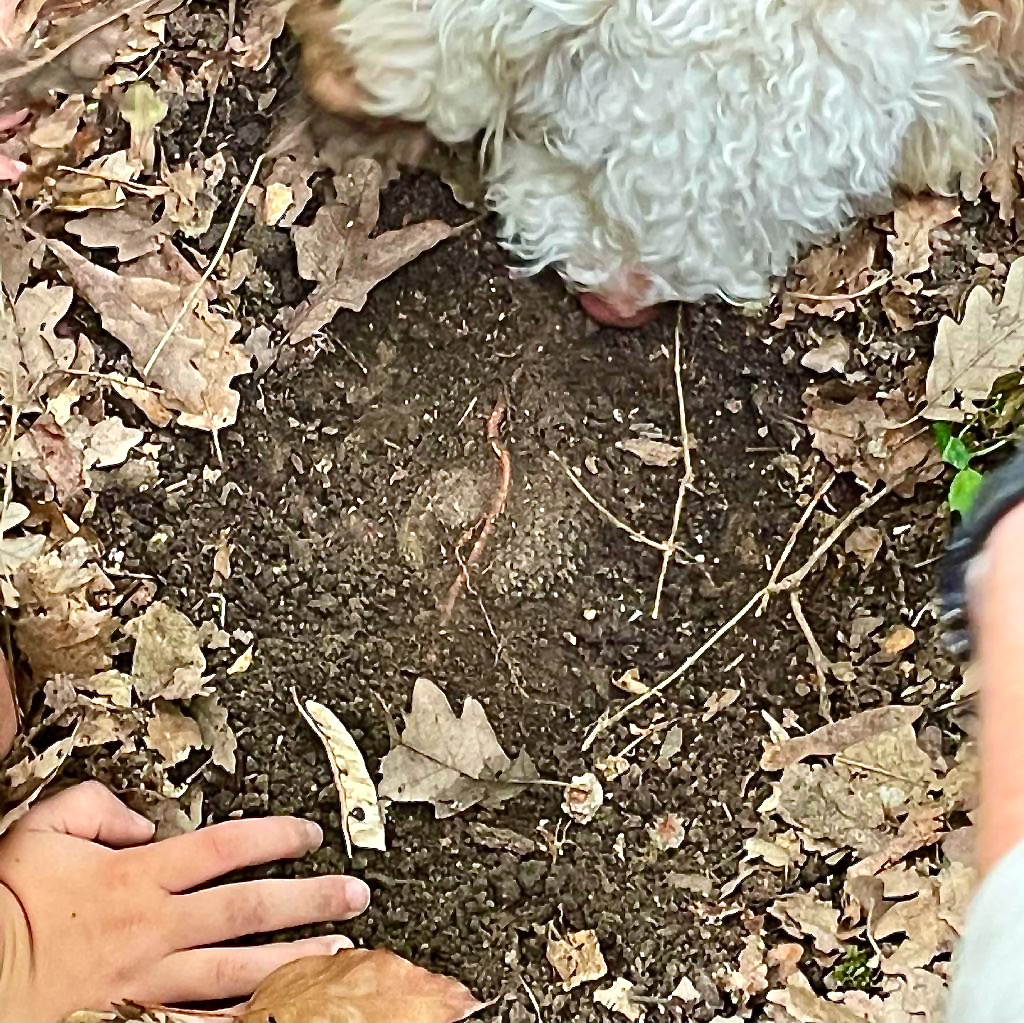 Like wine and cheese, these truffles go hand in hand with our wonderful local pasta.
I also love sharing cooking classes with clients. Our pasta is amazing!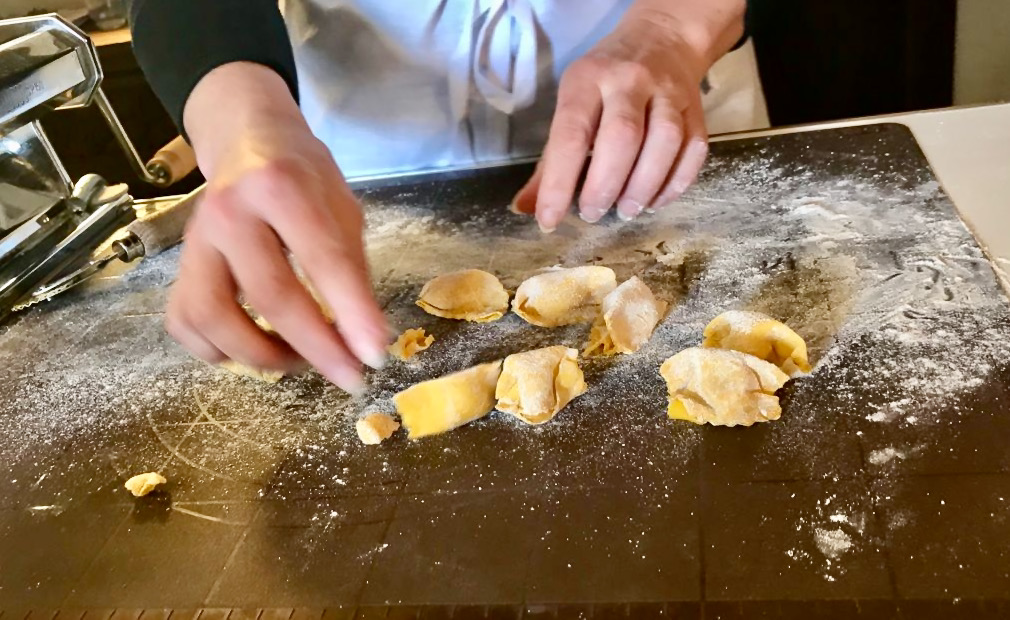 Like in most areas of Italy, local cooking classes are a hit. Our region is famous for pasta making and antipasti. Really orange eggs are perfect for pasta making. And happy healthy chickens in the region produce plenty of them.
And of course, let's not forget the cheese tastings. Cheese tastings go hand in hand with winery tours. I try to include some real decadence. Trying between 7-9 of the regional famous cheeses. From buttery creamy soft cheeses like Tomino through to the stronger pungent Gorgonzola we've got it all.
By now, Anna had me almost drooling on myself so naturally I asked:
What about dessert?
Hazelnuts are very important in the area. They're everywhere. We're lucky to be home to the famous Fererro company. That's right. Nutella and Fererro Rocher!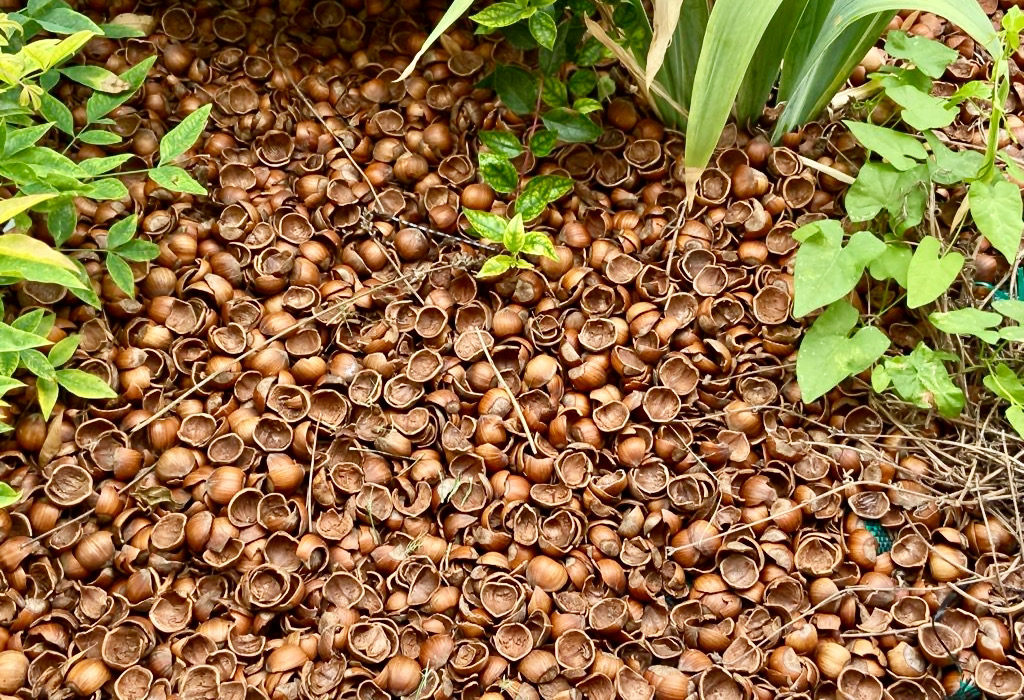 At this point, I could almost hear Anna licking her lips while telling me about the abundance of mouthwatering chocolatey, hazelnutty goodness available.
Making the most of the hazelnuts, Nutella is in a lot of desserts. For those who prefer something a little more savoury, toasted hazelnuts go really well with Barolo wines.
Considered to have the best hazelnuts in the world. Tonda gentile IGP is the special certification these hazelnuts with a higher content of oil have achieved. Only given to the most geographical top-quality products in the world.
Lastly, what's your favourite thing about living in Piemonte?
Although I think of myself as more of a beach girl than a mountains girl, I do love waking up to crisp clear mornings and seeing the outline of the Alps. Especially the comforting silhouette of the tallest peak, Monviso.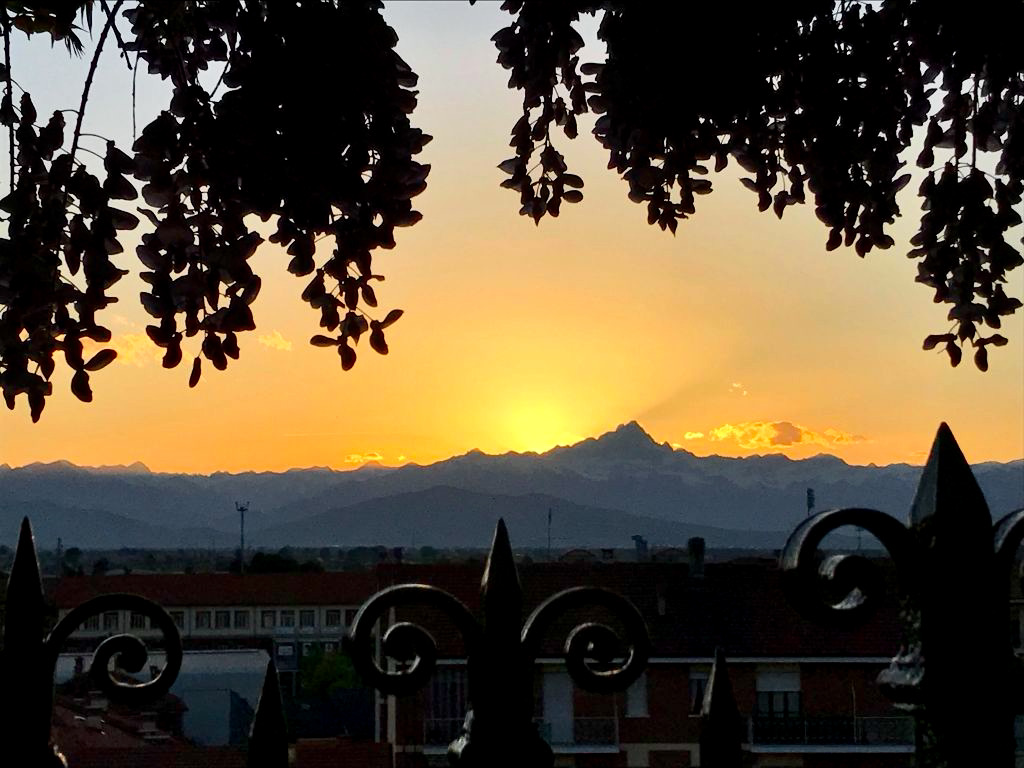 The wine country landscape reminds me of home and the wine of course is the best! We are not far from the French Riviera and the Italian seaside. Plus having the charming city of Torino only an hour away.
---
How to find Anna:
ItaliAnna Food & Wine Tours
Read the TripAdvisor reviews.
Follow ItaliAnna on Instagram.
Barolo Wine Club
---
You may also enjoy reading: