The inauguration of the solo exhibition by POL Polloniato #PIENIARENDERE at Galleria Antonella Villanova took place on April 1st. If visiting Florence, don't miss seeing ceramic sculptures by this esteemed Italian artist before May 20th.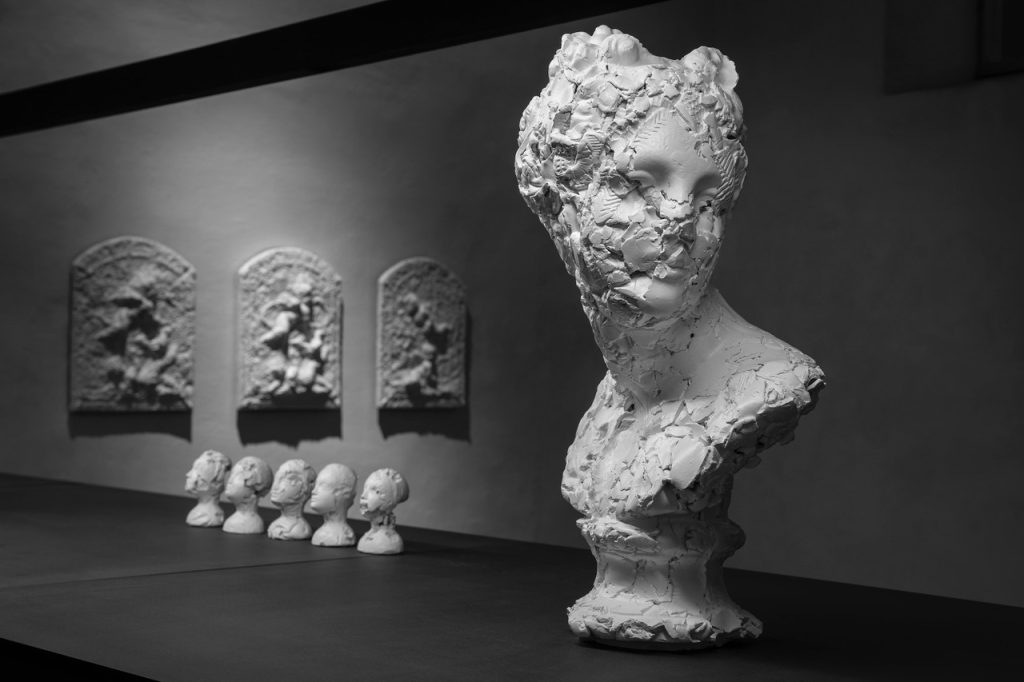 Born in Vicenza
POL Polloniato comes from a family that has worked with ceramics since the 19th century. Raised in Nove, in the province of Vicenza, internationally known as the "city of ceramics," at the start of his career, he initially rejected – as he himself has declared – what seemed to be his "natural destiny," using various media in his artistic work. Polloniato's experimentation with ceramics began in 2008, coinciding with a move to Paris, and later to Brussels. In 2013 he returned to Italy, where he still works.
Rediscovering Old Forms
In the early 2000s, Nove's large factories were in a profound period of crisis. The artist began a process of rediscovering and utilizing old forms revered by tradition and imprinted in his DNA, reinterpreting them in a contemporary key. He replaced the traditional 19th-century landscape scenes depicted on soup tureens and other iconic forms with industrial or metropolitan landscapes. And he has continued along this path, dismantling and recomposing those forms to generate new metaphorical sculptures, eliminating the functions of the objects, overstressed by mass production.
White
And then there is the predominance of white, which the artist uses to bring life back to materials and forms, restoring the fullness of form itself, as in the cycle of sculptures entitled #PIENIARENDERE. Taking a three-dimensional approach, Polloniato tells the story of a place and a community, offering a portrayal of its essence. The exhibition includes some sculptures created for the gallery and others from the solo show "Il bianco senza tempo" held at the Civic Museum of Bassano del Grappa, to mark the bicentennial of the death of Antonio Canova.

A catalogue will the published in conjunction with this solo exhibition, with an essay by Irene Biolchini.
About Galleria Antonella Villanova
Since its founding in Florence in 2008, Galleria Antonella Villanova has been involved in the promotion of internationally-known artists and designers, focusing on contemporary jewelry. In 2020, the gallery moved its head office to Foiano della Chiana in Arezzo. Galleria Antonella Villanova collaborates with important private and public institutions.
We recently visited the gallery at Design Miami in Miami Beach.
ANTONELLA VILLANOVA GALLERY
Via Maggio 19-21/r
50125 Florence
Republic Street 39
52045 Foiano della Chiana (AR) | www.antonellavillanova.it