In September, I went to Florence for a week. As well as being a beautiful city rich in culture, history and art, the food was one of the highlights, and I recommend a trip to Florence for the food alone. Here are my recommendations of where you should eat in Florence.
Why Tuscan Bread is Saltless
Florentine cuisine is just as rich as the city itself. Although the cuisine features many meat dishes, there is also an emphasis on fresh, seasonal vegetables and bread-based dishes. One thing which I find interesting, though, is that Florentine bread is salt-less. Apparently, this was due to the historic rivalry between Florence and Pisa, and a trade dispute where the Pisan army blocked the River Arno to prevent the Florentines from importing salt. Florentine bakers continued to bake bread, just without the salt.
Whilst the salt-less bread is quite bland on its own, it is featured in many typical Florentine dishes: panzanella – a salad made using stale bread, fresh tomatoes, basil, red wine vinegar and lots of good quality extra virgin olive oil; pappa al pomodoro – a thick tomato soup, which, again, uses stale bread for the texture; and ribollita – another classic Tuscan dish using cavolo nero, white beans, vegetables, and stale bread. Florentine bread also makes excellent crostini.
Crostini
We had daily crostini and vino at Casa del Vino, a small and unassuming wine bar next to the Mercato Centrale at Via dell'Ariento 16r. The crostini were only €1 each, but the quality and flavours were perfection. The crostini ai fegatini (chicken liver pate) was the best chicken liver pate I have ever had – the texture was quite coarse and rustic, and the flavour was rich with anchovies and capers. The acciughe e burro (anchovy and butter) was another favourite – so simple, but so flavoursome!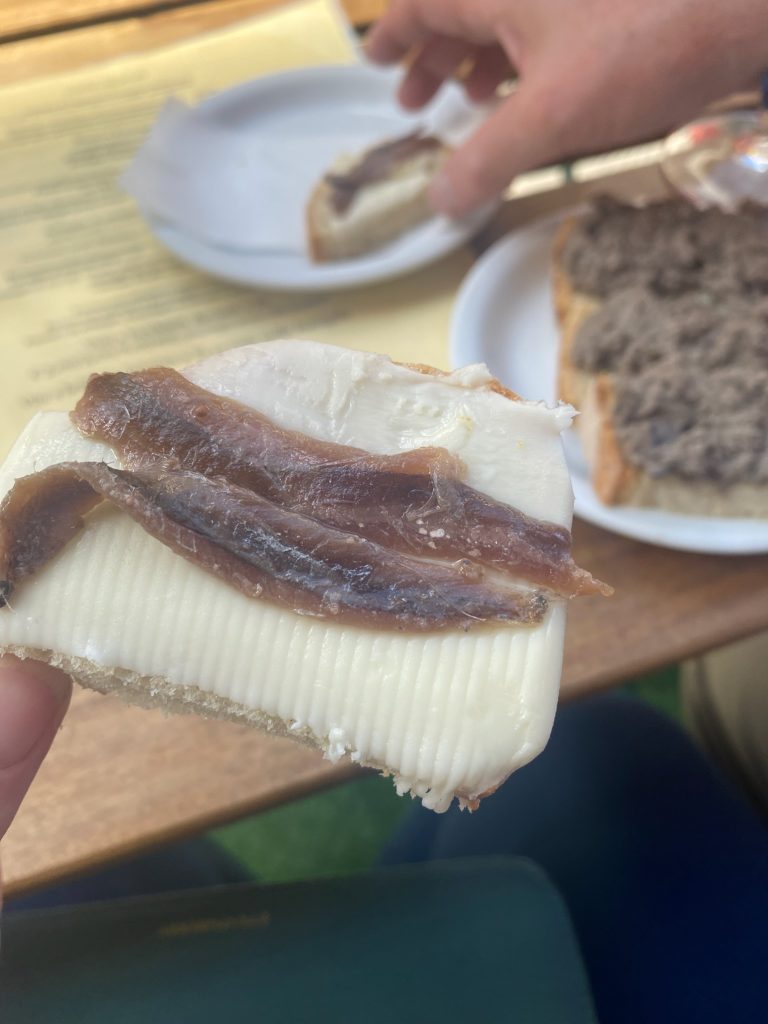 Panini
The best panino I had was at Il Cernacchino – it was filled with Tuscan fennel salami, pecorino and fig mostarda. A great combination! Il Cernaccino was recommended by Emiko Davies in her article The 11 best panini in Florence that aren't *that* panino | Emiko Davies
In my opinion, the panini at Il Cernacchino were way better than standing in an hour-long queue at the TikTok famous All'Antico Vinaio (which has taken over the entire street and even has security to control the queues). Il Cernacchino has some delicious, authentic and typical Florentine flavour combinations, including peposo (beef stew with black pepper and wine) and lampredotto (tripe with salsa verde). It is very centrally located at Via della Condotta – perfect during a day of exploring or after visiting some of the nearby art galleries.
Trattorie/Osterie
Osteria del Cinghiale Bianco features in Stanley Tucci's "Searching for Italy". Cinghiale Bianco is located on the ground floor of a thirteenth century tower in Borgo San Jacopo, described as one of the quaintest streets of medieval Florence, among art galleries, antique shops and boutiques. We had crostini to start (of course) and I then had the pappardelle with wild boar ragù – it was absolutely delicious; the sauce was flavoured with black olives which added a real depth to the rich flavour of the wild boar. We then had cantuccini biscuits with Vin Santo – a typical Florentine way to end the meal.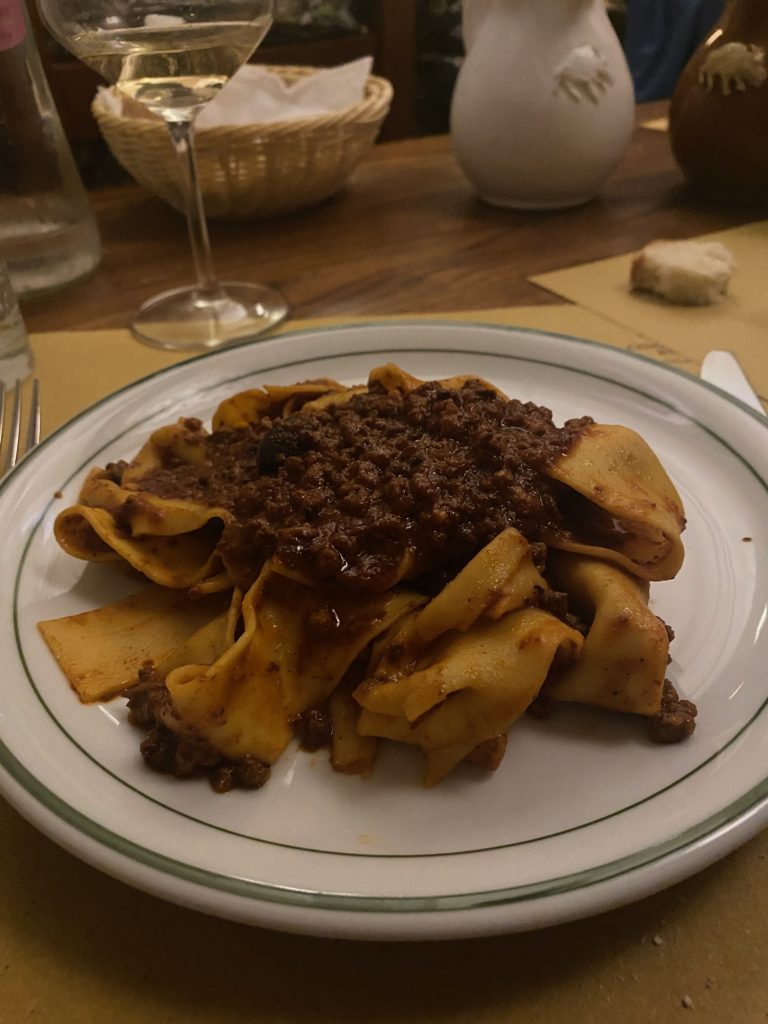 Il Santo Bevitore (located on Via di Santo Spirito) was another highlight. Listed in the Michelin guide, Il Santo Bevitore serves typical Tuscan flavours in a more refined and elegant way. I had the wild boar ravioli with parmesan cream, which was a lovely twist on the classic wild boar ragù.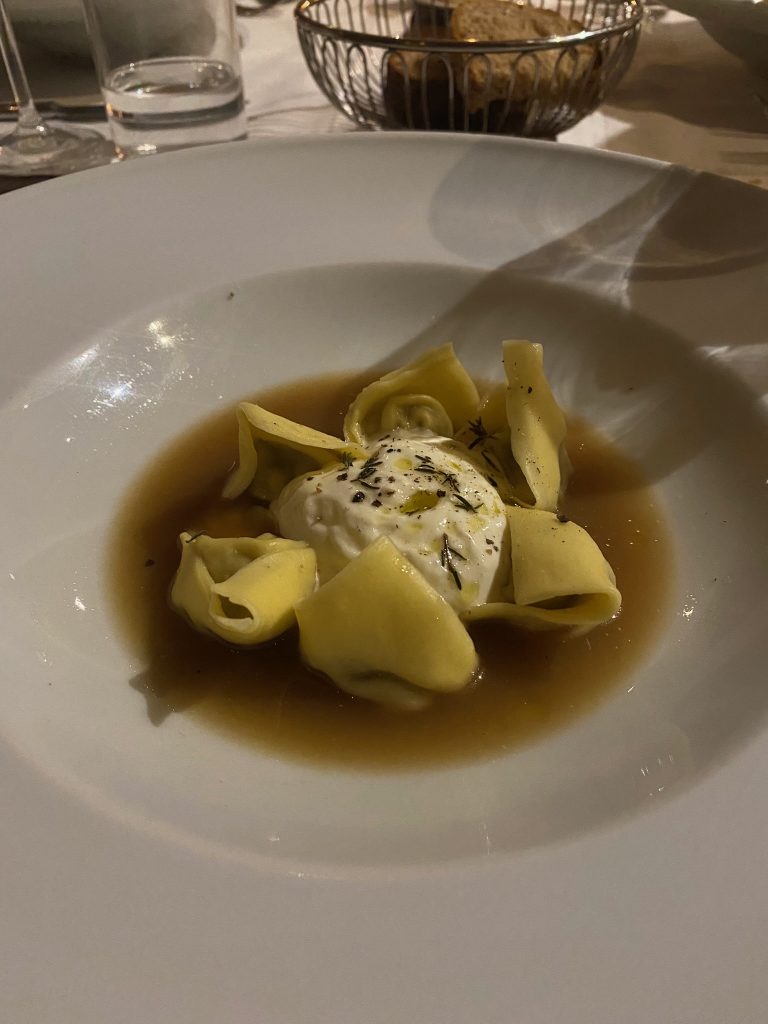 Bistecca alla Fiorentina
If you go to Florence, it goes without saying that you need to try a bistecca alla fiorentina – a t-bone steak, which is usually at least 1kg. We ordered a bistecca to share at Trattoria 4 Leoni in Piazza della Passera. It was the perfect balance of being smoky and crisp on the outside (it is cooked on the grill) but melted in the mouth. The waiter cut it at the table, which made it a lot less daunting to tackle. We had it simply with Tuscan white beans, which was a nice combination.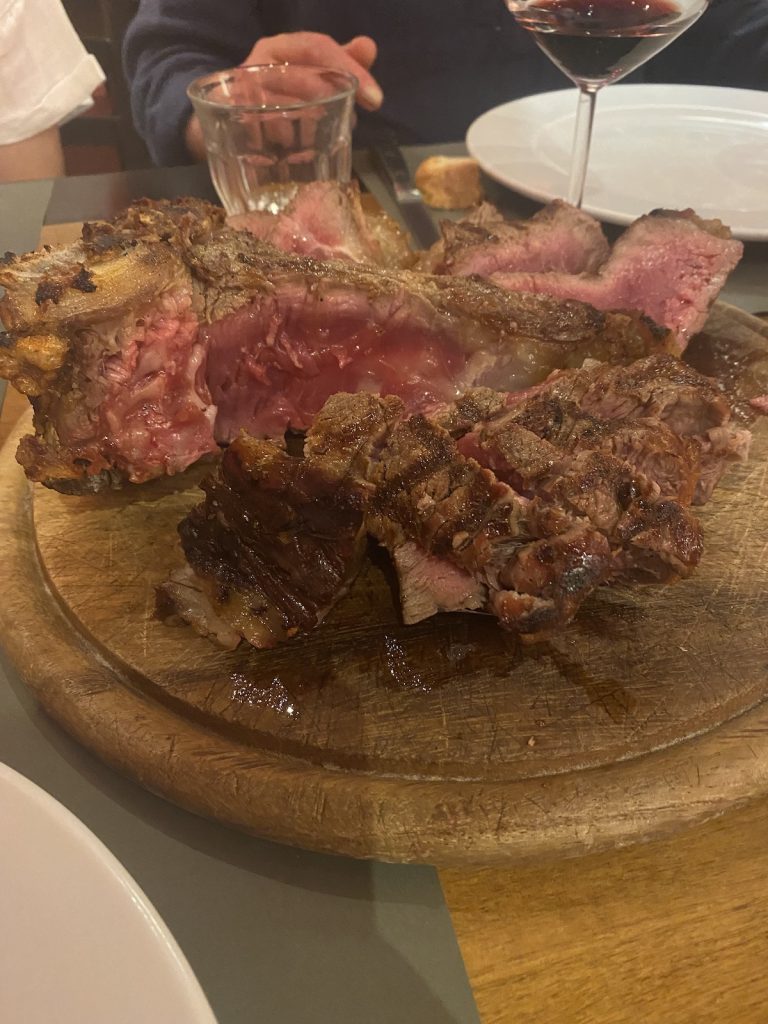 Il Mercato Centrale
I also have to mention Il Mercato Centrale – the central food marked in Florence. It has a number of food stalls upstairs, which use ingredients from the stalls below to make their dishes. We had tagliolini al tartufo (truffle pasta) from one of the stalls and I would highly recommend trying it, or some of the other food stalls at Il Mercato Centrale – there is a great variety, to the extent that it is difficult to choose where to go! One of the best things about visiting Florence in September was the abundance of truffles. It is the best time of year to go truffle hunting in Tuscany – something that is on my list for a future trip.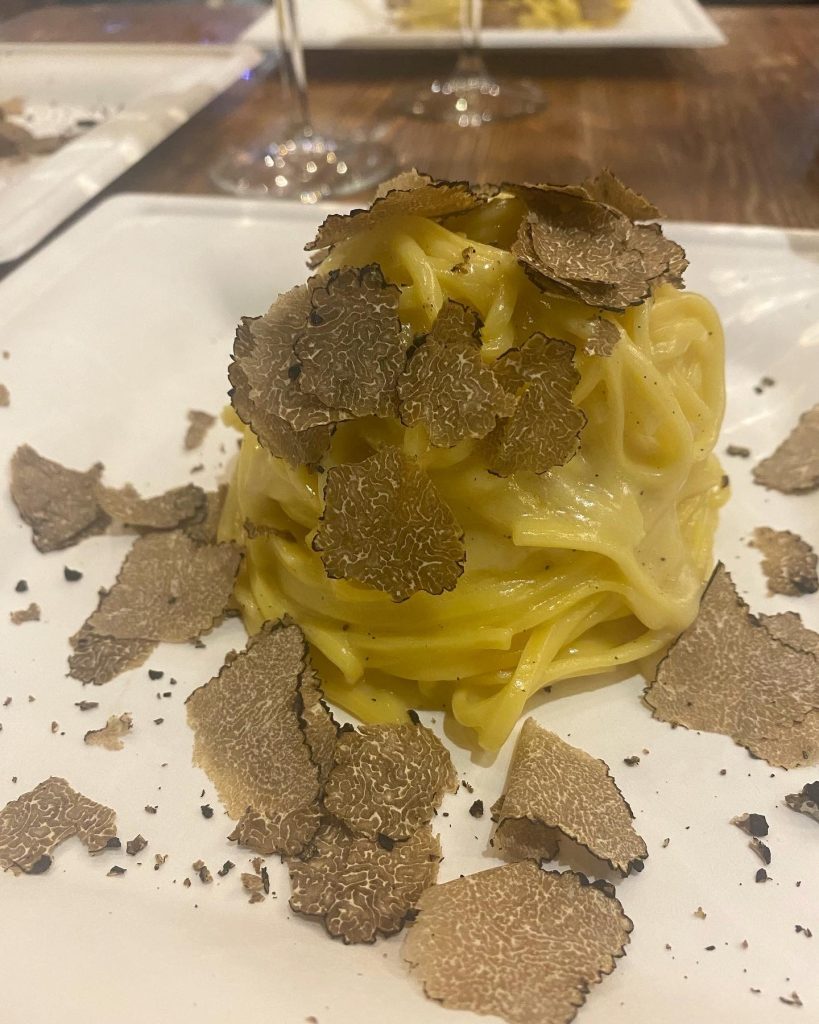 Dolci
I would highly recommend visiting Caffè Rivoire in Piazza della Signoria for a hot chocolate. It's a great way to take in the atmosphere and views of the busy piazza, whilst avoiding actually being in the crowds.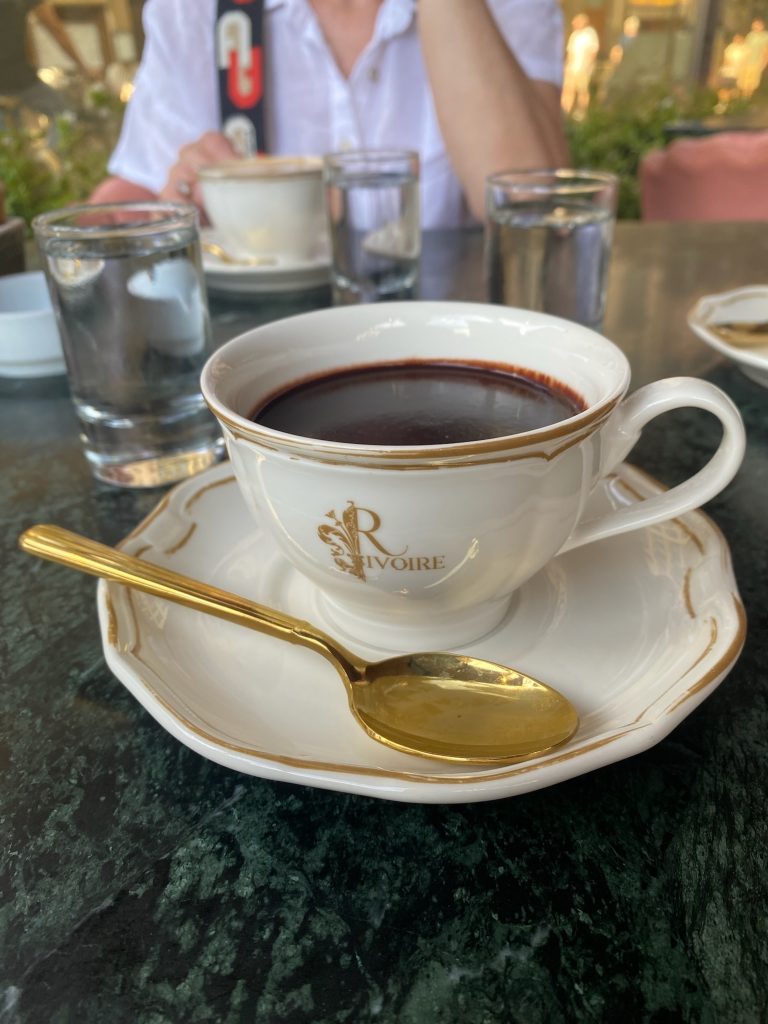 We were staying in the Oltrarno quarter (the 'other side of the river') and discovered Sbrino, an artisanal gelateria on Via De' Serragli, with a small number of seasonal flavours. My favourite combination was the pear and dark chocolate.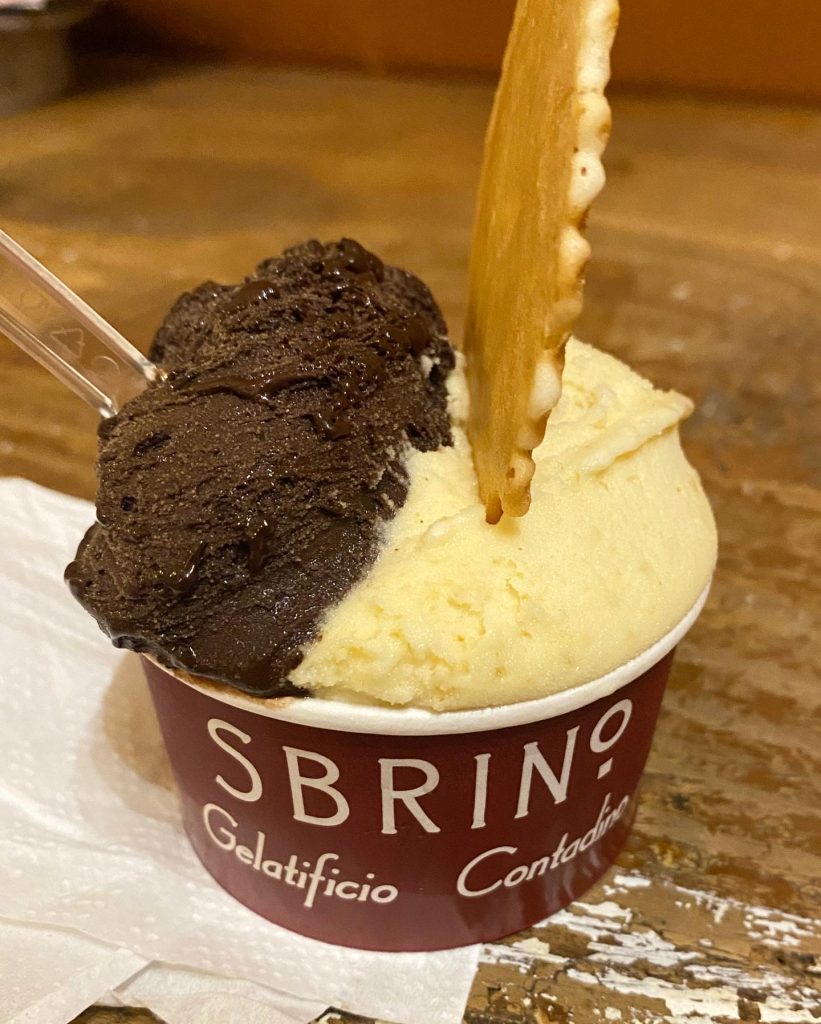 Where is on my list for my next trip to Florence?
Without a doubt, I will be making a reservation at Trattoria Sostanza on my next trip to Florence. My parents had visited here in the 90s and it seems that not much has changed at this Florentine institution, located on Via del Porcellana. Recommended by Russell Norman, Emiko Davies, Georgette Jupe from the blog 'Girl in Florence', and lots of other foodies and critics, Trattoria Sostanza's most famous dish is the chicken in butter sauce. The dishes are simple, authentic and very Florentine. But don't make my mistake, and make sure to book in advance if you would like to try here.
All photos courtesy of Natalia Bell @buonappetitotutti