La dolce vita, bella figura, dolce far niente… There are so many idiomatic expressions that many of us know and use, even if we don't speak Italian. True to our magazine's name, so many of us "live in Italy", literally and figuratively. Many of our fashion and design choices are influenced by Italian icons and movements. It seems like everything Italian-made is breathtakingly beautiful, luxurious, and infused with history alongside contemporary (and often, radical) thought. Italian galleries are always present at Design Miami/. However, with Maria Cristina Didero now at the helm as Curatorial Director, the influence of Italian Design was prominent. The fair's 18th edition was held from November 30 – December 4 in Miami Beach.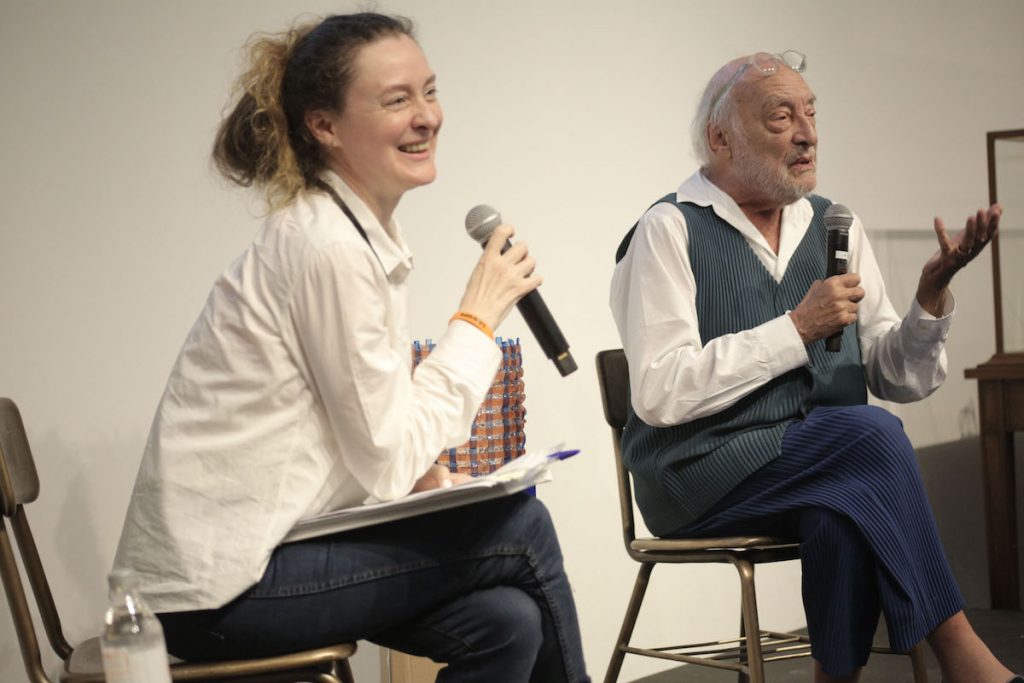 The Golden Age: Looking to the Future
The Golden Age is a metaphorical concept shared across cultures through time and space, whether applied to utopian futures or idealized histories.
Didero said: "I selected the theme The Golden Age with. the ambition of exploring how it might be applied across great scratches of human existence, from the distant. past, to our collective future. Design Miami's flagship fair at Miami Beach is always full of energy and optimism for the future. At a time when human beings are challenged in unprecedented ways, I hope that the theme will offer a source of inspiration to imagine and shape a brighter future for human beings and our planet".
Here is a look at the "Made in Italy" installations that I had the privilege to see at the fair.
Gufram (Barolo)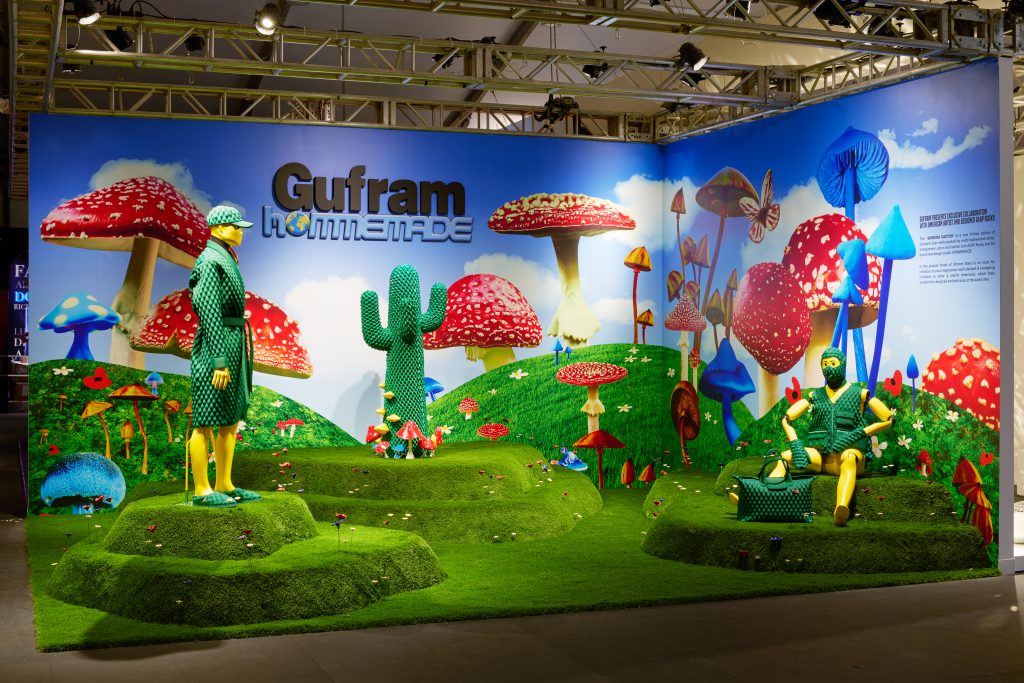 Gufram made its Design Miami/ debut with a Curio booth presenting the launch of the Shroom CACTUS ® a new edition by multi-hyphenated artist, entrepreneur, actor, and fashion icon A$AP Rocky and his design studio HOMMEMADE.
Born in Turin, but now situated in Barolo, Gufram is an Interior Design Italian brand globally known for pushing the limits of industrial design. With its Radical Design spirit and its nonconformist experimentation linked to aesthetic, technological and material research, Gufram has created seats and interior design icons that have entered collective imagination: playful, subversive, and desecrating products with a POP soul, willingly designed as anti-design items.
Fendi (Rome)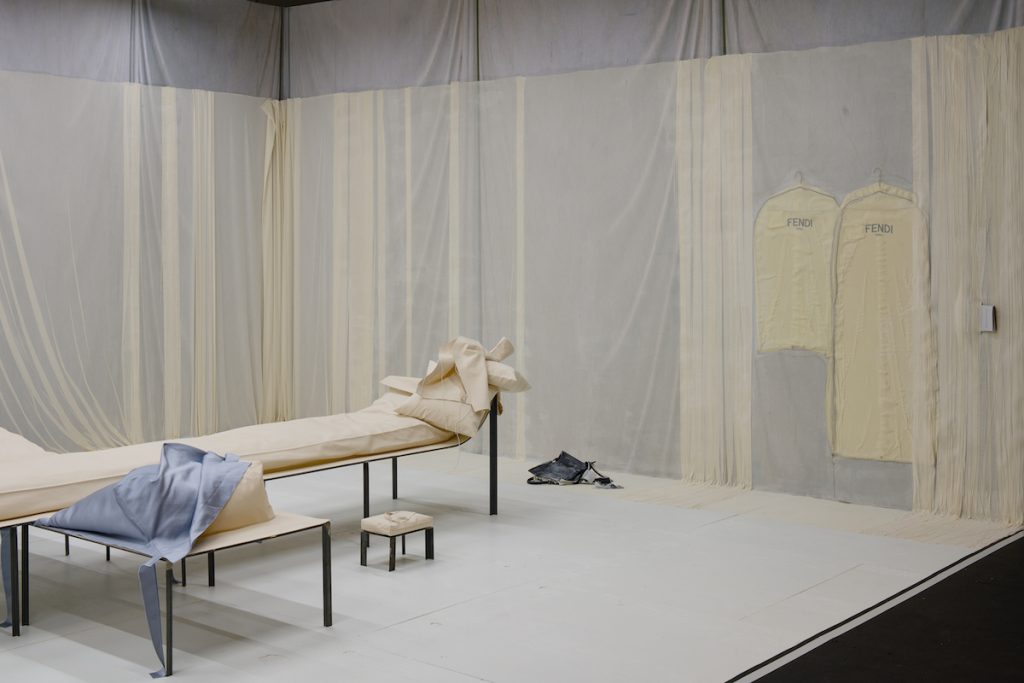 Fendi's artistic directors, Silvia Venturini Fendi and Kim Jones commission Vienna-based artist Lukas Gschwandtner to make a new body of work called Triclinium for Design Miami/. The new series consists of wearable canvas sculptures referencing historical portraits of women reclining on furniture, is now infused by Gschwandtner's interest and attachment to the history of ancient Rome, 'The Eternal City' where Fendi was founded, its art and its architecture as translated through mediated imagery.
Bottega Veneta (Vicenza)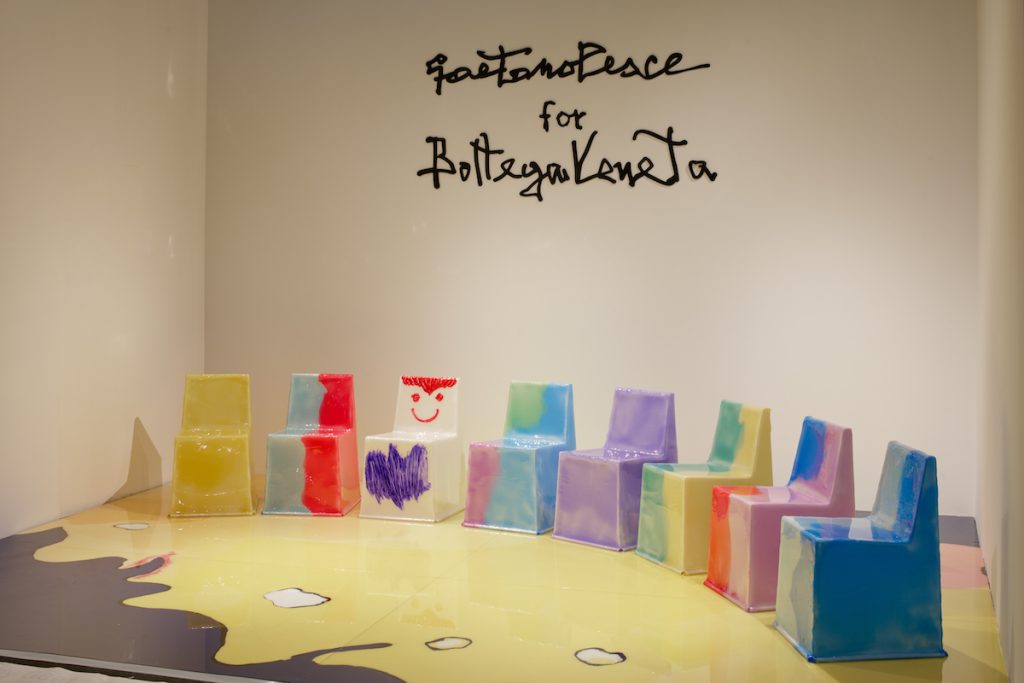 A site-specific installation by creative director Matthieu Blazy who commissioned Italian architect and designer, Gaetano Pesce (La Spezia) was presented at the Bottega Veneta's Summer 2023 show in Milan. A part of that commission was presented at Design Miami/. At the heart of this project is the Come Stai? chair, a new expression in Pesce's oeuvre, which echoes his lifelong quest for individuality and diversity. The chairs were also available for purchase in the Miami Design District.
Dolce&Gabbana Alta Gioielleria (Florence)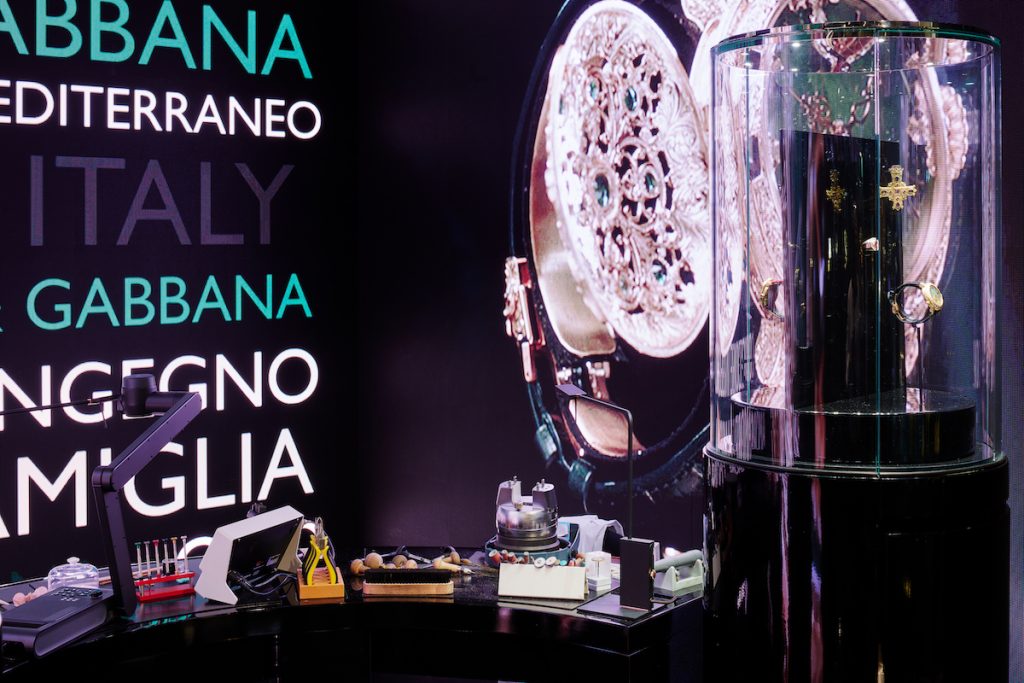 Dolce&Gabbana partnered with Design Miami/ for the first time to present the brand's unique Alta Gioielleria Collection. The collection represents a universe of creativity where the invention of new forms is combined with the preservation of Italy's renowned tradition of fine jewelry-making. Every jewel is a celebration of beauty, art and craftsmanship that celebrates the extraordinary skills of the goldsmiths, engravers, sculptors, setters, and chisellers that contribute to the collection.
Panerai (Florence)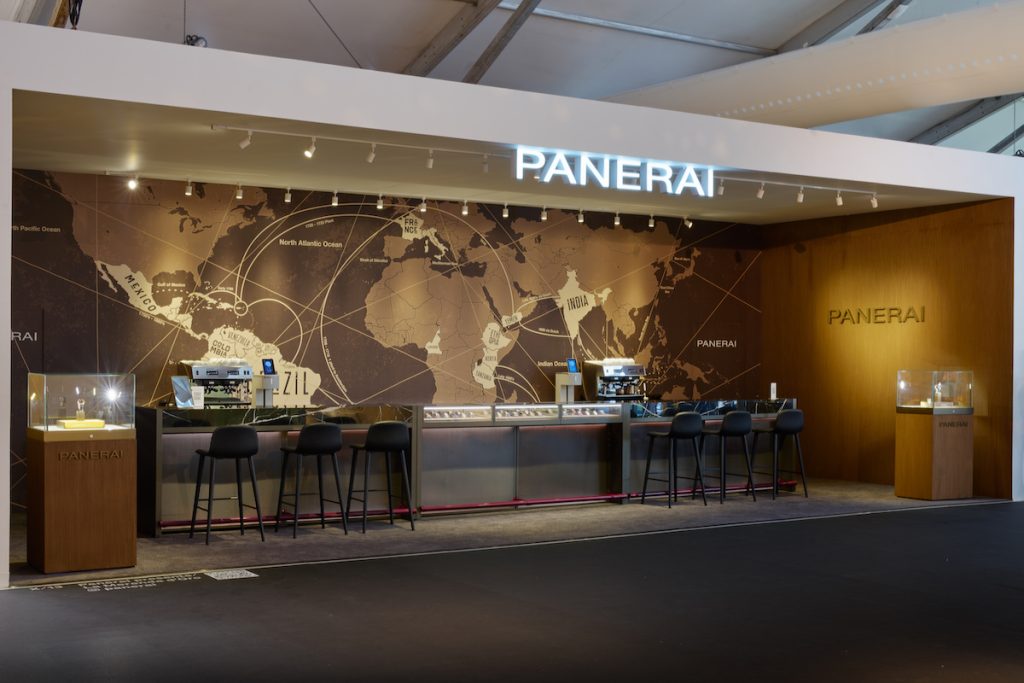 Panerai's Design Miami/ presentation La Merenda d'Oro was epitomized in a simple but elegant cup of coffee and set in a replica of the most notable and recognizable bars in cosmopolitan period Milan – the espresso bar. The installation in the Panerai booth brought visitors together for a "Golden Break" of laughter, shared ideas, and collective inspiration. The artistic moment reflects the same community focus at the heart of Panerai and demonstrates once in for all that bringing people together is still the most important thing.
Galleria Antonella Villanova (Florence)
Established in 2008, Galleria Antonella Villanova promotes the works of internationally known jewelry artists who offer a new aesthetic and conceptual interpretation of the ornament, innovating the technical quality of traditional jewelry often through the use of ancient practices in combination with contemporary materials and forms. At Design Miami/ the gallery exhibited jewelry or sculptures by artists Helen Britton (Australia, Germany) Daniel Kruger (South Africa), Lucia Massei (Florence), Keiyona C. Stumpf (Germany), and Giampaolo Babetto (Padua, IT).
B&B Italia (Como)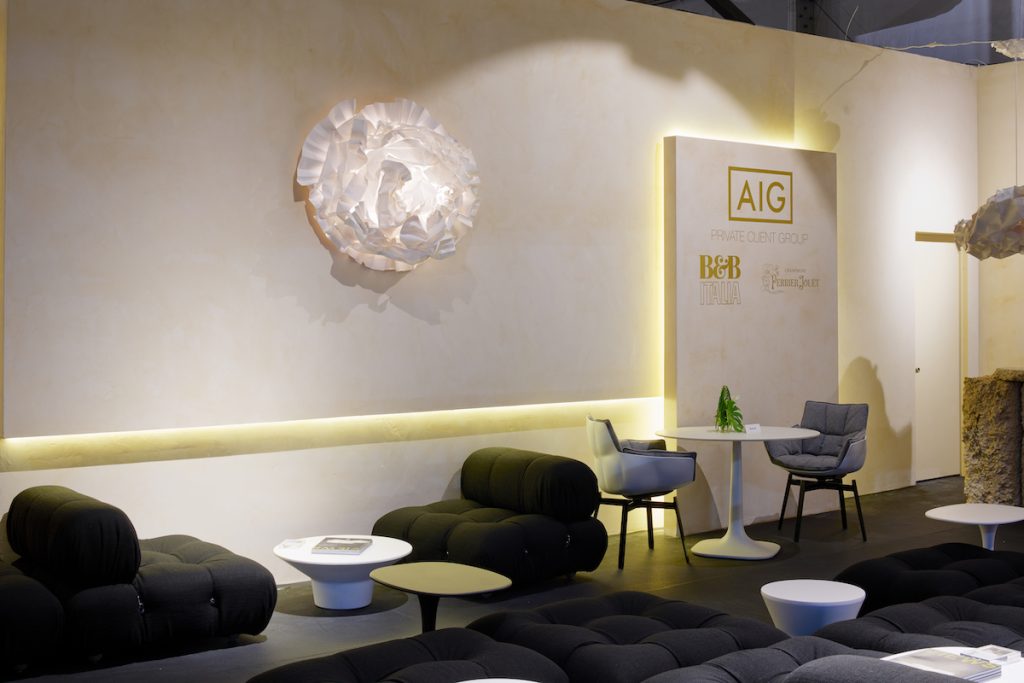 Established in 1966 as the result of the entrepreneurial vision of Piero Ambrogio Busnelli, B&B Italia has built its success on the ability to represent contemporary culture through design and to anticipate trends, constantly seeking to respond to changes in taste and living needs. The AIG Private Client Group presented The Collectors Lounge that was designed by Alexis Cogul LLeonart and B&B Italia featuring the work of artist/designer Bradley L Bowers.
Design Talks/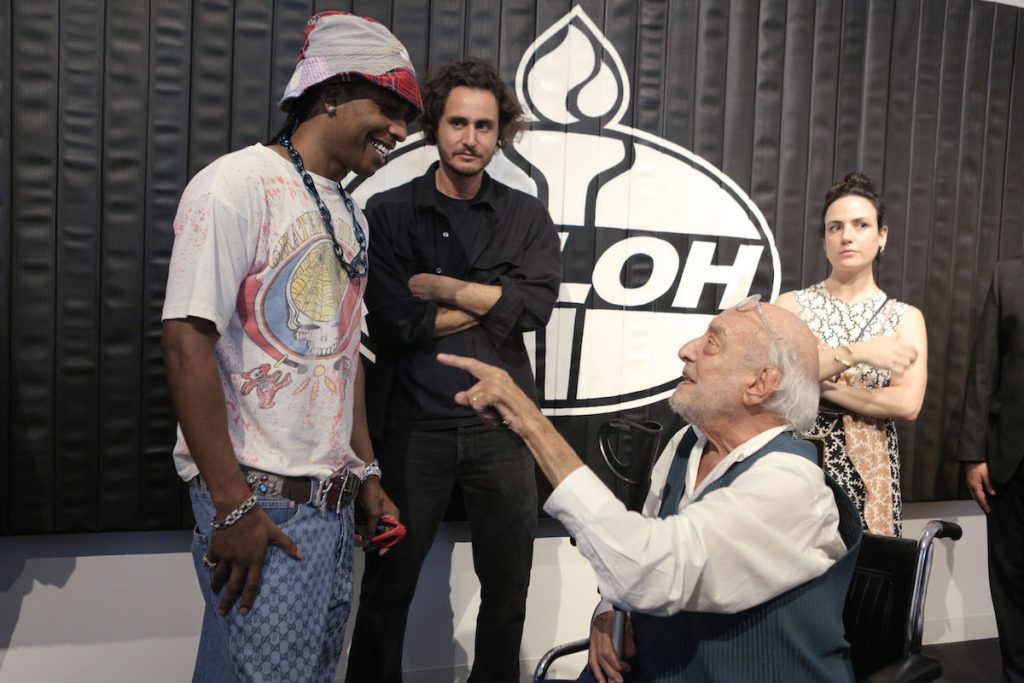 The Design Miami/ 2022 talks program, curated by the fair's 2022 Curatorial Director, Maria Cristina Didero, explored the intersectional nature of design. A$AP Rocky and GUFRAM's Global Creative Orchestrator, Charley Vezza, engaged in a conversation about contemporary aesthetics and lateral thinking, diving into their unique multidisciplinary approach to design. Gaetano Pesce delved into themes of uniqueness and freedom for a riveting conversation with Maria Cristina Didero.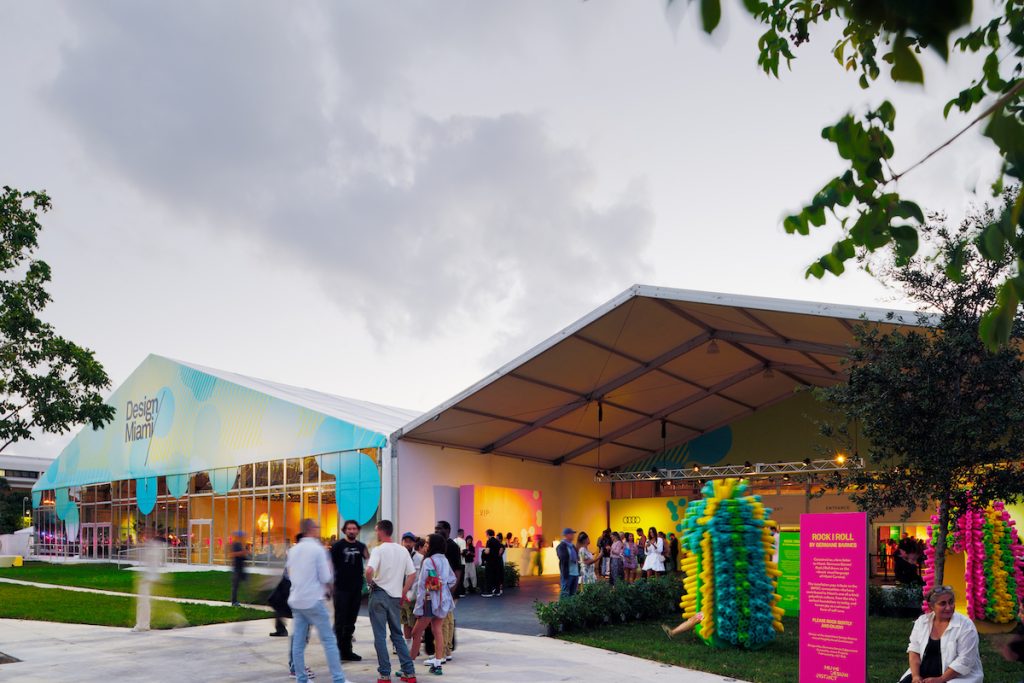 To visit and find out information about future Design Miami/ shows in Basel, Paris, and Miami Beach visit www.designmiami.com.