"Faith, Beauty, and Devotion" Exhibition Opens September 16th, Belen Jesuit Preparatory School
The Olga M. & Carlos A. Saladrigas Art Gallery at Belen Jesuit Preparatory School announces its fall exhibition in collaboration with Frascione Arte in Florence, Italy. Faith, Beauty, and Devotion: Medieval, Renaissance, and Baroque Paintings, an exhibition of rare 13th-17th century paintings opens to the public on Saturday, September 16th at 7:30 pm. Belen Jesuit Preparatory School in Miami.
Faith, Beauty, and Devotion offers a unique opportunity to explore three significant periods in art history — Medieval, Renaissance, and the Baroque eras — through a captivating collection of 30 sacred and secular paintings by Italian and Flemish Masters. Most paintings have never been seen in the United States.
Federico Gandolfi Vannini, owner of Frascione
Whereas a trip to Florence, the center of the Renaissance, and the renowned Uffizi Gallery are unparalleled experiences, this seminal exhibition will provide visitors with a comprehensible timeline through a curation of rare masterpieces. Moreover, guests will have the chance to meet Federico Gandolfi Vannini, the fourth-generation owner of Frascione Arte and an accomplished art historian.
"This incredible opportunity to showcase these paintings together will focus on the cultural context of the works, and how those circumstances impacted the creation of the paintings," comments Sylvie Daubar-San Juan, Humanities Department Chairperson and Director of the Olga M. & Carlos A. Saladrigas Art Gallery at Belen Jesuit Preparatory School. "The influences on artists in the Medieval, Renaissance, and Baroque periods will be illuminated along with the patronage, symbolism, and provenance of the compositions. Through the exhibition and programming, we aim to provide a unique experience to our visitors that will allow them to engage with these paintings and explore the mysteries concealed within them."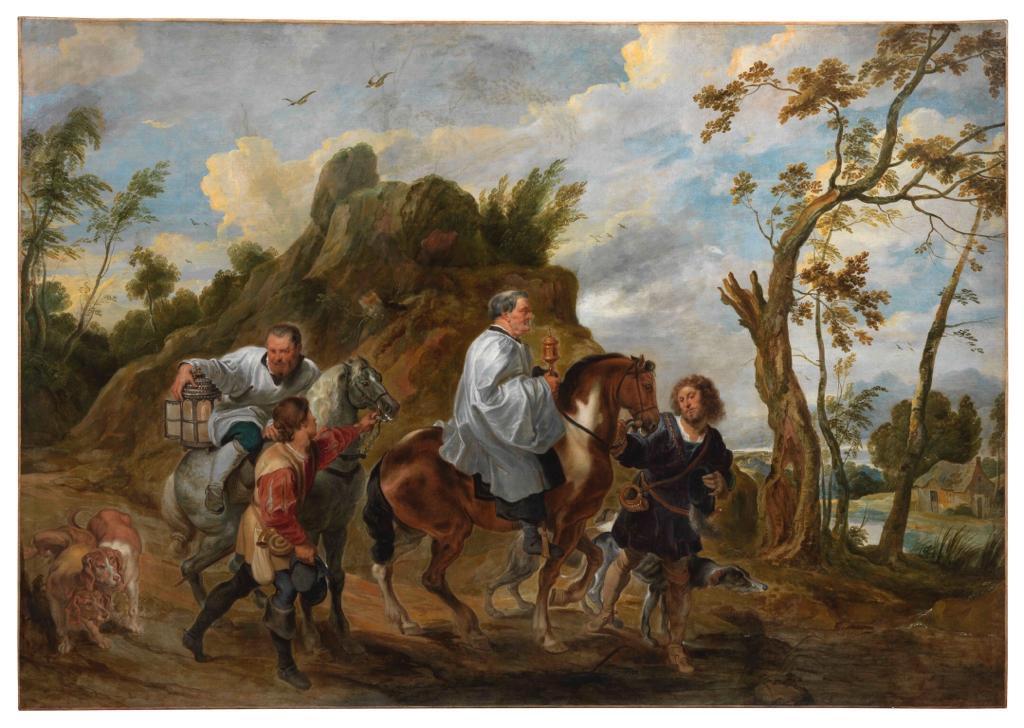 A prominent highlight of the exhibition is the acquisition from the Spencer-Churchill Family Estate: "Act of Devotion" attributed to Peter Paul Rubens and Jan Wildens, circa 1616, oil on canvas. This painting was obtained by Vittorio Frascione, Federico Gandolfo Vannini's grandfather, when it was auctioned at Christie's on October 29, 1965, as lot 41, alongside the entire Spencer-Churchill residence. Notable members of the Spencer-Churchill family include Sir Winston Churchill and Lady Diana, Princess of Wales, formerly known as Diana Frances Spencer.
Commissioned before 1655 by the first Marquis of Leganès, Don Diego Mexia Felipez de Guzman, the artwork alludes to the origins of the House of Austria. Its presence in both royal and noble collections, such as Leganés', should be interpreted politically and artistically as a demonstration of loyalty and devotion to the Habsburg cause.
Exhibition Highlights
Other noteworthy highlights of the exhibition include tempera and gold on panel works by Nicolò di Pietro (Siena, ca. 1420) and Francesco di Zanino and Zanino di Pietro (Venetian School, 15th c.); tempera on gold leaf on parchment work by Pacino di Bonaguida (Florence, ca. 1340,); tempera on panel works by Ludovico Urbani; oil on panel portraits by Giuliano Bugiardini and Ridolfo del Ghirlandaio (Florence); oil on canvas works by Jacopo Tintoretto (Venice, 16th c.), Louis Finson (Bruges, ca. 1607), Guercino (Bologna, ca. 1640), Circle of Caravaggio (Milan, 17th c.), and Francesco Botti (Florence, Baroque).
Full Exhibition List
(1) Umbrian Master "Painted Cross", ca. 1295, 160×120 cm
(2) Pacino di Bonaguida, Initial letter O: the instruments of passion venerated by the members of the Compagnia di Sant'Agnese, 14.5×13.3″
(3) Francesco di Zanino and Zanino di Pietro, Mystical marriage of Saint Catherine ca. 1430, tempera on gold panel, 8.5x 11.2″
(4) Nicolò di Pietro, Lamentation over the Dead Christ, ca. 1420, tempera and gold on panel
(5) Benvenuto di Giovanni, Madonna and Child with saint John the Baptist and St. Jerome, ca. 1475-1480, tempera and gold on panel, 21×14.2″
(6) Jacopo di Arcangelo di Jacopo, known as Jacopo del Sellaio, Madonna and Child with the infant saint John the Baptist and the Archangel Gabriel, ca. 1490, tempera on panel, 33.8″ cornice
(7) Giuliano Bugiardini, Portrait of a Lady, ca. 1510-1515, oil on panel, 41×28.5 cm
(8) Francesco Fiorentino attr., Madonna and Child Enthroned with Saints, ca. 1390-1400, tempera and gold on panel, 91×50 cm
(9) Ludovico Urbani, The Annunciation and the Eucharistic Miracle ca. 1480, tempera on panel, 8.6×15.3″
(10) Ridolfo del Ghirlandaio, Portrait of Pier Soderini, ca. 1515, oil on panel, 20.4×26.1″
(11) Evangelista da Pian di Meleto, Saint Sebastian, ca. 1500, oil on panel, 171x95x8 cm
(12) Master of the Scandicci Lamentation, Madonna and Child ca. 1510 – 1520, tempera on panel, 26.7×20.4″
(13) 'Gallo Fiorentino' or Master of the Campana cassoni (Antonio di Jacopo Gallo), The Nativity ca. 1510 – 1515, tempera on panel, 26.7×20.4″
(14) Jacopo Tintoretto, Portrait of Vincenzo Morosini, ca. 1580, 118×99 cm
(15) Lombard School, Portrait of a Man, ca. 1580, oil on canvas, 14.1×14.1″
(16) Scuola Veneta, Saint Sebastian, ca. 1520 – 1530, oil on canvas, 73×28.3″
(17) Jacopo Chimenti called l'Empoli, Madonna and Child in a Landscape, ca. 1595 -­ 1605, oil on canvas, 23×18.3″
(18) Circle of Michelangelo Merisi da Caravaggio, Christ Healing the Sick, ca. 1610, oil on canvas, 76.5×57″
(19) Louis Finson, Saint Sebastian, ca. 1607, oil on canvas, 44×30.9″
(20) Giovanni Battista Vanni, David with the Head of Goliath, ca. 1623, oil on panel, 8.6×7″
(21) Pieter Paul Rubens -­‐ Jan Wildens attr., Act of Devotion by Rudolf I of Habsburg, ca. 1616, oil on canvas, 75.5×114.9″
(22) Circle of Giovanni Francesco Barbieri known as Guercino Cento, Neptune, ca. 1630-1640, oil on canvas, 133×112 cm
(23) Valerio Castello, The Virgin, God the Father and a Carmelite Saint, ca. 1650 – 1655, oil on canvas, 48×39 in.
(24) Carlo Dolci, Saint Benedict, ca. 1650, oil on canvas, 34.3×28.4″
(25) Scuola Spagnola, Friar Carrying the Cross, ca. 1660, oil on canvas, 39.7×31.1″
(26) Girolamo Forabosco, Christ Giving Blessing, ca. 1640, oil on gold leaf applied to panel, 16.5×12.5″
(27) Francesco Botti, The Abduction of Helen by Paris, 1670 – 1680, oil on canvas, 45.3×57.8″(28) Cesare Gennari, Susanna and the Elders, 1670 – 1675, oil on canvas, 42.8×57.6″
(29) Francesco Conti, The Holy family with the infant St. John and Saints Elizabeth and Zaccaria, ca. 1705-1710, oil on canvas, 34.6×50.7″
(30) Giovanni di ser Giovanni, called Lo Scheggia San Giovanni Valdarno, 1486, tempera on gold on panel, 24.8″
Faith, Beauty, and Devotion: Medieval, Renaissance, Baroque Paintings
September 16 – December 10, 2023, Art Basel Miami
Gallery Hours: Monday to Friday, 9:00 am – 3:30 pm by appointment. Other hours by request.
Olga M. & Carlos A. Saladrigas Art Gallery at Belen Jesuit Preparatory School
500 SW 127 Ave.
Miami, FL 33184
Website: https://www.belenjesuit.org/exhibition
[email protected]