Chat with Kylie Flavell
If you are in love with Italy as we are, Kylie Flavell should be on your weekly YouTube watch list. If for some reason she's not, as soon as you finish reading this interview, head over to YouTube and hit that subscribe button! Kylie's films are a feast for all senses. And, somewhere between artistry and the algorithm Kylie Flavell grows romance.
Unfortunately, Kylie does not permit recorded interviews. So, just as she invites us to slow down and embrace old fashioned traditions, we too invite you to temper the pace and read April's Chat with An Expat. Australian born, Kylie set her sights on living abroad as a teenager and has yet to, and probably won't, turn back.
Iniziamo!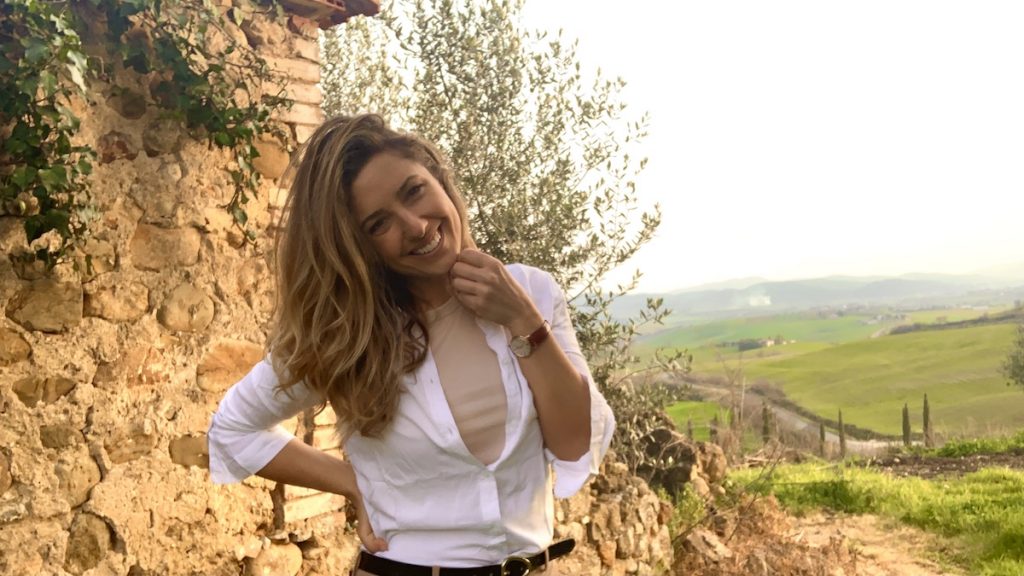 The Start of Living Abroad
I won a scholarship to continue my studies in Japanese, which was the language I studied at school for six years. I used to speak quite decent Spanish when I lived in Barcelona. Unfortunately, it's so similar to Italian that I found my Spanish swiftly disappearing the more I took on Italian vocabulary. However, certainly Japanese did not prepare me at all for all the rules of the Latin languages, so it was quite a shift linguistically when I first started studying Spanish and Italian.
Did this experience bring out the travel bug in you or do you feel that it was always there?
I grew up with two parents who are passionate dreamers. When my sister and I were little girls, we watched my father build a sailing yacht from scratch completely by himself in our garden. Then after three years of hard work, with my mother helping him sand and paint and make it into a home, we set sail as a family to travel off the coast of Australia and did schooling by correspondence. Our mother was excellent at budgeting and creating incredible meals with very few rations if we couldn't always get into a port to do grocery shopping. So I've always had the message from both my parents that if you are hardworking and patient, you can achieve any travel dream and make it a long-term way of life rather than merely a two-week holiday.
Where and when did you learn video production?
I've never had the money to study it formally but it came about because I was making travel and cooking TV shows in Italy with film crews in the role of producer and presenter. I was caught up in quite an unfair and illegal battle where the production company wouldn't pay me anything for shows that sold all over the world even though I worked tirelessly to create a contract that protected me. In Italy, it doesn't matter if you have a good contract, the process of taking someone to court can take decades and cost you all your savings so I cut my losses and decided to teach myself every single role on the production side of making a TV show so that I would never be in that position again.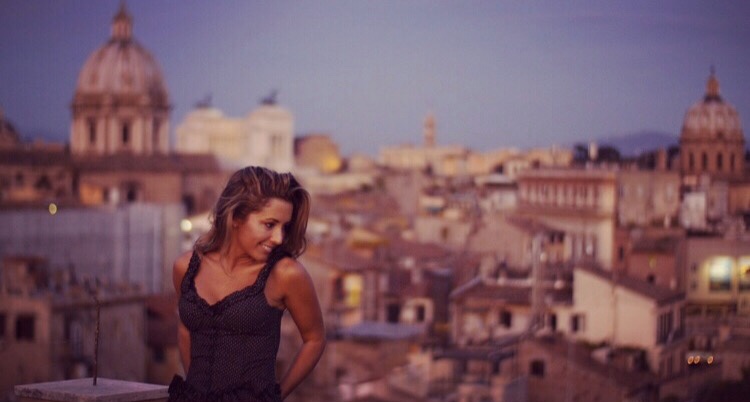 Empowerment
It was such a great feeling of empowerment also because I love to create really high quality productions that just suspend time and transport people to Italy completely. When I was just the host and producer I would have to spend hours each day trying to convince the crew to work harder, to take pride in their work, to be creative. Many film crews here in Italy have the mentality that it's just a job to pay the bills, which surprised me because I would have thought that any creative with the chance to capture the beauty of this country would feel compelled or inspired to give 100%, but that's not the case in my experience.
On my own, it's so much easier and enjoyable because if I want to get up at 5am to catch the most ethereal light at sunrise for drone shots or take an hour to sit with an elderly man and hear his life story rather than rushing through a scripted interview, I am now totally free to do all this without having to convince anyone.
Initiative and Patience
These days if you have initiative and patience and truly make study a priority, you can learn almost anything for free using online tutorials and forums and all the information we now have access to. I taught myself about audio, colour grading, camera settings, lighting, flying drones, graphic design effects like rotoscoping in software such as After Effects.
In the beginning, TV networks didn't believe it could be done alone and some very rude executives would look at my pilot episode and accuse me of lying about having filmed, edited and starred in it all alone. But eventually, I won awards for my work, such as the series I did for Airbnb that got over eight million views, and I was sponsored by filmmaking brands like Adobe, HP and Samsung, who responded very positively to the idea of a one-girl production company, which helped me pay for my equipment, which I couldn't have otherwise afforded.
The Influence of Hollywood, Italian and Neorealism Cinema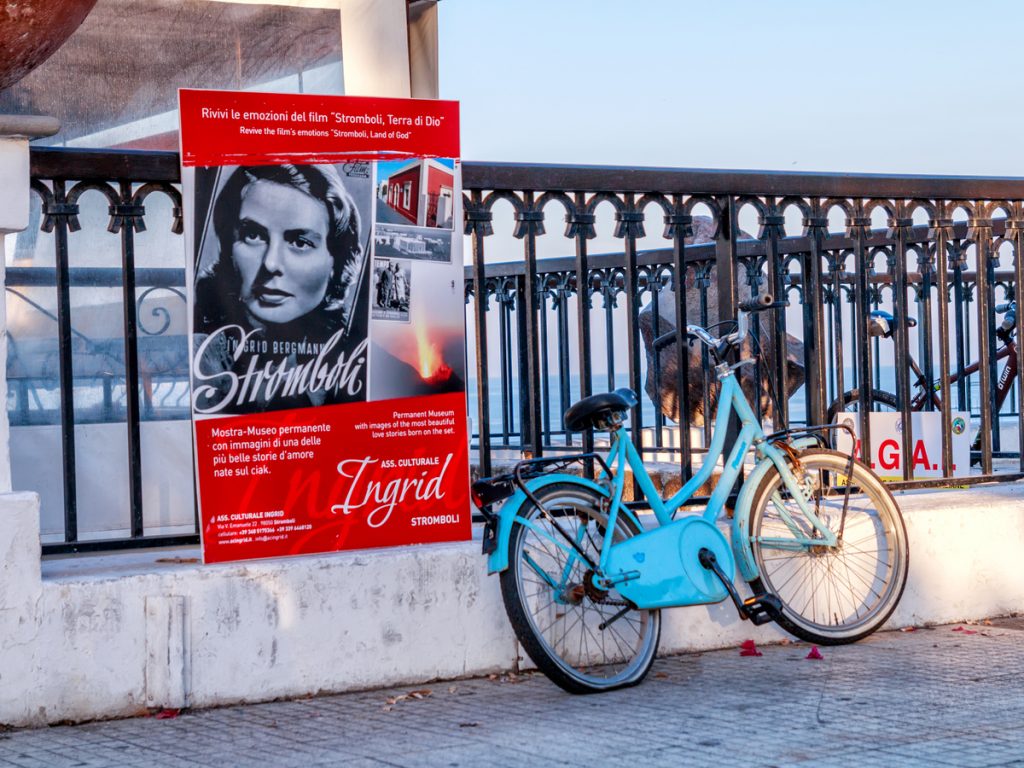 Of course. It is a constant thread in all my work. I grew up watching classic cinema and then at university went on to study Neo-Realist Italian Cinema. When you are planning to escape to Italy, films can be the number one motivator to remind you why you're going to all this trouble saving money, applying for the visa, trying to find work. I love the operatic scores, the manners in the romance narratives, the witty dialogue, the impeccable costumes but most of all, the pace.
Modern films service an audience who has largely forgotten how to live slowly and this extends to watching a story unfold gently with subtlety. In my Sicily series on YouTube, I tried to weave in the real life love story of Ingrid Bergman and Roberto Rossellini on the island of Stromboli while making the film of the same name. I also included scenes from L'Avventura by Antonioni and explained how it made me feel as a young university student having never lived in Italy and then all these years later travelling to the islands where it was filmed and understanding so much more about Italian social culture.
Travel to Italy with Curiousity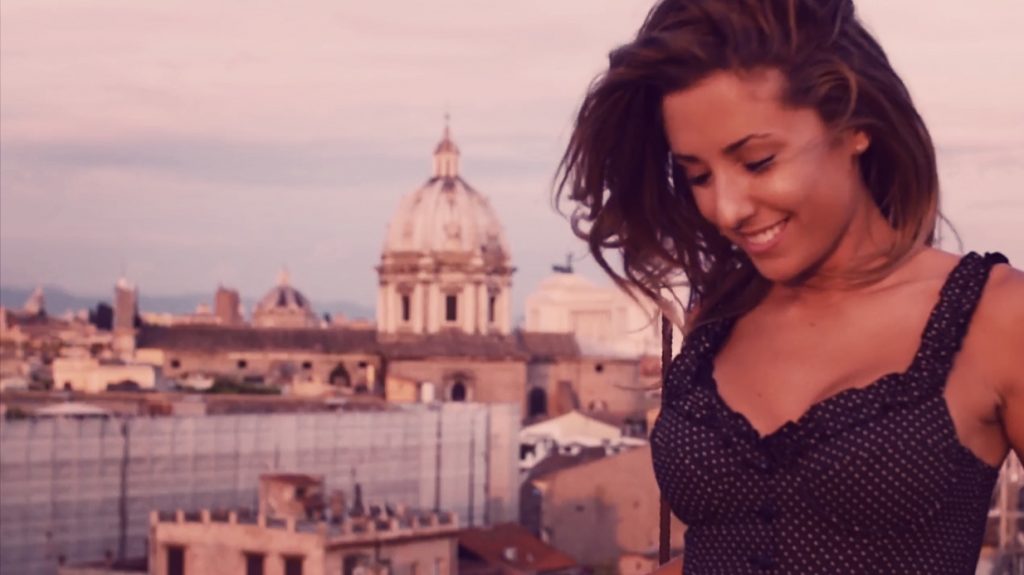 I try to encourage young people to travel to Italy with this curiosity, this reverence for the cinematic and cultural history rather than just taking a selfie with a pretty beach. Look deeper and you will experience all these places on another level emotionally and also understand the locals in a way most tourists never can. I adore Hitchcock's films like Notorious and the incredible scenes with Cary Grant and Ingrid Bergman. I love the visual splendour and poetic details of a Bertolucci film like Stealing Beauty or The Dreamers. Or Call Me By Your Name by director Italian Luca Guadagnino who was inspired by Bertolucci.
It seems that you mostly use classical music in your films. Is there a reason why?
Classical music is composed in such an elegant way that neuroscientists have studied its effects on the brain. It lowers the heart rate and anxiety and my hope is that my YouTube channel can be a place to which people can escape from their fears, their worries and exhale all the stress of their daily life. Jazz music is the other genre I use a lot because the nostalgia sparks in us an innocence, a childish joy, a sense of old-fashioned fun that people seem to need now more than ever.
Define Romanticism as you perceive it.
I once made a YouTube video on this topic and it's a theme I often speak about in my work because people assume the romantic is about some cheesy boy-meets-girl narrative. Romance in the broader definition and certainly as it has always existed in my life, is about the poetry of small details, heightened sensuality to the beauty all around us, the extra effort one might take to appreciate a moment or make a moment special. Romance is an earnest attempt to counter and elevate the mundane.
Working on your own has been a conscious choice so that you can push the boundaries of your own creativity. Has this move been a risk with no regrets or challenges?
It has been joyful and empowering and also at times a complete nightmare. I have no regrets because I have a personal challenge to myself that every year of my life I add a new skill. I believe that we should always see ourselves as perpetual students of life and human behaviour and our own self-awareness. After working independently for 10 years, I have never once considered going back to the corporate world and working for an employer. Even through all the financial difficulties.
I wake up and I have a mountain of work to do alone and most weeks I work about 70-80 hours. That said, I have the great privilege of being answerable to no employer, following my curiosity wherever it leads me each day and also creating a community where I'm corresponding with people who are in difficulty and great need of comfort and inspiration.
Thousands of Emails Each Week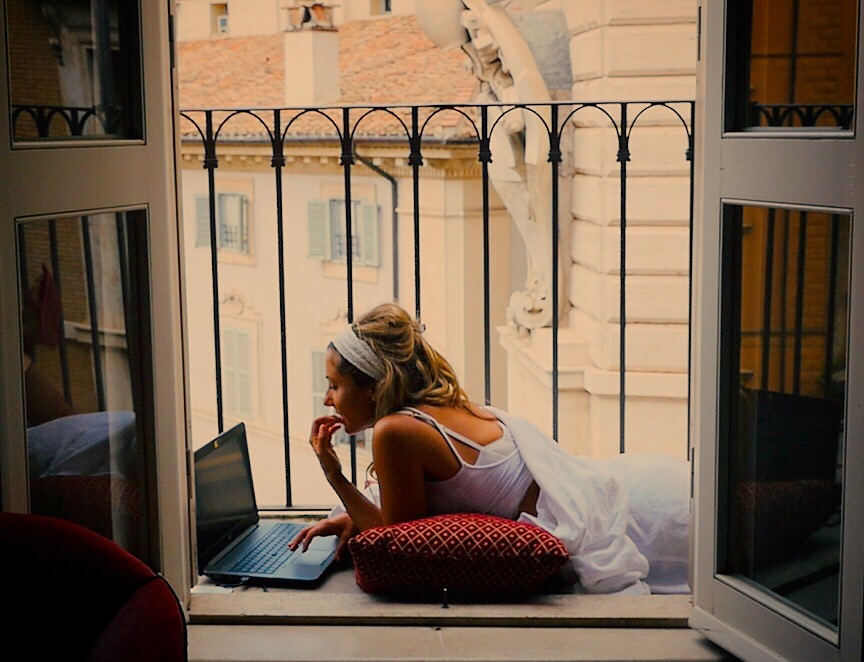 I get thousands of emails every week from depressed or suicidal teenagers; people going through a midlife crisis; couples in love but who hate their jobs or their city and dream of a more traditional life; women abused by their partners trying to focus on Italy and find the courage to leave and create a life of their own; people writing from hospital beds with a fatal illness; divorcees who want to restore their faith in love; elderly people who say it is too late for them to move to Italy but they want to live vicariously through me; very young kids who are being bullied at school and want proof that you can change your life and achieve your dream alone; widows who are debilitated by their partner's death and are searching for how to feel joy again.
I have so many days when I'm exhausted and feel like giving up but this contact with people who are struggling with so many different types of pain is an incredible incentive to keep creating and share a little comfort and hope and beauty.
Realities of Moving to Italy
Sometimes I worry that I encourage people to move here and then it can be really difficult and not the image of the dolce vita one expects. So I constantly try to temper my enthusiasm with a lot of practical advice about the realities. That's why I've made episodes on YouTube about the legal issues; finding an apartment; finding a job; living on a budget; mastering the language; and integrating socially
I think you have to consider what type of personality you have. I'm essentially a geek who likes deep diving into challenges and doesn't struggle with self-motivation. That's why I loved homeschooling as a child. If you're someone like me with a genuine love of learning, there is such pleasure in waking up each day and testing your Italian grammar, in feeling that if you put in the time and focus, you can make your wildest dreams materialise.
Freelancing in Italy
Many people write to me about the struggles of freelancing in Italy. There are thousands of expat writers, photographers, bloggers and journalists here. It's barely any advantage to be here in Italy or speak the language. I have a degree in journalism and I had worked as an award-winning magazine editor and publisher before moving to Italy and yet I couldn't make a living pitching to publications around the world with content on Italy. I think the people who make it work over here as expats are those who are prepared to do all kinds of work to survive. Some of it is beautiful and relevant to your qualifications and other jobs will be things that can seem like a professional step backwards, but will pay the bills.
How did you know that Italy was the perfect match and the place you would settle down?
It's a feeling. I can't explain it but I've always felt more at home here than in Australia.
How many years have you lived in Italy? Are you an Italian Citizen?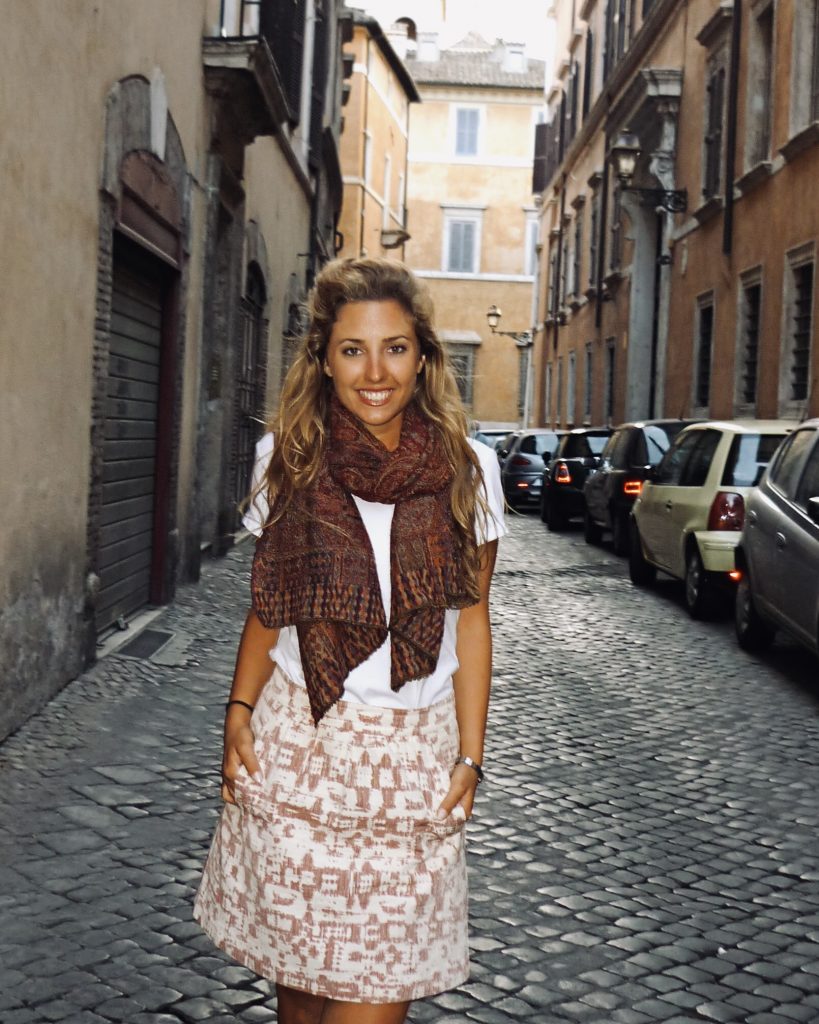 I'm not yet a citizen. I had every visa under the sun and then after struggling for seven years of admin nightmares, finally got a European passport through my grandparents who were Greek. I moved here just over 10 years ago and since then have lived in Rome, Positano on the Amalfi Coast, Florence and the countryside of Tuscany. There were a few years where I was in Europe and going back and forth between Italy and Monaco or London, where I was pitching to TV networks and brands. I lived in Monaco for a little while – I fell in love with an Italian who lived there and there are so many Italians in that area that it felt like I was still in Italy.
It seems like you were a digital nomad long before this lifestyle became popular. Do you feel that, since the pandemic, more people are reconsidering the possibilities of taking their desk job on the road. What words of advice would you offer?
Yes, I left home at 17 and went to live for the first time alone in Japan. I have always felt quite exhilarated by the thought of arriving in a foreign-speaking country completely alone and attempting to make a life. Sometimes my parents have worried that I have chosen a hard path but in the end, I think you have to ask yourself whether you enjoy your own company and thrive in being out of your comfort zone. It's okay if that's not you.
I have many friends who would never choose to live as I have with such financial instability or, at times, in such solitude. There's no superior path. For some people, the right choice is saving up and having a really spectacular vacation every year in which they can eat all the local dishes and experience all of Italy and not worry the whole time about finding work or processing the visa. But for me, I have this fascination with cultural assimilation so these challenges make me feel so much more alive.
How do you find balance between your artistry and the algorithm? Do you sometimes feel compromised because you have to keep up with producing weekly video content, plus manage social media?
Yes, constantly. Probably I should be smarter and just put up really simple quick to shoot videos that feel more like 'vlogs' than an epic Hollywood romcom, but that's just how I am. I want to make content for the person who is like I was – stuck in a corporate office dreaming of something cinematic and magical.
I still haven't worked out how to produce what I do on a weekly basis without skipping at least one night of sleep per week. But now that I am slowly growing this community and I get these very personal letters from all around the world on how they look forward to Saturday mornings watching my work, it makes me feel tremendously guilty if I don't offer something every seven days.
I took a week or so off over New Year's to write hand-written letters to all of my supporters on Patreon and I can see instantly that YouTube punishes you for even a week off and doesn't suggest your videos and it cuts your views in half. I've been making my little films for years without high views so I'm used to it, but it can still be discouraging when you've put over 150 hours in a single video and then the algorithm only rewards frequency rather than quality.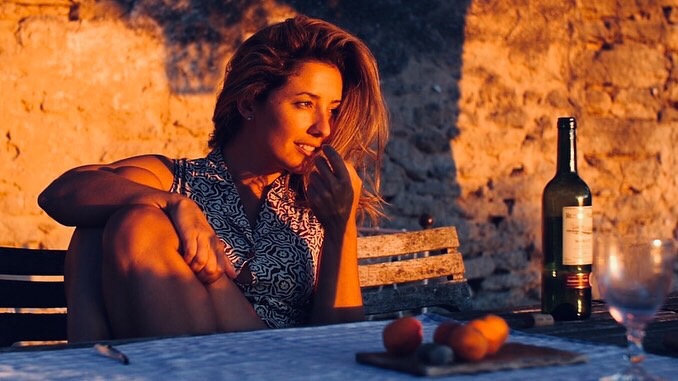 Do you think that the urge to connect with your audience is even stronger now that people can't travel? How do you think this time out will impact how someone travels in the future?
Yes, particularly for the Italophiles. Most of my audience has been to Italy before and this past year not being able to come has made them realise just how important that one week or two weeks in Italy every year is to their sanity!
Do you feel that your back to basics philosophy will help more people find the dolce vita?
I hope so. It's how I've always liked to live. In my family, we always made everything from scratch not just because of budget concerns but because of the deep emotional satisfaction of hand-rolled, hand-sewn, hand-crafted food and objects in one's home. I'm basically like an old signora in my little rustic kitchen making pasta and pastries and everything by hand with no food processor or electric beaters. I know this doesn't work for everyone. My sister, for example, doesn't find the same joy in tedious old-fashioned cooking. But I think on the whole, living more slowly can only do us good.
Define Expat.
I've been an expat for as long as I can remember. It feels to me like someone who is neither a day tripper, a tourist skimming the surface of a city and passing through, nor a true local living in one's native land. They say that living between two languages and in a culture somewhat foreign from one's own is the best way to keep our mind agile and fluid. To be an expat is to have made one's home and language and society a conscious perpetual choice.
What do you miss most as someone living abroad?
People always ask if I miss Australia and the truth is, I don't. I can hear from friends and family everyday thanks to Whatsapp. And most of my friends have chosen to live in different parts of the world.
You are still very young although well advanced in your career. Where do you see yourself in a decade?
I want to develop this community so that it goes beyond me and becomes a place people feel safe and free to dream and find beauty and share their hopes with each other.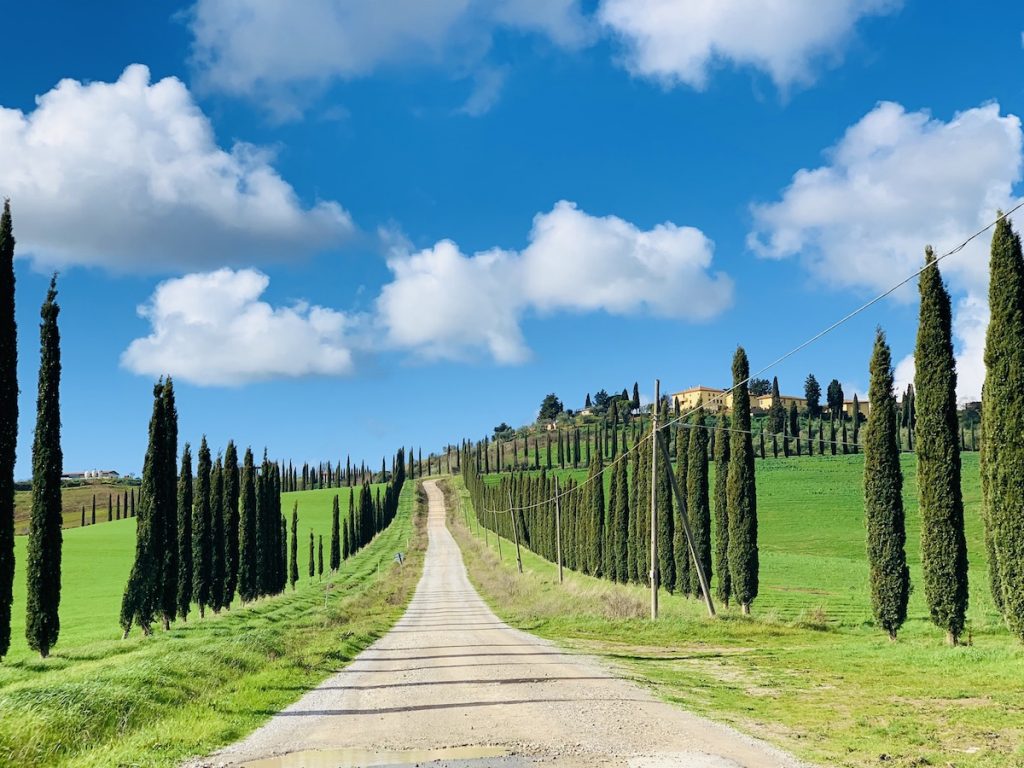 Is there a special place in Italy where you go to get away and regenerate your creative juices?
Italy is Home
Kylie calls Italy her home and the place where she continues to cultivate a highly successful career. She is relentless and continues to raise the bar– and if needed, will hurdle over it. Most importantly, she's a woman who has touched the hearts of men, women and children around the world with a genuine appreciation of their support. All of us at Live in Italy Magazine love you Kylie!
Website
YouTube
Instagram
Patreon
Editor's Pick
All photos courtesy of Kylie Flavell. ©
---
Read other Live in Italy expat chats…
Chantelle Kern of the Italian on Tour
Rafael Di Furia (Rovigo)
Katie Palumbo about healthcare in Italy
Brandy Shearer who moved to Italy during lockdown.