The holidays are just around the corner, and that means gift shopping season is here. But for many, this can trigger a great deal of stress. Finding the perfect gift can be a real challenge, and these days, most of us resort to something generic. We've all given (and received) a gift card or a bottle of wine, but let's face it, these aren't memorable gifts. If you want to stand out this year by giving something unique, you need to read this Italian artisan gift guide!
This is an Italy-lover's guide that caters to every budget and every taste. We'd all love to send our friends and family on a trip to Italy, but an artisanal gift is the next best thing. All the brands featured here carry products made exclusively in Italy and ship worldwide! With options available from north to south, you are sure to find a one-of-a-kind gift. So without further ado, I wish you all buone feste e buon shopping!
Venezia Maschere by La Gioia
Venice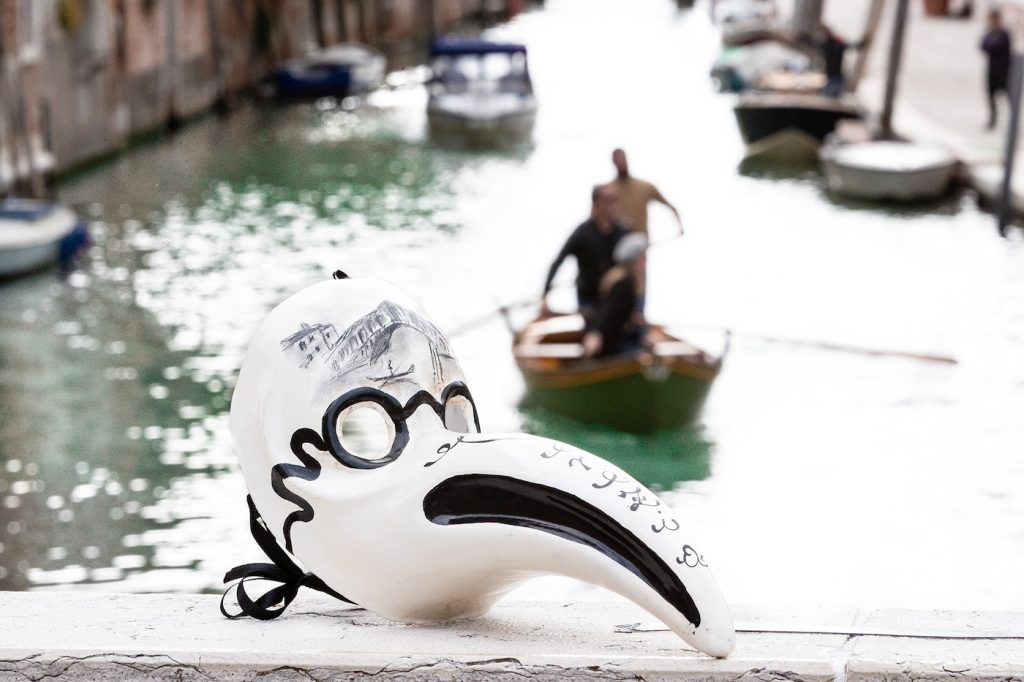 Venice is a magical destination that is famous for its annual Carnival celebration. There's a fun atmosphere in the city with a wide variety of festive events held every night. These parties are characterized by tasty treats and colorful costumes. Among these are the iconic Carnival masks, which tend to be a popular souvenir choice from Venice. But beware, because not all are created equally and often, many are imitations made abroad.
Venezia Maschere by La Gioia is an industry leader in the production of Carnival masks and is my go-to choice when shopping for authentic Venetian art. Each mask is skillfully handcrafted in Venice by a dedicated team of artisans using only the finest quality materials. This brand embraces both tradition and modernity when constructing their masks. Whether using papier-mâché, leather, ceramic or metal, each mask has a unique personality. All this is possible through the use of finishing details like feathers, Swarovski crystals, and macramé, used as adornment.
It's important to note that each mask comes with a Made in Italy certification. Brands granted this must abide by the most rigorous standards set out by the Government of Italy. This is great news for anyone who values making a sustainable purchase! Finally, this brand offers prompt delivery worldwide, in addition to unparalleled customer service.
Website: veneziamaschere.com
---
Ceramica Assunta
Positano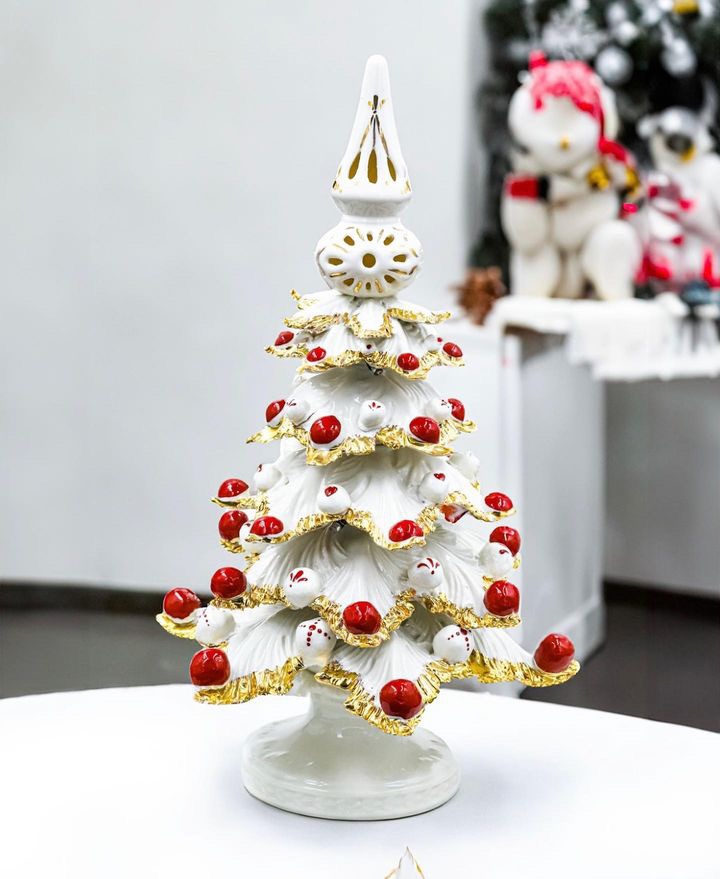 The Amalfi Coast is one of Italy's most iconic destinations. From its stunning landscape to its delicious cuisine, it's easy to see why millions of people visit each year. A highly coveted product of the area is hand-painted pottery. But with so many vendors to choose from, it can be difficult to decide who to buy from. In Positano, I recommend Ceramica Assunta.
Born in 1948, Ceramica Assunta has three locations in Positano and even has their own laboratory. They offer a wide selection of products and designs, with many opting for their lemon collections, a signature of the Amalfi Coast. Another popular choice from the area is the animal collection, which is sure to please the animal lovers in your life.
And while vases and tableware are great gifts, you can even pick up on hand-painted ornaments! These are unlike any department store ornament and sure to become a memorable piece in anyone's holiday decor collection. They also have a selection of Christmas trees, which are absolute works of art. Regardless of the gift you select, the recipient will treasure it forever.
Website: ceramicassunta.com
---
Cartoleria Pantheon dal 1910
Rome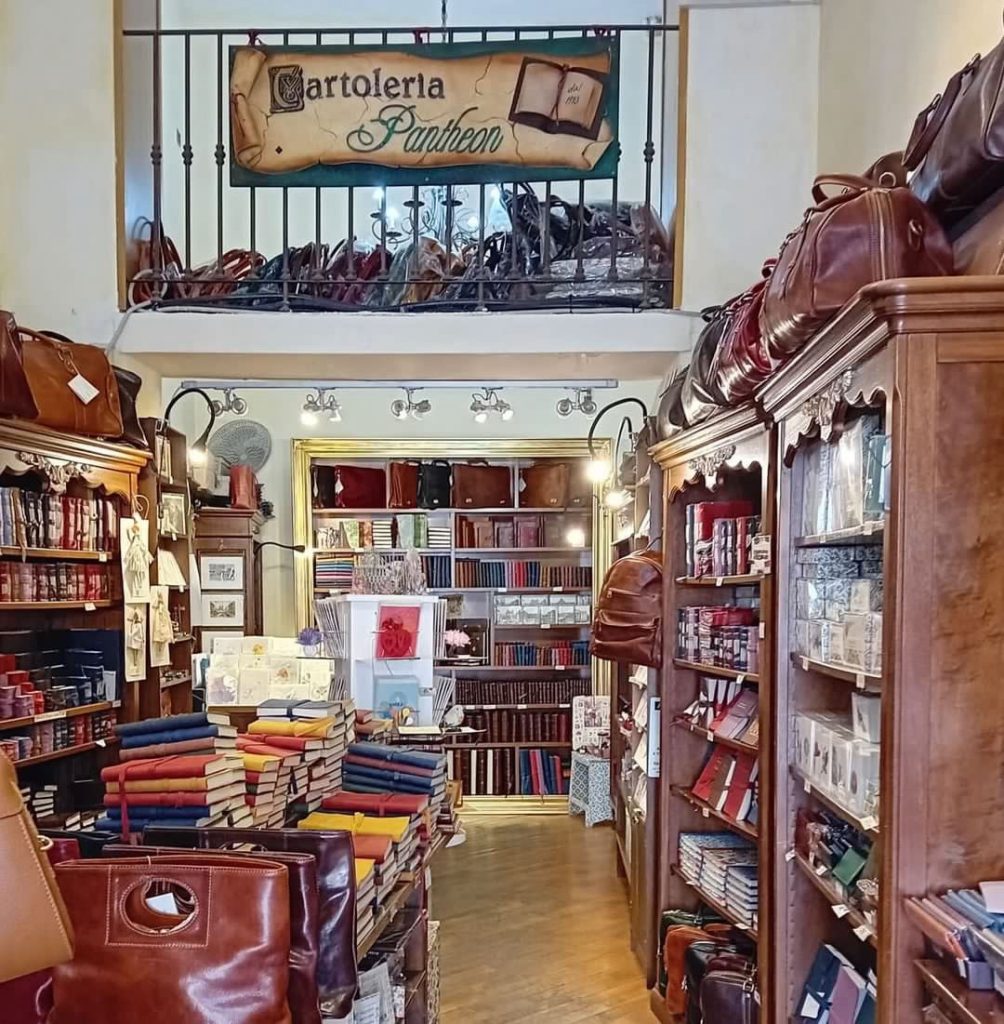 Serving as a source of inspiration for artists, Rome has been the backdrop for many iconic films and works of literature. This should come as no surprise since Rome was home to many of history's most influential poets. And if you've visited the Eternal City, you're sure to have been inspired yourself by its one-of-a-kind atmosphere.
Cartoleria Pantheon dal 1910 is a stationary shop with two locations in Rome's historic center. Stepping inside either store is a treat for any creative mind. Whether you love to journal, sketch, or casually jot down recipes, you'll find the perfect book here. But, these aren't ordinary books, they're artisanal creations made using genuine Italian leather. They also offer a wide range of other products, including pens, backpacks, and bags.
This is a great brand to buy from if you love working with pen and paper. But their products can also be the perfect holiday gift. Often we struggle to find a meaningful gift for those we don't know very well, but still want to make a good impression upon. I'm certain that anyone who receives a handmade, leather book from Italy will be delighted. And I can bet that you'll want to pick one up for yourself too!
Website: cartoleriapantheon.it
---
Bottega Ferrigno
Naples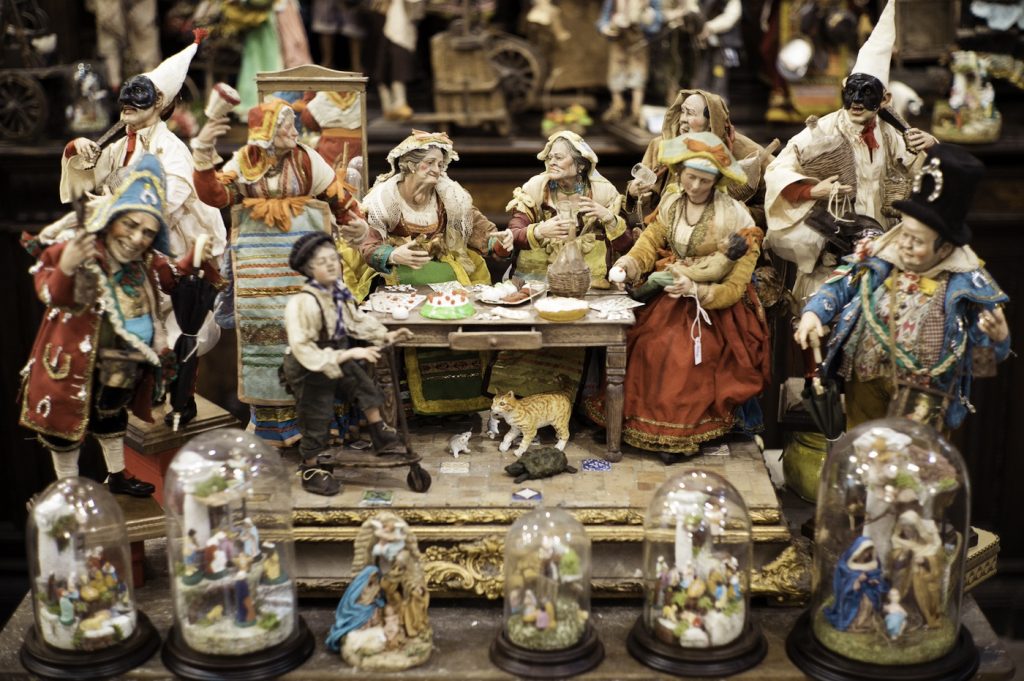 Naples is a vibrant city with an undeniably rich artistic culture. The Neapolitan people have an inherent passion for the arts and Via San Gregorio Armeno is a perfect example showcasing it. This narrow but bustling street is home to many artisans famous for their handcrafted nativity scene figurines. And while it's been dubbed "Christmas Alley", the creative output of this block goes beyond the holidays.
A popular choice is Bottega Ferrigno. It's run by artist Marco Ferrigno who works hard to keep his father's legacy alive. Honoring tradition, here one will find everything needed to build the perfect manger, from the Holy Family to angels and animals, and even food! But they also offer non-religious gifts like the corno, a good luck charm synonymous with Neapolitan culture. You can also pick up on statuettes of pop culture icons, like politicians, musicians and famous soccer players. For the soccer fanatic on your list, I'd recommend ordering the Diego Maradona statue.
Whether you're looking for a religious gift or something playful, yet artistic, you are bound to find it at Bottega Ferrigno. Each piece is unique, made entirely by hand, without the assistance of modern machinery. This is a tradition that dates back centuries and remains a popular gift choice in Naples and elsewhere in Italy. If you want to bring a smile to someone's face and leave them awestruck, look no further!
Website: arteferrigno.it
---
A. Picci
Como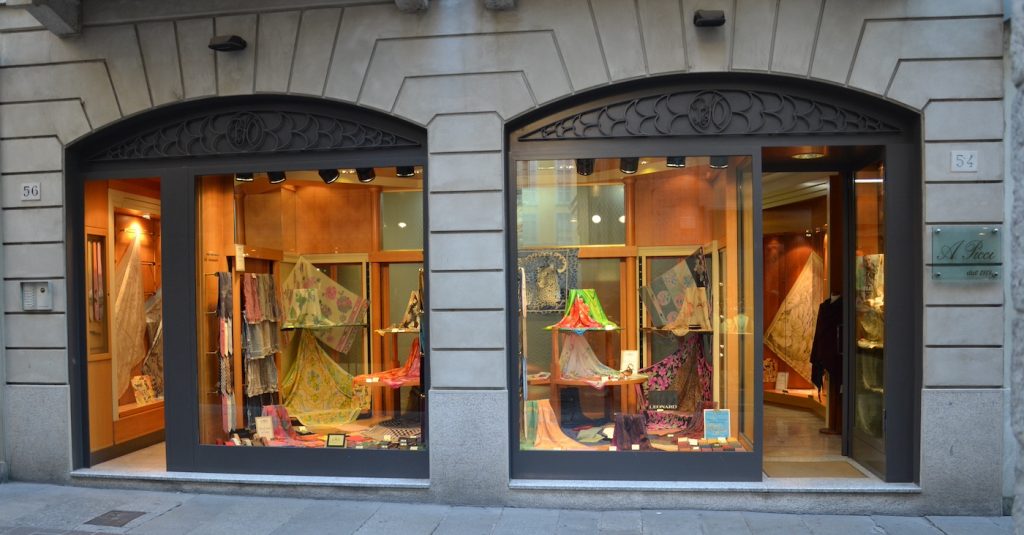 Lake Como has long been a popular vacation spot for nobility and celebrities. From breathtaking views to upscale boutiques, this area offers visitors a luxurious experience. Among the area's many towns is Como, which was famous for its silk production. And while it's no longer a major producer of silk, one brand has kept this tradition thriving.
Founded in 1919, A. Picci is a trusted name when shopping for Como silk. This elegant shop offers a wide selection of silk ties and scarves, in many colors and patterns. They also have silk hair scrunchies, hand fans and scarves made from a blend of silk and wool. All their products are made in Italy, using only materials of Italian origin. This makes it unique as most shops today sell products made abroad with inferior quality materials.
A. Picci has gained local and international recognition as a town landmark. In fact, it's the only silk shop in Como to be granted historic shop status by the Regione Lombardia. If you want to give the gift of luxury to someone, you need to shop here! There's nothing more lavish (and rarer) than Como silk.
Website: apicci.it
---
HUMILIS Made in Assisi
Assisi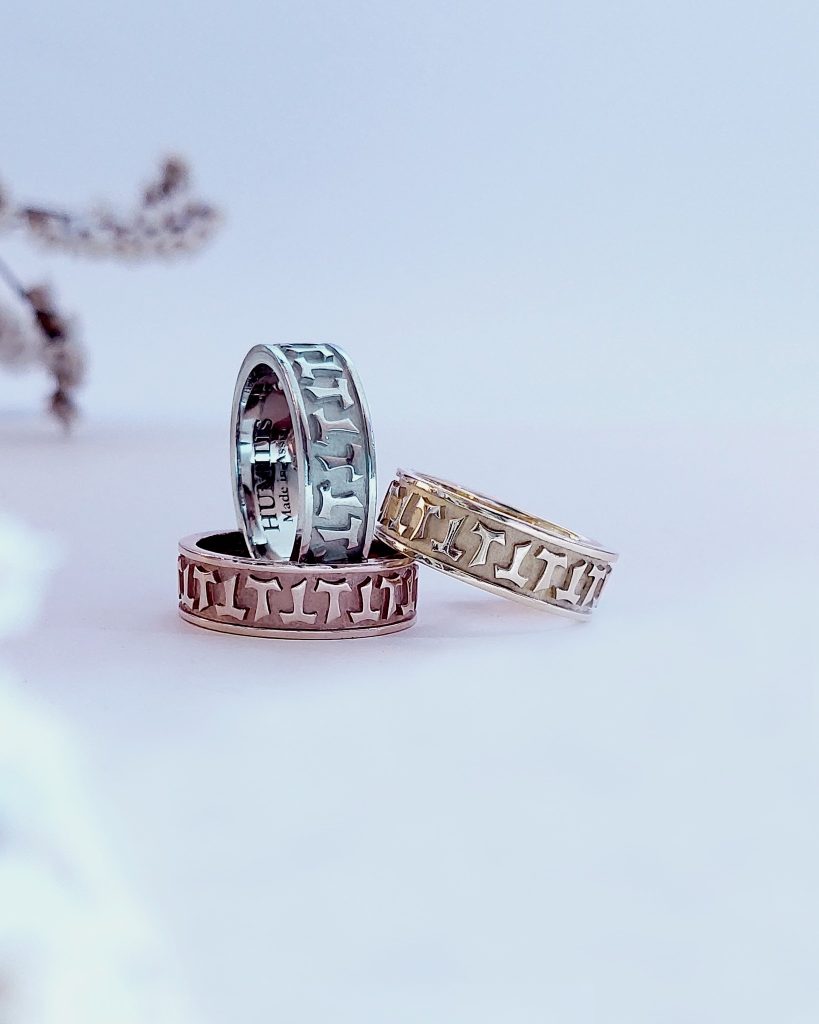 Nestled in the landlocked region of Umbria is Assisi, a town made famous by its patron saint. Each year millions of tourists flock here to visit the famous Basilica of Saint Francis of Assisi. The road leading to this holy site is lined with shops selling religious memorabilia. Among them is HUMILIS Made in Assisi, a jewelry brand that marries modern style with spiritual traditions.
First opening in 2004, this shop now has several locations across Italy. Despite its expansion, their designs continue to embody the spiritual nature of Assisi. Many of their pieces incorporate the Tau cross, a symbol strongly associated with St. Francis. Signifying salvation and redemption, he often used this when signing letters and blessings. They've also made many items that incorporate the rosary, including rings, bracelets and necklaces.
Offering sterling silver, gold plating, and solid 18 Kt gold, this brand can accommodate many budgets. A gift from HUMILIS Made in Assisi is a great option for a spiritual person in your life. They also offer more neutral pieces that pay homage to Italy's most famous landmarks. These can make a great gift for anyone who has an affinity for Italy and its architectural marvels.
Website: www.humilis.it
---
Creart Roma
Rome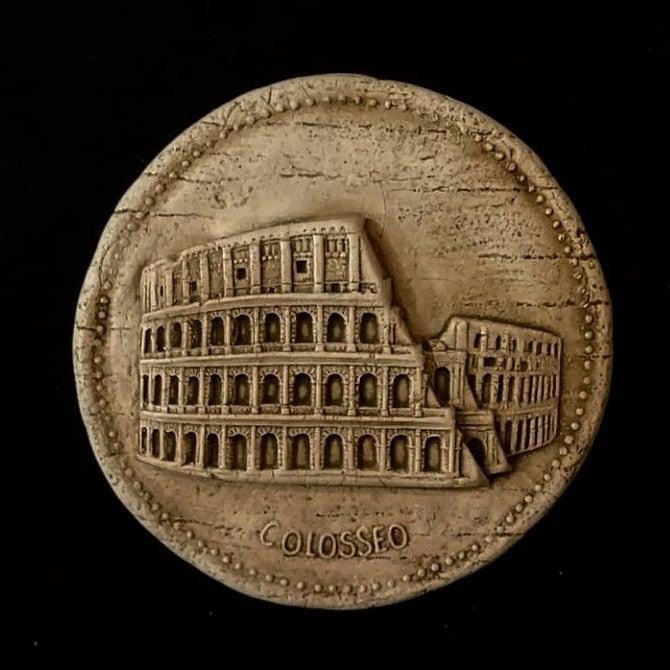 Rome has plenty of spots that offer respite from its famous hustle and bustle. Via dei Coronari is a stone's throw from Piazza Navona and a prime example of this. It also happens to be one of my favorite streets because of its many shops selling artisanal goods. And if you're looking to find unique art that feels historical, look no further than Creart Roma.
This shop was founded in 1988 by ceramist Freddy and archaeological restorer Anna. Together they offer handmade ceramic art with a catalog of approximately 300 products. From depictions of landmarks like the Colosseum, to historic figures and iconic symbols, each piece embodies the city's antiquity. Despite all the time and patience that goes into each work of art, there's something for every budget.
The brand is highly respected. In fact, they create art for many of Rome's museums, including Palazzo Barberini and the Capitoline and Vatican Museums. Finally, Pope Francis has even gifted their creations to numerous political dignitaries, making them prestigious collectables.
Website: creartroma.com
---