While on a brief trip to Positano, Austrian born Elisabeth Sommer met the love of her life (and future husband) exactly 20 minutes after arriving! Twelve years later, Peppe and Elisabeth are a DreamMaker team and are raising a family together. Together they have quickly grown Bluestar Positano (a private boat tours company) and hope to open a vacation rental in Praiano very soon. All built with love!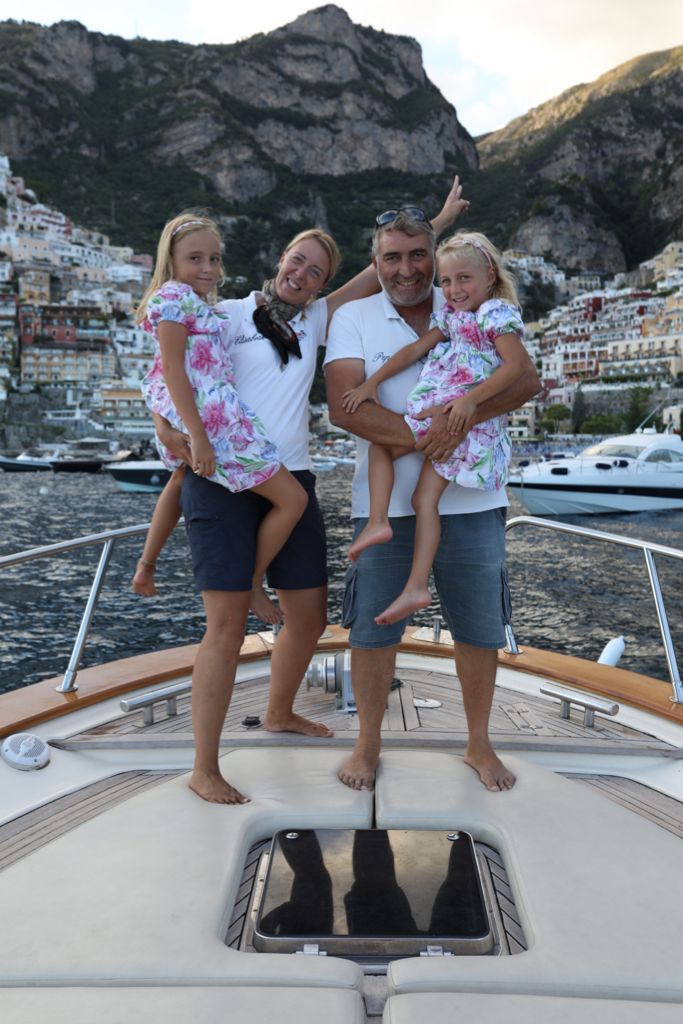 Watching Elisabeth's Instagram filled with stunning sunset and sunrise views and videos of her daughters frolicking around the beach, you'd think that life was perfect. However, for Elisabeth, trying to balance work and spend quality time with her daughters was always a challenge. It was during the pandemic lockdown period that she had time to reflect and make some important changes. We hope that you enjoy reading (and watching) our most recent, "Chat with an Expat!"
Where were you born and living before moving to Italy?
I was born in and grew up in Vienna. I studied business administration and then I started working in hospitality management for international hotels. I moved from Austria quite early in my career because if you want to work in this field you have to move every two years or so. I lived in quite a few countries in Europe and Eastern Europe.
I still have my mum in Austria. My father died when I was quite young. I have an older brother and sister, nephews and nieces who are all in Vienna. I still have a good base there and an apartment because logically I had a life before I met Peppe, my husband.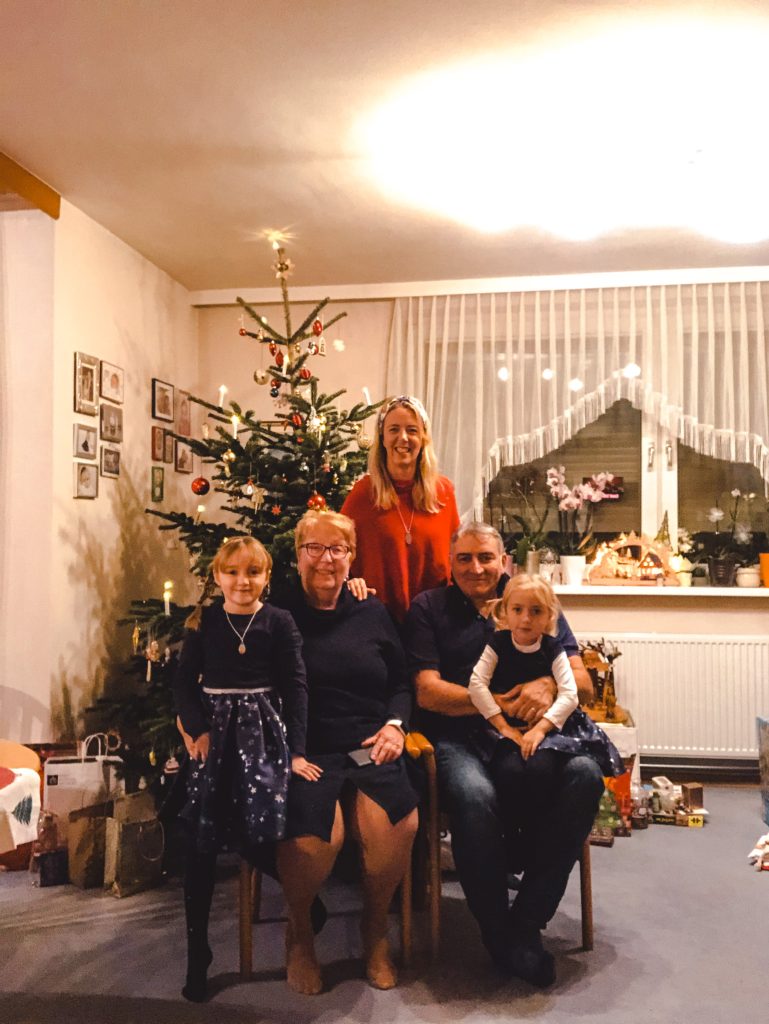 Austria shares a border with Italy. Did you have any connection to Italy personally or professionally before moving there?
Not really. Business wise, I always focused on central and eastern Europe. I really like Prague and Budapest since they are very similar to Austria. My mother teaches Latin so logically with its connection to Italy and the language, I grew up with a lot of Roman history.
For holidays, yes, I visited the north of Italy, but I have to say that I wasn't completely in love with Italy.
How did you end up in Positano?
In 2009, I booked a trip with my best friend to visit Rome, Naples and the surrounding areas like the Amalfi Coast. The hotel where I was the general manager was the host of the SSC Napoli football team (which is important here) and they did their summer camp in the hotel. That year I came to visit Rome and then Naples to see the soccer game. We also booked three nights in Positano and two nights in Sorrento.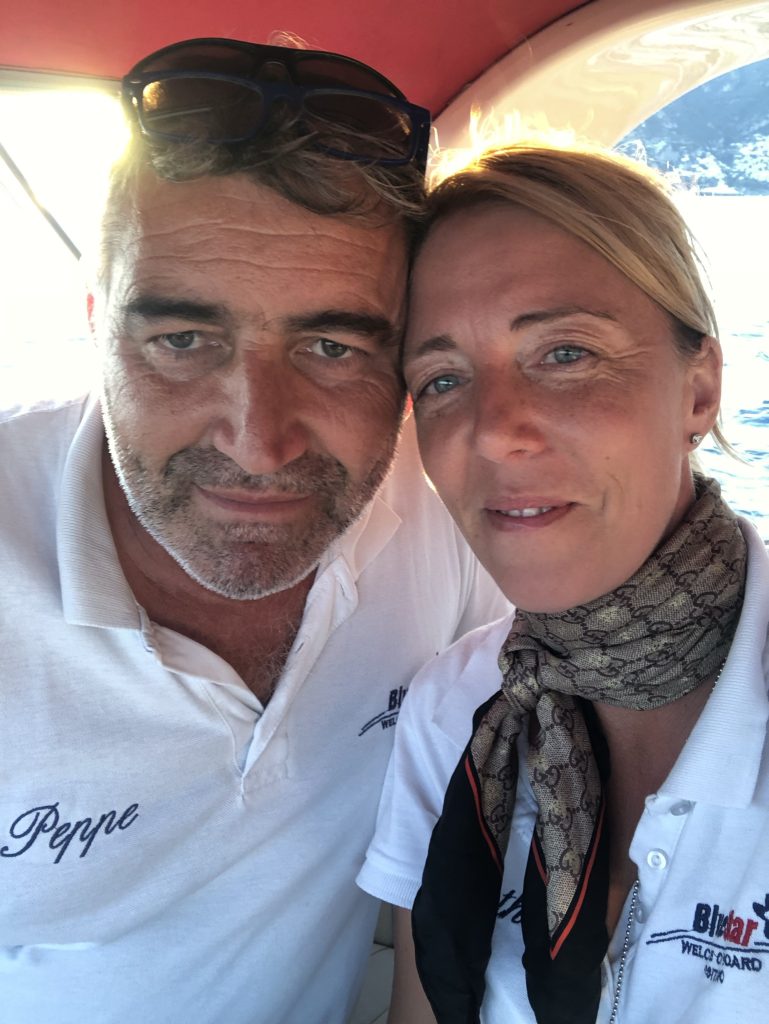 I met my now husband Peppe within the first 20 minutes of being in Positano—at the beach. My friend and I were walking to a small beach to have a swim and then we wanted to go for a drink, but we didn't have any money. So, we went to the main beach to find a cash machine and while we were walking, there was a guy standing at a bar waving at my friend. She waved back and he invited us for a drink. This is how I met Peppe and his friend.
Communicating: Before and Now
We tried to communicate in English, but then his was basic. We had conversations and step by step I learned Italian once I realized that we were in a relationship. I studied Italian online and asked him to just speak Italian-Italian and not a dialect.
At home, the first language is German. I always focused on making sure that my girls learn German because it is respect for my family and country, but also to understand your roots and origins. You need your own language because often there are things that you can't explain or even translate. Automatically when Peppe is home, the girls speak Italian.
We video call with my mum and the girls speak German.
What cultural differences did you notice in the beginning?
The first year I did not work and took a break so I could figure out what I wanted to do. I immediately had a good experience. The south of Italy is different and if you try to communicate, they love you. The biggest issue that I had and still have is that they are not on time. I come from a country that when you say 'nine', I arrive at a quarter to nine. I can't change this, nor can I arrive somewhere late. Here it's, let's say, "easy going". The way they do business is different. You cannot really move forward if you move like a train and you think that you can just 'drive them down' – they won't let it.
It's a cultural thing. Although we have a border with Italy, in this way we are very different.
I still sometimes get nervous, but I chose to come and make a family here. So I have to respect the culture here. I'm not going to change them and this is not my business.
Tell us about your family.
My daughters with Peppe are Rosi who is 5 and Leni who is 8. I have two stepdaughters from Peppe's first marriage. Fiorella is 24 and we just became grandparents in September and Annalisa is 19. They are also a big part of our family. The four sisters are unbreakable. I like this a lot because when I'm not around anymore, I know that my girls will have a really good social net because the two sisters especially Fiorella, are like a mother to them. It's good.
Leni is like an emotional tornado. She is very Napolitan and she is very creative. Rosi is more the realist, calm and looks very Austrian.
Do you ever think about the small town Positano life and the things that you can't have anywhere else?
Yes, it's true. Every morning, I wake up early to walk the dogs. I never get tired of these walks because every sunrise is different. It is unbelievably beautiful! There are many ways to walk through Positano. It's not just the main street and the beach. You have so many stairways. I walk an average 10-12,000 steps a day. I go to the gym, but I don't really need it. I don't like to use a scooter or car because you can get there faster by walking.
As for my girls, I think before they spoke they knew how to walk stairs! The little village life is beautiful, but has its advantages and disadvantages. My girls run around five months of the year without shoes and they live on the beach. Although I work a lot, they can stay with me at the desk on the beach and swim in the evening. If you want, life can still be simple here. My girls don't use the phone and hardly watch TV because there is so much to do. You don't need it. We are outside and busy exploring.
The challenges of balancing work and home life.
I need to tell you the truth that it was not always like this. Running a company with my husband, we work six and half months of the year, every day. My day starts at 5:30 a.m. and finish at 9 pm.
My mum would often tell me that my kids were like an accessory. She tried to explain to me that I didn't have a good work-life balance. Maybe it's not right to say, but although lockdown brought a lot of bad things business-wise, for family life it was like a pan that hit me on the head. I realized that time was passing by, like when I missed seeing Leni take her first steps. I was like a machine.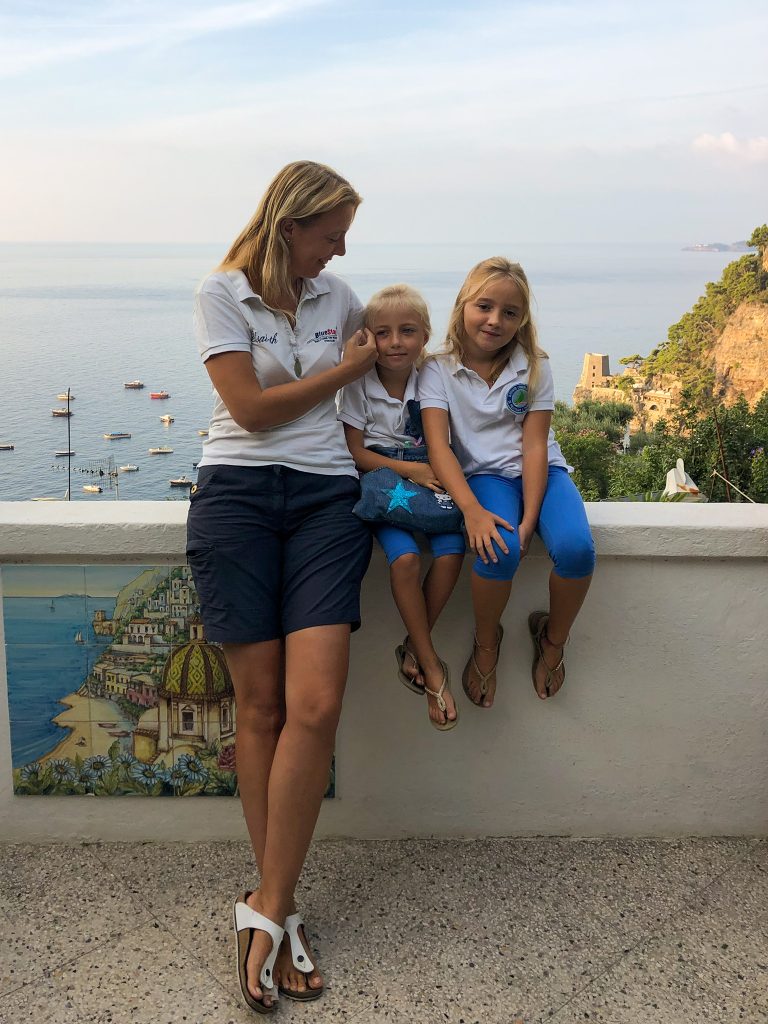 What have you changed now to find balance?
I am still in the research stage. We restarted business on June 4th. On the 3rd I was sitting at the square in Praiano with a good friend Nicole. She asked me, "what happened?" I told her, "I can't stop crying because I'm looking at my kids and thinking that I'm not ready to go back." Before I was like a little computer: opening emails, making breakfast, preparing them for school etc. I didn't want this, so I started working with this heavy weight wondering how I could find balance.
Peppe saw that my motivation was different. He also asked me what was going on and I said: "I think that every three days, I need some time with the girls." Maybe I need them more than they need me. I just felt so unmotivated. They are so innocent and the time with them is lovely. Step by step, I took every Sunday off and time just for me. I am very lucky because we have Mariana who is my right hand–half of my brain. She told me that if I needed her to work more she could do so. She understands me having two kids herself. It was the first time in my life that I could give responsibilities of my own business to somebody else. And, it was fine and went great!
My priorities changed and I don't want to move things back. It was delicate too from a business perspective because during COVID, I could have avoided paying someone. We just have to put our focus where we need it.
Tell us about your goats and other pets.
It's not typical to have goats. Peppe knew that I love animals and I come from a place in Austria where my grandparents had animals like cows. My uncle still has a big farm with animals. The first animal I got was when Leni was born and it was a donkey. In Praiano, we have a terrace garden like a lot of people here and we were thinking of the perfect animal. We decided on goats. Now we have five and they've been with us for over ten years. When they hear the key in the lock, they come and greet us.
The girls learn a lot about taking responsibility by helping in the garden and in general, they like to be in nature.
Bluestar Positano
Peppe already had Bluestar in another legal form with a partner. Like I said, I was one year doing nothing when I first moved here. We were lucky because the partners wanted to leave because they had other core businesses: one had a hotel and the other a beach club. At that point, I was lucky to enter and then, it was only me and Peppe. We started with one boat and, because the whole area has grown over the last ten years, we now have 10 boats and 18 employees.
Note: In peak season, Positano's population nearly triples due to tourists visiting.
I don't like it when people complain about the tourists because this is how we make a living. Personally, I think that I like to live here because of this because there are people from all over and speaking so many different languages.
Tour Offerings
Since Positano is the first village on the Amalfi Coast, we focus on this area which is a UNESCO Heritage site. There are beautiful hidden spots and lovely places to visit. We specialize in private daily charters with a boat and captain. We also go to Capri which is one hour away. Or, we offer a group tour everyday along the Amalfi Coast.
What months does Bluestar Positano offer tours?
We start in the middle of April, around Easter, and we always finish on October 31st. People ask me why on that specific date? It's because first, we have a license from the town hall and that is limited and second, the weather can change unbelievably quick by then. Like now it's beautiful, but tomorrow the ocean the rough and it comes up to where I have my info desk.
What do you do in the off season?
We never stop. People think that we take the boats out of the water and that's it. We have a warehouse where we store the boat and then there's maintenance. Peppe takes care of overseeing all of the maintenance and upgrades and I take care of the bookings. Every booking goes through my hands. I know every client and this takes a lot of time. In the summer, I get about 300 emails a day.
I don't want to give this part to someone else because it would never be the same.
How did lockdown and COVID impact your business?
Last year because of COVID, we didn't open until the 4th of July and we closed on September 21st. While we typically get a lot of our business from the United States and South America, we switched to a more local market. We had a lot of Italians which was fun for us because normally we don't have to speak Italian. At the info desk, Mariana is Brazilian, I am Austrian and Julie is British.
We had to close in September because the weather got so bad. This year was a little better. So we didn't have to let anyone go, we continued working with the same amount of people, but less boats. Monetary wise it was a difficult decision, but we will be okay.
Did COVID strengthen the business community that is so dependent on tourism?
I will tell you the truth. I thought when things got tough, we would stay close. But, here as the 'cake got smaller' let's say, people who are evil were even more so. We had a lot of problems, but we are still alive.
Peppe is a big dreamer and I'm the maker so we continued and survived both 2020 and 2021 and really positive about 2022. I don't really want to go back to the way it was in 2019 when I didn't have any time. I hope for balance. I'd like to have what you said, 'authentic tourism' because we are Number 1 on TripAdvisor because we started with Peppe who was born here and loves it here. The most important thing for him is to bring the feeling that they are welcome. The bigger you get, the more chance you can lose that.
Now it's important for both me and Peppe to have time for family. I also hope we can have time to go to Austria.
What is your definition of an expat?
I try to protect where I come from and want my family to respect my own family. I'll always be the expat in Positano because it is so small. Often people think that I'm from Australia rather than Austria, or I'm Peppe's wife and they don't know my name. I think it would be the same if Peppe lived in a small town in Tyrol. However, I have a wonderful group of friends.
I miss my family, but as long as you find your family here [abroad] then you find happiness. I found my happiness through my kids, Peppe and his family who have been lovely with me. My friends are from Australia, Brazil, the UK, Canada and Russia: we're a funny a mix. It's a tiny, but very rich village.
What are you personal goals?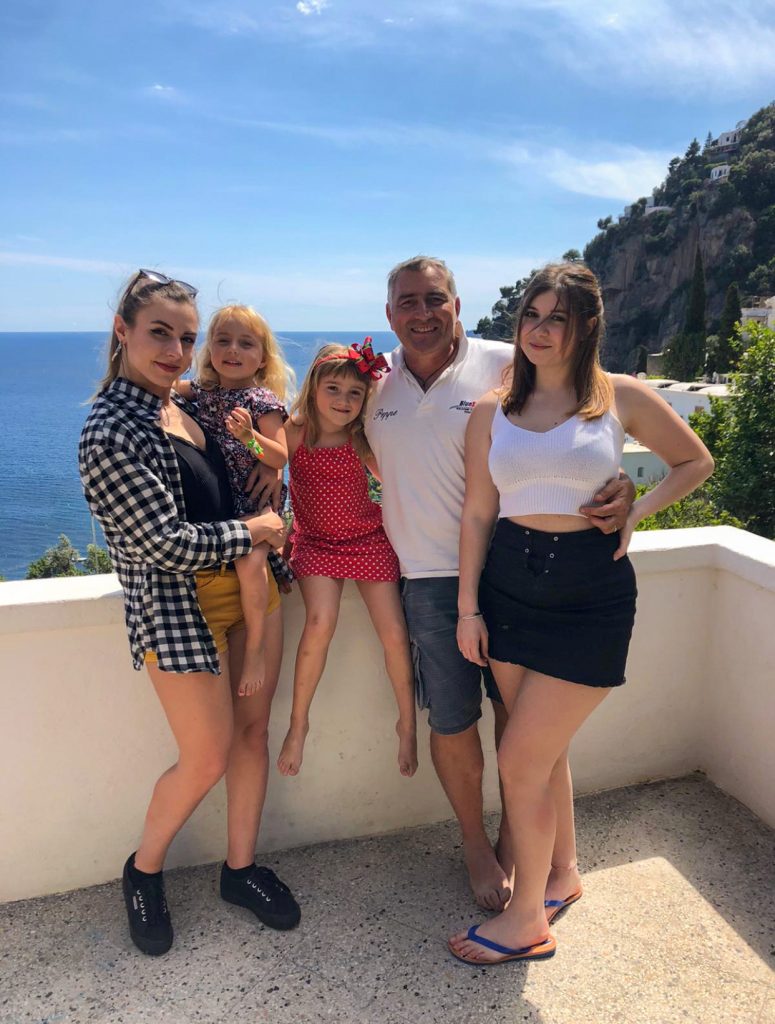 Personally, like I said, Peppe's first daughter made us grandparents and I want to be part of their life. We are young so we can help her a lot. I want to try and guide my kids. Businesswise, we'll continue with Bluestar that is Peppe's passion and baby. We bought a property in 2019 in Praiano and we hope to make a B&B there.
Where in Italy do you hope to visit as a family?
I'd like to bring the girls to Sicily and Alto Adige because I went to Bolsano with Peppe. There it's so much like our combined cultures: German and Italian.
To book a private boat excursion or group tour in Positano and Amalfi Coast, visit:
www.bluestarpositano.it
@bluestarpositano on Instagram and Facebook
All photos provided by Elisabeth Sommer.
Watch the full version of the interview