From Milan to Miami, at this year's return of Art Basel in Miami, exhibitor Elidea is setting the Miami art scene on fire. Celebrating women with flair. Her signature mixed-media contemporary style uses multilayered silver, copper and gold leaf to enhance the elegance of the feminine form.
Awarded Best Rising Artist Exhibitor at Spectrum Miami 2018. The following 2019, Spectrum art fair stepped it up by awarding her Spotlight Artist.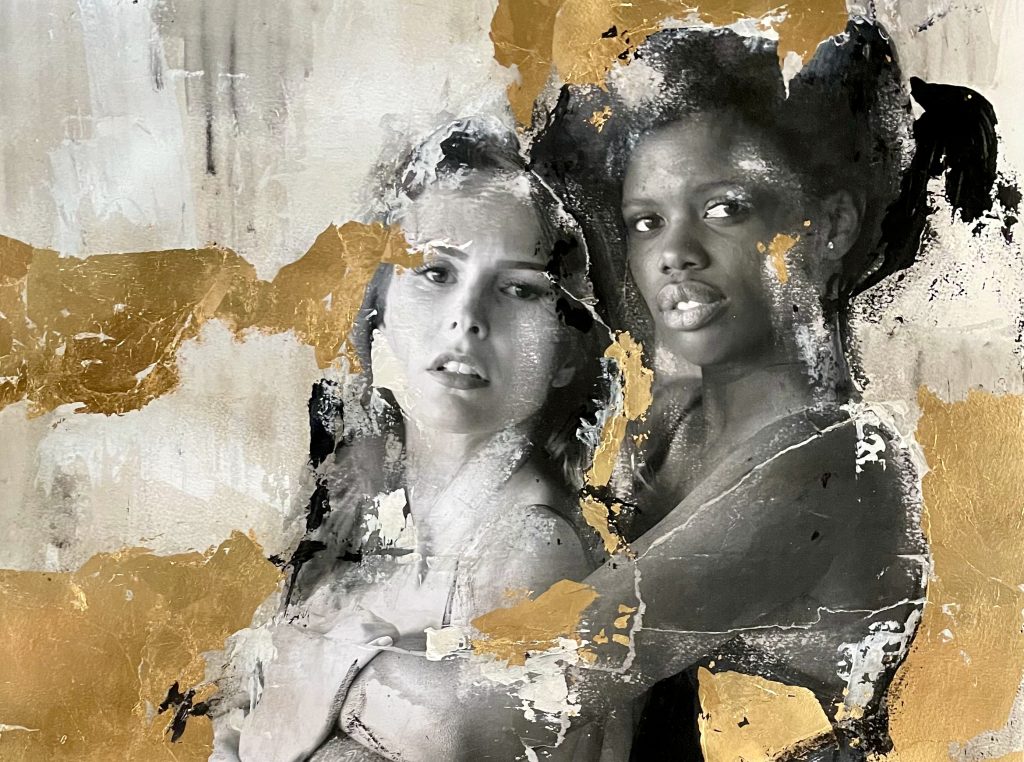 I was inspired to hear Elidea speak about her art. Passion rang out. A passion for creativity and acceptance. Along with deep thankfulness for a creative life lived daily. It was a true celebration of acceptance and life.
Coalesce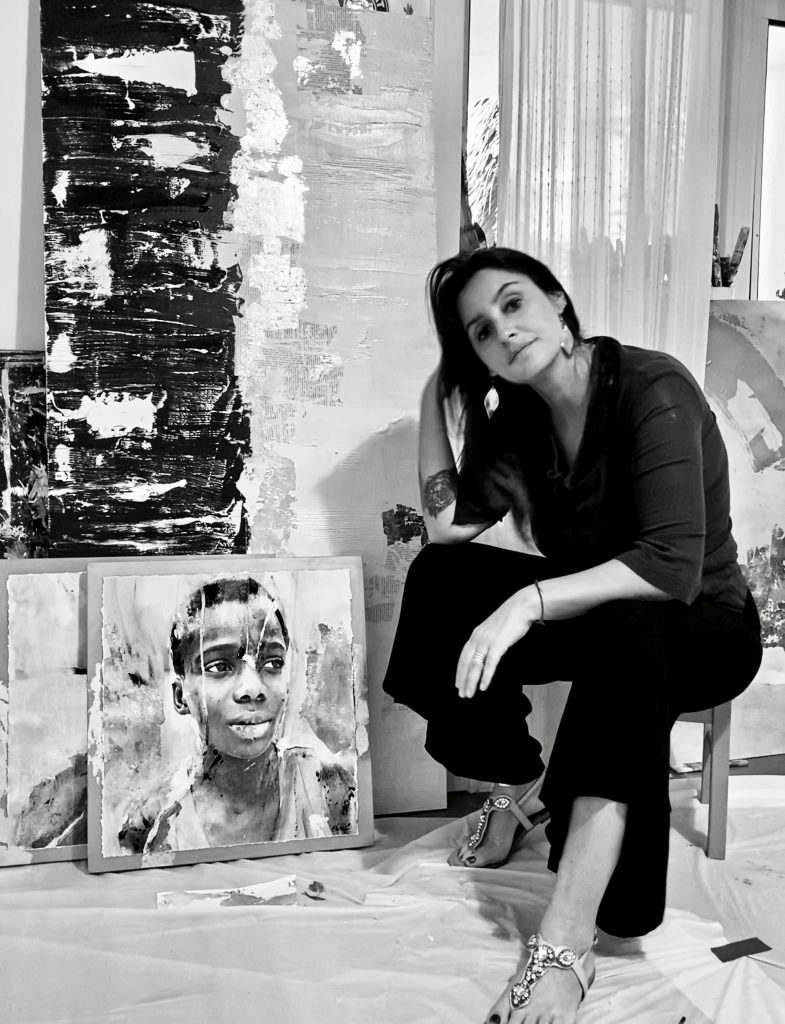 Warmth and feminine beauty danced in my mind looking at Elidea's textured layered artwork. I felt beautiful just for being a woman.
That is Coalesce.
Or, as the dictionary defines it "to come together to form one mass or whole".
Like the planets aligning, Coalesce brings together women of every colour, spirituality, sexual orientation, body shape and nationality in a true celebration of femininity and the feminine form.
It is a world unity of women. Very appropriately named for Elidea's comeback exhibit to Art Basel in Miami 2021. Showcasing 16-20 pieces. It is the perfect way to celebrate the return of Art Basel after being cancelled due to COVID last year.
What does art mean to you?
"Art for me has always been an effective tool for improvement and awareness."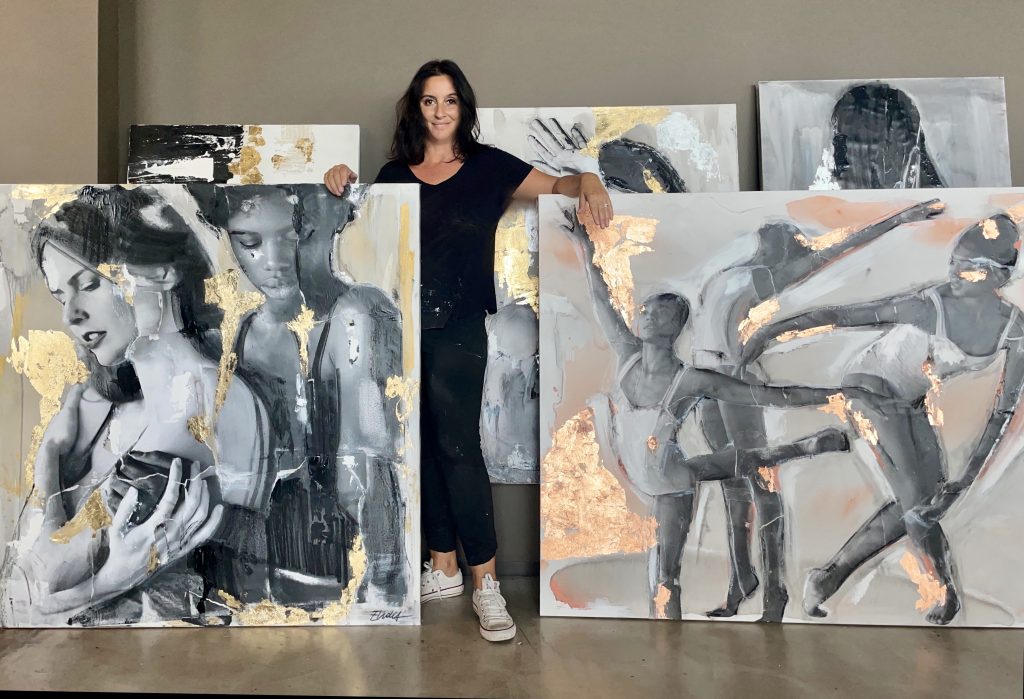 Art and Italy go hand in hand. As a result, Italian's artistic flair is evident in everything from exhibitions to gardening. Some people say it is in their blood. Being born Italian is to be born with an eye for art and beauty.
I tend to agree. Smiling Elidea says "living and growing up in Italy, which I like to define as "an open-air art exhibition" helped me refine my taste for beauty, history and art". This prompted me to ask…
Did you always want to be an artist?
Her answer "creativity has always been an innate, instinctive and very important part of my life, since the beginning of my studies."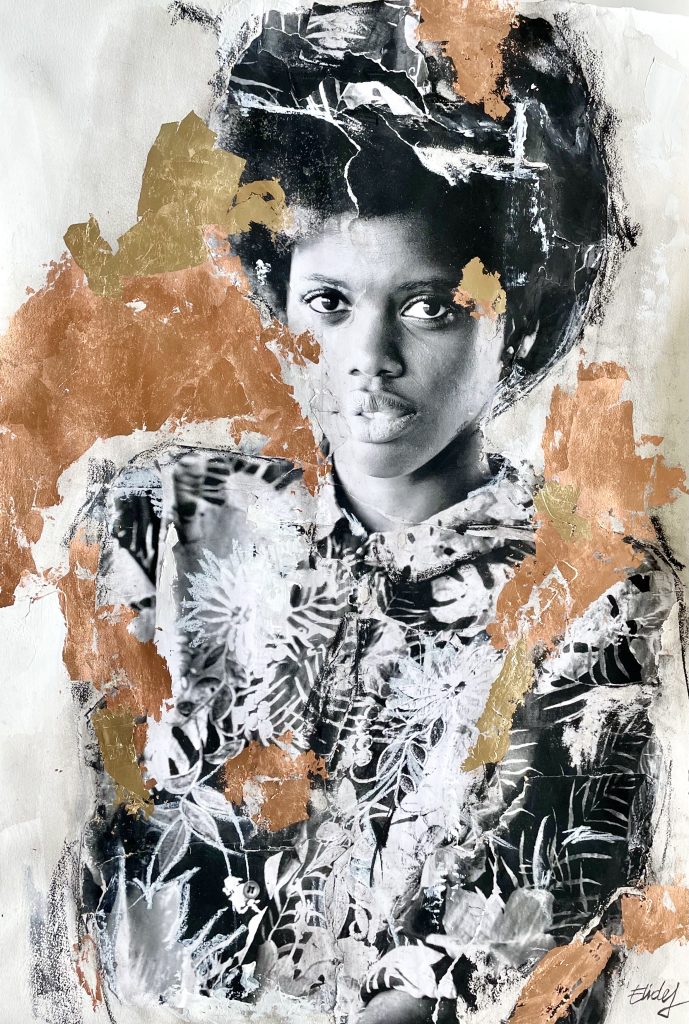 At the European Design Institute in Milan, the graphic design aspect of her work was learned. A passion for photography and also studying videography enhanced and honed the beautiful black and white photography blended into the base of each piece.
This style is her own. Although other artists did inspire each layer of glorious golden collages.
Which artists inspired you?
"I love how Mimmo Rotella broke down movie posters and built them back up again into something more beautiful."
Plus, "black and white photography has a romance to it" Elidea says. So, by ripping up an image then rebuilding it. Layering it with gold, silver and copper adds even more elegance to the piece.
I looked closer at the images and Elidea is right. I found it accentuated the romance of building women back up from life hurdles. Even if they have been 'ripped apart' in their everyday lives.
Enhancing not detracting.
Adding this elegant touch of gold was inspired by artist Gustav Klimt's golden phase. It is easy to see why. Quoted as saying "All art is erotic" like the gold leaf itself it melds perfectly with Elidea's passion for portraying the beauty of every woman.
Please share your vision with us.
"I feel that my art represents all women and our experiences are fragments that come together to form a beautiful and powerful whole."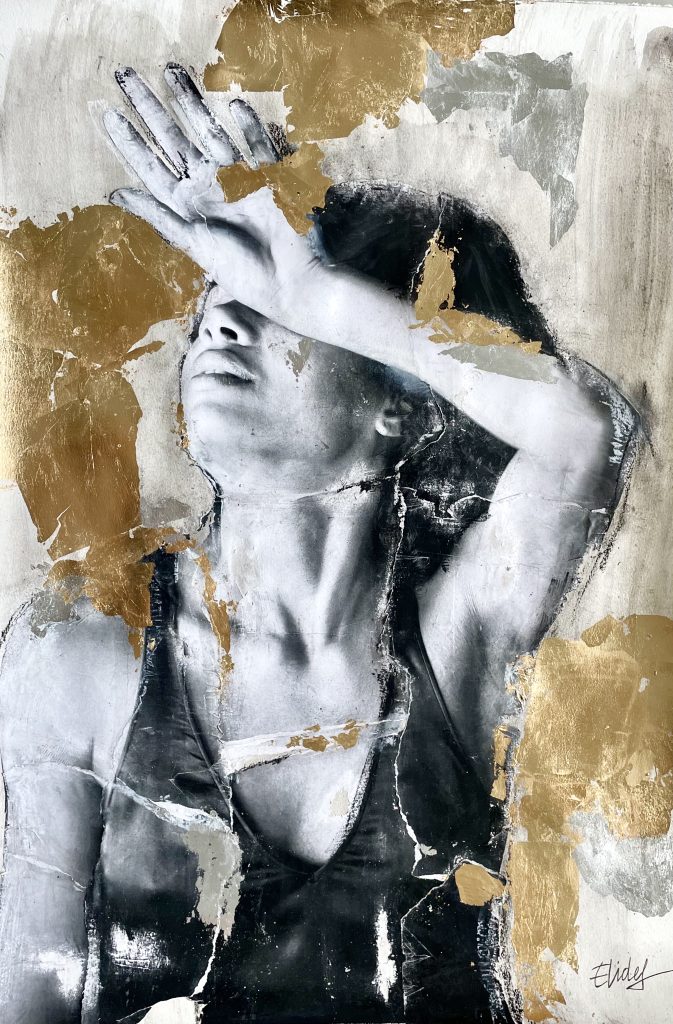 It is a beautiful and true sentiment.
No matter what life throws at us, we can always rebuild. Like the layers of Elidea's art. Even if you have been shattered. Faced hurdles in any aspect of life. Been broken-hearted. Or, broken by society, people, family or friends. We are all still beautiful.
This applies to men as well. To humanity as a whole. On every continent, in every country.
My heart filled with joy at this as Elidea stated "my art shows that when life rips you apart, there can be golden moments to make you who you are".
Women supporting women brings acceptance. Acceptance can transit the world, break down barriers and bring people together.
Furthermore, she went on to say "COALESCE is the fusion of my creative world. It is made up of photography, collage, painting and gold. It is the birth, the destruction and the new life of a body, texture, human figure, and look. These new artworks are dedicated to the fragility, enchantment and strength of a woman's body."
What do you most want to communicate to viewers of your art?
"I want to communicate the importance of finding value in broken pieces."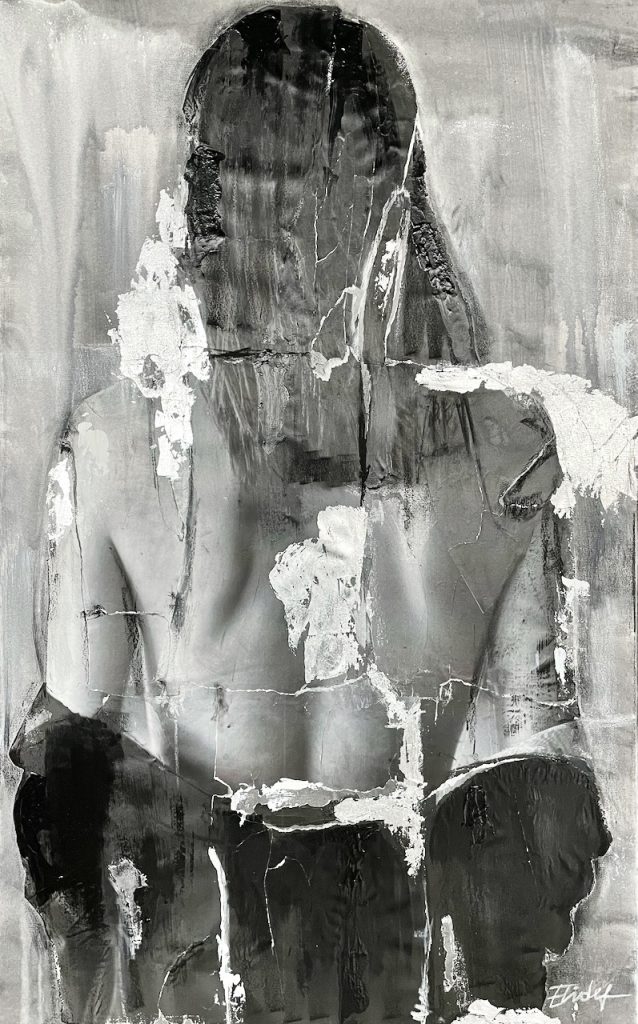 This made me think. Every person has been 'broken' at some stage in their life. It is what makes us human.
Elidea's next statement was powerful. She goes on to say " by celebrating life's history and flaws; bringing to light the scars that have come from life experiences; finding new purpose; seeing the love and beauty of the imperfections and loving ourselves even with our flaws, we are beautiful survivors."
Lastly, what's your favourite thing about living in Miami?
I had to ask this question. Moving from one of the world's most iconic artistic countries, Italy, I was curious to find out why Miami.
The answer was that of a true artist "Miami is a city that you can never stop loving. It is a city full of energy and constantly changing. What I love the most is the union between different communities, how it elevates life, art, music and cuisine".

Elidea has loved living in Miami for the past 10 years of living saying "I have experienced its beautiful change, especially on an artistic level. With the arrival of the international fair of Art Basel in Miami, the artistic side of the city has exploded creating a thousand opportunities for artists. Who like me, look for space to express their creativity".
You can see Elidea's exhibit at the Glassbox Ironside with an opening reception on Tuesday, November 30th from 5:00 – 10:00 p.m.
---
COALESCE: An exhibition of new art works by Elidea
Art Basel in Miami
Tuesday, November 30, 2021 | 5:00 – 10:00 p.m.
Glassbox Ironside
7520 Northeast 4th Court
Miami, FL 33138
RSVP required. Book at Eventbrite.