For a country that historically dotes on its women, when it comes to economic opportunity, education, health and political empowerment, Italian women continue to demand a seat at the table. According to The World Economic Forum's Global Gender Gap Report 2020, Italy ranks 76th place out of 153 countries. That's down six places from 2018…
So, at Live in Italy, we decided it was long time to recognise a handful of the countless Italian ladies making their mark in 2021. Especially with International Women's Day on the horizon. It's March 8th by the way – calendars and aperitif at the ready, please and thank-you! With everything from one of the most-acclaimed actors, to up-and-coming activists, here are our top 10 most inspiring Italian women of 2021.
---
1. Laura Boldrini
Boldrini is one of Italy's most influential politicians. Formerly a United Nations official, she started her political career in 2013 as an MP for Sinistra Ecologia e Libertà, but stepped into the limelight when she became the President of the Chamber until 2018. Be it in changing legal language so that it acknowledges the existence of women in positions of power, working to ban revenge porn, or heading Italy's #MeToo case, where she temporarily transformed the Montecitorio Palace (the seat of the Italian Chamber of Deputies) into a women-only institution to emphasize how sexual harassment and abuse against women are often ignored, Boldrini has dedicated much of her career redressing women's rights through official acts.
Most recently, she posted a selfie with #DateciVoce ('give us voice') to demonstrate that she was one of the deputies demanding the government to respect gender equality in the coronavirus task force and in all decision-making bodies – you're going to want to check this out, Boldrini is not one to be messed with!
2. Stella Jean
From her powerful speeches during the Black Lives Matter protests to her work with the United Nations in providing jobs to female artisans in low-income countries, when it comes to exquisite couture and social justice, self-taught fashion designer, Stella Jean, is a force to be reckoned with. Jean founded her label – celebrating diversity through vibrant designs that acknowledge her Haitian-Roman heritage – in 2011. It's since been staged by Giorgio Armani, exhibited in London's V&A museum and worn by the celebrities, Beyonce and Rihanna.
A decade on, and she is still the only black female designer to enjoy this kind of stardom. So, after the rapid rise in racially motivated attacks across Italy, Jean made a point of withdrawing her collection from Milan's autumn/winter 2020. Instead, she made a short film, Italians in Becoming, featuring women of colour vocalising the racist comments that had been directed at them and took it to the press, sparking a conversation that held brands and power accountable to systemic racism.
3. Beatrice Vio
Not only is Beatrice ("Bebe") Vio an Italian Paralympic wheelchair fencing champion, but she is the first athlete ever to compete with four prosthetic limbs. Vio came onto the scene in 2016 and has steadily won numerous tiles since, including – would you believe it – an International Emmy Award for a documentary about her life, Who I Am: The Rising Phoenix. When she was eleven years old, she was struck by meningitis and had to have her legs and forearms amputated. But she refused to abandon her love of fencing and, in such a short time, has become a great example of strength, courage and the infinite possibilities available to all girls.
Vio uses her platform to subvert ableism, debunk the myths surrounding meningitis and promote Art4sport, her charity that supports amputated children in sports. She is also part of The Barbie Dream Gap Project, working to revise role models for girls. Yes, she – alongside Frida Kahlo, Amelia Earhart and Rosa Parks – has her own Barbie doll!
4. Fabiola Gianotti
Fabiola Gianotti is one of the most important physicists in the world. And as the first female director general of The European Council of Nuclear Research – the only one in its history to have renewed the role for a second term – Gianotti is paving the way for other women in STEM fields. With her days dedicated to dark matter, she has written over 550 publications, is a key member of many international scientific committees and has received honorary doctorates from eleven universities around the world. Her widespread success is encouraging more girls to pursue careers in science, an industry notorious for its disparity in gender, but that's not it.
Giannotti is a proud humanitarian who understands that because science has no gender, no race, no culture, no political party, its role is both unifying and universal, using it to promote diversity and acceptance. Once close to becoming a professional pianist, she is even adamant about breaking down the barriers between science and the arts.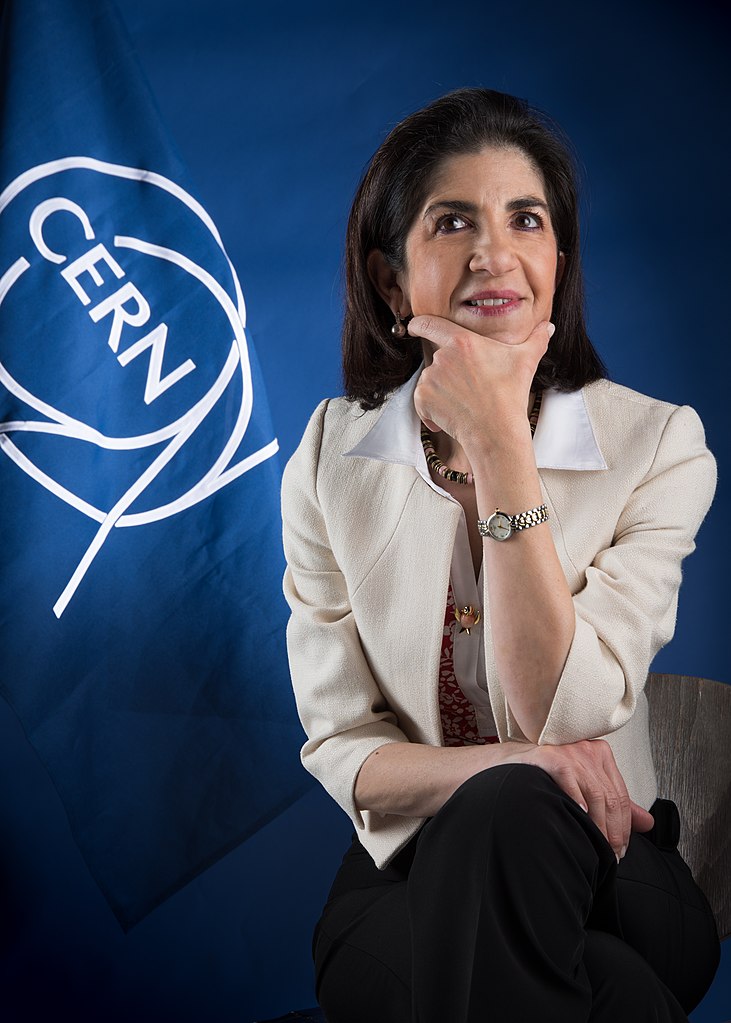 5. Ilaria Bonacossa
When it comes to Italy's art scene, Ilaria Bonacossa is schoolin' life. Bonascossa is a curator, art critic and the director of Artissima, Italy's most important contemporary art fair, and Italy's Artist Pension Trust. She has been the curator at the Fondazione Sandretto Re Rebaudengo, the Artistic Director of the Museo Villa Corce and continues to be the curator of Antinori Art Projects' permanent installations. Having studied her MA in the US, she regularly collaborates with New York's Whitney Museum and is a member of the Technical Committee for acquisitions at FRAC Provence-Alpes Côte d'Azur, the Leone d'Oro of the 52nd Venice Art Biennale and the Inamori Foundation Prize in Kyoto. Her CV is outstanding – now, try reciting it without taking a breath. She wields her prolific professional experience to support young galleries and emerging talent in the high-pressure art world, where judgements are ever faster, prices ever higher and social circles ever exclusive. Bonocossa has published several books and directed numerous films, too. Brava!
6. Diletta Belloti
Diletta Bellotti is a human rights advocate and the founder of "pomodori rosso sangue" (bloody red tomatoes), a non-violent protest movement against a particular type of labour exploitation in agriculture, agro-mafia. Campaigning against organized crime and gang-masters, especially when it comes to worker exploitation and migration, is Belloti's world. Through fighting for more sustainable farming methods, in terms of labour force and the environment, she is also one of Italy's leading green warriors. Naturally, she is part of Extinction Rebellion (XR), the world-renowned environmental movement against mass extinction. But she is also integral to the Save Bees & Farmers crusade, working to save biodiversity through a bee-friendly and pesticide-free agriculture in the EU.
She certainly has her fingers in a few (fair-trade) pies, and continues to tour the world with TED talks about her projects while working as a Press Trainee at the EU Delegation to Ethiopia. There are big things in store for Belloti. We can't wait to see what she does next.
7. Elena Ferrante
Elena Ferrante's has been published since 1992, but we still don't know who she is other than the "Banksy" of novels: a woman without a face, with a pseudonym and whose identity is known only to her publisher. Ferrante's anonymity is what makes her success most extraordinary. She never promotes her work and has only a couple interviews to her "name", all conducted exclusively via email with her publisher present, but has been featured in Time's 100 Most Influential People 2016 and won the Man Booker International Prize 2016, as well as the Independent Publisher Book Award 2016 and the Best Translated Book Award 2014.
Her books, Troubling Love and The Days of Abandonment, have been turned into films, while her triumphant saga, The Neapolitan Novels – a bildungsroman anchored in Italian history and friendship – is an HBO drama and play. A-ha, now we know what Virginia Woolf meant by all a woman needs to write great fiction is; "money and a room of her own."
8. Chiara Ferrangi
One of the few high-profile Italian businesswomen, Chiara Ferragni is part of a global media story on young women entrepreneurs storming the barricade of media titans with their digital influencer status. She launched her fashion blog, The Blonde Salad, while studying international law in Milan. It quickly turned into a famous retail line so that, now, she manages a €30m business and is one of the most influential people in fashion worldwide. Her success has been celebrated in Forbes "30 under 30" list of power brokers. Meanwhile, Spanish Vogue put her on its cover, she was the ambassador of the LVMH Prize 2019 and Harvard Business School uses her as a case-study in how to make a business by monetising from self-branding.
Her business plan? The dream combination of tech entrepreneurship, impeccable taste and old school Italian business sense. Her marriage to Italian rapper, Fedez, has more recently made her a super-brand and was closely watched by 67m. That's around the population of the UK!
9. Emma Breschi
Activist and photographer are not the usual titles you'd expect to see on a model's portfolio, but the Philippino-Italian, Emma Breschi, is breaking new ground precisely for this reason. Breschi is the first curve model to be scouted by fashion royalty, Vivienne Westwood. She has been highly vocal about promoting body positivity ever since, regularly posting confident nude portraits of herself on Instagram. When she does wear underwear, you'll often find her in comfortable briefs, working to defy the expectations of sexiness (which she oozes) at every turn. Female identity, body image and womanhood take focus in her film and photography work, too.
Breschi refuses to take part in the usual Insta-influencer content, choosing instead to use her social feeds for highlighting her work as a UN Women ambassador and for the period-poverty charity, Bloody Good Period. When she's not speaking up for all women, she likes to shout about curbing plastic pollution or urging the brands to up their sustainability efforts. WHAT a gem.
10. Sophia Loren
Last, but certainly not least, is Sophia Loren – one of the most recognisable women on the planet, a screen siren of cinema's Golden Age who has been famous since before man landed on the moon. She has gone head-to-head with Marlon Brando, Charlie Chaplin, Frank Sinatra, and then some. Loren's abundant work continues to defy the expectations of casting and film critics, playing sex workers; immigrants; spies; restless housewives.
For her execution of a mother fleeing the war in Two Women (1960), she became the first actor to win an Oscar for a non-English-language performance. She's won five Golden Globes, Cannes' Best Actress, the Venice Film Festival's Volpi Cup, a Grammy, the Academy's lifetime achievement award and was honoured with a star on the Hollywood Walk of Fame. The Rolling Stones dedicated a song to her and her recent interview on the BBC's Desert Island Disks, where she compared pizza to poetry, has landed her Twitter fame. If Loren isn't a star, no one is.
---
abruzzo art art exhibitions in italy christmas in italy expat in italy florence food food and wine Italian American italian food italian regions italian wine italian wine regions italy italy tourism italy travel lazio le marche live abroad live in italy live in italy magazine made in italy move to italy piemonte recipes ricetta rome sicily small business Stanley Tucci support local support small tourism travel travel guide travel magazine travel tips travel to italy tuscany venice verona visit italy wine wine industry wine tourism