In a stunning revelation, significant portions of a Saint Sebastian painting, currently on display at the Olga M. & Carlos A. Saladrigas Art Gallery at Belen Jesuit Preparatory School in Miami, have been attributed to the renowned master painter Titian, also known as Tiziano. Previously attributed to the Scuola Veneta (Venetian School), this large (73 x 28.3 inches) oil on canvas painting from the early 16th century has now revealed its true creator.
This remarkable discovery was made by Paul Joannides, MA, PhD, Emeritus professor of Art History at the University of Cambridge, and a life member of Clare Hall. Professor Joannides carefully examined the visible stylistic and material elements, uncovering significant clues about the painting's origin and the process behind its creation.
Madonna of San Niccolò dei Frari
In his assessment, Professor Joannides draws parallels to Titian's Madonna of San Niccolò dei Frari or Madonna and Child in Glory, a masterpiece created around 1535. This iconic work, initially crafted for the high altar of the small church of San Niccolò della Lattuga in Venice, now graces the Pinacoteca of the Vatican Museums in Rome.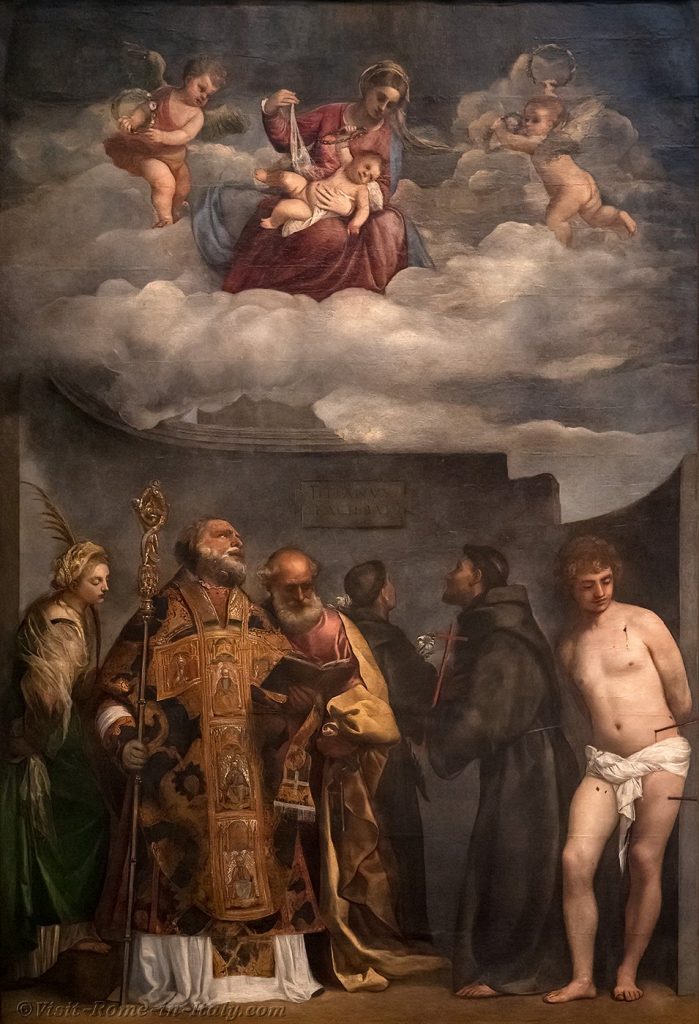 Alessandro Contini-Bonacossi
This captivating painting was originally part of the Alessandro Contini-Bonacossi collection. It was subsequently acquired by Frascione Arte, an art gallery in Florence that has loaned it for the Belen Jesuit exhibition.
Professor Joannides further compares the Contini Bonacossi Saint Sebastian to the figure of the saint in the Madonna of San Niccolò dei Frari. He notes its relation to a life-size Saint Sebastian once owned by the New York Collector Asher Edelman, suggesting it was a prototype for the Sebastian in the altarpiece.
Remarkably, the underpainting of the Contini Bonacossi canvas differs from what is visible on the surface. It shows the Saint looking upwards for heavenly assurance rather than downwards. Professor Joannides speculates that this canvas may have predated both the ex-Edelman canvas and the altarpiece, playing a significant role in their development.
The only gallery or museum in Miami to exhibit a Titian masterpiece
Currently, there are approximately 300 surviving works attributed to Titian, among an estimated total of 400. The Saladrigas Art Gallery at Belen Jesuit now boasts the only genuine Titian painting in the Southeastern United States, making it a remarkable addition to Miami's art scene.
With this revelation, the Contini Bonacossi canvas's value is expected to increase significantly, potentially multiplying tenfold in the future. However, it currently remains in the private collection of Federico Gandolfi Vannini, the owner of Frascione Arte.
"Faith, Beauty, Devotion: Medieval, Renaissance, and Baroque Paintings"
The Titian Saint Sebastian is a highlight of the "Faith, Beauty, Devotion: Medieval, Renaissance, and Baroque Paintings" exhibition. The gallery will have 2023 special hours and programs scheduled during Art Basel Miami Beach (Miami Art Week). This extraordinary exhibition showcases thirty religious and secular paintings by Italian and Flemish Masters, including Tintoretto; the Circle of Caravaggio; and Peter Paul Rubens. Flanking the Titian masterpiece are two different paintings of Saint Sebastian by Evangelista di Pian di Meleto (circa 1500) and Louis Finson (circa 1607).
About Titian (c. 1490 – 1576)
Titian, also known as Tiziano Vecelli or Vecellio, stands as one of the most prominent figures in the 16th-century Venetian school of art. Recognized as a leader of the "arte moderne" movement, he championed a new style characterized by freedom in style and composition, rejecting formal symmetries and hierarchical representation. Titian's bold use of color left a lasting impact on countless artists during and after his lifetime, including Vermeer, Caravaggio, Rubens, and Rembrandt.
During his lifetime, Titian was considered second only to Michelangelo in fame and success, and he was the first painter to cater primarily to overseas clientele.
The current worldwide record price in an auction for an artwork by Titian was set in 2011 when The Madonna and Child with Saints Luke and Catherine of Alexandria, also known as The Holy Conversation, sold for $16.88 million at Sotheby's New York.
About Alessandro Contini-Bonacossi
Count Alessandro Contini-Bonacossi was renowned for amassing one of the most significant private art collections globally. A core part of this remarkable collection was donated by his children to the Italian State in 1969, forming the Donazione Contini Bonacossi. This collection can be visited within the Uffizi Gallery in Florence since 2018. Other works from this collection found their way into the hands of notable American collectors such as Simon Guggenheim and Samuel H. Kress.
Exhibition Details: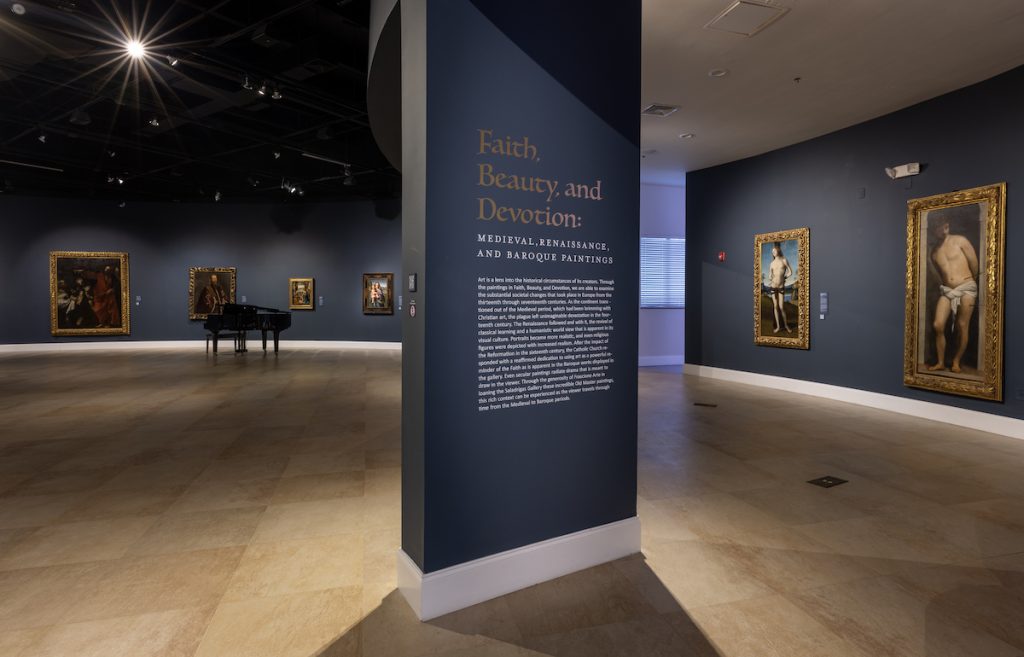 "Faith, Beauty, and Devotion: Medieval, Renaissance, Baroque Paintings"
Exhibition Dates: Through December 16, 2023
Special Hours during Art Basel Miami:

Saturday, December 2nd, "Italian Wine Event" from 7:30 pm – 9:30 pm (A ticketed event)
Thursday, December 7th from 7:30 – 9:30 pm (Public hours, free admission)
Saturday, December 9th from 10:00 am – 2:00 pm (Public hours, free admission)
Other dates by reservation
Location: Olga M. & Carlos A. Saladrigas Art Gallery at Belen Jesuit Preparatory School 500 SW 127 Ave. Miami, FL 33184 Website Contact: ssanjuan@belenjesuit.org Phone: (786) 621-4624
Don't miss the opportunity to witness this extraordinary Titian masterpiece and a treasure trove of other timeless artworks during the exhibition.