Every early December, Florida becomes the place to be as Art Basel descends to Miami. The whole city amps up its already rich cultural offering and the opportunities for collectors and art lovers alike are plenty. The remarkable group exhibition coming up at Etra Fine Art is no exception, especially if you're also a fan of one 2501, aka Jacopo Ceccarelli. The Italian artist is well-known in the street art circles – and beyond – for his mesmerizing monochromatic works.
Beyond Sonorism at Etra Fine Art
A staple of the Miami art scene, Etra Fine Art has been supporting mid-career and established artists for over a decade now. Located in Little Haiti, the gallery exhibits paintings, drawings, prints, sculptures, photography and installations. The exhibited art reflects progressive concepts while incorporating traditional and non- traditional materials.
Titled "Beyond Sonorism", the upcoming group show at Etra Fine Art is an exploration and celebration of sound in all its glory, through a variety of media and styles. Those familiar with the history of sound will perhaps recognize the term "sonorism". Originating from the French word "sonore", it refers to the studies of music during the 20th-century music. It also defined as a trend in contemporary music, avant-garde oriented, typical of Polish music in the 1960s. The technique "focuses on purely sonorous values" in music as the main means of expression, essentially breaking it down to components.
But what happens when sounds meets visual art? Alicia Restrepo, Etra Fine Art's director, explains the exhibition's vision by saying:
"My basic idea is to open limits, to engage visitors in a sensory journey, where the visual and auditory elements harmonize, offering new perspectives and opening avenues for introspection and reflection upon the interconnectedness of different artistic mediums emphasizing the significance of sound, as a fundamental element of our existence and as a catalyst for artistic expression."
And so, while looking at the paintings and sculptures by a dozen artists working today, the visitors can simultaneously contemplate musical compositions by avant-garde composer William Basinski and minimalist composer and pianist Philip Glass, but also John Cage, Karlheins Stockhaussen, Krzysztof Penderecki, Mongolian Tuva (throat singing) and a collection of more that three hundred sounds, among others. The exhibition thus becomes a multi-sensory experience that takes many shapes and takes over many of our senses.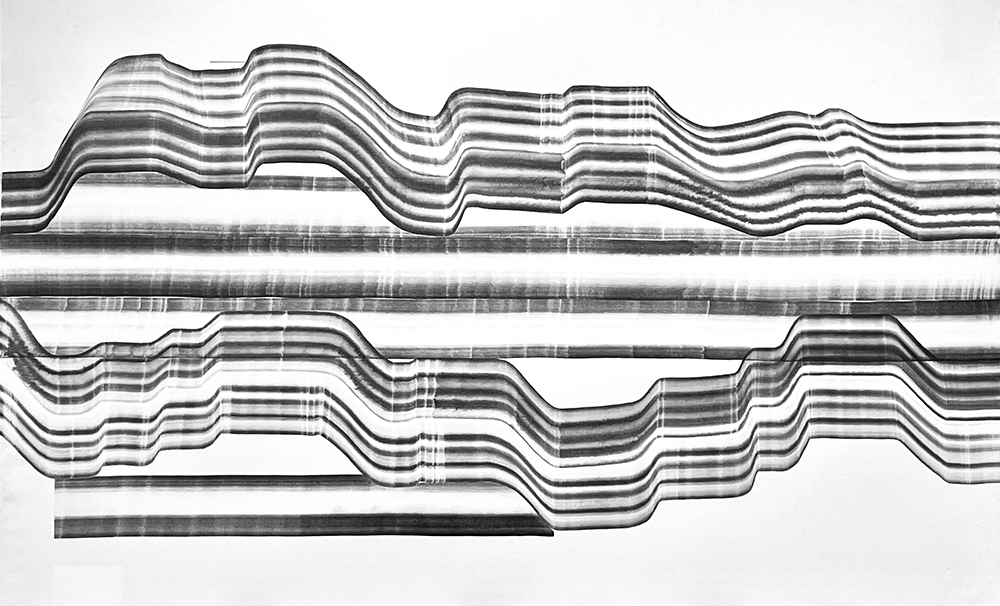 The Art of Jacopo Cecccarelli aka 2501
Among the many talented artists featured in this show is the internationally renowned Italian artist Jacopo Ceccarelli, better known as 2501. Born in Milan in 1981, he started painting already at the age of 14, filling the empty walls of his hometown with art.
After studying as a film editor at the "Civica Scuola di Cinema" in Milan and taking a master program on visual communication at New Bauhaus University in Weimar, Germany, 2501 moved to São Paulo the age of 20. There, he joined a project in local favelas and taught children to paint. At the same time, he familiarized himself with the street art of his peers.
The artist who first tagged his works "Robot Inc" then became "2501", and approach included a variety of media: wallpainting, paint on canvas, sculpture, installation, photography, video, and documentary.
Nomadic Experiment
Perhaps the best example of 2501's oeuvre, and believe me – there are many, is his "Nomadic Experiment" project. Ongoing since 2013, it is a sort of a living initiative, taking place on roads, streets, routes, paths and any kind of sites. These site-specific interventions want to document places and lives, immortalize and tell stories of communities. The "Experiment" resulted in a series of international exhibitions and a decennial digital archive focused around countercultures and communities around the world.
Visually, 2501's art offers hypnotizing, organic, intricate formations, created through a skillful combination of shapes, contrasts and lines. With 2501, simplicity and complexity almost mean the same thing, and space is being utilized to its full capacity. Before our very eyes, the artist creates a network of connections: between the lines within an artwork, between the artwork and its surface, between that surface and us, the intrigued viewers. We become aware of his at times bold, at other times delicate gestures that play with our perception and imagination.
The Disintegration of the Loops
For "Beyond Sonorism", 2501 has created a painting titled "The Disintegration of the Loops". The artwork is a response to an important music piece by William Basinski. But we won't spoil too much for you! Just make sure to pay attention to the text placed by this and every other artwork in the show. It will explain how it relates to the sound it evokes.
The Opening Reception for "Beyond Sonorism" will take place on Sunday, December 3rd, from 12:00 to 5:00 p.m. at Etra Fine Art, 6942 NE 4th. Ave. Miami, Fl 33138. RSVP via Eventbrite or email info@etrafineart.com.
Exhibition continues through the end of January 2023. By appointment.