There are journeys interrupted too early and journeys never made. There are journeys of the mind and places known only in dreams. This Sorrento Lemon Cake tells how one can travel through the heart, through music, or simply through the scent of fresh lemons.
Lemons have a beauty that captures, seduces, and quenches the thirst for serenity. They remind one of a loving grandfather – with rough skin and a sweetheart – and of the sea, particularly the lemons of Sorrento, the worldwide pride of the famous southern Italian coastal town. Sorrento is a romantic place that charms us not only with the scents of lemon groves lying along the slopes, but also with olive trees, flowers, and rocks born from the distant fury of a volcano. The cliffs overlooking the sea, the ancient churches and palaces, the lively little shops, and the mystery of narrow streets tell stories only to those who wish to understand. It's place with a mild climate and intimate silence, a place you fall in love with.
Caruso
Lucio Dalla wrote a true declaration of love to this land: an intimate tale of passion and melancholy, love, and loneliness. The title of this declaration of love is Caruso. It's the most famous song of the singer-songwriter from Bologna and was written in a room of Sorrento's Excelsior Vittoria Hotel. Lucio Dalla happened upon that hotel by chance, following a breakdown of his boat. Dalla ended up in the very same room where many years earlier the Neapolitan tenor Enrico Caruso spent some time shortly before dying.
In that room the tenor gave singing lessons to a young girl with whom he had fallen in love. Lucio sings about that love, which had become strong and resilient like a chain – yet a soft chain, melting the blood in his veins. Lucio tells of Caruso looking out on an old terrace in front of the Gulf of Sorrento. He reflects on his life with melancholy because he knows that his career is at an end, as is his life. Caruso will no longer be able to travel nor take the girl to America. Still, he is serene because he is in love with her true eyes. Embracing the girl after she had cried, Caruso can finally be himself and accept the inexorable end that awaits him.
This dessert is about the union between music and feelings, the piano and tears, lemons, and travel. This story tells about how there are certain places that come to us through a fruit or a song. The song reveals how love fulfills every dream and completes every unfinished journey. From love comes a melody that reaches far beyond America. From love we learn to be ourselves, and therefore alive and immortal like the sea and lemons.
Sorrento Lemon Cake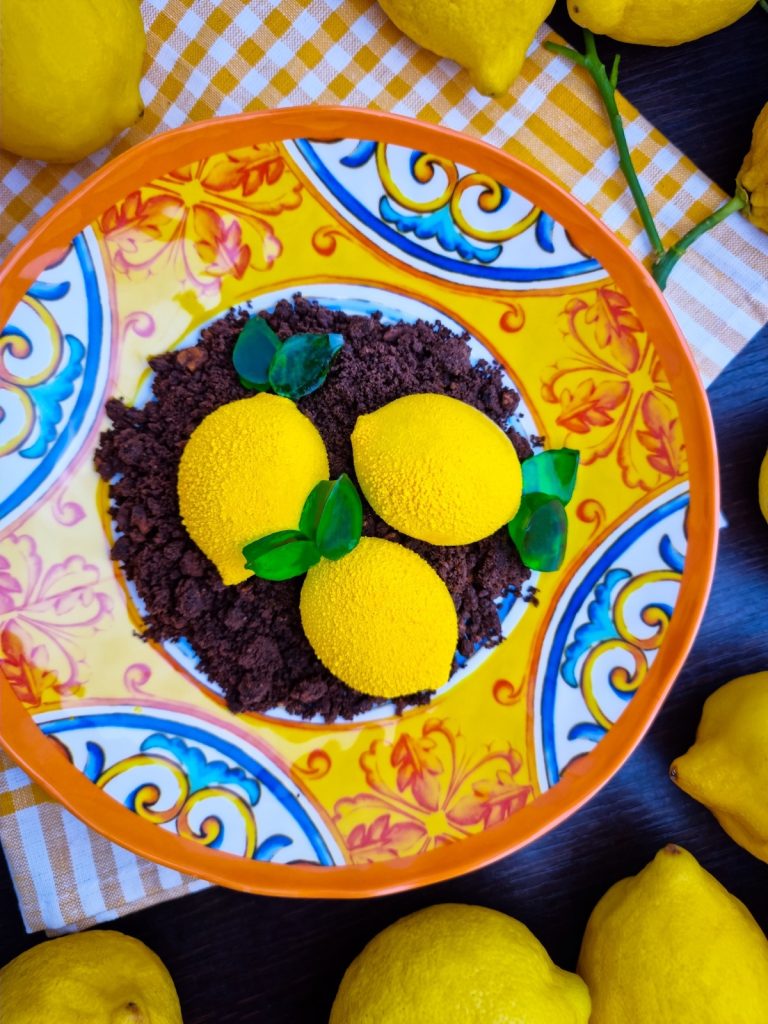 Lemon Namelaka:
Milk 100 gr
Gelatin 3 gr
Water 12 gr
White chocolate 170 gr
Fresh cream 200 gr
Lemon juice 60 gr
Lemon peel to taste
Vellutine yellow spray to taste.
Gin Lemon Gelee:
Lemon juice 70 gr
Sugar 70 gr
Gelatin 9 gr
Gin 30 gr
Cocoa and Peanut Crumble:
Flour 00 50 gr
Brown sugar 40 gr
Cold butter 30 gr
Unsweetened cocoa powder 20 gr
Peanuts 20 gr
Method:
Soak the gelatin in cold water.
Melt the chocolate in a bain-marie
Boil the milk and add the squeezed gelatin to it
Pour the milk over the chocolate and stir
Add the cold cream and blend in a food processor until smooth and emulsified
Add the sifted lemon juice and zest
Stir and refrigerate with plastic wrap overnight
Meanwhile, prepare the lemon gin gelee; soak the gelatin in cold water
In a small saucepan combine the gin, lemon juice, heat and add the sugar until syrupy
At this point add the squeezed gelatin and let it melt completely
Pour the mixture into a bowl and store in the refrigerator
Now prepare the crumble: combine all the dry ingredients and mix
Add the cold chopped butter and peanuts and knead the mixture with your hands until smooth
Crumble the dough into a baking pan lined with baking paper
Bake at 180° for 15 minutes; once baked keep aside
The next morning, assemble the namelaka and place in a sac a poche
Fill lemon-shaped molds less than half full and insert a small piece of lemon gelee inside
Mash lightly and cover with more namelaka
Level with foil and freeze
Unmold the frozen lemons on a rack resting on baking paper
Spray the lemons with yellow-colored velveteen spray.
Now spread the cocoa-peanut crumble on a plate
Using a small palette, lay the lemons on top and decorate with leaves of gin lemon gelee
Refrigerate for a few hours before serving