Risotto ai funghi porcini
With the arrival of autumn and the darker evenings, I find myself craving something comforting and full of seasonal flavours. And what is more comforting for this time of year than risotto? I find even the process itself of cooking risotto is comforting. Using seasonal porcini mushrooms gives the dish a nutty, earthy taste, which is the perfect combination with lots of parmesan. I look forward to making Porcini Risotto all year round and hope you enjoy it too. È buonissimo!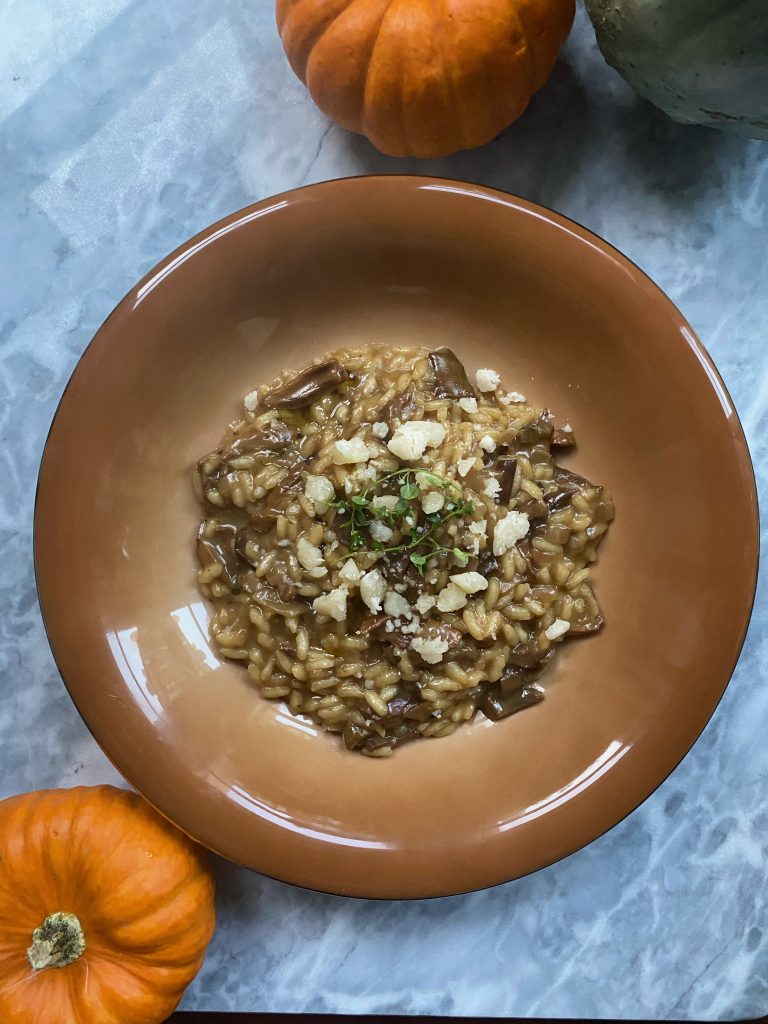 Ingredients (serves 2):
Extra virgin olive oil
1 large shallot, finely chopped
40g dried porcini mushrooms
A couple sprigs of thyme
120g arborio rice
250ml white wine
1 litre stock (I used chicken stock, but you could use vegetable to make this dish vegetarian)
Unsalted butter
Parmigiano Reggiano
Method:
Soak the porcini mushrooms in warm water for at least 1 hour.
Add a generous glug of extra virgin olive oil to a pan on medium heat. Add the shallot and sauté until translucent.
Drain the porcini mushrooms and roughly chop, then add to the shallot, with the sprigs of thyme and a pinch of salt. Sauté further for around 5 minutes.
Add the risotto rice to the pan and stir to coat. Continue to stir for around 2 minutes to allow the rice to toast.
Add the wine and stir until it has evaporated.
Then, gradually add the stock to the pan, allowing the rice to absorb the liquid before adding more.
Once the rice has absorbed all the liquid and is al dente, it is ready.
Add a generous amount of butter and Parmigiano Reggiano and stir well. Serve with more Parmigiano Reggiano and a drizzle of extra virgin olive oil.
Buon appetito!