In the last 5 years tourism in Sicily has been on a steady incline and with more choices to find luxury in Sicily. At one time most people went to visit family or discover their roots. Today they long for the terrific wine and some of the best food in Italy, the beaches, the sports, the incredible history and well-known warm hospitality. What makes Sicily such a desirable place? There is something for every taste from activities to accommodations. Small boutique hotels and rural properties can offer charm, character and excellence, but there are now many 5-star hotels on the landscape.
The financial resources that come as a result of increased tourism enable renovations and restorations to take place. If you want to travel in style, there are more upscale options available in Sicily today than ever before.
All of the hotels in this article are considered 5-star. A 5-star rating means that they are among the finest options, superlative in service and comfort, offering many up-to-date amenities. Typically, they are larger hotels but not all are of the grand scale.
San Domenico Palace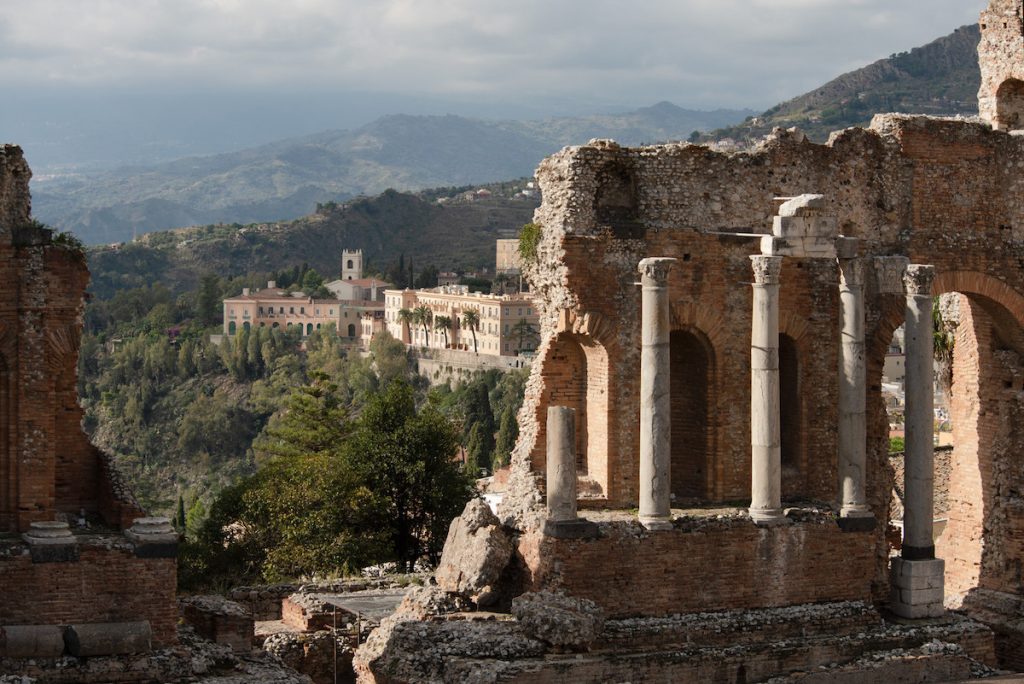 Taormina has always had the lion's share of the high-end properties and one of Sicily's most historic hotels sits there in a glorious location. There are other 5-star properties, but the 15th century Dominican monastery known as San Domenico Palace closed for renovation 3 years ago as a 4-star hotel. It is a large, impressive and landmarked building with views of the stunning Greek Theater, Taormina Bay and Mount Etna. Notables of all stripes have stayed here since 1896, the year it became a hotel. From Oscar Wilde and DH Lawrence to Elizabeth Taylor, royalty and politicians, San Domenico was one of the world's most famous hotels. Someone should write a book. It required a lot of time to manage extensive renovations to the 111 guest rooms and add amenities like an infinity pool, a botanic spa and an award-winning local chef in the main dining room. It will re-open soon with bells and whistles, and now under the prestigious Four Seasons umbrella, as an un-paralleled combination of luxury and medieval history. Although the on-site restaurant, Il Principe Cerami comes with Michelin pedigree, not far away is another, the Michelin starred restaurant La Capinera, where you can eat the well-executed interpretations of Sicilian dishes by Chef Pietro D'Agostino. Try both. Taormina is all about relaxed enjoyment in a beautiful setting.
Grand Hotel et des Palmes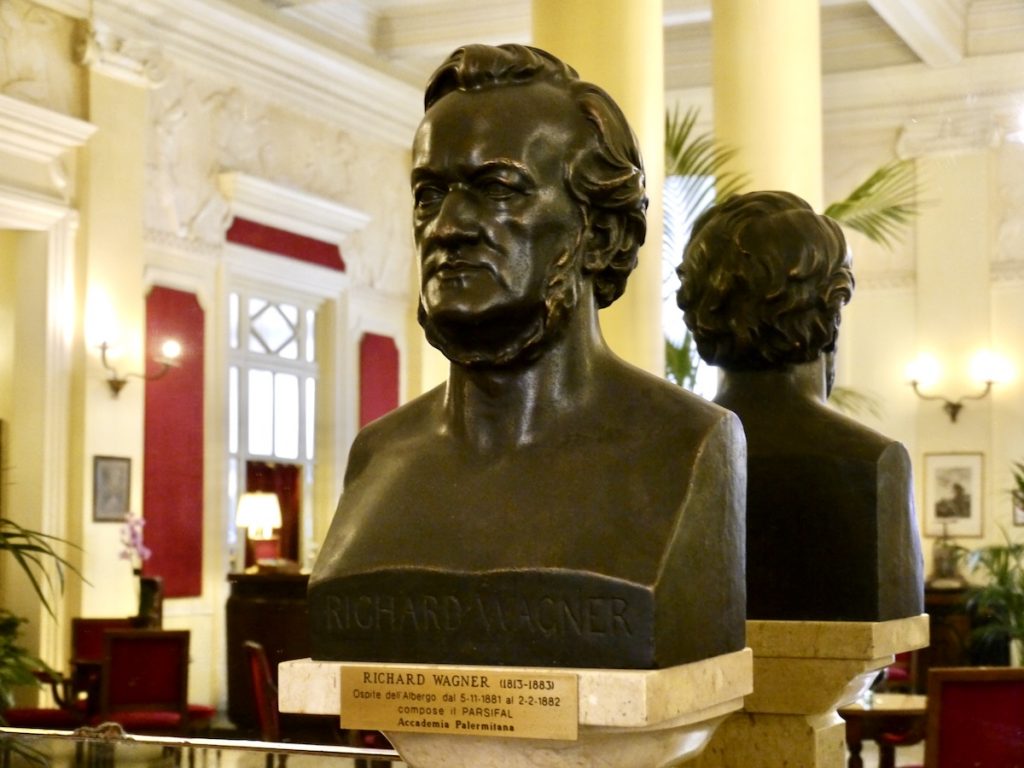 In Palermo we find two other restorations of glorious historic properties. Once you enter the grand stately lobby of the Grand Hotel et Des Palmes, festooned with palms, mirrors and a fountain, you step out of the hustle and bustle of Palermo and into understated elegance. Opened in 1876, a book has been written about its interesting history which includes secret passages, Wagner composing, Guy de Maupassant writing, and Churchill with the Allied forces organizing troops. The hotel, an icon in Palermo, has been accurately refurbished to show its historic details; the grand staircase, the mirrored ballroom, the velvet seating areas to envelop you while you sip cocktails and Sicilian wine. To that they have now added amenities for today's sophisticated traveler. You might enjoy relaxing in the spa with its caldarium and tepidarium plunge baths, a Turkish hammam (steam bath), or enjoy a swim in the modern swimming pool, all right in the historic center of an historic city. This Art Nouveau beauty now has 3 restaurants with bar options and 100 rooms decorated in splendid classic style. The Grand Hotel et Des Palmes has an historic marker next to its entrance, and once you pass through the doors, you've entered another world, resplendently restored to today's 5-star standards, but in some ways, stopped in time.
Villa Igiea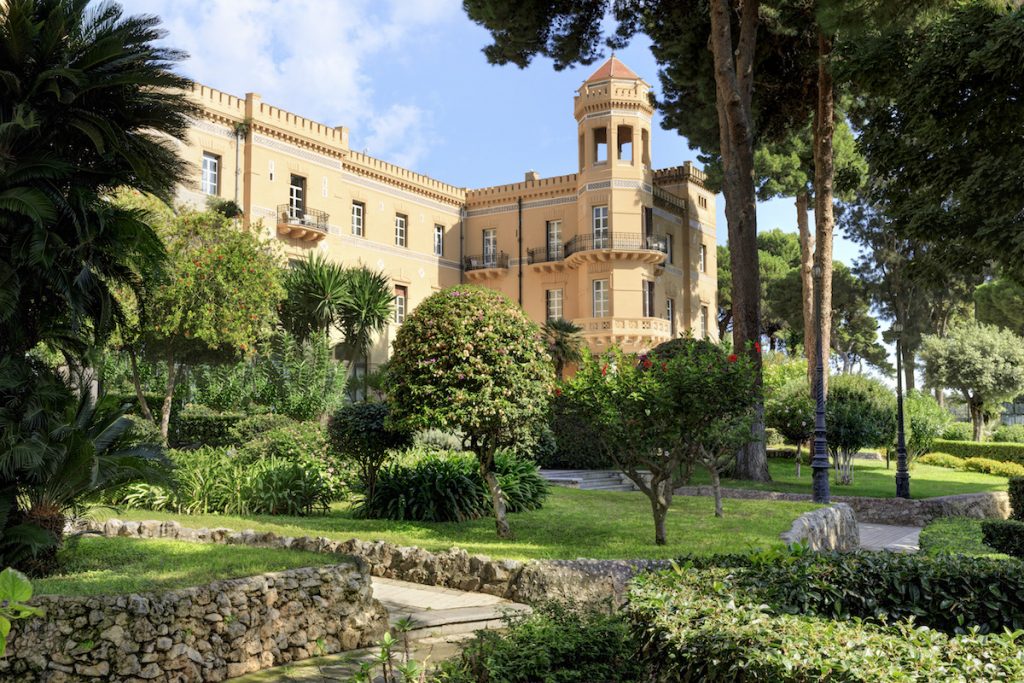 Not too far away, just a ten-minute drive from the Grand Hotel et Des Palmes is Villa Igiea, recently acquired by Rocco Forte, a company with a solid reputation for the well-done in Italy.  The property was once a villa, commissioned during the heady days of the Belle Èpoch in 1900, and built by Ernesto Basile. Basile also designed the beautiful Teatro Massimo in Palermo, among other architecturally important buildings. It was owned by the important Florio family, another group whose complex story deserved to be chronicled, and just last year Stefania Auci's book about that Florio family history was published.
The sprawling villa was built to face the sea and it resembles a castle or a fortress that dominates the coastline. There are many terraces that take advantage of spectacular sunsets, also visible from the lush gardens and the swimming pool, so rare to find in an urban hotel. Inside, the magnificent public rooms evoke a time.  The more than one hundred rooms, each unique, are promised to be like an oasis of comfortable elegance but still atmospherically Sicilian. After a day of touring Palermo's spectacular Arab/Norman and Baroque histories, you might pamper your spirit in the very well-equipped spa. (The spa at Verdura, Forte's other Sicilian property, has garnered world-wide attention for its fabulous offerings.) You can then sip cocktails in the frescoed bar, reverently named after Basile, and dine in the mirrored ballroom, just like royalty did a century ago. The list of famous people who have paraded through the villa's doors is long and impressive as the aforementioned book will tell you. It is truly a unique opportunity to be in an historic structure, restored and maintained with such honor to its glorious past, and yet with 5-star comfort. The meticulous hand of Sir Rocco Forte knows how to impress  and all you have to do is dress the part.
Grand Hotel Des Etrangers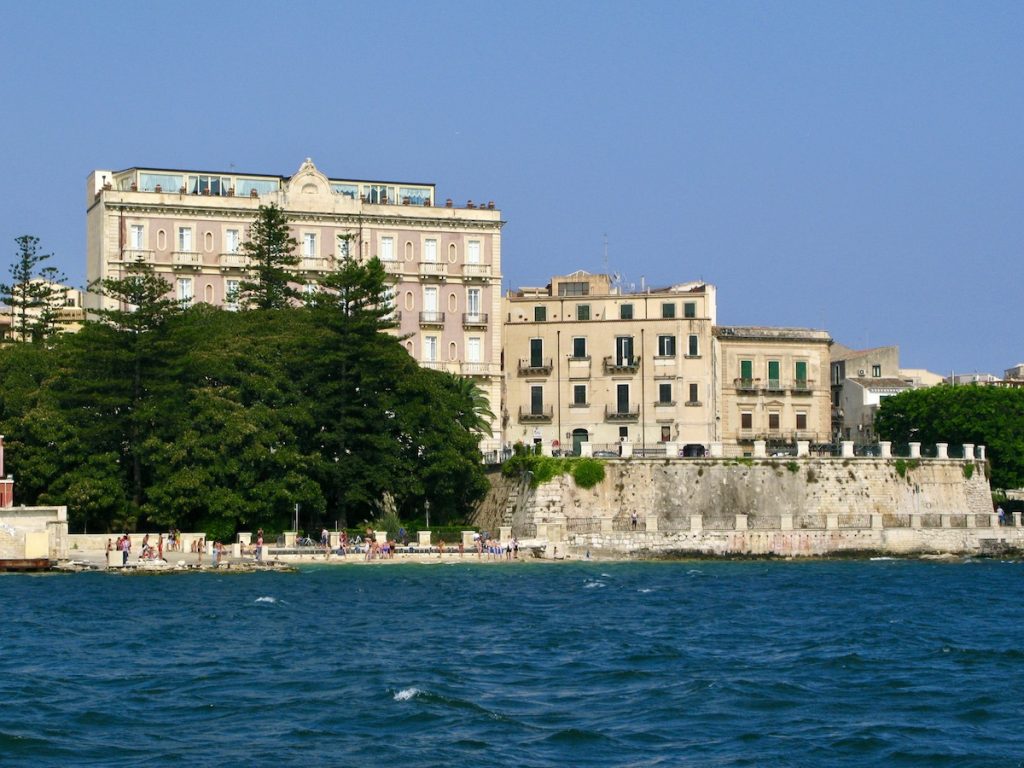 Presently under renovation on the beloved island of Ortigia, Siracusa's historic center, is the Grand Hotel Des Etrangers, a one-time stop for those on Europe's famed Grand Tour. Ortigia is among the earliest of Greek settlements in Sicily. It dates from 730 BC and is one of Sicily's most charming places full of narrow alleys, a lungomare, and shops full of artisans. Des Etrangers was built in 1830 in Neoclassical and Liberty style in a perfect location. It overlooks the Fonte Aretusa, a natural spring fountain where papyrus grows, rare in Europe, and beyond it lies the magnificent sea. According to Virgil, Aretusa inspired bucolic poetry. Many have waxed poetic about this tiny island. This legendary hotel has a rooftop bar and restaurant offering stunning views of the sea. The common areas are spacious leading to a very updated spa. The bedrooms are large and sleek, with calming colors and classical décor, illuminated by natural sunlight. With its high vaulted ceilings and timeless elegance, Des Etrangers is expected to re-open later this year. Its extensive restoration will create Ortigia's second 5-star property, situated on the opposite side of the island from the other, Ortea Palace.
Ortea Palace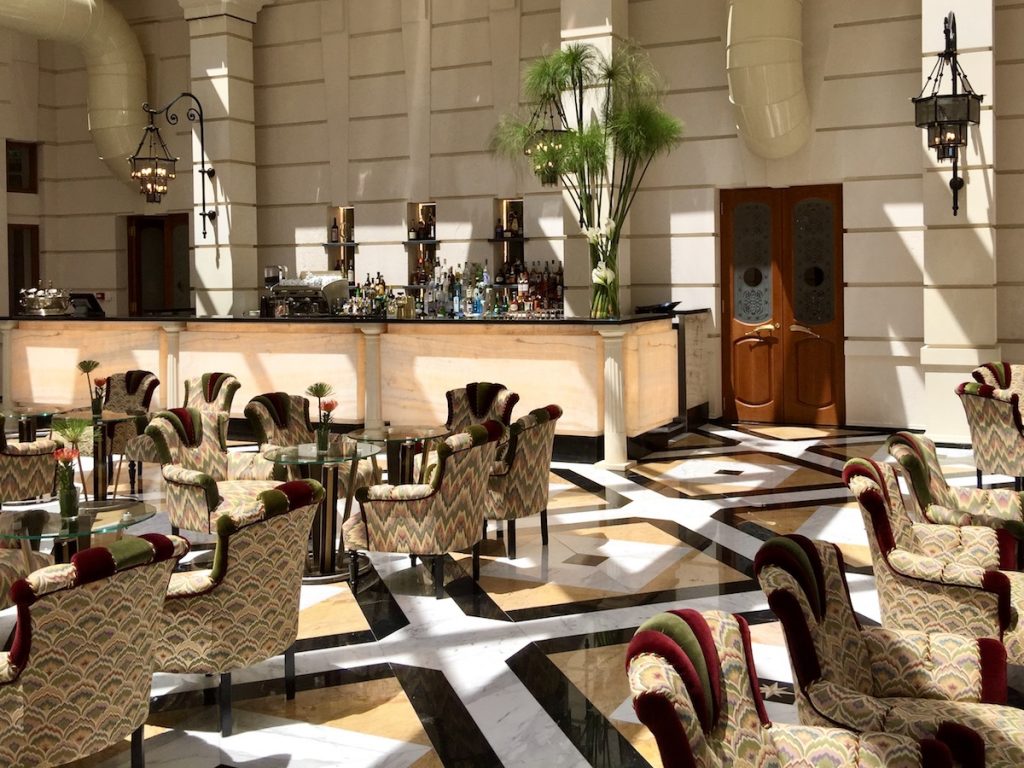 Over the span of ten years, I watched the restoration of Siracusa's old post office, an imposing building near the port of Ortigia and the market area, now called Ortea Palace. Driving up to the main entrance, valet parking welcomes you, a rarity in Sicily, and staff is on hand to make arrival smooth and easy. While checking in, you can admire Sicilian ceramics of a high order, indicating the high-style and characteristic approach to this hotel. Originally built in the 1920s, the ambience of that time is captured perfectly in the new lobby that combines a high glass ceiling flooding natural light over the patterned marble floor. Sturdy columns and Greek busts on the surrounding walls remind you of the area's history. Papyrus plants add some local greenery.  Near the glowing marble bar in the dim light of evening, cocktails will transport you to the roaring 20's, an era of long pearls and bobbed hair.
Among the 75 rooms are many different types, all with marbled floors, white bathrooms and crisp embroidered linens. Duplexes make use of big glass windows to let in the glorious light and offer views from all angles. The spa meanders off of the lobby area and is quite large. The offerings run the gamut of specialized treatments. The staff at Ortea Palace is welcoming and helpful in the warmest of ways, making a visit there very comfortable amidst the luxury.
Il San Corrado di Noto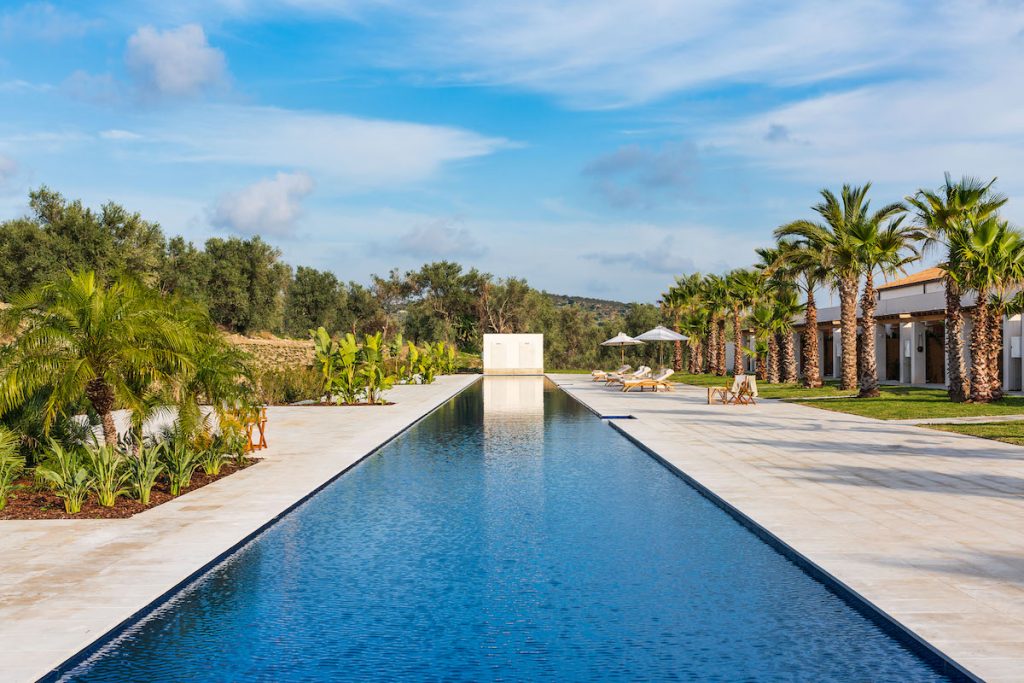 A little further south is the town of Noto, that these days has become a must see and stay location. It is an immensely charming town adorned with Baroque balconies and laden with excellent food options. It is also well situated for day trips in the southeast, for visiting towns like Ragusa, Modica, Scicli, and all the haunts of Inspector Motalbano. Two new hotels have come to the area and one is quite 5-star. Il San Corrado di Noto, a Relais & Chateaux property is nestled between Noto and Rosolini. Every detail was considered in rebuilding the residence that once belonged to Prince Nicolaci, and he would be proud. The discerning traveler will find much to approve of. The villas and suites here blend nods to Baroque history and modern comforts, among sprawling, stunning grounds. The ambience is august and almost reverential. There are two swimming pools, one is heated and based on a Greek and Roman design for athletic training, but if you prefer the beach, you can shuttle over to the lido and enjoy a quiet lounge under the umbrella. Tennis courts, yoga instructors and high-tech gym equipment are all to be found on the property, which is manicured-Mediterranean, full of floral displays and palm trees. The lawns, long pathways and many unique areas make the large property seem more quietly intimate. When you work up an appetite, Ragusa's 2-star Michelin Chef, Ciccio Sultano, is in the kitchen and aims to please with his inspired interpretations of the island's specialties.
Nothing was spared in the making of this hotel and it is most alluring and appealing.
Momentum Resort
Across the island near Selinunte, the largest of Sicily's archeological parks, is the recently opened Momentum Welcome Bio Resort. This area of Sicily is yet overlooked by most tourists, but as the east side of the island becomes full of travelers, people are heading to discover the west. The location is perfect for day trips to visit the coastal town of Sciacca known for its ceramics, Mazara del Vallo, local beaches, wineries, and olive oil producers. It is a welcome new hotel that offers low-key luxury in a rural, quietly serene setting. Sculptures from local artists grace the bar, next to the restaurant that flows onto the tree covered courtyard. The food here is Km0, hyper-local and well prepared. The rooms are ample in size, with understated attention to detail, inviting calm. An infinity pool overlooks the expansive landscape, and a late day swim will reward you with a beautiful sunset. Offering tennis, yoga, and in the right season, a chance to participate in the olive harvest, you could do more than just sleep here. There is also a gym and spa with a Turkish bath, sauna and a massage area, hidden next to the interior courtyard where the pomegranates grow. You'll be a little off-the-beaten-path here, but relaxed, well-nourished and happy.
The bottom line is that you no longer have to go to Taormina to find accommodations and restaurants of very high quality. This selection speaks only about the newer properties. It's just the tip of the iceberg volcano.
You may also like reading…
Maremma and Sicily: An Unusual Pairing
Women Are Influencing Sicily's Wine Landscape
Why is Gesso, Sicily Celebrating US First Lady, Jill Biden