Chat with Eszter Vajda of YouTube's You, Me and Sicily
Eszter Vajda and Alfred Zappala are making dreams of Sicily come true. They founded their very popular YouTube channel "You Me and Sicily" over 9 years ago. Their story is a love story – for each other and of Alfred's ancestral home. What began as a TV production business trip has ended up as a passionate pursuit to connect people to Sicily's culture, history, food and wine, terrain, and hidden gems. Eszter says that from the moment she landed, Sicily got into her bloodstream.
We hope that you getting to know Eszter and why she calls Sicily home. The complete version of the interview can be watched on our YouTube channel.
(1:35) Meet Eszter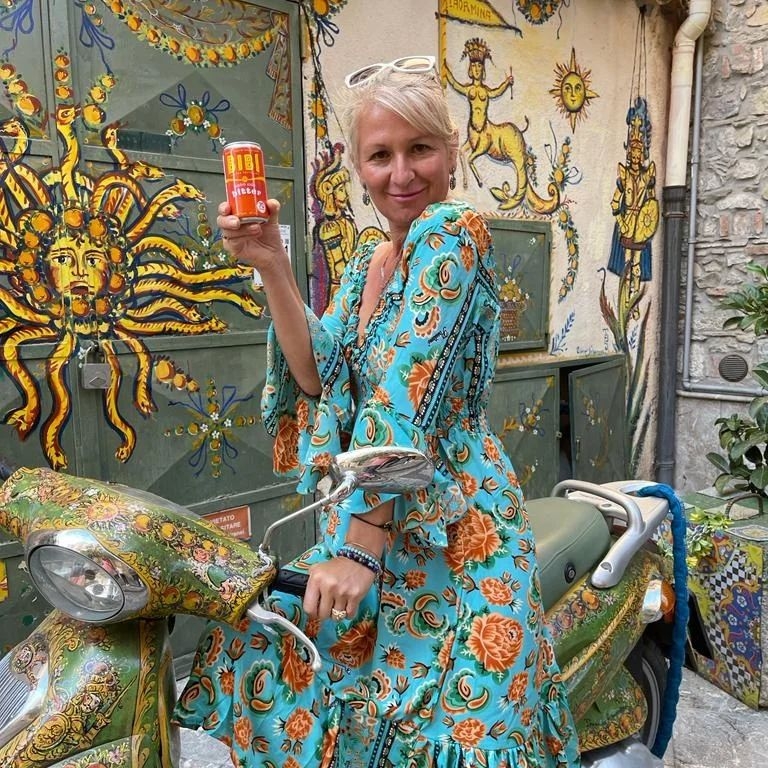 Sicily is unique and the most beautiful island. I like to say magical, majestic, mysterious, complex. There are lots of layers to this island because of the thousands of years of influence. It has been a crossroad of culture, cuisine, and we are so grateful for the opportunity to share Sicily with the world through our YouTube and Facebook.
I am not Sicilian. I was born in Hungary and grew up in Massachusetts right outside of Boston. All four of Alfred's grandparents are from a town called Trecastagni which is one of the Etna villages. Alfred was going back and forth to Sicily for many years before I met him.
How did you meet?
So, the story about how we met is interesting. In 2013 I moved back to Hanover, Massachusetts where I'm from after working in for the PBS affiliate in North Carolina. I had my own TV show in Massachusetts, and I met Alfred's brother Tom through a radio show that I was also hosting. One day, Tom called me to fill in for his show since he wasn't feeling too good. The name of the show was The Sicilian Corner which still runs.
The first guest happened to be Alfred. He was a law professor at Northeastern University for many years and he traveled back and forth to Sicily and teach here for 5 months. Back then I knew very little about Sicily. He started talking about life in Sicily, the Sicilian contributions, the fate of civilization. He talked about some of the chapters and stories in his book. It was just fascinating! As a student of history, I knew very little about the land that so many people have come and gone. – so many contributions.
I asked him to come and be interviewed on my TV show. Even once the studio lights went off (after the interview), we continued talking. We came up with plan to go to Sicily and shoot seven episodes. That was June of 2014. I came for a month and ended up staying five months. Although the plan was to do seven episodes, here we are in 2023 with over 300 videos taken from all over Sicily. We cover it all — the food, the places, people, culture.
(6:02) How did you end up moving to Sicily?
Sicily got in my bloodstream. There's something addictive about it. When you're not here like when Alfred still teaching, we would have a countdown until we'd return. When we had to pack and go back to the US we'd say, "Oh no, we don't want to go!" So, when Alfred retired in 2016, we moved permanently here.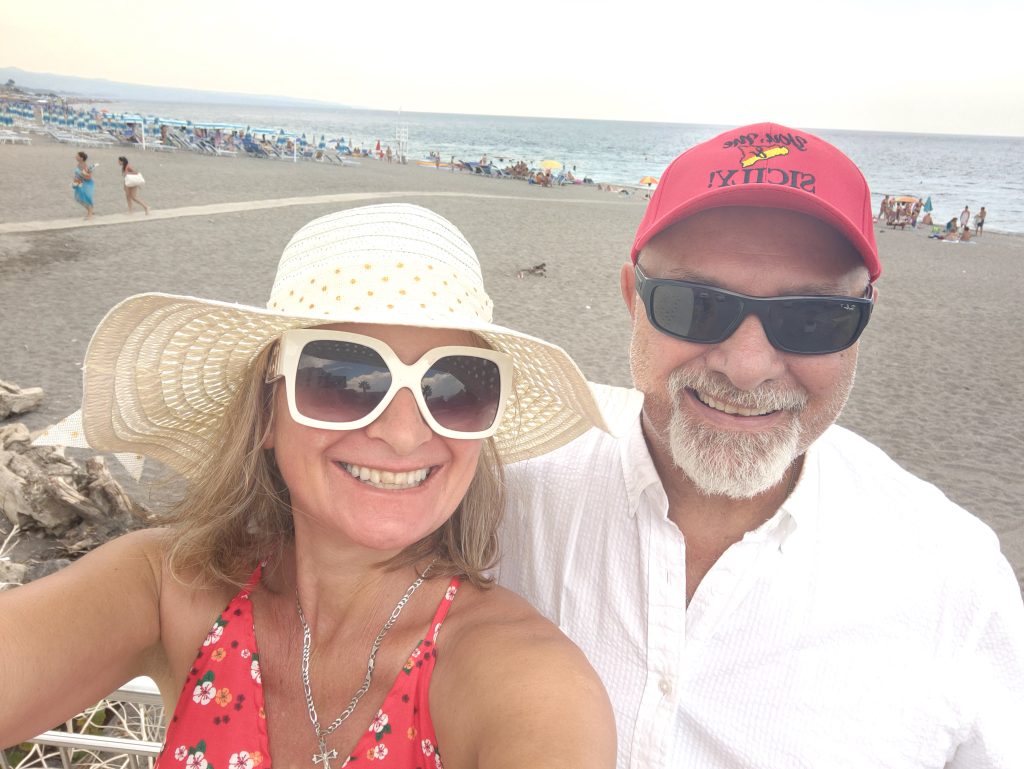 (7:10) The lifestyle is very different. We are outside the city of Catania in a rural area. There are a lot of farms. The life here is very simple and, in some places, time stands still and hasn't changed in a century. The quality of life for us here is better. And of course, the food is better — the fish is right out of the water. Apart from the YouTube channel, we also have a travel business. We consult and have small group tours. One of the things that I love most is doing ancestral hometown tours. We've done several in the last year. The family tells us where their family was from, and we create a tour to their ancestral hometown. Watching the family and the transformation when they walk on the streets that their ancestors walked is one of the most rewarding parts of my job.
(10:00) Where did Alfred grow up and talk about his life as an Italian American?
First of all, Italy didn't become a country until 1861. When you think about it, Sicily is still an autonomous island. The 20 regions were all scattered with different cultures and dialects. Sicilian is an actual language. Sicily is comprised of many cultures.
Alfred was born in Lawrence, Massachusetts and interestingly, I grew up in Andover, Massachusetts and among many Sicilians. In Lawrence, there is the Feasts of Saints Alfio, Filadelfo and Cirino which is one of the biggest Italian festivals. It is celebrated here in Tre Castani which is Alfred's ancestral home. That festival was started by Alfred's grandfather and some other family members. 2023 is the 100th anniversary. Imagine that!
Alfred grew up in a home speaking Sicilian. His grandparents only spoke Sicilian. So, Alfred still uses a language that not many people speak here (in the US). Slowly we are both learning Italian.
He grew up with the foods that now I'm learning to make here in Sicily like Schiachiatta which is the meat pie, pasta with sardines, and Arancini.
Alfred has written four books on Sicily. What's nice about them is that they are a nice mix of things. Not only does he talk about life here in Sicily and all things Sicilian, but he also talks about growing up in a Sicilian household. There's a lot of humor, tidbits, and some history. His books are like our YouTube channel – a little bit of everything.
(15:08) What pulled Alfred back to Sicily?
His father was dying and in the hospital. He always wanted to go to Sicily and before passing he asked Alfred to visit his ancestral town. After he buried his father he bought a ticket to Italy, but unlike the past from Boston to Rome, he went to Sicily. The way that he describes his first landing was the same way that I felt when I arrived for the first time at the Catania airport.
When I landed, everything felt like home and right on a molecular level.
Alfred was eventually able to take his mother to Sicily and Tre Castani when she was 80 years old. A lot of people say this, but there is something that gets into your bloodstream when in Sicily. It's a love affair with the land, people, history, culture, and the entire package of Sicily.
Sicily is complex. There's the juxtaposition of Mount Etna, the sea, and sun. The sweet and sour foods. The mafia and anti-mafia. There's the complexity of each area.
Alfred and his law partner started importing things from Sicily to the US. For a long time, they were the biggest importer and online company of all things Sicilian.
(19:19)
When Alfred retired in 2016, it just made sense to stay here. Our tour business was growing, and the YouTube channel was starting to grow. Alfred says that he's retired, but he really isn't!
(21:00) The Sicily Stereotype. How important is it to get the right message out there?
One of our initial missions of You, Me and Sicily was to dispel those stereotypes. Believe it or not, Sicilians have told us that they are so thankful that we are dispelling the myths. Sicily is not just about the mafia and Sicilians are good and generous people.
(22:26)
In 2016, we had the opportunity to go to the prison where Maxi trials were held in the 1980's by the two heroes Giovanni Falcone and Paolo Borsellino who were murdered by the Mafia. We did a lot of interviews with the anti-Mafia movement that is very strong here. One of the most wanted Cosa Nostra man was just arrested in Palermo. So unfortunately, the Mafia stereotypes are starting again.
My friend Stefania says that there's Mafia in every Sicilian. It's a mindset and it's been around for so many generations, that it's just passed down. For instance, a pizzeria that is down the street from us, is at a major crossroads. There's free parking, but inevitably, there will be a guy there who will say that he'll watch your car for your Euro. That's what I call low level Mafia that still exists here.
The Mafia is not violent like it had been in the 80's. There's more of a business mafia like extortion and money laundering. Calabria has a bigger Mafia organization.
(27:49) The Godfather Stereotype
We do see people who want to go on a Godfather Tour. There are two towns that we take our groups to, not because they are in The Godfather, but because they are quaint small towns where time stands still.
There is still unfortunately the stereotype.
(30:11)
One of the first videos that I did was at a vineyard and the name was Gambino. I never forget our meeting and they were telling us how they had gone to New York City to meet some distributors. A distributor told them, "I love your wine. I think this will sell but would consider changing the name. It has the connotation of the Mafia." The two brothers got up and left. They refused to do business and consider changing the company name – their mother's last name.
Nine years later they are one of the biggest vineyards in Linguaglossa. Good for them!
So, Sicilians going elsewhere still experience this.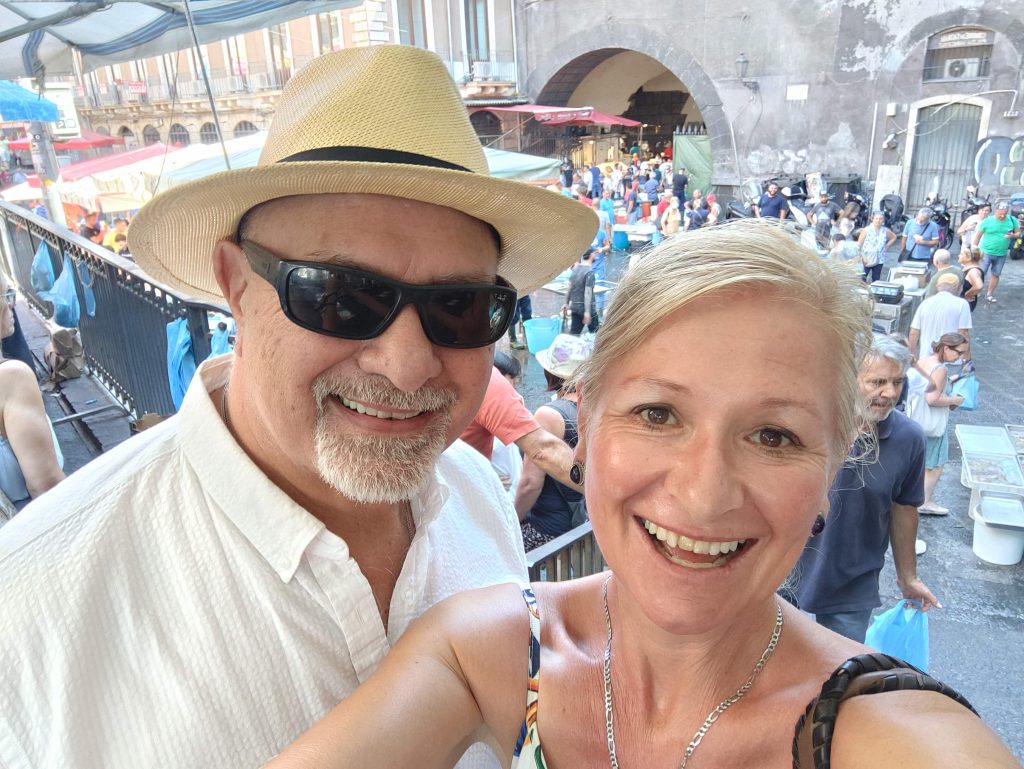 (32:24)
I do the filming and I'll stand in the same spot many times, but at different times of the year and hours, these places will still take my breath away. The videos and photos still don't do them justice. To smell the air and see the people…the biodiversity is breathtaking!
(34:00) Tell us about your tours.
One component is tour consulting so I help them map out where to go and stay, what to eat, and transportation etc. We offer group and private tours several times of the year. What's interesting is that people will come and take a tour, but then come a few days earlier or stay later and go to their ancestral hometown. That happens very often.
Then the other type that we have are the boutique and customized tours. Last year we had a family of nine that wanted to visit the client's ancestral town, Polizzi Generosa, but also the must-sees. We worked together and it was very customized. The tour included a cooking demo, vineyard visit, and visits to several beautiful places.
So far, people have told me that we are making their dreams come true.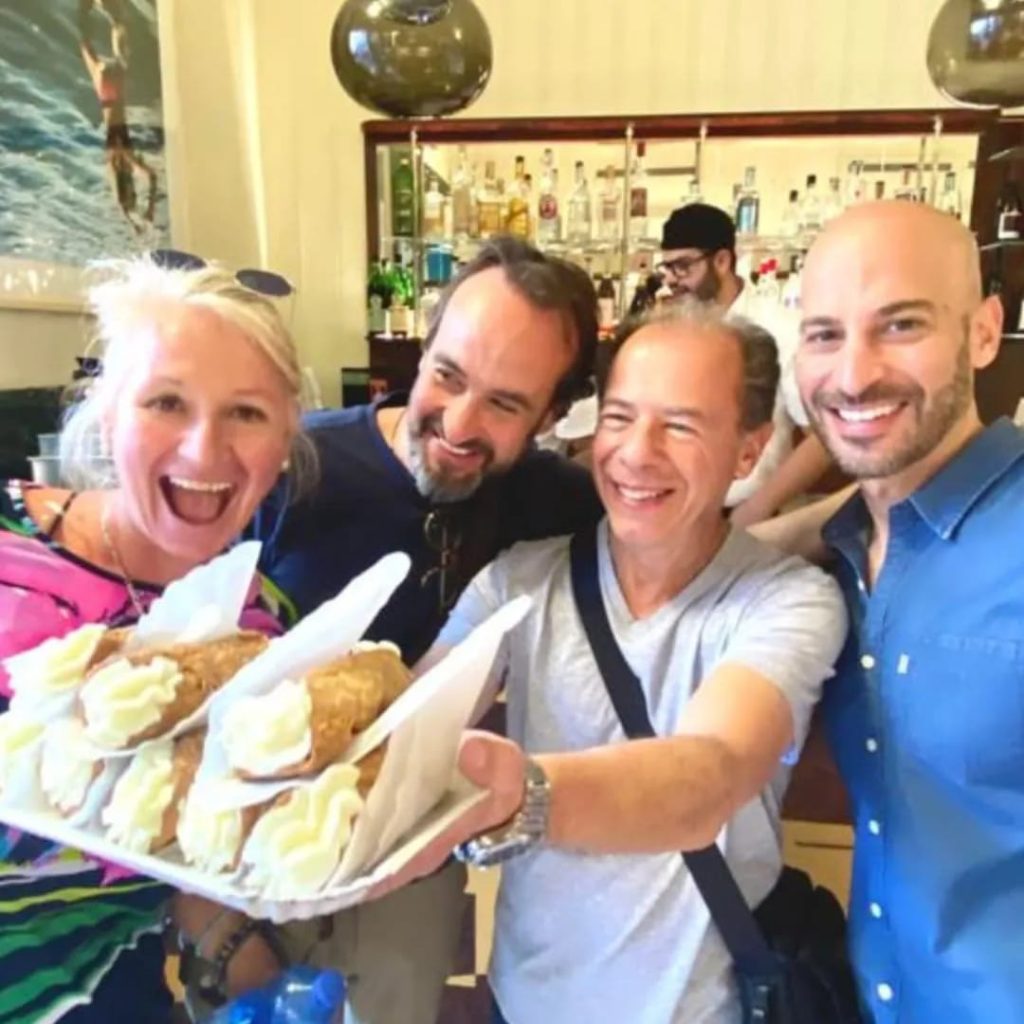 (36:58) Listen/Watch more about some of You, Me and Sicily's customized tours.
It happens all of the time that we are able to find some kind of connection for people and that just warms my heart.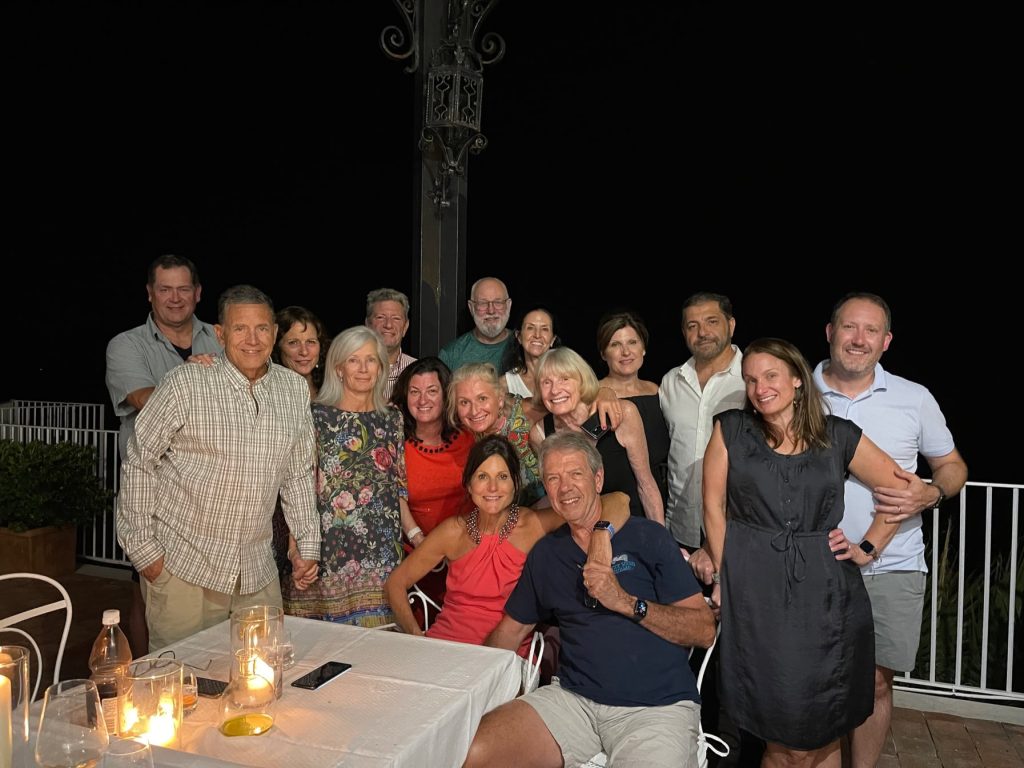 (40:33) Connecting to Ancestors
We started that it 2015 when we started the Ancestral Hometown videos. Someone asks us to visit their town and their family may have a business that we feature. We've had people give this as a birthday gift for a family member.
Through this we have gotten so many requests for the coolest and most off the beaten path places. It is so rewarding and goes back to me saying that Sicily is an endless treasure trove.
(14:00) The Story of Melilli and the connection to Middletown, Massachusetts
(44:45) Alfred's Legal Services
Alfred can coach you on how to get your Italian citizenship. He also helps people who want to buy property. Massimo Grimaldi is Alfred's law partner. They do work all over Italy.
(46:34) Are you an Italian citizen?
I was born in Hungary, which is part of the EU, but am a resident. I have my carta d'identità and health insurance.
(47:57) Adjusting to Italian bureaucracy.
It's not easy and time consuming. You need to expect the unexpected because every 'comune' does things differently. Bring patience, but if you really want to become a citizen it does pay off.
You don't have to be a citizen to buy a property in Italy.
I was working for ABC affiliates all over the US until I worked for PBS. It was always 'go, go, go'. You've got to put all of that aside here. It wasn't very difficult for me. I still get a little frustrated when someone says 'five minutes' and it's twenty, or 'one day' which is really a week.
You know, we're an island and life goes a little bit slower here.
At the supermarket, you'll see just one checkout open, and the line gets longer and longer. Before you know it, a customer starts discussing with the cashier how she will prepare the fish. Despite the line, this conversation will continue!
(51:25) What is your definition of an expat?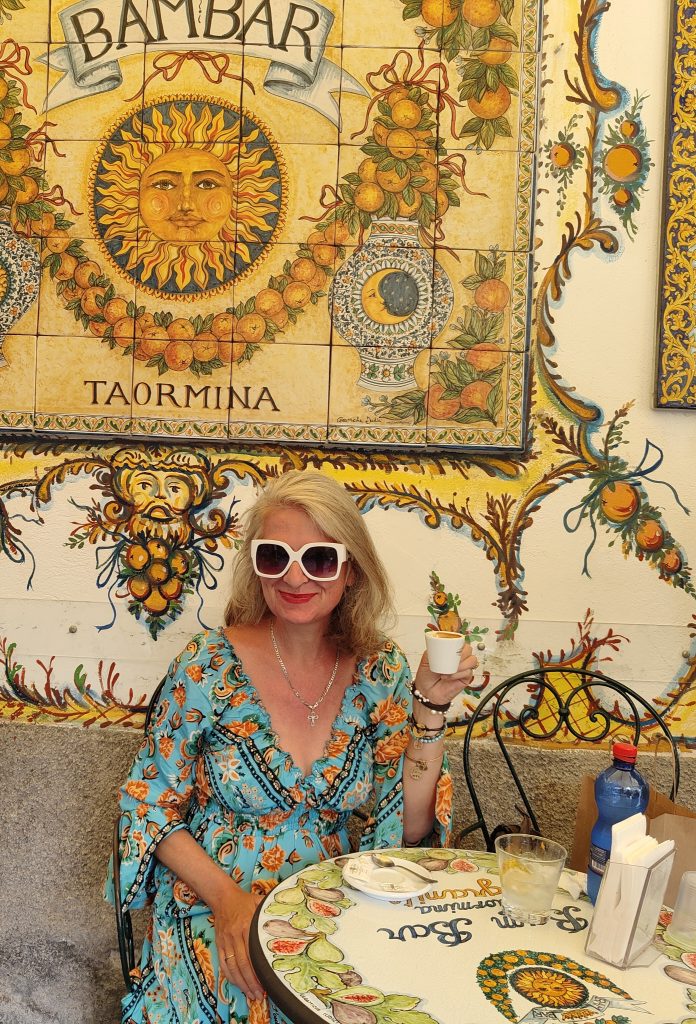 I really don't like the term 'expat' because I still have roots in Massachusetts and go back two times a year. I have a car and stuff at my Mom's house and haveI traveled and lived all over the world – Israel, Brazil, India, and Singapore.
Here I'll always be an 'straniera Americana', but Sicily has welcomed me with open arms. This is my home.
We have a deep connection to so many people here and many are part of what I call my Sicilian family.
(56:38) What do you think are the key things needed to adjust when deciding to move to Italy?
Because I've moved to so many countries, for me it wasn't that difficult. I also grew up in a European household. I understand the European mentality here.
One of the most important things is learning the language. You can take classes online etc., but you have to be here to learn the language properly. It's helpful to have some conversational Italian.
Immerse yourself and put away the Google translate. Force yourself to learn the language.
Like we talked about before, it's good to have patience. For example, we've been waiting 6 months for high-speed internet.
We have made a couple of videos about what we miss. For example, Alfred misses his lobster and I miss Thai food.
At the end of the day, I prefer my life here. That's a choice we made.
(1:01) What are your goals?
We will continue to provide free weekly videos. Typically, we publish on Sunday at 10 am EST. We're expanding the number of times we publish. During the pandemic we went live on Sunday to keep people updated.
Thank God, 2022 was a very good year for our tour business. Besides our regular tours we were able to coordinate the small, customized ones. The oohs and the ahhs are what we make happy. Amplifying these experiences to the next level is my goal.
(1:06) Besides Sicily, where else in Italy do you like to visit?
Rome – The Eternal City. We love to escape to Rome (and there's good Chinese food there)!
I still haven't seen all of Sicily. There's so much more to explore.
Website: www.youmeandsicily.com
YouTube: https://www.youtube.com/@YouMeandSicily
Facebook: https://www.facebook.com/YouMeAndSicily
Instagram: https://www.instagram.com/youmeandsicily/
---