Zabaione (also known as zabaglione), is a dessert made of eggs, sugar, and liqueur. Its origin is uncertain, but according to some, it was invented by a condottiere (leader) from Emilia, named Giovanni Baglioni. He was popularly called Zvàn Bajòun who mixed a few ingredients stolen from the peasants, to feed his troops. Thus, Baglioni created the ancestor of this dessert and probably gave it its name.
San Pasquale Bavlon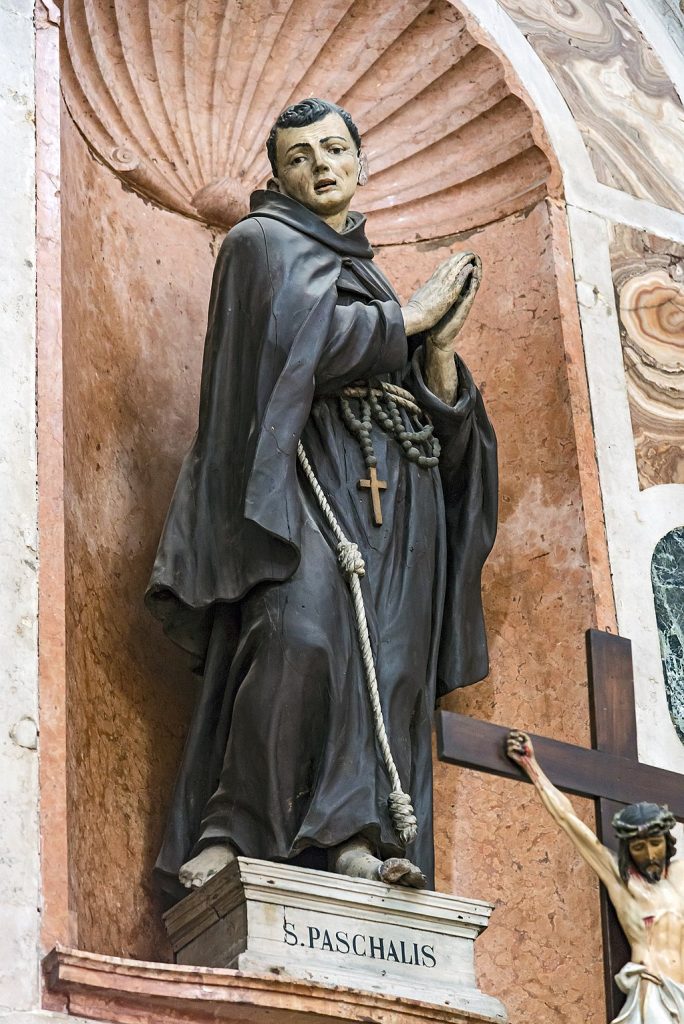 Another version indicates that zabaione is a typical Piedmontese dessert, whose name (formerly 'sambajon'), comes from San Pasquale Bavlon (Saint Paschal Baylon), patron saint of Turin pastry chefs. There is also a Venetian version,which traces zabaglione back to a thick drink called 'zabaja' — found on the Venetian coast of former Yugoslavia. It is difficult to establish the true origin of this dessert, but considering the spread of the ingredients and their easy availability, it is likely that a similar cream existed in much earlier times. For example, a similar dessert was served in iced form at the court of Catherine de' Medici. Regardless of its origin, this recipe was adopted everywhere, in combination with traditional liqueur wines throughout Italy. It became a must-have among spoon desserts.
An Act of Love
February is the month of love and I have chosen zabaglione to celebrate this important feeling that we often associate with a partner. Love, however, is a much more universal and complex feeling. Few people realize that it does not come from the outside, but starts within us and then goes outward spreading to the people around us.
Zabaione is an act of love: a comfort food. Namely, a food that restores the spirit and satisfies an emotional need, while at the same time, is healthy and nutritious. Everyone has their own 'refuge food'. For me it is zabaione. With its load of memories and emotions, tasting it takes me back to when I was a child and my grandmother was always ready to improvise a merenda (afternoon snack) for me. I felt unconditional love and care and I still feel it when I taste this dessert: so simple but so full of happy feelings.
Food of the Heart
That's exactly what comfort food is. Food of the heart that does not satisfy the appetite, but the emotions. Treating ourselves to a healthy, satisfying dish that takes us back to peaceful moments in our lives is a true act of love towards ourselves. Food often reveals who we really are and how much we love ourselves, and somehow shows to us what true love is, something to be sought within ourselves.
When we take care of our body and our spirit, we know our best self. So we learn to accept and forgive ourselves more, and naturally we feel more loved by others. Love is therefore within everyone's reach because it is the reflection of what we have inside.
Zabaglione and Sponge Biscuits
This version emphasizes simplicity and breaks down the classic sponge cake into biscuits, evoking childhood and the days when grandmothers used to make zabaione and allow us to dip a few biscuits in it.
INGREDIENTS
For the zabaione
90 g egg yolks
25 g sugar
75 g of vin santo
For the sponge cake
6 eggs
6 tablespoons of boiling water
250 gr of sugar
300 g 00 flour
lemon peel
1 sachet of baking powder
METHOD
To prepare the zabaione, pour the vin santo into a small saucepan, add half of the sugar and heat until it melts.
Put the egg yolks in a bowl and, whisking with a whisk, add the remaining sugar and continue whisking until the mixture is smooth.
First add a small ladle of hot liqueur to dissolve the mixture, then quickly add the remaining vin santo, stirring constantly with a whisk and cook in a bain-marie.
Whisk continuously until it increases in volume and tends to stick to the inside of the whisk.
Pour the zabaglione into the dish and let it cool down.
To make the sponge cake, separate the egg yolks from the egg whites and beat the latter until stiff.
Separately, whisk the egg yolks with 6 tablespoons of boiling water.
Add the sugar and the finely grated lemon peel, continuing to whisk until the mixture is light and fluffy.
Sprinkle in the flour and baking powder and continue to whisk.
Finally, add the stiffly beaten egg whites and incorporate them into the mixture, stirring with a wooden spoon and moving from the bottom up.
Grease and flour the biscuit moulds, then pour the mixture into them.
Bake in a static oven preheated to 180°C for 40 minutes.
Remove the sponge cake from the moulds and allow it to cool.
Add the sponge cake biscuits to the zabaione.