Schiacciata con l'uva with Grape Yogurt, Burrata and Crushed Cookie Topping
September leads us from summer to autumn with grapes: a fruit that, in its sugar content, is comprised of all the warm season's sunshine. Ripe grapes unite passionate people with a common goal — harvest. More than a job, harvest is a ritual. It's a real celebration that takes place on the slopes of hillside amphitheaters adorned with vineyards.
Here the ground is set for a shared meal and the smell of grape must in the air. There are cycles, such as grape harvest, which repeat every year. They reveal that nature, in its randomness, often gives us precise coincidences. This encloses the fascinating mystery of life and makes me think about the beginning of my work with Live in Italy Magazine that began in the month of harvest. The magazine, just like good wine, improves and is enriched through the magic of ripening. Writing transforms everything as do simple grapes that become a unique potion. It is capable of changing behavior, suppressing inhibitions, blurring sight, and opening the doors of entire imaginary realms.
Dante's Metaphor
Dante, in the Divine Comedy, explains how God infused the intellectual soul in human beings to produce the inimitable singularity of each individual. He does it through the metaphor of the grape that becomes wine:
"E perchè meno ammiri la parola, guarda il calor del sol che si fa vino, giunto a l'omor che de la vite."
("And that thou less mayest marvel at the word, Behold the sun's heat, which becometh wine, joined to the juice that from the vine distils.")
He writes in this passage found in the Purgatory that describes the miracle of nature. Every year we are called to witness it and understand how man takes shape through a soul that places us halfway between nature and God.
A miracle and a cycle that we celebrate with a dessert prepared in the period of harvest. It is typical of Tuscany: land of the Supreme Poet where vineyards and grapes are part of the landscape and popular culture.
Ancient Dish from Chianti
The Schiacciata con l'uva or pan d'uva is an ancient dish from the areas of Florence and Chianti, a kind of flatbread made of simply: water, flour, good oil and, of course, grapes. Traditionally it is prepared with Canaiolo grapes which are not very prone to be vinified because of their high water content. However, they are used as a base giving softness and color to some wines such as Chianti.
Canaiolo grapes have large, purplish black berries and like all wine grapes have seeds. Here lies a peculiarity of this flatbread which, because of its goodness, deserves to jump from the countryside to the most prestigious tables.
So here is a 'chic' version suitable to exalt its characteristics and grant regality to a dessert that could be defined as 'poor' but, in my opinion, is the undisputed King of this period.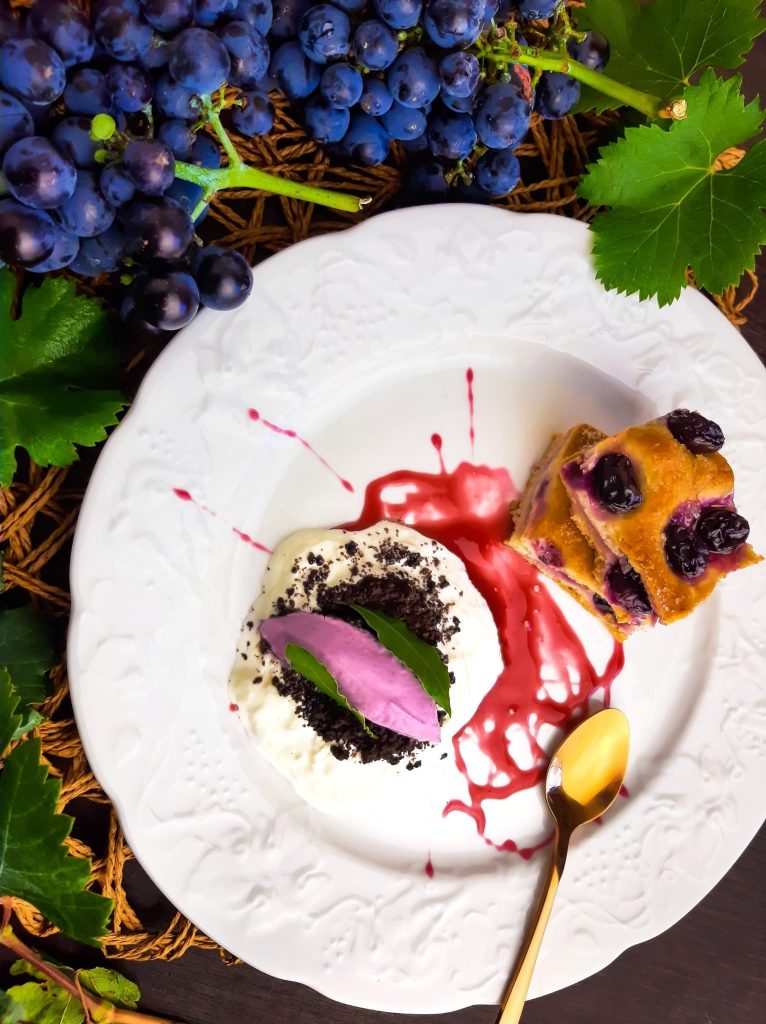 Ingredients
For the schiacciata all'uva:
Flour 500 g
Fresh brewer's yeast 10 g
Water 300 ml
Sugar 50 g
Sugar 3 tablespoons
Black grapes 2 bunches
Olive oil 4 tablespoons
For grape yogurt, burrata and cookie:
200 g Stracciatella di burrata
150 g Strained Greek yogurt
300 g Black grapes
100 g Sugar
100 g Butter
75 g Flour
50 g Lemon juice
50 g Cornstarch
25 g Cocoa
2 Firm yolks
Salt to taste
For the red wine reduction:
200 gr of red wine
30 gr of sugar
Method:
Dissolve the brewer's yeast in a little warm water, mix the flour with the dissolved yeast, oil and sugar and slowly add the remaining water. Knead until you obtain a compact dough. Let it rest covered until doubled. When the dough has risen, divide it into two parts and roll it out to a height of about one centimeter, possibly giving it a rectangular shape.
Put it on a rectangular baking pan lined with baking paper and sprinkle on top half of the grapes, two tablespoons of oil and two tablespoons of sugar. Lay the other sheet of pastry on top and seal well, put the remaining grapes, two tablespoons of sugar and a little oil. Place in a hot oven at 180 degrees and bake for about 50 minutes.
Prepare the Yogurt
Meanwhile, prepare the yogurt. Put the grapes in a saucepan with as much water, lemon juice and 50 g of sugar. Cook for about 10 minutes. Blend with a blender, filter the puree obtained to remove the seeds and parts of skins. Let cool and mix with the strained yogurt.
Prepare the Cookie
Let's prepare the cookie. Sieve the yolks, mix them with the softened butter, flour, remaining sugar, cornstarch, cocoa and a pinch of salt, until you get a smooth dough. Let it rest covered, in the refrigerator, for about 30 minutes. Then grate it on a baking sheet covered with baking paper and bake it at 160 °C for 7-8 minutes obtaining a crumble-like cookie.
Now let's move on to the red wine reduction. In a saucepan reduce the wine with the sugar over low heat; when it is of the right consistency let it cool.
Place the reduction in the center of the plate and beat it with a spoon, place two pieces of Schiacciata on one side, and the Stracciatella on the other, sprinkle it with the crumble and place the grape yogurt on top. Enjoy!
---
Read this recipe in Italian. | Leggi questa ricetta in italiano.