Vinitaly's wine2wine Business Forum is the event par excellence for professionals in the wine industry.
The two-day event (November 7th and 8th) in Verona is the stage for great and authoritative speakers who exhibit and discuss with the public issues relating to the wonderful and complex world of wine trends and markets.
A Return to In-Person
I have participated in all editions and have always been a great supporter of it. The 9th edition, after the last two in hybrid format (in presence and virtual presence), presented itself as in the pre-Covid editions, 100% in person.
The purpose of wine2wine has always been to provide the possibility to share ideas, study, receive training. Networking has always been a cornerstone of this event. Attendees meet and discuss between colleagues. Also, there's a great possibility for expanding one's knowledge.
Additionally, in this 2022 edition, there was no lack of food for thought that opened minds to scenarios that could not have been imagined, and confirmations or denials about the situation of some markets.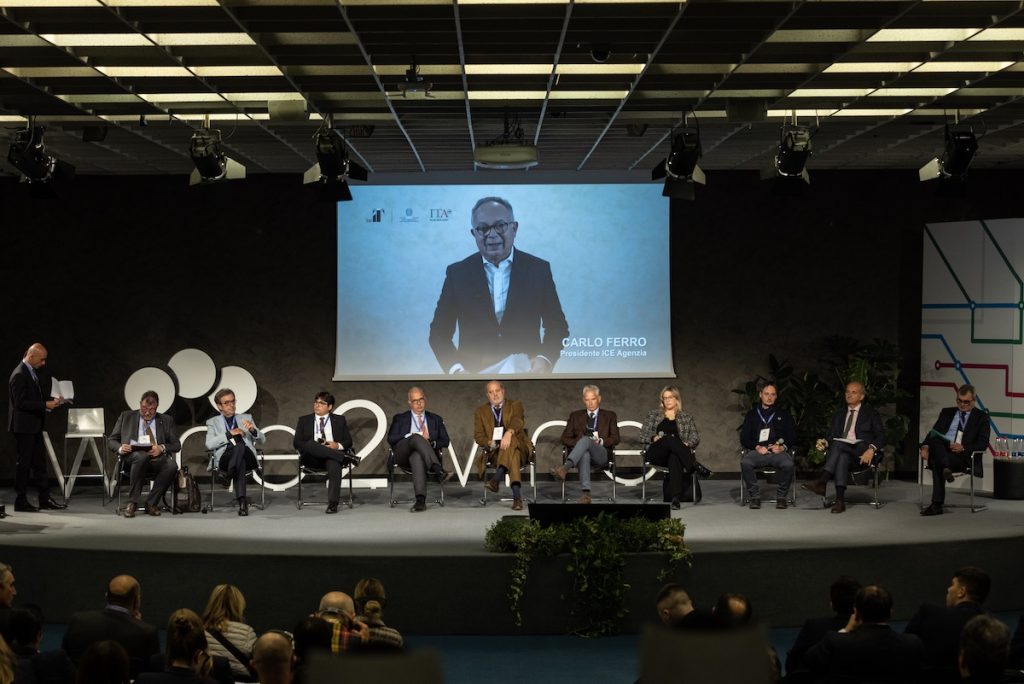 A Common Thread
A common thread has linked all (or almost all) speakers who have walked the stages of the Verona Fair: change.
The world after the Covid pandemic has changed and with it, the wine industry. We are going through a period of great turmoil, starting from skyrocketing costs (but this is not the place to discuss them), to the difficulty of some markets in recovering the pre-Covid sale volumes. The mindset of some importers changed completely after having experimented with new sales methods. The desire and need of export managers and marketing managers to experiment with new strategies to present themselves and their wines to final customers. Last but not least, the final customers who are more aware of what they want drink and want to hear from us insiders.
Sub-Saharan African Market
One of the speeches that struck me the most was that he focused on the sub-Saharan African market (Angola, Nigeria, Kenya, Ghana, South Africa). A continent that is not easily found in the commercial routes of Italian wineries but which, numbers in hand, can give great satisfaction.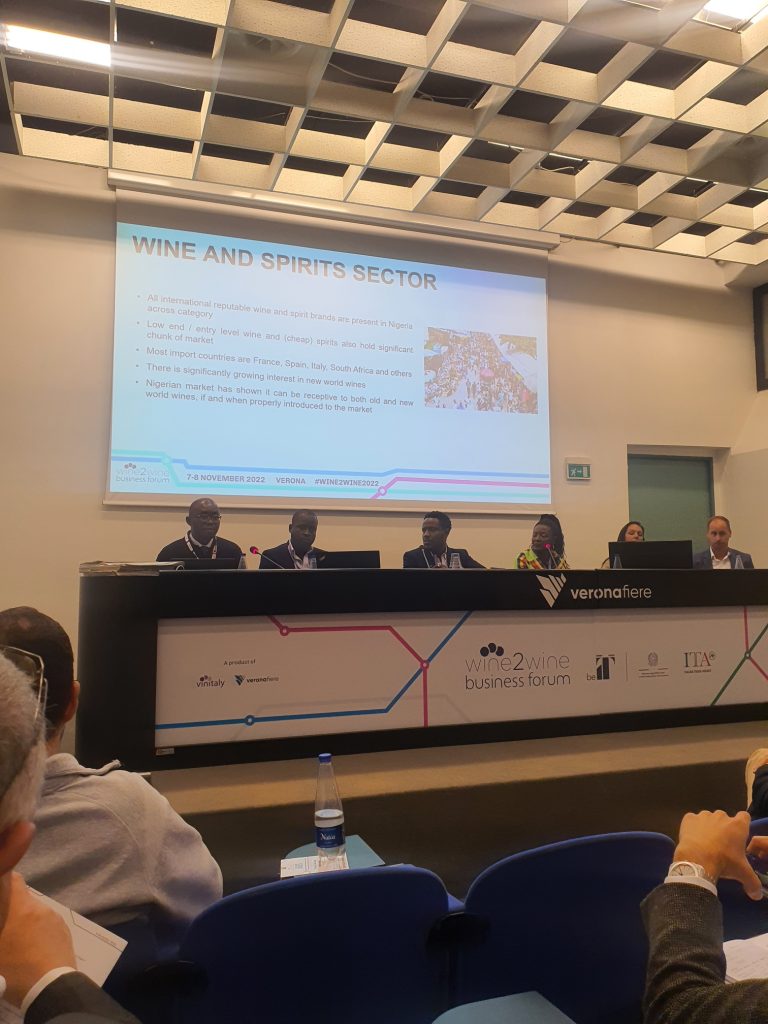 Let's be honest: investing in Africa would be a long-term investment. It would certainly be worth it. This is the opinion of Viltor Ikem, the Business Director of Drinks Revolution Limited.
In the African market, wines imported from France, South Africa (for obvious reasons of ease of logistics) and Spain are certainly the masters. Argentina, Chile, and Portugal follow. Italy is still too little represented. Prosecco is the most requested wine, often replacing Champagne for a more reasonable price. Pinot Grigio or Moscato are also requested.
The African market is undoubtedly of great interest. Institutions and companies, however, will have to do a great deal of communication and education.
My reflection, which many of my colleagues already know is the following:
Why do we continue to always and only chase the Asian market, first and foremost China?
Couldn't the African continent be a new frontier to explore and invest in?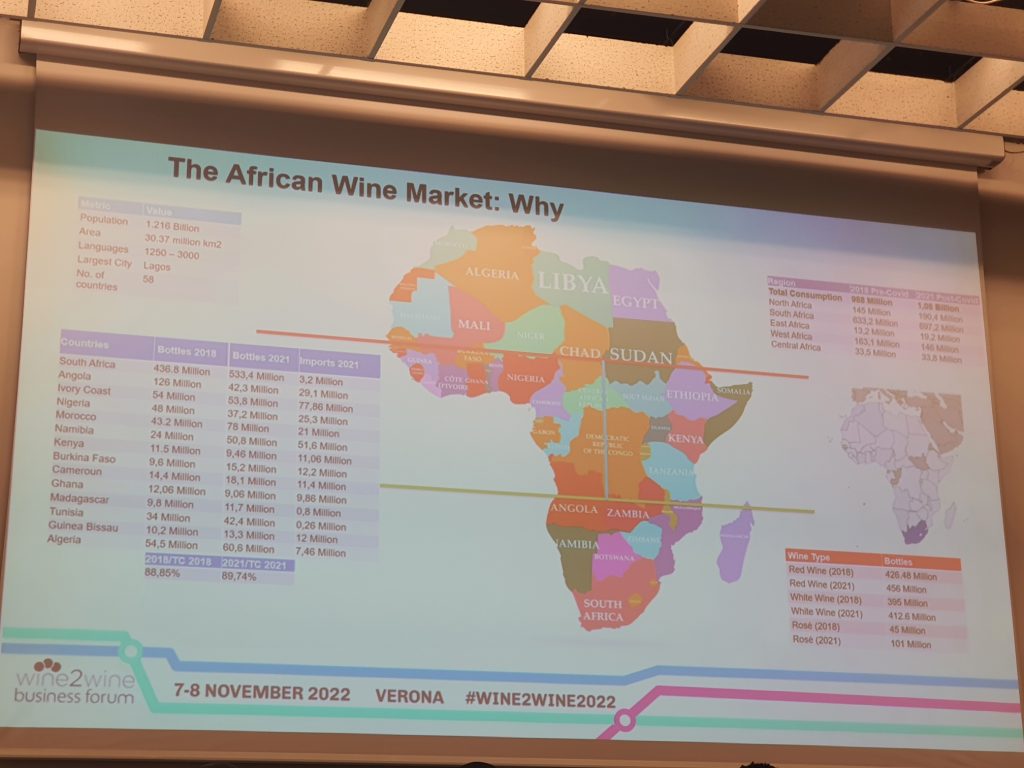 What I liked about this 2022 edition
This event is always a moment of great training and study for those who, like me, work in the world of wine.
Great internationally renowned speakers and topics that are certainly of interest and that can certainly lead to transversal reflections that start from the sales sector, pass through marketing, and can easily reach the production sector.
What I didn't like about this 2022 edition
The aspect that, unfortunately, weighed on me the most was the almost total absence of producers and export managers.
It is obviously not the fault of the event organizers, but is the full responsibility of the producers and export managers. I don't know the reason behind this absenteeism (ticket price, dates, topics, etc.), but the organization will certainly have to deal with it.
If we insiders are not interested in training, discussion, and networking events, perhaps we need to start asking ourselves some questions about the future wine sector.
New Momentum
I personally believe that wine2wine should regain new momentum, perhaps once again opening up to online participation to allow a foreign audience (but) to participate.
Could a biennial Wine2Wine be useful? Yes, I think so and I personally find it a winning choice.
To conclude, despite all the pros and cons, Wine2Wine for me was a moment of discussion and enrichment that always allows me to grow in this wonderful world of wine.
---
Read more Vinitaly Articles: