Cooking is love, and I love cooking so there was a lot of love in my kitchen as we started a virtual vegan cooking class with Michele, an Italian chef in Florence. The iconic Italian recipe? Caponata.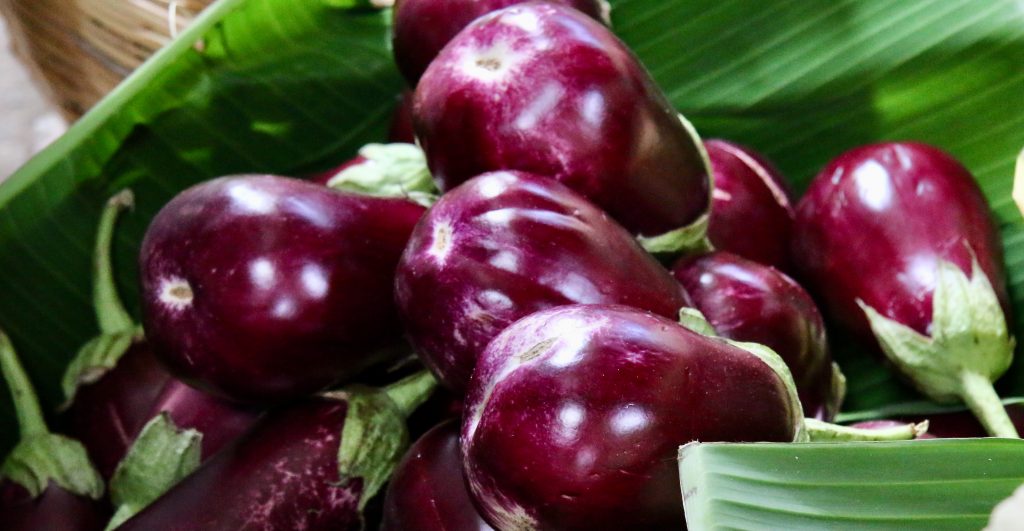 This vegan dish originated in Sicily, Italy's largest island. Full of Meditteranean flavours Caponata is delicious and filling. In fact, it's so full of flavour my carnivore cooking buddy was blown away and ready to swear off meat for life.
What's Caponata?
Caponata is a rich hearty eggplant dish. Earthy eggplant takes on the flavours of sweet red peppers and caramelised red onion. Mixed with a divine tomato sauce and some capers to give it a zing. Dishing it up on a bed of polenta is about as close to heaven as my tastebuds could get.
The Virtual Vegan Cooking Class.
Travelling to Italy is not possible right now. We all know that. But cooking with a real Italian chef is possible. It's a virtual escape bringing Italy to you. Michele is in your kitchen showing you how to do the prep, cook the dish and make the polenta it's served on.
This is how it works.
Recipe cards are sent ahead of time. There's plenty of time to shop. To find the best ingredients. Dark glossy eggplants, rich ripe tomatoes and large red bell pepper make a pretty picture sitting on the kitchen bench before you start.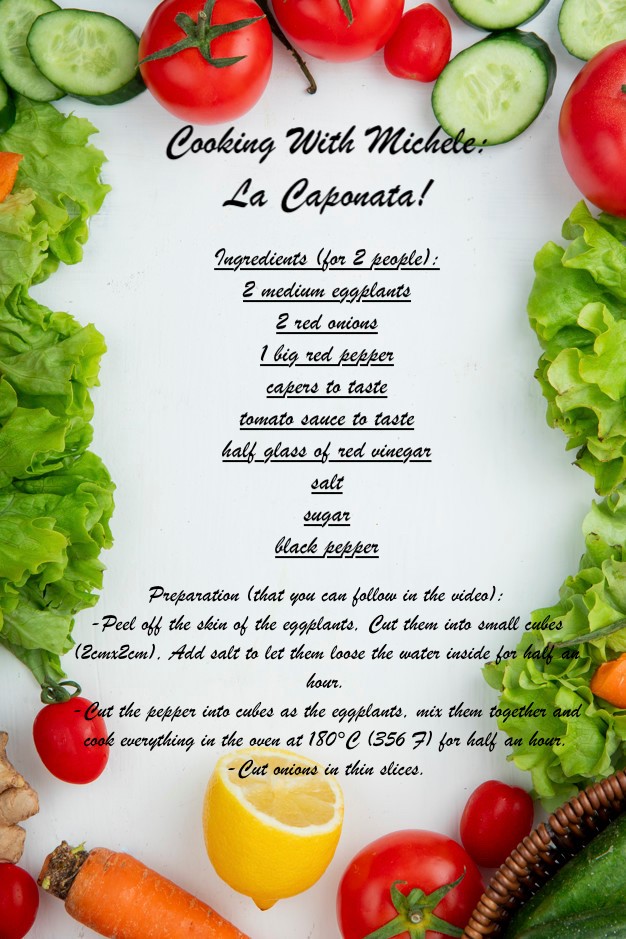 There is also a bonus. A short video showing you how to do the preparation work ready for the cooking class. I took my laptop into the kitchen and did my prep side by side with the Michele.
He shows you how to peel, dice, slice and chop. Even how to salt and press the eggplant like they do in the restaurant.
How it Works.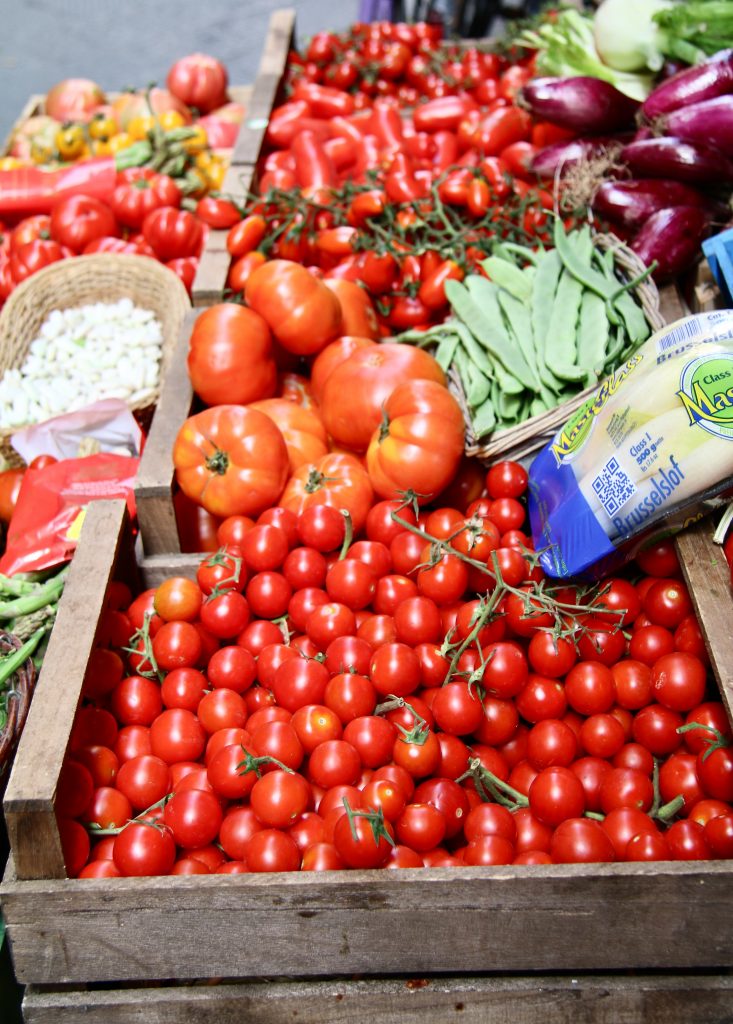 You've bought all of the ingredients. You've watched the vegetable prep video. Now it's time to get to work. It's easy. Just follow the instructions.
Chopping and roasting the eggplant and red pepper is the perfect way to start. I loved this part. Why? Because the house smelt amazing before the class with Michele. Everything was ready to go so the caponata came together quickly once we were face to face.
Plus, roasting the vegetables is a lot healthier. Other recipes cook the eggplant in a pan and it soaks up a lot more olive oil which can make the dish greasy.
Every village, town and region in Sicily has its own recipe. All are basically the same but some may add extras. Like slivered almonds. Or green olives. Or capers. That's why I love this dish. You can adapt it to taste and I've eaten all sorts of ways but it's always delicious!
Why it's Worth It.
A virtual cooking class may seem weird. It's actually super fun and easy. This was a fantastic experience and it felt like Michele was there in my kitchen.
The best thing was that it was in the comfort of my own kitchen. If you're like me and like to cook, there's nothing better. For so many reasons.
You know where everything is in the kitchen so it's easy to make again.
It's Italy in your home. I felt like I was travelling so it satiated my wanderlust.
One on one instruction with the chef.
You don't have to wear a mask or worry about social distancing.
It's relaxing being in your own home.
Lastly, the best thing is: you can cook with a glass of wine in your hand! We chose a nice merlot.
How Long Does it Take?
Our caponata cooking class was just under an hour. Caramelising the onions is the thing that takes the most time. Plus there was chit chat, a lot of laughing and telling of tales. Add in a little wine and it was a delightful hour in the kitchen followed by an amazing lunch.
It's a Sensory Cooking Experience.
Italians cook like your grandmother would. Intuitively. Forget exact measurements. It's half a glass not half a cup of metric measurement. That's half of the small drinking glass you'd find in just about every Italian kitchen.

Cooking is life. Not just sustenance. It's felt from the heart with all senses used. So, don't be surprised to hear things like "is it strong in the nose?"
See, when caramelising the onions, once you've added the sugar you add red wine vinegar. It's pungent. But in a good way and smells divine. Having said that, when you lean over the pot, it is strong in your nose.
When the onions are properly caramelised it is no longer strong. It's wonderful to learn how to cook like an Italian chef.
Making the Caponata.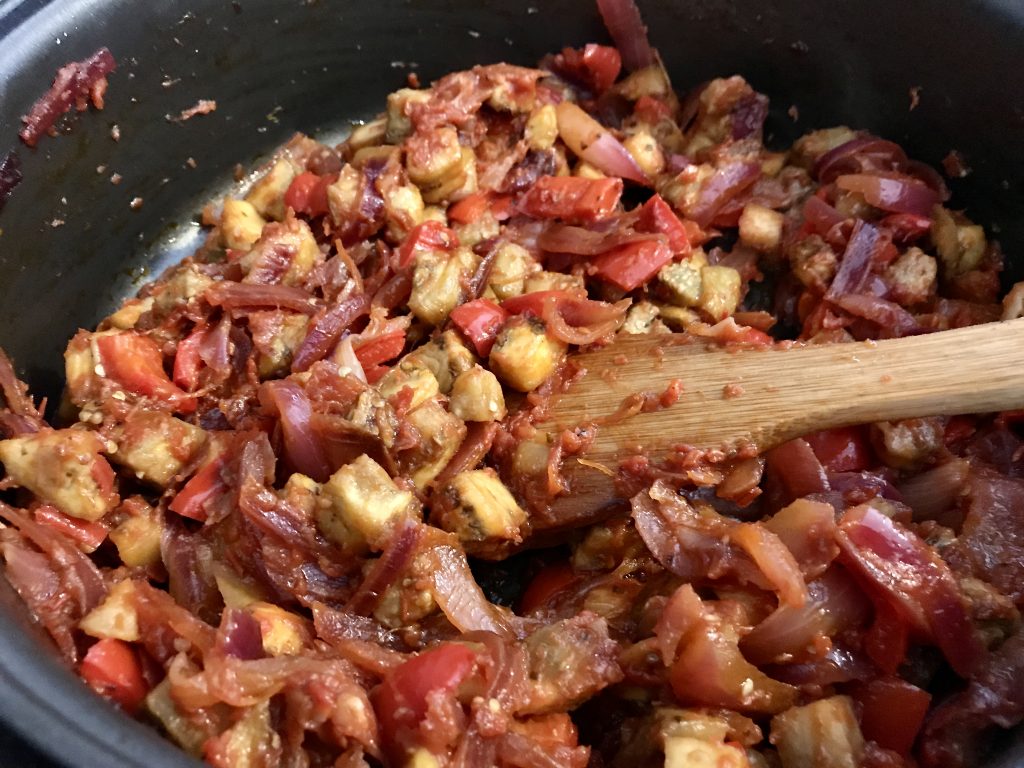 Let's get back to making the Caponata. Once the onions are caramelised, it's time to add in the roasted eggplant and red pepper.
Now for the best part. Add in the tomato. This can be a store bought tomato sauce or home-made. I made a simple marinara (tomato, onion, garlic and oregano) sauce with beautiful big ripe tomatoes. It was perfect.
Once it's all in the pot, cook on low heat for a few minutes stirring constantly so the flavours blend well.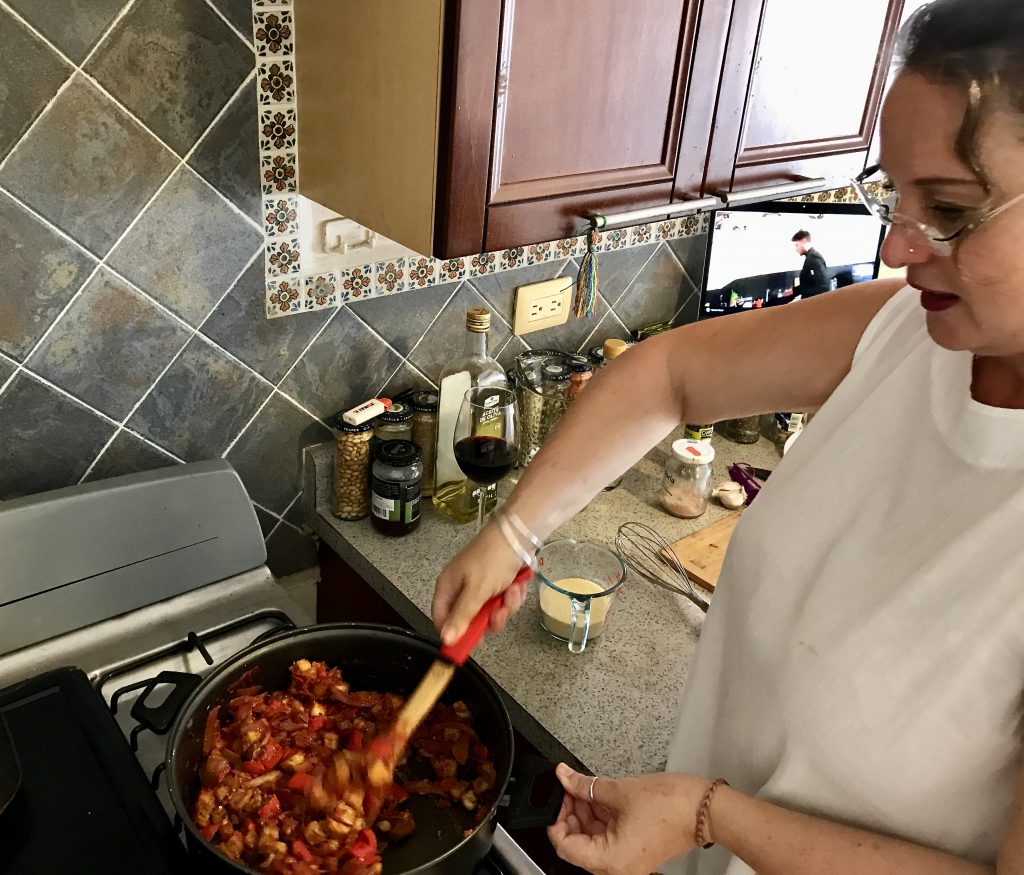 Lastly, add any extras to your taste. We added some capers to give it a nice zing.
You can eat the caponata like this with warm crusty bread or on a bed of polenta. It is also amazing the next day served cold as an antipasto as well.
Polenta? What's Polenta?
Polenta is a very finely ground cornmeal. I love polenta and have eaten it for years. But I really wanted to learn how to make it the true Italian way. Michele makes it with olive oil. Not butter and cheese. Honestly, you would never know the difference. From this day on I will always make it with olive oil.
You make this last because it is very quick to make. We turned the heat off on the caponata and it was still piping hot when the polenta was done. That's how quick it is. It only takes a few minutes.
And viola! Our iconic Italian vegan dish was ready to plate up. This is what it looks like. I wish I could insert the smell because as I said at the beginning – it smells amazing.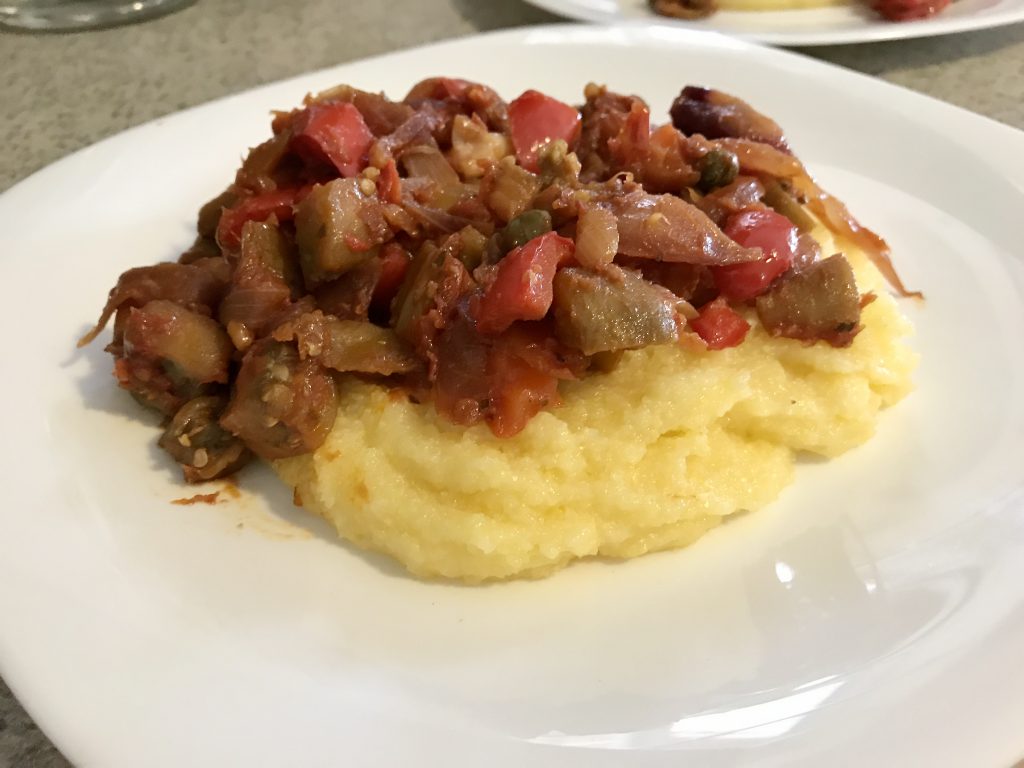 It's healthy. Vegan. Served in restaurants all over Italy and my favourite way to eat eggplant.
If you aren't vegan then it's also "very yummy" as Michele says, with some goats cheese sprinkled on top.
As I said at the start, my carnivore cooking buddy was blown away. This was the first time she'd tried caponata or polenta and is now madly in love with both.
I sincerely hope you make this mouthwatering dish and it rocks your world as it did hers.
Want a Cooking Class?
You can organise a personalised cooking class with Michele through Florensight here.
If there is a different dish you'd like to make that's no problem. It's your personalised cooking class so he's happy to teach any dish you wish!
Buon appetito!
---
You may also enjoy reading…