A Sicilian Wine Pairing Voyage with Cantine Florio and Duca di Salaparuta Wines at Dõma in Miami
I received a bottle of Cantine Florio Oltre Cento (a sweet Marsala wine – 'Dolce') about two months ago. Normally I'm excited to discover a new Italian wine, delve into the winery's history, and read about the region and terroir. For me, Italian wine (and food) is a virtual trip to Italy. Why did I hesitate to open it? The petit bottle said 'Dolce' or 'sweet' – what should I do with it? Save it for Christmas or make Chicken Marsala?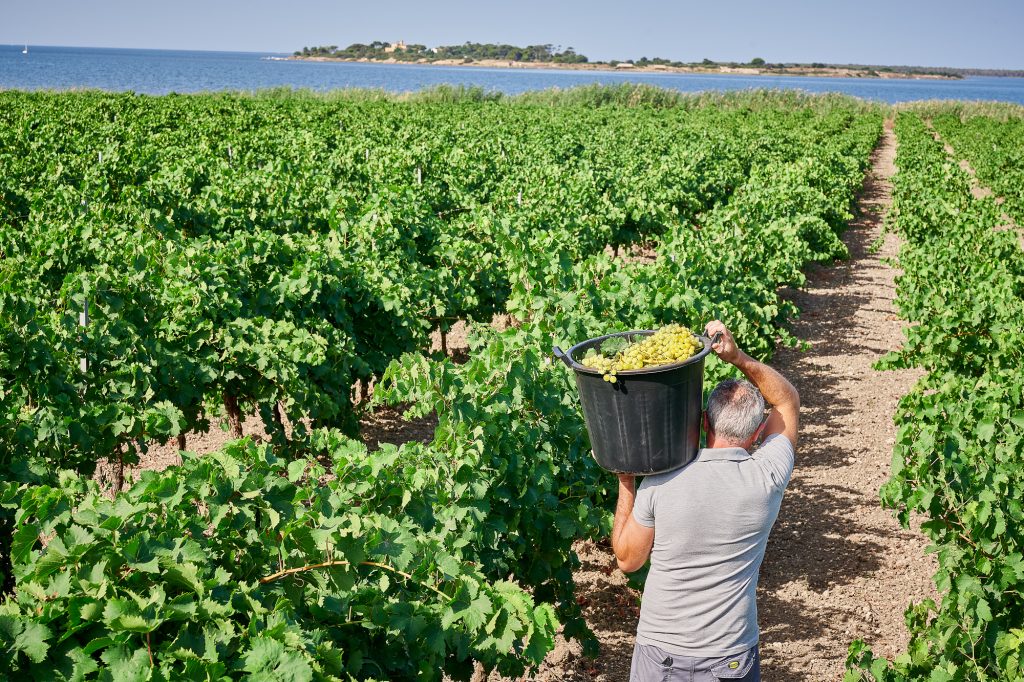 I hesitated until last week when I received an invitation to meet Roberto Magnisi, Duca di Salaparuta and Florio wineries Director. Coincidentally, Sicily was on my mind. In fact, I had just finished interviewing this month's featured expat. Writers and industry professionals were invited to taste seven wines and enjoy a four-course pairing lunch provided by Dõma in Wynwood, Miami.
Not Your Grandmother's After Dinner Drink
This particular wine was not on the list of wines to be tasted at the media lunch. So, to overcome my discriminating palate, I decided to dedicate an entire weekend to finding a unique pairing for this sweet Marsala wine. Following my foodie adventure and Roberto's presentation (that I'll talk more about at the end), I am now convinced that Marsala is not your grandmothers after dinner treat, one to save for Christmas, or add to a generic dish.
When tasting this wine on its own, memories of my British mother's plum (figgy) pudding and Christmas cake came to mind. Here are the winery's tasting notes.
Unexpected Pairings
Feeling adventurous, I was determined to enjoy the Marsala wine with unusual pairings. If you are a wine connoisseur, note that Cantine Florio Oltre Cento is made with the Grillo and Cataratto white varieties. It's aged in oak barrels for at least 24 months followed by two months in the bottle.
Antipasto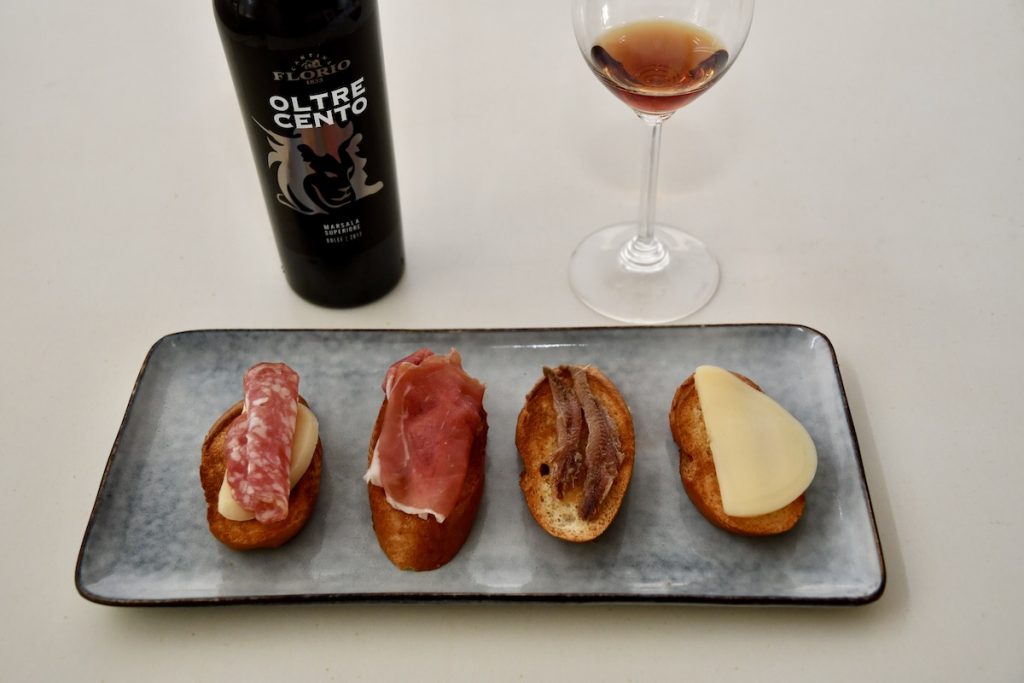 For the appetizer I tasted the Marsala with toasted bread brushed lightly with a quality Sicilian virgin olive oil and topped with: (1) Scamorza (or try any medium aged cheese)* and salame rustico; (2) prosciutto; (3) anchovies; and (4) Scamorza.
I have my personal favorite, but so as not to taint your judgment, decide which one you liked best and let me know.
*Note: I would have purchased a Sicilian cheese but could not find one. Scamorza is typically made in Puglia, Campania, and Molise.
Primo
Linguine with Onions, Smoked Salmon, and Parmigiano Reggiano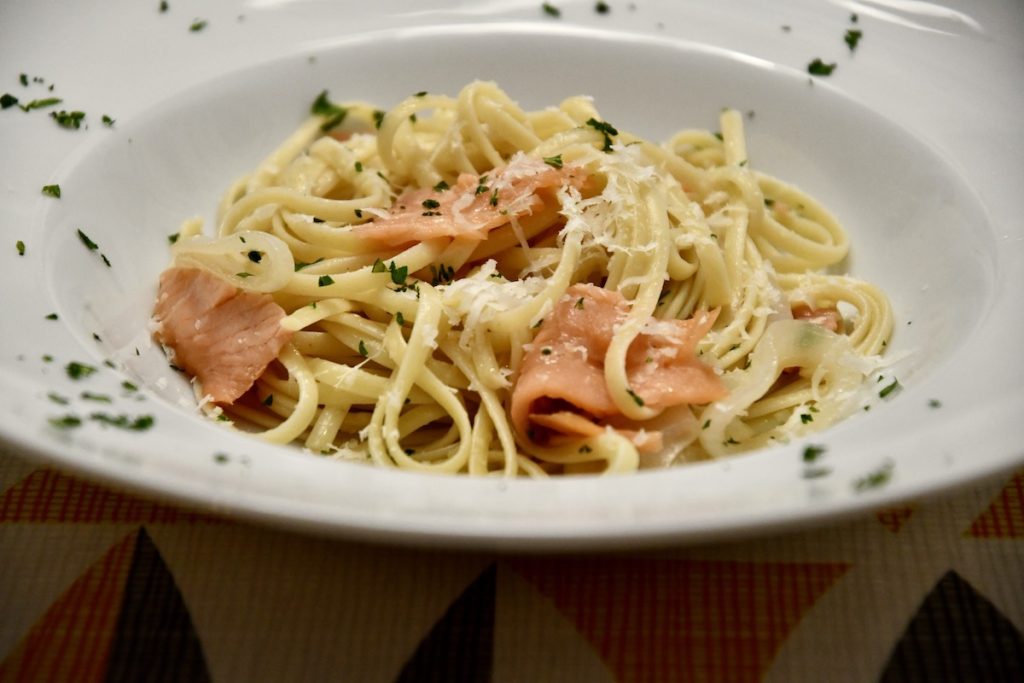 One thing that I've learned from interviewing quite a few Italian food experts is that Italian dishes do not have to be complicated. Enjoy this quick and simple delight!
Serves 2
Ingredients
½ package of quality linguine
1 medium white onion (sliced thinly)
1 package of quality smoked salmon cut into bite-size pieces
1/3 c Parmigiano Reggiano (or to your taste, more or less)
Splash of Marsala
Parsley
Method
Slowly sauté the onions in a quality olive oil. I did not want to caramelize the onions, so I stopped the cooking process once they were soft and sweet. Add a splash of Marsala wine (and reward yourself with a generous sip!) Remove the onions from the heat.
Cook the linguine until al dente in water with a generous amount of salt. Return the pan with onions to a medium-low heat and add the linguine and toss. Add a small amount of pasta water to create a sauce.
Toss in the smoked salmon, remove the pan from the heat and add the Parmigiano. Garnish with a bit of parsley and more parmesan (if desired – to me, it was not needed).
(This recipe was suggested by Stefano, a past Live in Italy Magazine wine contributor and Vinitaly International, Italian Wine ambassador.)
Dolce
Chocolate Espresso Olive Oil Cake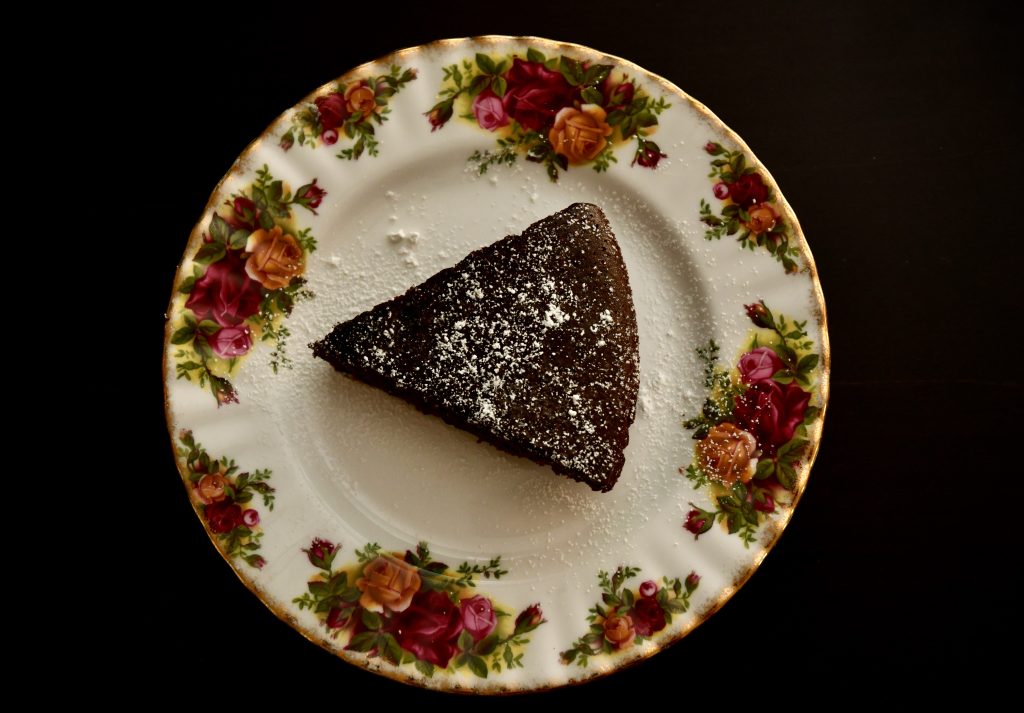 Our Italian readers can verify if this recipe is truly Sicilian. However, even if it isn't, I believe that a cake that uses olive oil as the fat rather than butter, would be more authentic. Let me know.
Ingredients
1 cup flour
1/4 teaspoon baking soda
1/4 teaspoon salt
3 eggs plus 1 yolk
1 1/4 cup sugar
2/3 cup Extra-Virgin Olive Oil (delicate) plus oil for greasing pan
1/2 cup cocoa powder
1/4 cup plus 1 tablespoon espresso (or strong coffee)
1 teaspoon vanilla
1 cup chocolate chips (semi-sweet or bittersweet)
Confectioners' sugar
Method
Grease a round cake pan with olive oil, line it with a piece of parchment paper, then grease the parchment and sides of pan. Dust the pan (bottom and sides) lightly with flour.
In a small bowl, stir together the flour, baking soda and salt.
In a large bowl, add the eggs plus yolk and sugar. Using a hand mixer, combine the eggs and sugar, slowly add the olive oil, and beat on medium speed 3 minutes until mixture is thick and creamy.
Sift the cocoa powder into a small bowl, pour the hot coffee over the cocoa, stirring well (it will be thick). Stir in the vanilla. Add a little at a time to the egg mixture, beating on low speed until smooth.
Gradually add in the dry ingredients. Stir in the chocolate chips.
Pour into prepared baking pan, bake at 325° | 65-70 minutes for round 7-inch x 2-inch pan | 55-60 minutes for round 8-inch x 2-inch pan. Times may vary. I used a toothpick to test when the cake was done.
Remove from oven. Using a small spatula or butter knife, loosen the cake from the pan by running it around the inside edge. Let cool completely.
Recipe Source: SicilianGirl.com
History in the Bottle: An Afternoon in Sicily
Presented by Duca di Salaparuta and Cantine Florio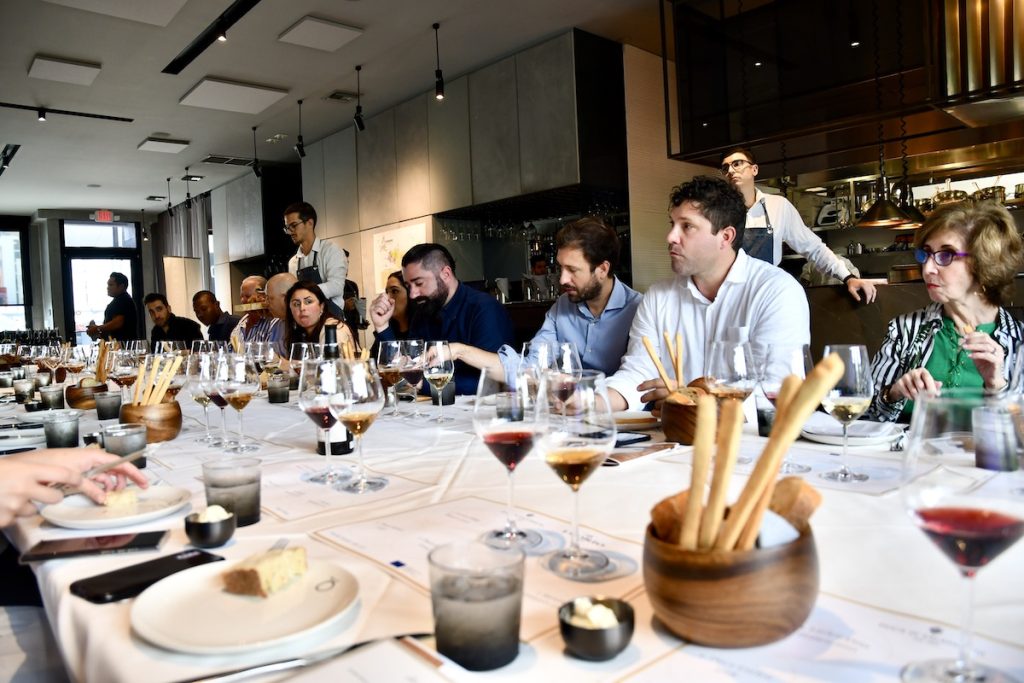 About 25 guests, made up of journalists and industry representatives, enjoyed an exclusive wine tasting and lunch at Dõma – a Gambero Rosso Top Italian Restaurant. Located in Miami's colorful Wynwood art district, the restaurant is owned by Luca Lomonaco (Valle d'Aosta). Chef Marco Giugliano, a native of Naples, prepared a four-course lunch. Here's what we enjoyed:
Lavico DOC Etna Bianco 2021 (Carricante) | Zucchini Flowers Tempura: ricotta, basil, eggplant emulsion, Modena balsamic vinegar.
We then tasted Lavico DOC Etna Rosso 2020 (Nerello Mascalese) followed by the 2009 Marsala Vergine Riserva 2009.
Duca Enrico 2018 and 2004 harvests (Nero d'Avola) | Pennoni 'alla Genovese", slowly cooked beef ragu with Parmesan cheese espuma; and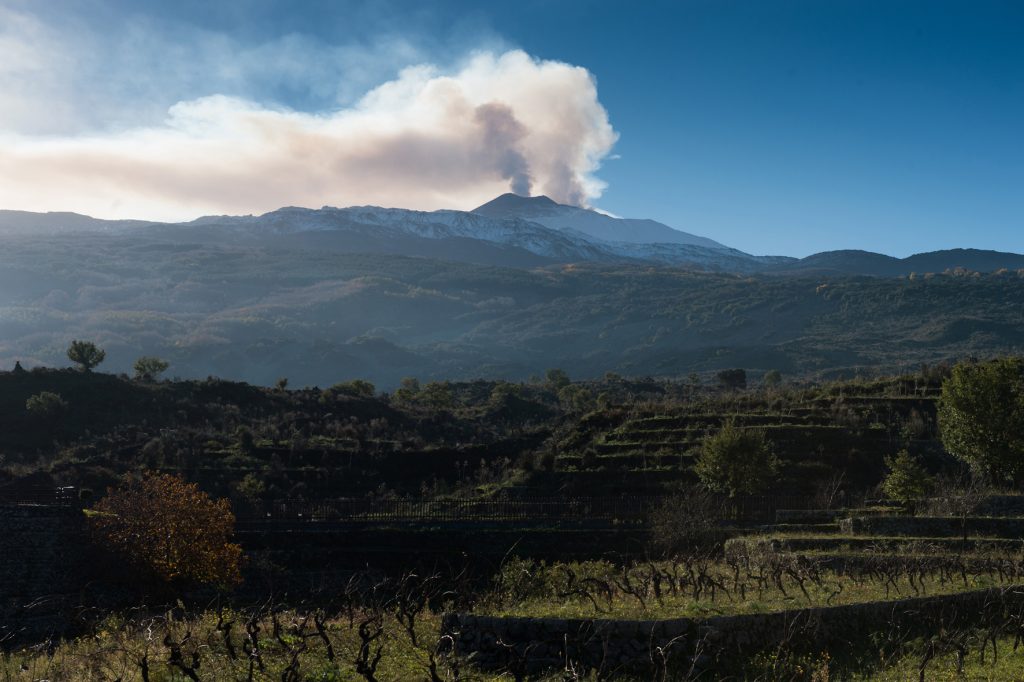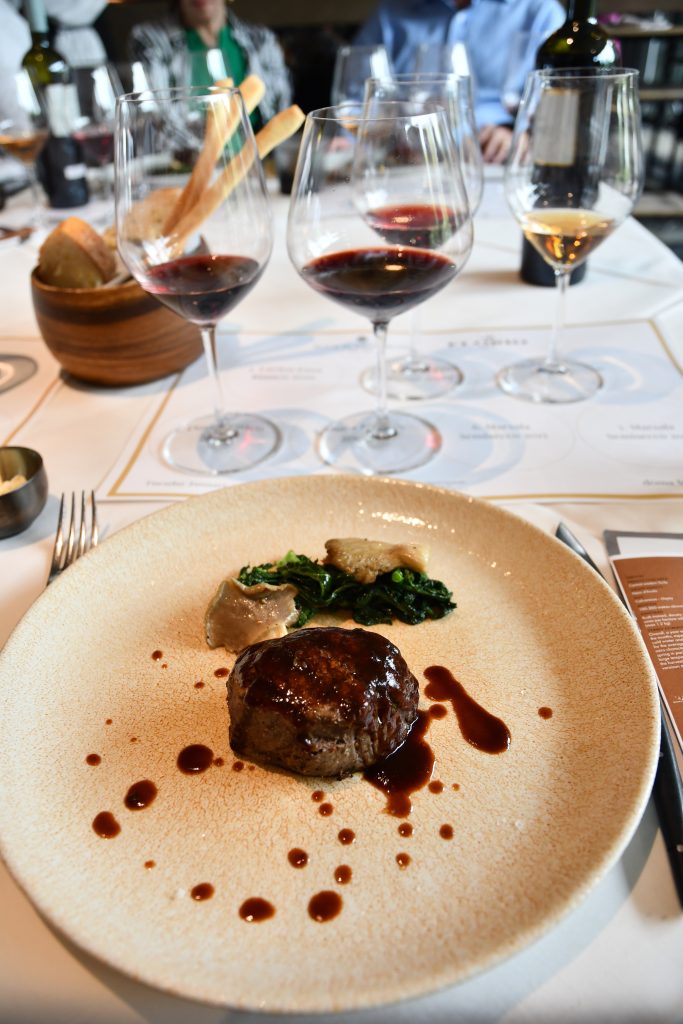 Grilled filet mignon, sauteed bell peppers, eggplant puree, roasted potatoes, basil emulsion, mushrooms hazelnut sponge, demiglace.
Marsala Semisecco Superiore Riserva 2015 and 2001 (Grillo) | homemade artisanal pistachio gelato.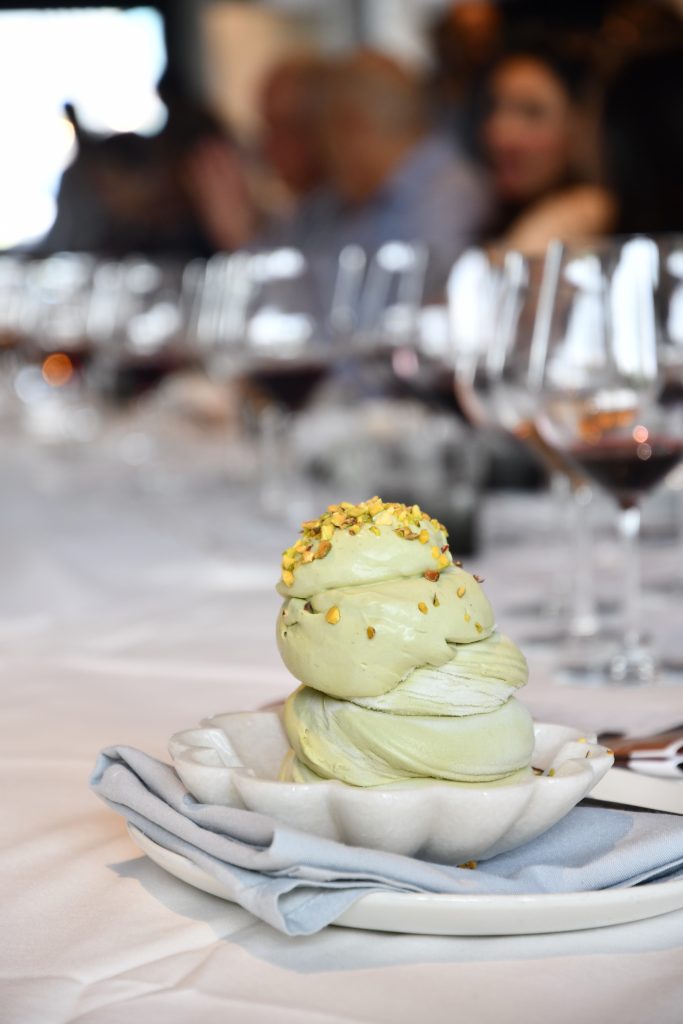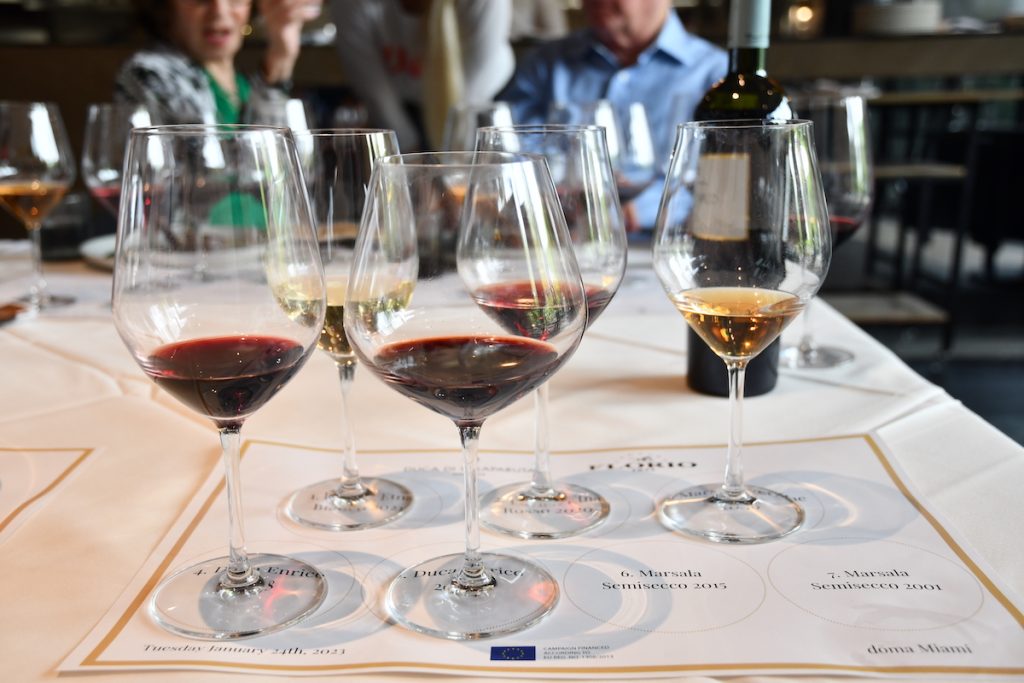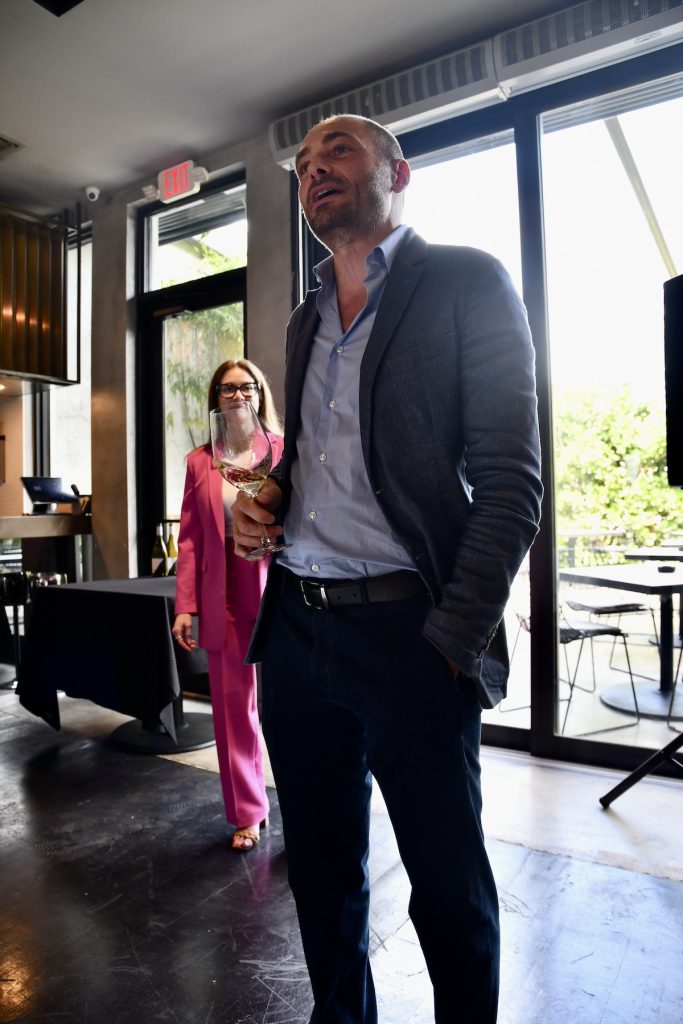 Elevating Sicilian Wine
The Duca di Salaparuta Group has three estates: Vajasindi on the slopes of Etna; Suor Marchesa in Riesi (the center of Sicily); and Risignolo in Trapani. The latter is the most vine-intense province of Italy. It is here where Grillo and Insolia find their perfect habitat – 300 – 350 metres above sea level, a hillside position with good ventilation that avoids excessive heat. Grillo is a vine rich in history, which has spread especially in the area of Marsala and Trapani, where its particular characteristics have given it the lead role in Marsala production.
Take a Tour
Both the Duca di Salaparuta and Florio wineries offer tours that have received Trip Advisor's 'Travellers' Choice' and Certiicate of Excellence awards. Your tour of the Florio Cellars begins in front of the giant vats built at the end of the 19th century. The tour continues inside the barrel chambers, followed by a 30-minute tour of the barrel vaults. Finally, guests can taste Corvo, Duca di Salaparuta, and Florio wines alongside local gastronomic bites.
Book the tours in advance. The cost ranges from 20 – 40 EUR per person.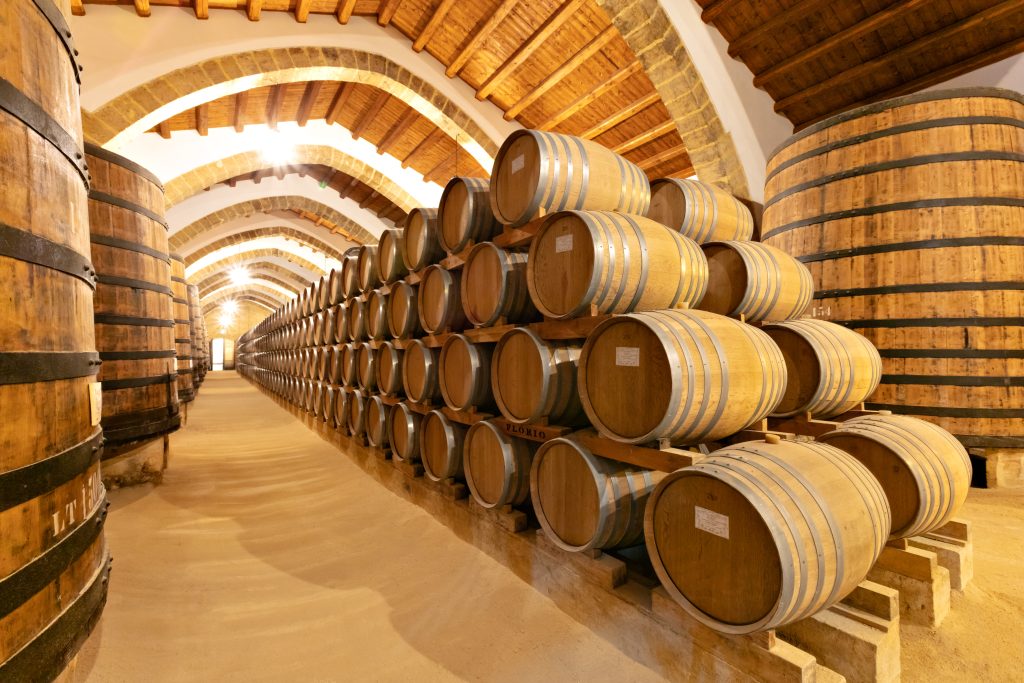 Visit Duca di Salaparuta (dal 1824), Sicily
Visit Dõma, Miami