Stanley Tucci, like so many Italian-Americans, views food as a connection to his roots. Italian immigrants who came to America had very little, but they brought their cuisine. It was a way to maintain ties and introduce their neighbors and families to Italia. More than simply nutrition, food is part of Italian history and tradition.
When CNN aired Stanley Tucci: Searching for Italy earlier this year, I made sure my Sunday evenings were free so I could vicariously enjoy the country and cuisine with him. As he went from Naples to Rome, Bologna to Milan, Florence and Sicily, I looked for familiar landmarks and restaurants I had visited in those exact locations. I had been to precious few.
During my two jaunts to Italy this summer, I decided I'd chase him through the restaurants and cafes he visited a year earlier. (I want to note that I am not including Firenze and Sicilia in this article as I did not visit either this summer. Also, I didn't follow him in the same order as I had to visit when I could.)
Emilia-Romagna
Bologna
Mercato Quadrilatero

Located in Bologna's historic city center, the Mercato Quadrilatero has been around since the Middle Ages. Originally, the area was home to everything from schools and hospitals to artist workshops, fish mongers, and meat processors. Today, the area is still home to shops of all kinds, cafes, restaurants, and food merchants in the Mercato di Mezzo. Stanley Tucci and political activist Mattia Santori walked through the Quadrilatero on their way to Salumeria Simoni.
When I am in Bologna, I live in the historic center, and I pass through the Quadrilatero daily. It follows, then, that I've been to Simoni numerous times. Around since the 60s, the shop sells meats, cheeses, pastas, and more. Tended by men dressed in dark slacks, white shirts, ties, and white hats, Simoni is famous for the mortadella Tucci and Santori tasted. Mortadella, which many Americans believe is a type of baloney (It is not) has a more delicate flavor. Simoni's is some of the best I have had.
Parma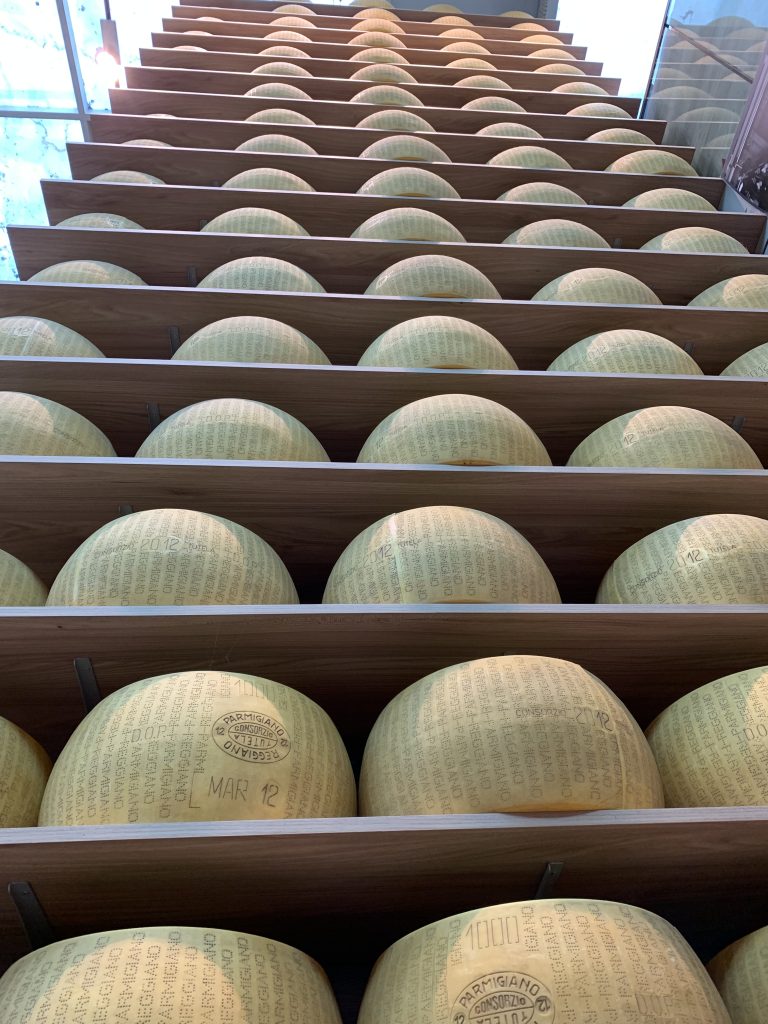 I spent one very hot and humid day in Parma, known for prosciutto and parmigiano cheese that Stanley tastes at Salumeria Garibaldi. The salumeria was, of course, closed at the time I went by, but we did find cheese all over the city.

Parmigiano-Reggiano is a hard, granualar cheese that comes from unpasteurized cow's milk. After 12 months, master graders check every wheel and brand the ones that pass with the Consorzio's seal. Good parmigiano cheese has a sharp, fruity/nutty taste with a gritty texture. If you get to Parma, make sure you check out the real stuff.
Lombardia
Milano
Caffè at the Duomo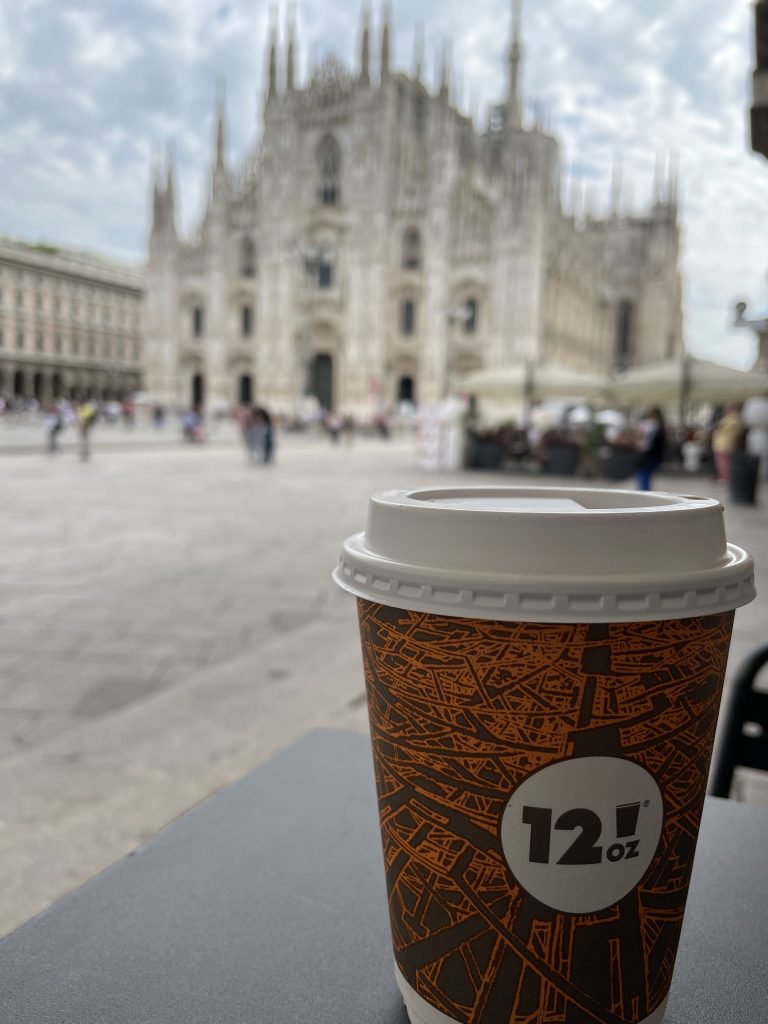 Stanley began the Milano episode with a visit to an unnamed bar near the Duomo. The large gothic structure is one of my favorite buildings in Italy, so I was more than happy to start my mornings in Milano with a cappuccino and pastry at one of the may bars that ring the Duomo's piazza.
Navigli Canal District
Until this summer, my visits to Milano were for one day to see the Duomo, the Cenacolo (DaVinci's Last Supper), and the famous Galleria Vittorio Emanuele II, the beautiful shopping mall near the Duomo. I had heard of the Navigli district, but until Stanley brought us there, I thought it was just another street in Milan.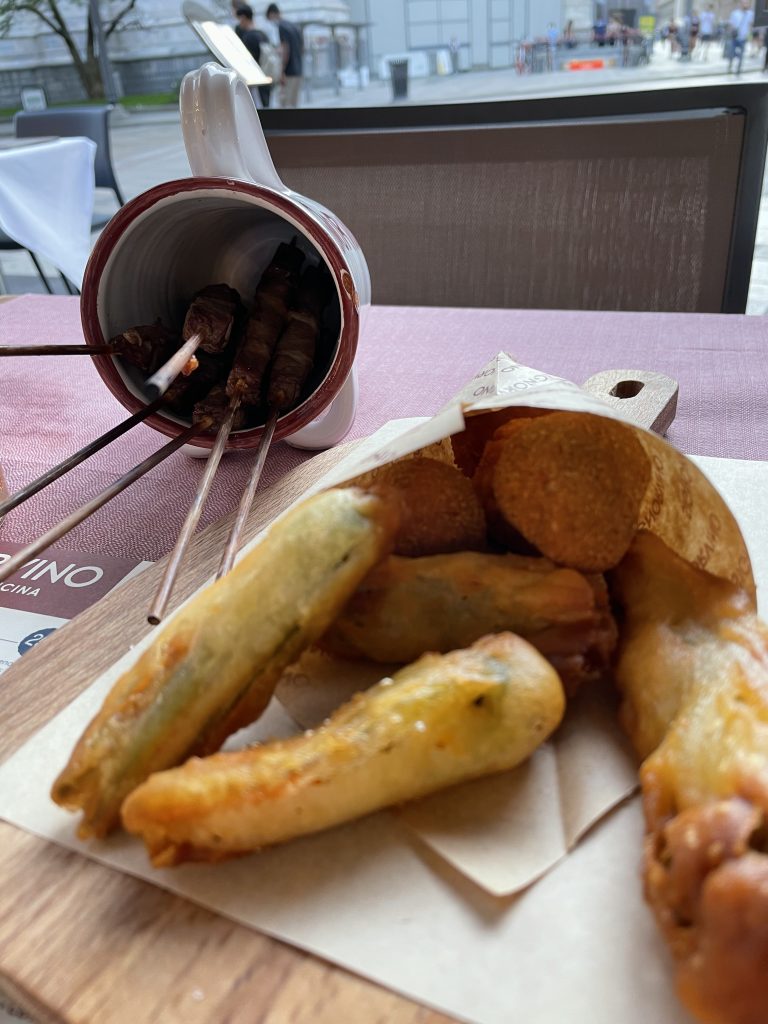 Unknown to many, Milano once was full of canals that connected it to two rivers outside of the city. Mussolini, wanting to re-make Milan in the image of Berlin, filled many of the canals with cement. Today, the Navigli is home to the last of the canals, including the Martesana. Brimming with bars, cafes, bars, restaurants, bars, art galleries, bars, and boutiques, the Navigli is a lively spot to meet friends. During happy hour (reputedly born in the Navigli) ten euro will get you a drink and buffet of tiny bites at one of the many bars. Since we weren't exactly sure where Stanley enjoyed his libations, we stopped at Signorvino for aperitivi.
Lago di Como
When Stanley toured Lake Como, he went fishing with the president of Pescatori Como Alpha, the lake's fishermen's union. My father was a hobby fisherman, so I grew up fishing on lakes in northeast Ohio. I have not cast a rod in many years, and I preferred to enjoy my cruise on Lake Como.
Osteria del Treno
Because I was in Milano during August, a number of restaurants were closed, including Ratanà, the restaurant where Stanley enjoyed Cotoletta alla Milanese. I was able to get reservations at Osteria del Treno where he ate on his last night in Milano.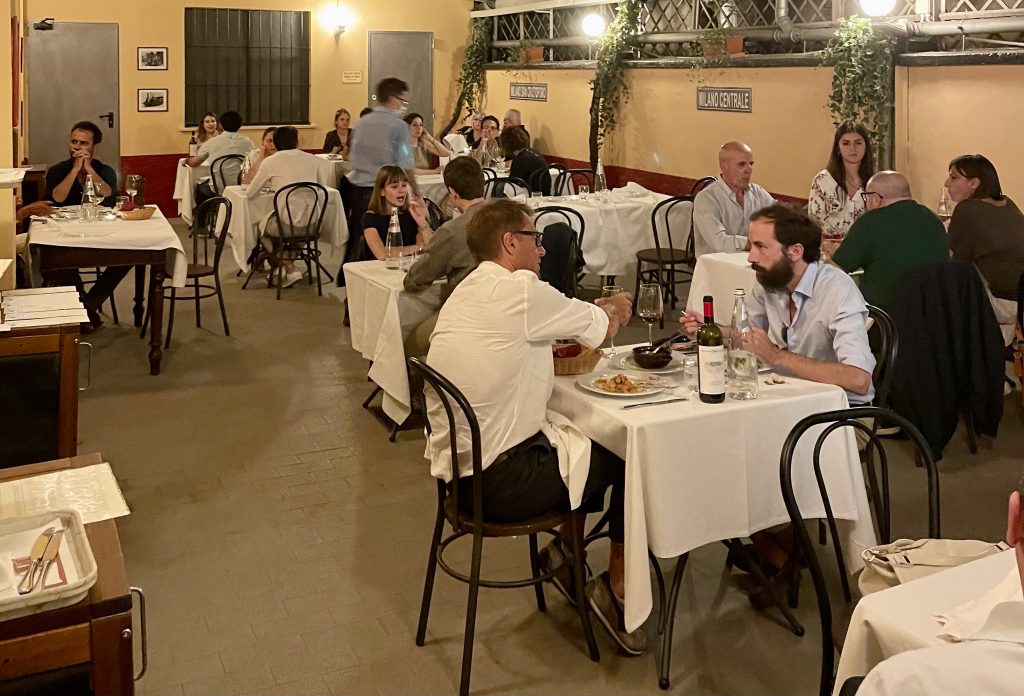 The Osteria, which has existed for over 100 years, started out as a union meeting hall for railroad employees (hence, the name). Housed in a nondescript building, this humble restaurant is part of the slow-food movement. I went with two friends, and we ordered Risotto Milanese (a traditional risotto that includes saffron), Paccheri pomodoro e salame pezzente (pasta with tomatoes and pieces of salami), and Baccalà con patate, pomodorini e finocchietto selvatico (cod with potatoes, tomatoes, and wild fennel). For dessert, we tried the Mousse al cioccolato fondente con salsa all'arancia (chocolate mousse with orange sauce).
I will be honest in saying that we did not have the Osso Bucco that Stanley enjoyed while there, so we don't know how it was. What we had for our main courses, however, seemed a bit bland and in need of something to liven the dishes. The best part of the night was the mousse.
Lazio
Roma
As much as I go to Italy, I spend very little time in Roma. Between my two visits this summer, however, I was there a total of nine days, giving me the opportunity to try to find places Stanley enjoyed.
Armando al Pantheon
The Pantheon in Roma is another of my favorite buildings. A former Roman temple, it has been a Catholic Church since the seventh century and has been in continuous use since then.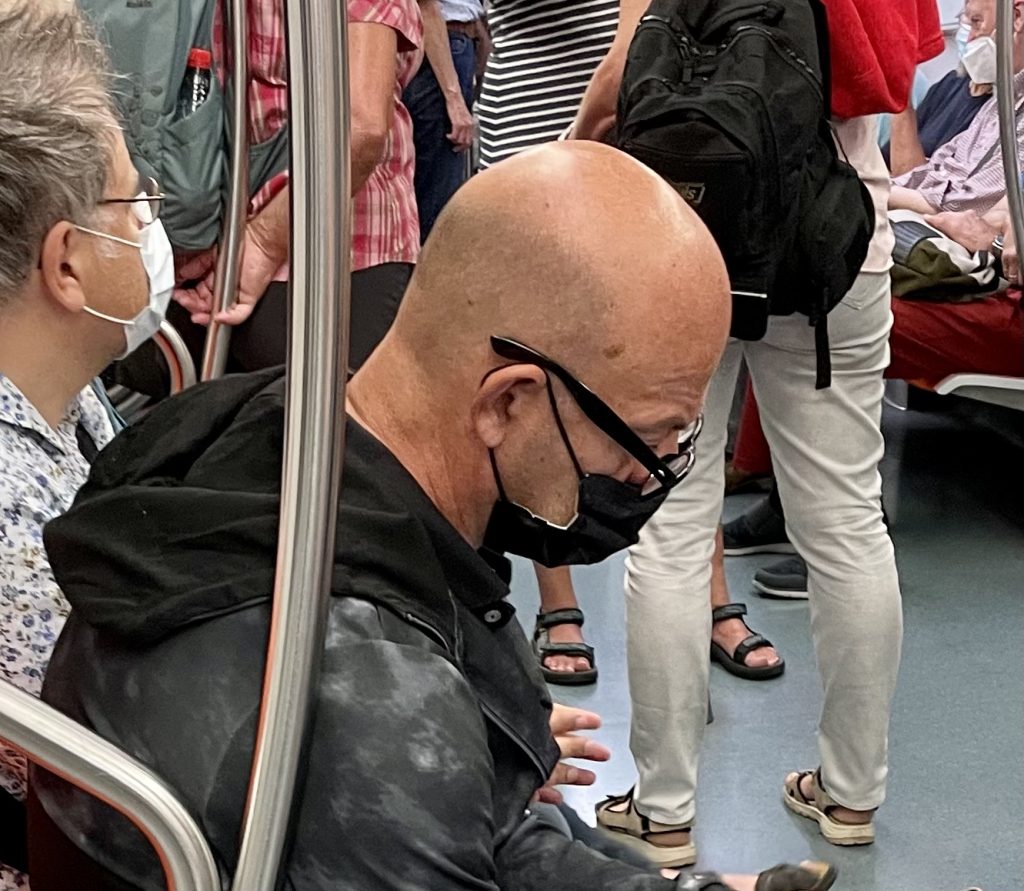 One morning, I jumped on the Metro and got as close as I could to the Pantheon. (Side note: As I was waiting for my stop, I noticed a certain gentleman engrossed in his phone [See photo above]. Could it be?)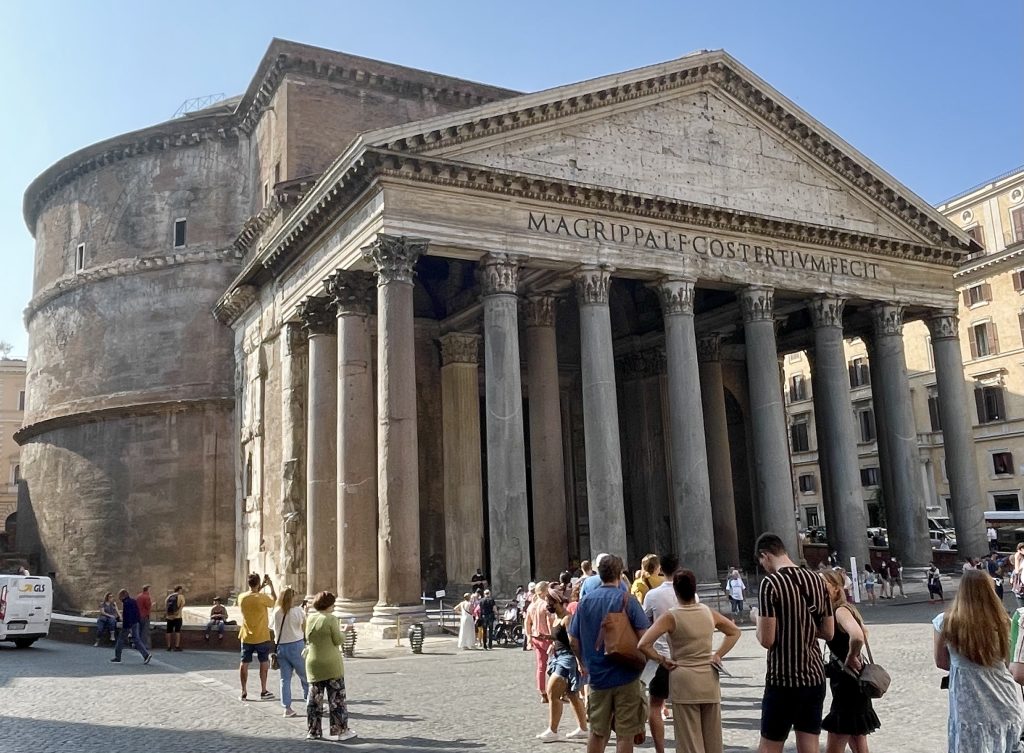 Once I got off, I headed for Armando al Pantheon, a restaurant that has been around since 1961, where Stanley had Rigatoni all' Amatriciana, a specialty of the Lazio region and one of my favorite pasta meals. The GPS on my phone had me stumbling through alleys all around the Pantheon. I finally turned it off and wandered the area on my own.
Armando was closed when I finally found it, so I didn't get to enjoy their pasta. I will, however, be back.
Bar San Calisto
As many times as I had been to Roma, I had never gone to the Trastevere neighborhood. A good friend who had seen Stanley enjoy caffè and a maritozzo con panna (a sweet bread stuffed with cream) in the Trastevere asked me to go and try them.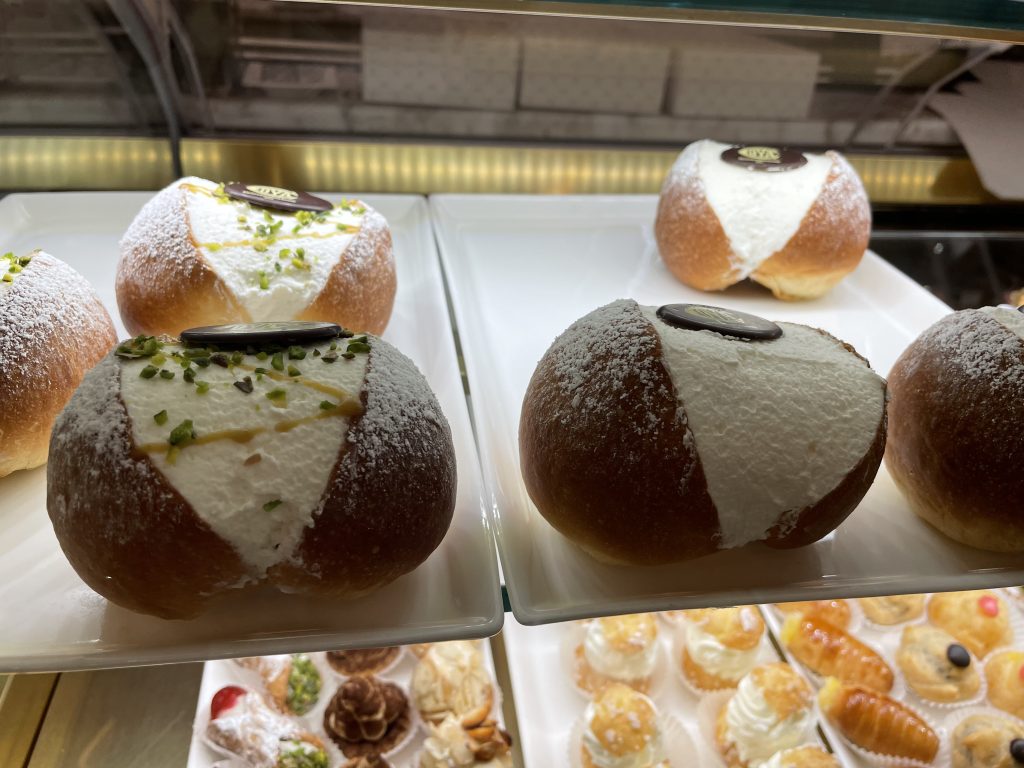 (NOTE: Maritozzi have been around since the Middle Ages. Originally, wives would put the treats in their husbands' "lunch bags" to give them energy while at labor. In the 1800s, a fiancé would gift his bride-to-be a maritozzo on the first Friday of March. Inside the cream, the men would often conceal a small gift such as a ring, gem, or coin. The pastry's name, maritozzo, comes from the Italian word for husband, marito.)
Located around the corner from Piazza di Santa Maria, the main square in Trastevere, Bar San Calisto is a typical Italian bar—coffee by day and alcoholic drinks at night. We went there in the early evening and walked by it twice. Trash cans block its rather unpretentious exterior, almost hiding the outdoor seating. Graffiti abounds.
Since we arrived late in the day, the maritozzi were sold out, but I had coffee. Unlike many of the bars in Italy, San Calisto requires you pay the cashier for your drinks first and then give the receipt to the barman. I think I was much more excited to order a caffe in the bar than they were to serve me. The barman pulled the espresso and smacked the cup down in front of me. He barely looked at me as he was yelling back and forth with another employee.
Campania
Napoli
Until this year, I had spent perhaps a total of 90 minutes in Naples, all of which were in the main train station. Thanks to Stanley Tucci, I decided to spend a few days there to taste the food of Campania.
Pizza Fritta da Fernanda

I had never heard of pizza fritta before Stanley Tucci enjoyed some of Nonna Fernanda's fried pizza. Although fried dough has been around since the Middle Ages, pizza fritta became popular during World War II when Neapolitans filled dough with low-quality ingredients before frying it to make it palatable. Today, pizza fritta is a popular Neapolitan street food.
I decided I had to try Fernanda's pizza fritta. Located in the Quartieri Spagnoli, Pizze Fritte da Fernanda is a nondescript food stall that Fernanda operates from her street level home. As luck would have it, when I got there, Fernanda was not open for business. Perhaps, I thought, she and Stanley are enjoying a caffè sospeso.
Not to be deterred, I looked for another place to try pizza fritta. On Spaccanapoli, the long street that divides historic Napoli in half, I found Decumani 31. A small restaurant with a limited menu, it offers a few varieties of pizza fritta. I ordered the classic, stuffed simply with ricotta cheese. The pizza was huge, and I found I could eat only a small bit of it. I would have preferred to have a good tomato sauce to dip it in as I found the taste too bland.
Bar 7Bello
The day I visited Bar 7Bello, I arrived a little after the usual breakfast hour. I wasn't quite sure that Tucci had visited 7Bello, but I knew that the bar has been participating in the practice of caffè sospeso for 50-plus years. As Tucci explained during the episode, caffè sospeso—suspended coffee—is a Neapolitan tradition born in the late 19th century when a customer would order a sospeso, pay for two coffees, and drink only one. The sospeso would be available for a the homeless or person in need.
While Bar 7Bello is in the middle of a very busy tourist area of Napoli, I like that the bar's owner, Pino DeStasio, participates in the sospeso. I hope someone has, by now, enjoyed my sospeso.
Following in Stanley Tucci's footsteps and trying some of the restaurants and bars he visited was a lot of fun for me. I can't wait to see where he (and I) goes next.