Vanessa's passion as Official Tour Guide of Florence radiated through our video chat as she said: "my mission is to make people happy – to bring joy". A fantastic motto placing her head and shoulders above other tour guides.
Art history has been Vanessa's biggest passion since childhood. So, she counts herself lucky to be born and raised in Florence. Its treasures, history and art are adored and Vanessa studied these subjects extensively. As a result, her tours offer more insight and a more in-depth experience than offered by other tour guides. You know the ones. You see them in every city. Carrying a folder full of dry facts and statistics.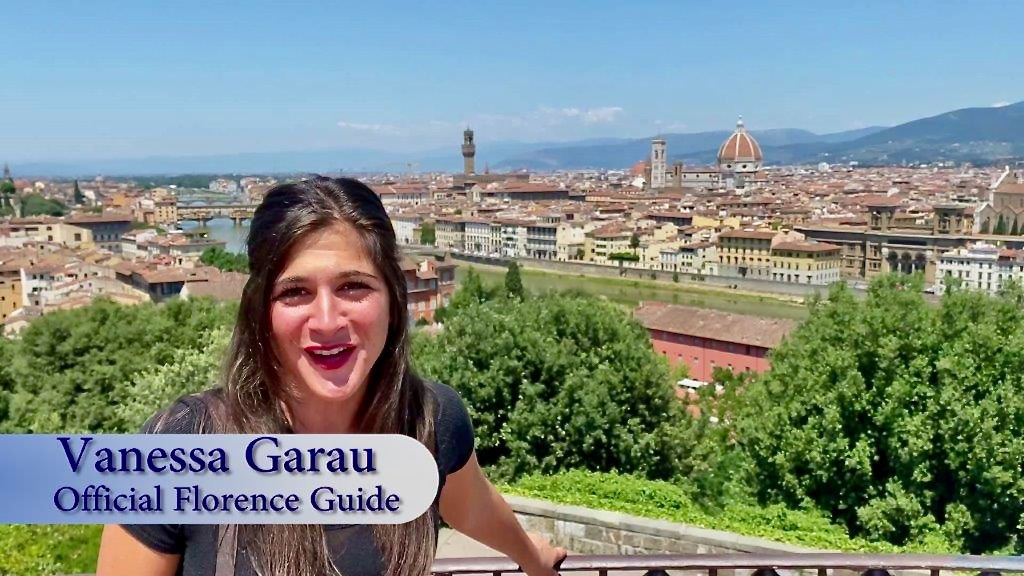 Why go with Vanessa?
Wanting the best possible experience for every visitor, she shares her own history as an added benefit. Her locals perspective is worth its weight in gold. Experience gained by having crossed Florence's landmark Ponte Vecchio bridge at least 10,000 times so she knows the best places to shop. Or, having visited the Duomo over 2,000 times knows secrets others don't. Some things are everlasting. Gazing upon Michelangelo's David "a million times and it's never enough" shows Vanessa's passion as a tour guide.
Secrets are shared. Having visited the grand carved white and green marble masterpiece, the Duomo thousands of times Vanessa adds extra. She shared with me that "I love to climb the 463 steps of the dome of the Duomo to show my people one of the most stunning views of the city!"
Being interactive and individualised tours, time flies with Vanessa. Rejoicing in sharing 'her Firenze' and memories to give it that personal touch. Like sharing memories of visiting the Loggia Dei Lanzi as a child. Remembering her parents tell the story of Perseus using his mirror to destroy his enemy Medusa make the tours a little more special.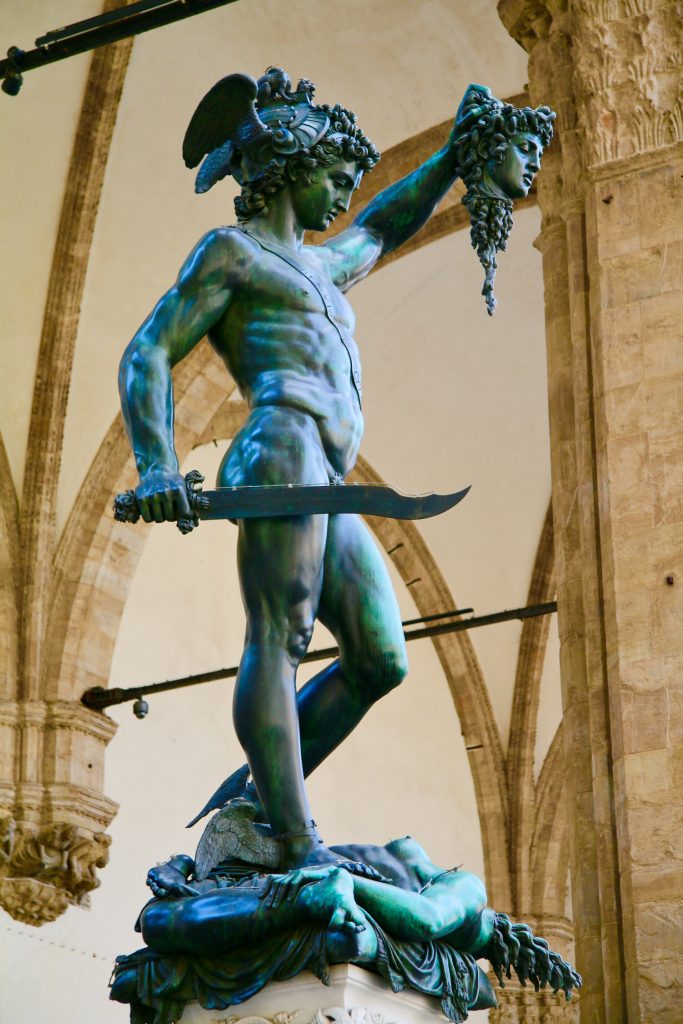 Now, she tells the same story just as her mother and father told her. Even now, having visited the outdoor statue gallery in the heart of Florence countless times Vanessa never tires of sharing this story.
Italy's youngest tour guide.
Stories like these embedded a deep love of art history from a very early age. As a result, Vanessa wanted to obtain her tour guide licence from an early age. In 2010 at 20 years old, she was the youngest tour guide in all of Italy. Sharing her love for Florence has always been Vanessa's dream.
She laughs saying that when people ask her where she is from "before I say Italian, I would always answer Florentina!"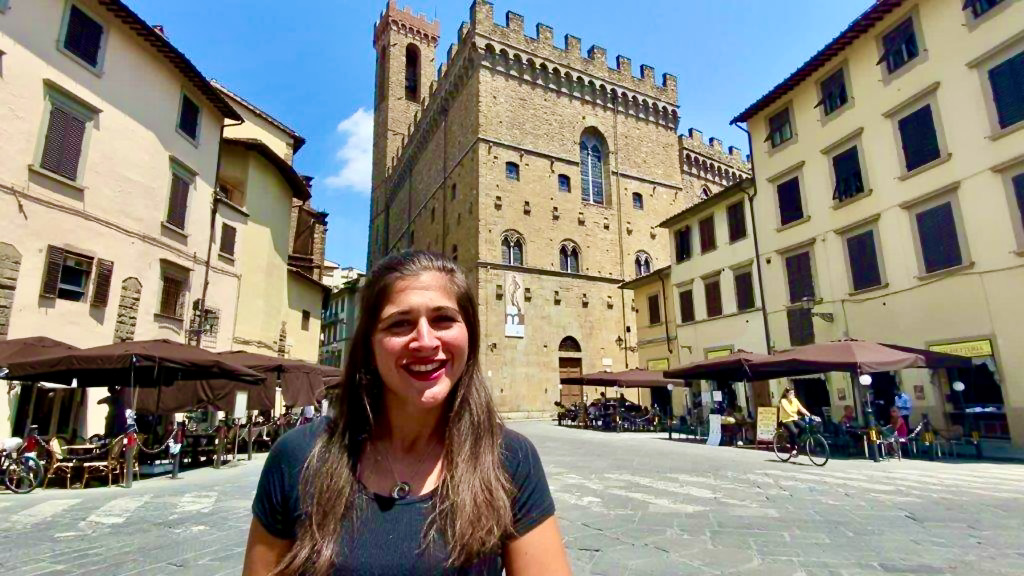 During the last decade of experience, Vanessa has tailored her tours to deliver the best of Florence. The experience you want delivering it with true Italian passion. A lot of hand waving, gestures, smiles and nods. This means that on a tour with Vanessa it's your Florence. Whatever you want it to be.
Individualized virtual tours
Even during this Covid pandemic, Vanessa has made sure Florence is available to you. She will happily tailor an individualised two-hour virtual tour for you for only €50 ($60 USD). Art, history, food or wine she is happy to show you any part of Florence you wish.
Art lovers dream
If you are mainly interested in art her years of art history study with astound you. Visiting places like the Museum Uffizi. Where you discover and gaze upon the world's great renaissance masters. Legends like Leonardo de Vinci, Boticelli and as she calls him "my beloved Michelangelo". Her truest art history passion spilling over to supply you with as much information as you can handle.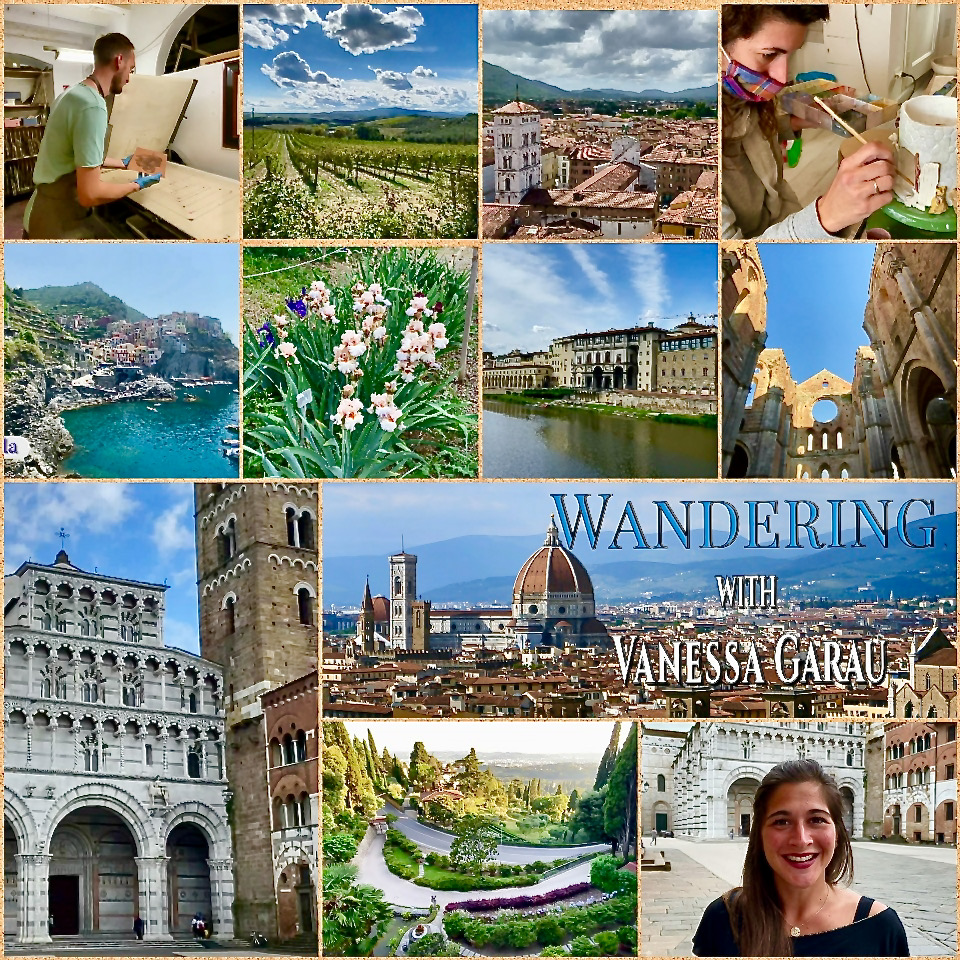 Food & Wine
For foodies and wine lovers here's some great news.
Being Florence's Official Tour Guide, an Italian, a foodie and a sommelier means Vanessa has a wealth of knowledge to share. Especially in two of Italy's most iconic subjects: wine and amazing food. Several drool-worthy tours are on offer to cater to tantalize your tastebuds.
Cooking with an Italian chef is a delicious interactive experience. Feeding every foodie's palate at the end of a day sight-seeing around Florence. Naturally, it comes with wine pairings.
If wine is what you are interested in, then no problem. Discover Tuscany's wine country within an hour's drive of Florence. The perfect way to experience iconic greats like Chianti with your own sommelier. For a true, in-depth look into one of the world's most renowned wine regions. The embodiment of Italian wine.
Vanessa's favourite
The deep love of Florence Vanessa has is evident when speaking with her. Curiosity got the better of me and asked: "what is your favourite sculpture?".
Beaming, stated her answer was predictable "my favourite statue in all world is definitely Michelangelo's David. It is 17-feet of perfectly sculpted marble and Michelangelo was not even 30 years old when he made it!"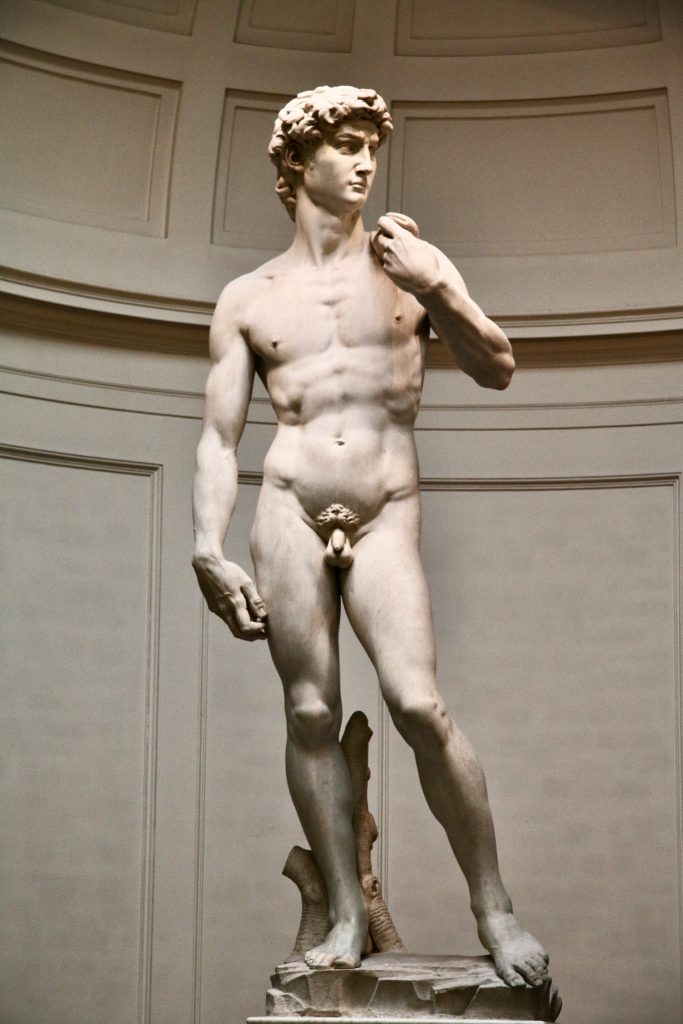 What David represents was then explained in animated excitement. The history and legend behind David. Within three minutes I had been blown away and wished once again to be standing at the foot of David gazing up at his sculpted perfection. An amazing example of the renaissance master sculptor's incredible talent.
After an hour-long chat with Vanessa, it was hard not to be re-infected with a deep love for Florence. It's safe to say her mission to make people happy and bring joy has well and truly been achieved. At 30 years old, she is in her dream job enriching people's lives with every tour given.
How to Find Vanessa
Website: Florensight
Instagram: Wandering_with_Vanessa
YouTube: Vanessa Garau
Facebook: Vanessa Garau
---
Looking for art in Italy? Check out these articles:
Where to find Caravaggio paintings in Rome?
Helidon Xhixha's "Luce, la Rinascita di Venezia"