Wine and Food Routes in Trentino
Among the most beautiful social and cultural trends, there are some fabulous wine and food routes that have been recently created in a multitude of Italian regions.
My next trip to Italy is already planned. I am so fascinated by how small Italian producers from historic towns and villages, are creating innovative ways of traveling where I can also be a participant in the creation of the food experience.
So, I will ride the Trentino Wine and Flavors Route: an itinerary that will bring me from the romantic city of Verona, towards the edges of Lake Garda, and finish among the majestic peaks of the Dolomites.
I dream to travel through these small villages and towns, in search of the ancient and natural flavors that wine and gastronomy can offer: from the extra virgin olive oil of the Garda area, to the cheeses of the high pastures of the "Malga," to the incredible wines that Veneto and Trentino produce.
I plan to make it a six day trip and, for sure, spend two nights in a Malga, which are dairy farms in the high pastures. A few of them offer agritourism and bed-and-breakfast experiences. 
In the Malga, you wake up in the morning, see the sunrise, help with the cows and lend a hand to make cheese. And, of course lunch and dinner are homemade, delicious, typical regional plates.
There are wines made from six local grapes ready to help you wash down a perfect handmade meal: three white grapes, Nosiola, Muller-Thurgau and Moscato Giallo and three red grapes, Teroldego, Lagrein and Schiava. Tasting these wines is reason enough to make a trip to Trentino.
This is my "non-Napa" experience and I am looking forward to sitting in a pasture, drink white wine with a piece of bread made that morning, cheese and honey.
At the end of the trip there is Trento, a small Renaissance city that I define as stupendous.
I was there last year and had lunch at the Osteria a "Le Due Spade", a restaurant that opened in 1545. I dined under the four-and-a-half century old barrel vault ceiling, with a bit of candlelight and it was timeless experience. The dishes were simply awesome: they are serving you the local cuisine revisited with a modern touch. The menu is driven by the ever-changing seasonal products that are governing the chef's choices.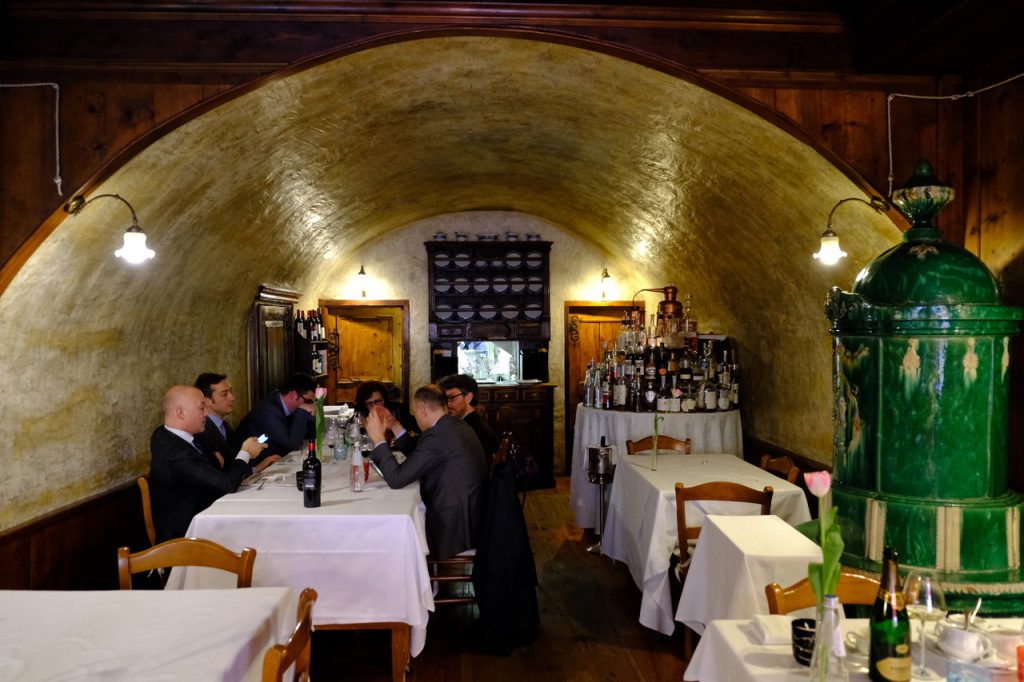 There are many products that are exemplary of Trentino…but two are among my many favorites. The Puzzone di Moena is a local cheese–delicious in spite of the name that literally translates to "very stinky"–don't be alarmed! It's made from raw cow's milk and it's typical of just two valleys, Moena and Predazzo.
Every day, the cheesemaker washes large, heavy wheels thoroughly by hand with warm water and that favors the formation of a waterproof rind, inside of which the aromas remain trapped, giving it a pungent note with hints of grass, ripe fruit and hazelnut.
The cheese made in the summer in the Malgas is a Slow Food Presidium. This ancient cheese pairs best with another piece of Trentino's history and my pairing of choice is a glass (full glass please!) of Giulio Ferrari Trento DOC.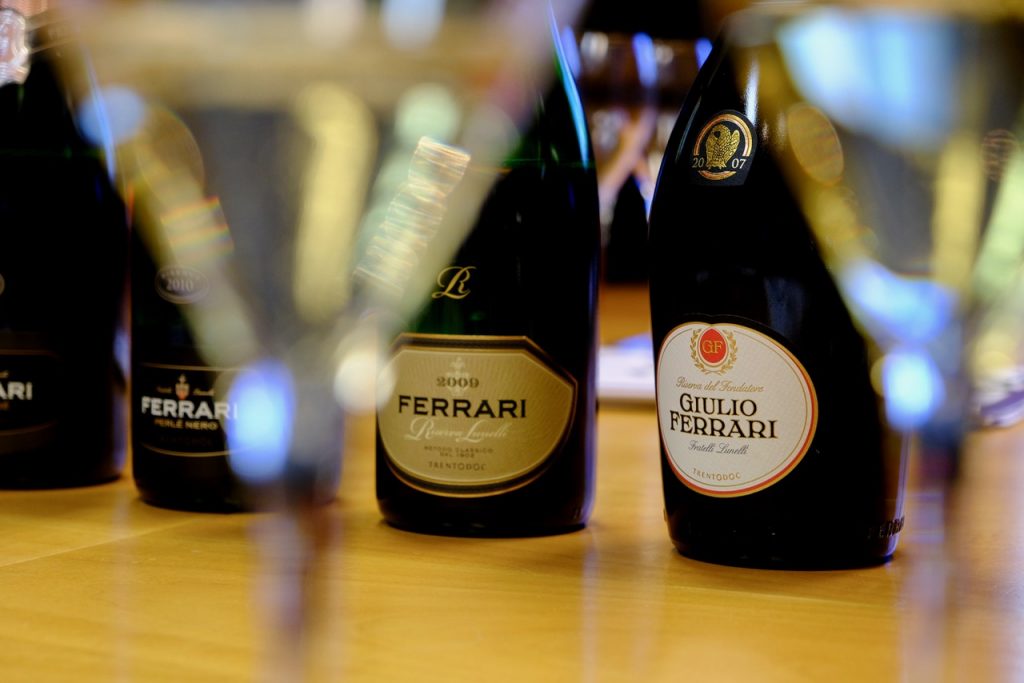 Giulio Ferrari is one of the most prestigious sparkling wines of Europe and the flagship of Ferrari Trento. History because it was Giulio Ferrari who, in 1892, brought Chardonnay from France, planted it and made the first sparkling wine. History was created back then, and today it remains one of the most venerated sparkling wines you can drink.
Locanda Margon, the two Michelin stars restaurant at the outskirts of Trento, has an impressive selection of Giulio Ferrari that goes back to the '80s if you feel like scouting for some rare bottles, and the restaurant is one more real treat that Trentino is offering you.
If you are looking for more details, there are three wine and food routes offered by Taste Trentino: The Trentino Wine and Flavours Route; The Dolomites Cheeses Route; and The Val di Non and Val di Sole Apples and Flavours Route. I'll see you there. This unforgettable wine and food flavor experience awaits you!