I've always thought of an adult not really as an "aged" individual, but rather as a person made of layers. The most visible layer, the outer one, that we share with the world: more rigid, more serious, a kind of envelope that protects what is our innermost layer, the truest one, that layer that has always remained a child, that is always able to dream secretly in its intimate refuge. We are made of dreams and layers, a bit like ice cream, the protagonist of the story I'm about to tell you: A day at Eurochocolate with Luca Montersino. An annual event in Perugia where everyone enters a little more dreamy, a little more children, attracted by the only gold that knows blissful innocence: chocolate.
Eurochocolate is an international chocolate festival that takes place in the Umbrian capital and attracts thousands of gourmands every year during the month of October. This event was born from one of those intimate and crazy dreams of an architect named Eugenio Guarducci. The architect, after a visit to the Oktoberfest in Munich, was struck by the great atmosphere of joy and fun and began to fantasize about creating a similar event in his city but dedicated to chocolate.
The Cooking Show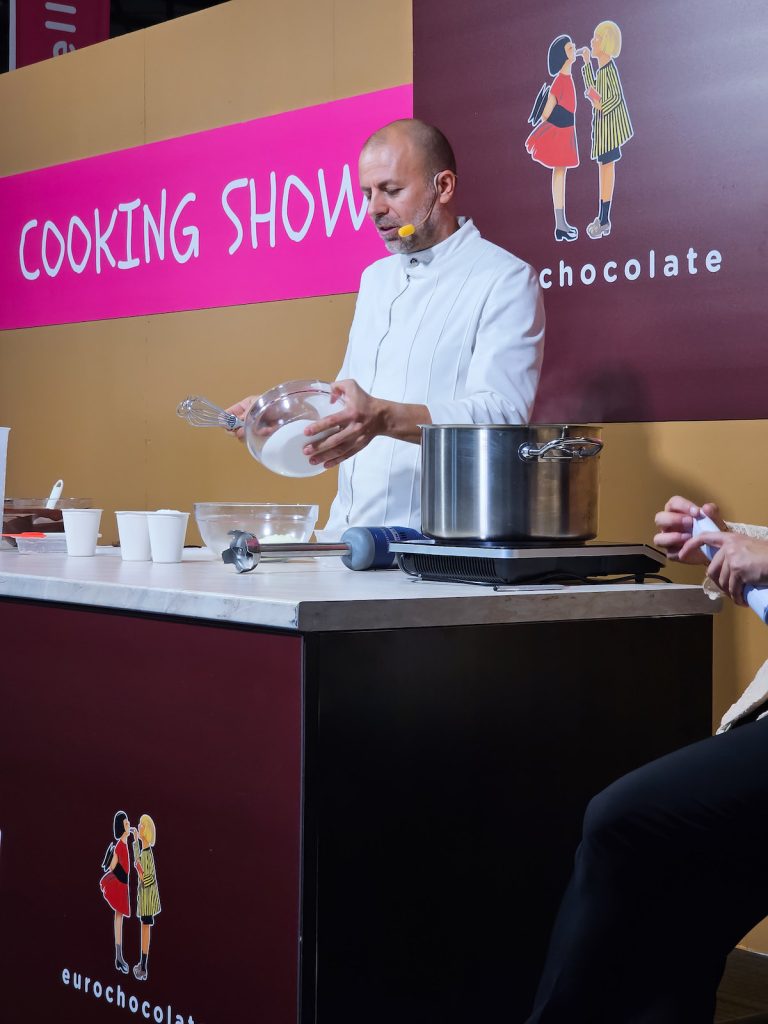 That vision has become reality and today Eurochocolate is an internationally renowned event that hosts hundreds of visitors and leading figures from the world of pastry and cooking in general, called to entertain the public with the so-called "Cooking Show". Performances that look like concerts of culinary philosophy and expertly guided by for us, modern heroes. We follow our idols that we consider as mentors. They are wise and trusted advisors who somehow accompany us in our everyday culinary ventures.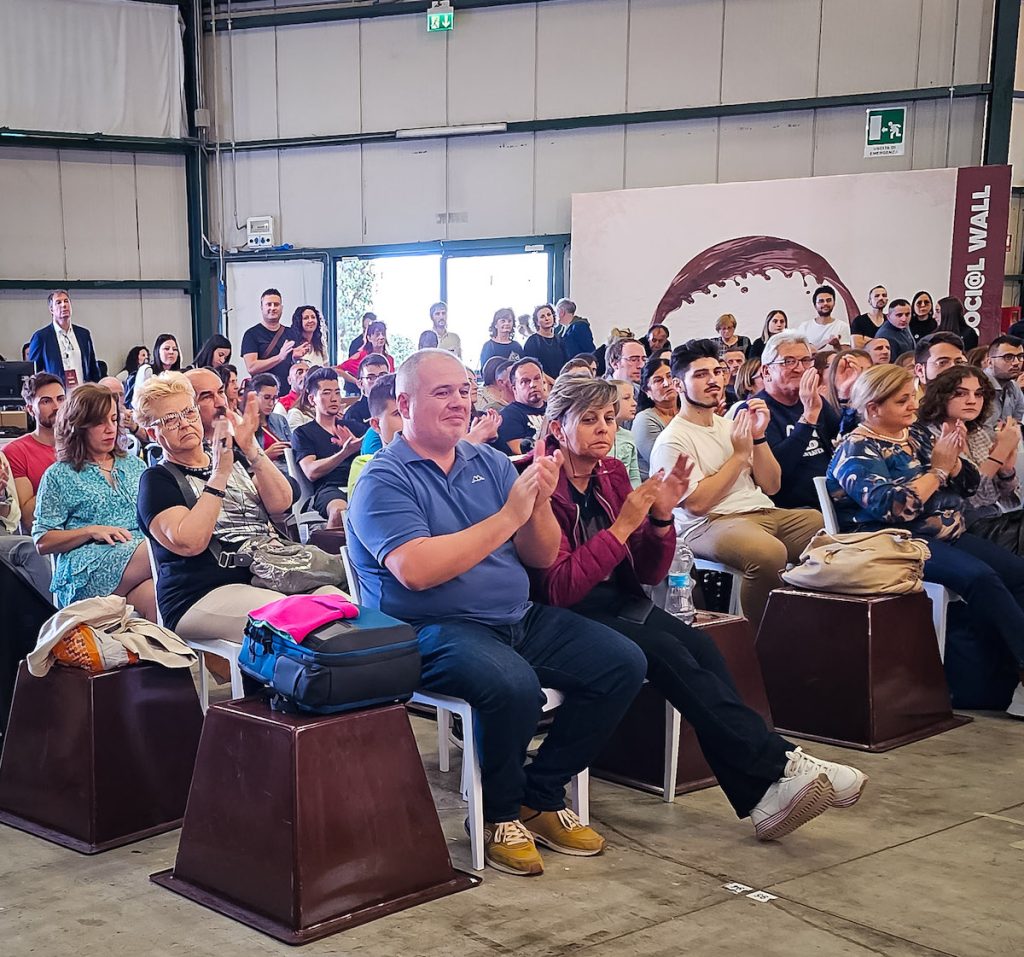 I call them companies because cooking is a vast and complex subject and then those characters who teach us how to cook strike us deeply. We admire and would like to be like them. We dream of living like them: always with our hands in the dough, wearing a shirt with our name on it, being halfway between a superman and a starlet. This Hollywood-like person is the protagonist of the kitchen.
Luca Montersino
One of my mentors, as surely for many, is Luca Montersino. He is an eclectic character in the food world. I was lucky enough to meet him at the Eurochocolate cooking show stage where I was present with my family. I have to admit that I was emotional.  Luca Montersino is the master who has accompanied me in many days in the kitchen — through his numerous books, online courses, or television programs.
We enthusiasts all unconsciously become students of a classroom without walls. However, Luca Montersino is a real teacher and trains professionals of the highest level every year. At the exhibition in Perugia, he focuses less on his fame and tells of a life of innovation and the constant search for a healthy pastry. One that is capable of satisfying many palates and those who suffer from food intolerances and, sadly, cannot indulge in a dessert.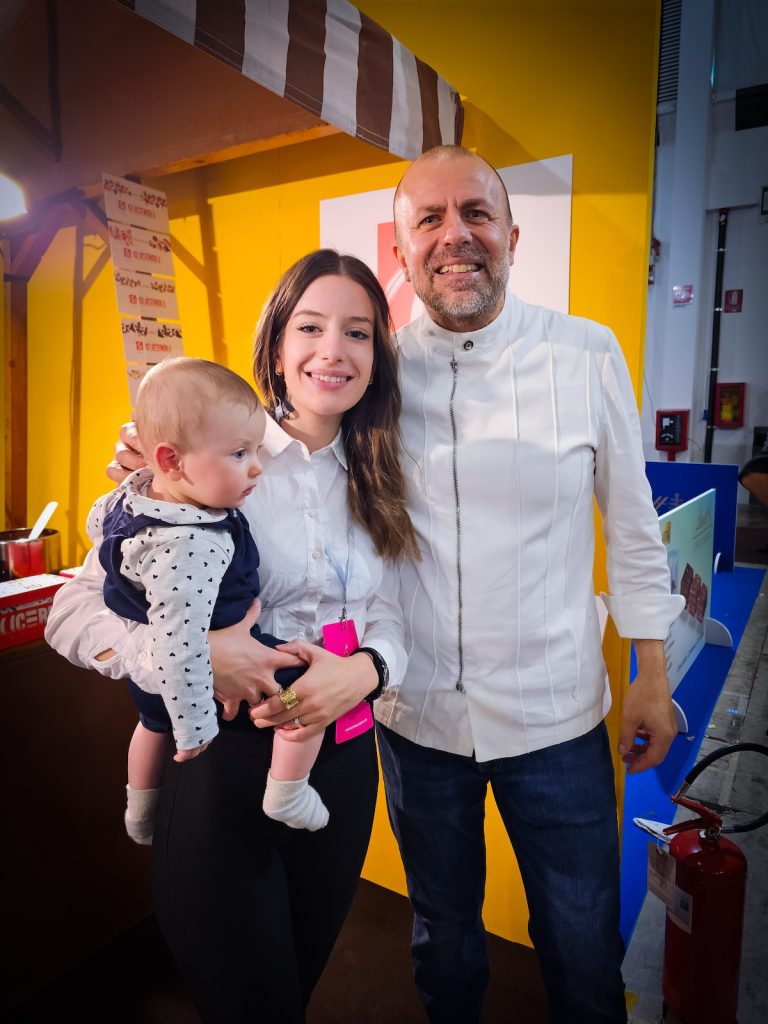 Natural Pastry
Luca Montersino spoke about an alternative and natural pastry, attentive to the quality and refinement of its ingredients. A pastry for everyone that makes him seem like a benefactor. It conveys all his philosophy of inclusiveness. Once the preambles are over, we move on to the work.
Ice Cream (Gelato)
Montersino prepares a simple ice cream, or simple so to speak. In reality, he explains, ice cream is a preparation that requires a certain precision. Ice cream is chemical. It is physical and you cannot improvise or try your hand at substituting uncommon ingredients. Ice cream is an exact science. The equation is composed of all three states of matter: liquid; water which contains vitamins, mineral salts, parts of sugars and proteins. Then, the solid state: fats, ice crystals, proteins, fibers, and stabilizers. And finally, the gaseous state: small air bubbles that are incorporated into the ice cream during the freezing process.
Luca Montersino explains the process of preparing ice cream with disarming clarity and simplicity. However, they are not notions thrown out at random. He prepares the audience for understanding, educates them on the complexity of ice cream, and makes them understand how difficult it is to balance the ingredients to obtain a perfect product.
SLICEROLL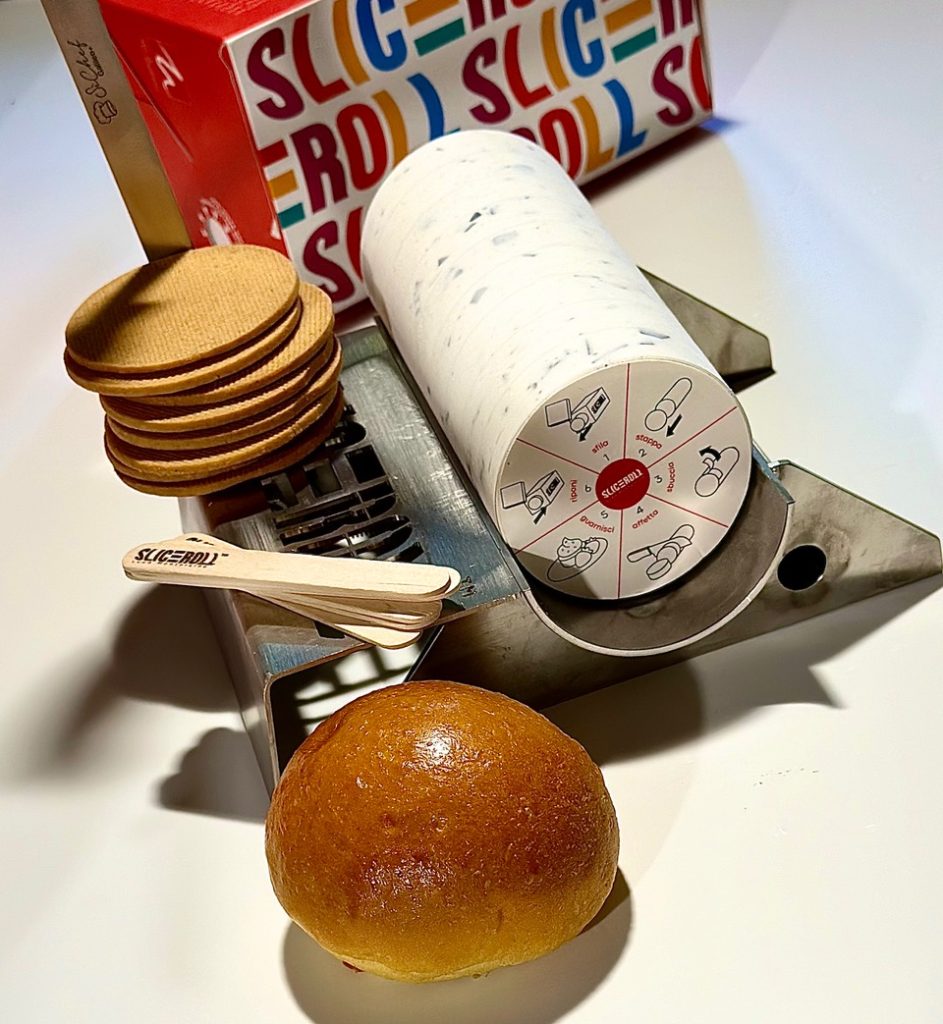 Once we seemed to know everything  about the classic ice cream, Luca Montersino launched his new project, a novelty called SLICEROLL. It is an innovative ice cream resulting from a long study of balances made to obtain a soft ice cream even at -18°C — the temperature of our home freezer.
It was clear that Montersino still focuses on people. Imagine families who consume ice cream at home without that annoying and anxious wait for it to soften and above all without having to throw it away the next day. The novelty is not just the substance, but the form. SLICEROLL is a cylindrical ice cream that is sliced, and lends itself to being served  a thousand ways:
Sliced and Plated
Sliced and plated, rather than sliced and served between two waffle biscuits, shortcrust pastry or in a brioche. Everything has been studied down to the smallest detail. Not just the shape and consistency of the ice cream but also the packaging. The SLICEROLL patented cutting tool slices precisely to the millimeter.
It is a brilliant idea and one of those that make you think: Why did that never occur to me? And while I'm thinking about the fact that it's a story to be told, Luca Montersino closes the show and invites the audience to taste SLICEROLL.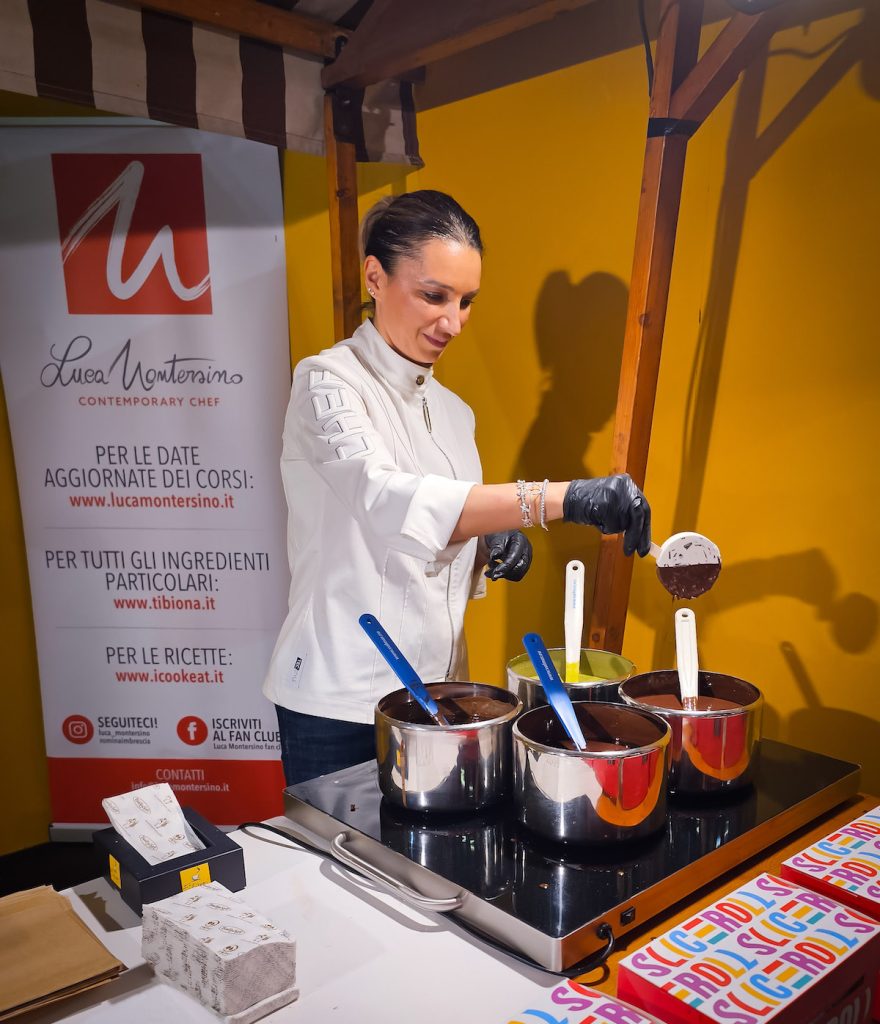 We then followed him to his nearby stand, situated not by chance since everything was so well organized. I admire Luca Montersino and his wife and partner, Romina Imbrescia, who was also present at the stand. They take care of the details and do things with love, I watched them while they were preparing ice cream for us. As they worked together, they seemed to be an extension of each other.
Uniting the Beginning and End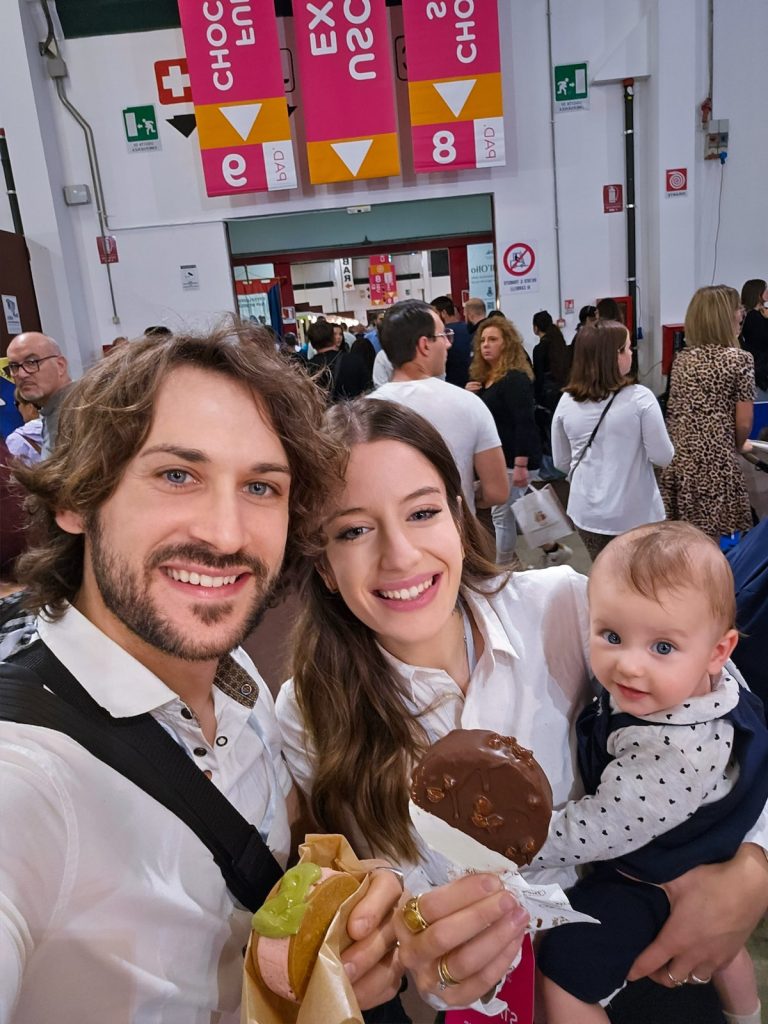 In the meantime, my wife and I observed them and got lost in the bright colors of the various flavors — all of great quality and exquisite. I love SLICEROLL and its circular shape:  a soft, unique geometric figure, without edges. Inspired by the moon and the sun,  circle and stones thrown into water. This shape unites the beginning and the end, and which alternates the seasons and  days. Today was exciting indeed, taking ice cream directly from the hands of Luca Montersino. We looked like two dreamy children. We seemed like filling, the creamiest part of ourselves. One made of passions and projects together, and purity and love. The same love that inspired the architect Guarducci yesterday and Luca Montersino today. The one that made us happy, for a simple, so to speak, ice cream.