Amarone Risotto Recipe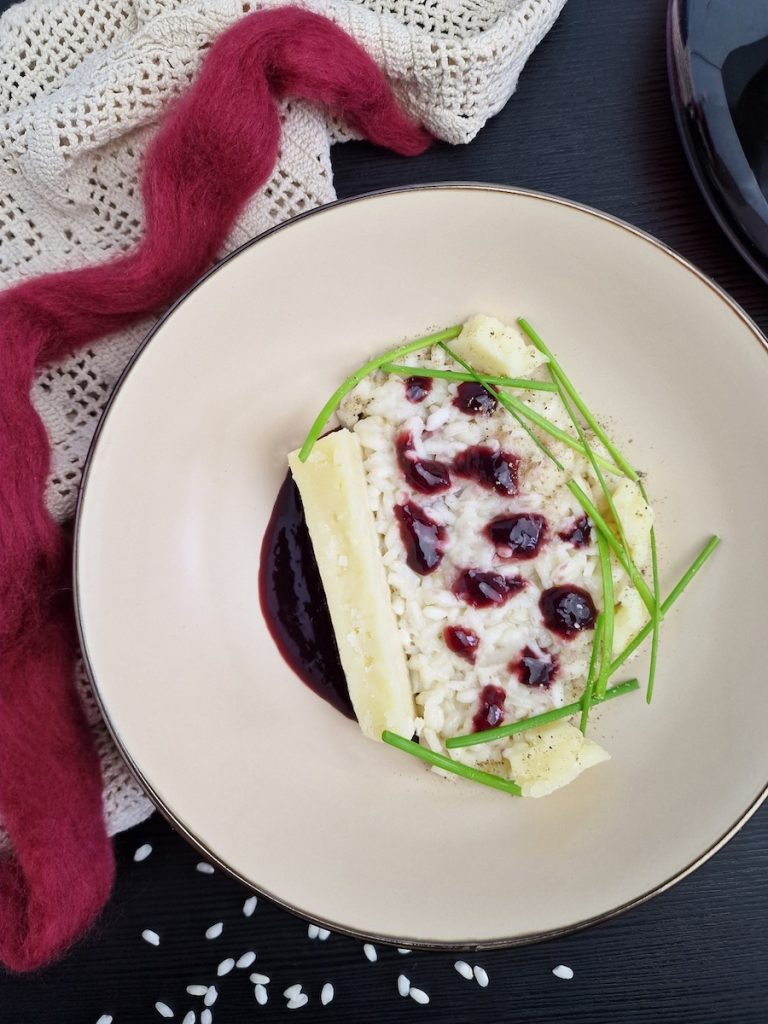 What would love be without a good dish and a good wine to share with your beloved? I believe that in Italy, food like wine is not a simple instrument of nourishment or pleasure but a rib of our purest feelings. Each of us lives love and moments of conviviality as a form of identity: daughter of the culinary tradition of the region, city or even country to which we belong. We are made of the flavors and moods of our land, the foods that smell of home, wines that taste of celebration, memories and falling in love.
Territory
Amarone Risotto perfectly tells each of these peculiarities and speaks of a territory that has always been a producer of high-quality raw materials from which the best recipes of the Veronese tradition come to life. The risotto with Amarone is a story made of poverty and passion but above all, of love between Vialone Nano rice. It is the 'grass' of ancient culture that for a long time has represented, for peasant families, the only or, at least, one of the few means of livelihood and the "pillar" of the recipe.
Valpolicella
Amarone wine is among the emblems of this land and, in particular, of that happy valley that gave birth to extraordinary wines like Valpolicella. The Amarone della Valpolicella, produced exclusively in the province of Verona, is perhaps the most famous Venetian wine in the world. It is defined with this name, "Amaro" to distinguish it from the other spearhead of Veronese enology, the Recioto della Valpolicella. This wine is, instead, sweet from which it involuntarily originated.
Back in 1936 and in the Cantina Sociale Valpolicella, the winery manager Adelino Lucchese, tasted from a barrel of well-aged Recioto exclaimed: "This is not an amaro, it is an Amarone!" The Recioto, put in barrels and then forgotten, had continued to ferment until it became dry. The sugars had all turned into alcohol and made the wine lose its sweetness, creating this wonderful dry passito: a red wine, with a dark color, very full-bodied, full and with a high alcohol content. The wine, born by mistake became, ironically, of enormous value.
A Love Story
A generous destiny with humanity. Here is the true love story because we do not decide the most authentic love. It is born by chance and then becomes great. Amarone makes us eat together like Romeo and Juliet, and the greatest joys is found at the table.
Risotto with Amarone
An alternative recipe that before mixing, distinguishes the ingredients to highlight them as individual and then become a whole.
Recipe:
Ingredients:
Meat broth 1 lt
Amarone della Valpolicella Wine 350 gr
Vialone Nano rice 320 gr
Butter 130 gr
Aged Monte Veronese cheese 60 gr
Shallot 50 gr
Salt to taste
Procedure:
Start by toasting the rice with 30 grams of butter and finely chopped shallot
When it is hot, wet it with a couple of ladles of meat broth and cook it in about 15 minutes
During cooking, adjust salt and keep the rice wet adding the broth
Lower the heat and stir in 100 g of cold butter cut into cubes and grated Monte Veronese cheese
Simmer the Amarone in a saucepan, letting it shrink until it thickens, if necessary add 1 teaspoon of cornstarch previously diluted in a little cold water
Once the sauce is obtained, spread the risotto on the plates and complete with the Amarone sauce, Monte Veronese cheese flakes and a few sprigs of chives
---
Read about the Famiglie Storiche guided wine tasting in Miami.