Ferragosto Travel Tips for Foreigners
August in Italy is hot, and I mean that in more than one way. As travel to Europe in general and Italy in particular picks up, many Americans travel over in July or August because they can take their children (who are out of school). So, what are you going to find, and how do you survive the summer heat wave in Italy? Let me give you a few tips.
For sure in Italy, the sun always shines.
~ Aleksandar Mitrovic
Temperature
No matter where you go in Italy in August, it is going to be sunny, hot, and for the most part, dry.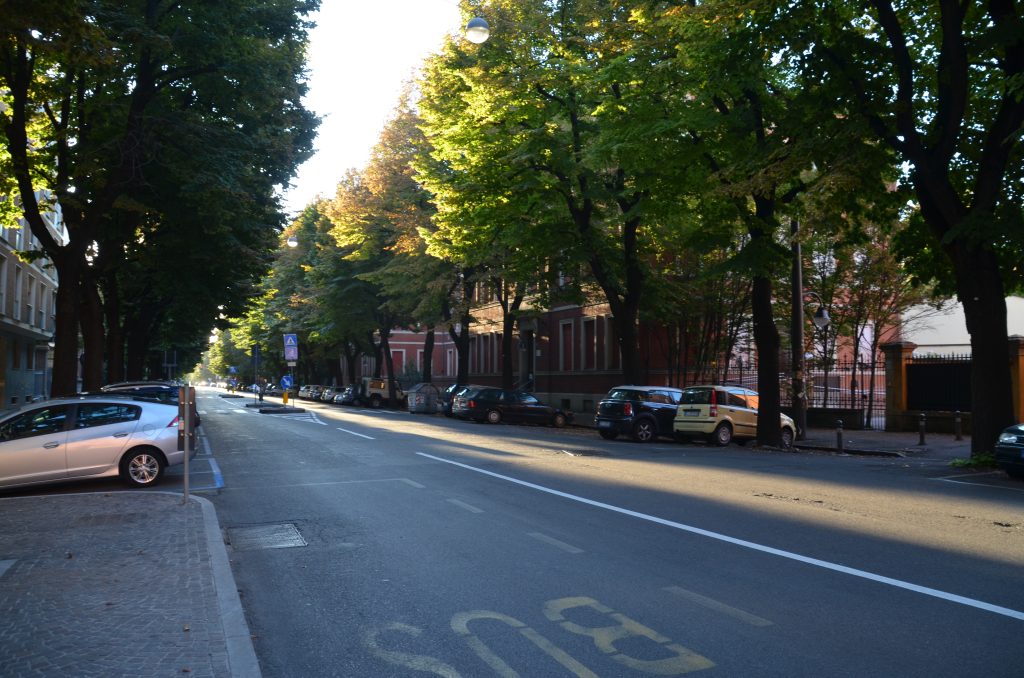 The first time I lived in Italy, I spent August and September in Bologna, which is in the north. Even though porticoes shaded me during my half-mile walk from my apartment to the school where I took Italian lessons, I was quite 'dewy' (sweaty, for those of you unaccustomed to southern lingo) by the time I arrived. The average high temperature that year was 88° F/31° C; the average humidity was 67 percent; and not one drop of rain fell.
It's pretty much like that all over the country. August temperatures in northern Italy range from 65°-85°F/18°-30°C, while those in the south are 80-90°F/26-32°C. Central Italy's temperatures fall in the middle, as you would expect. Add in double-digit humidity, and you'll find yourself looking for a beach or air-conditioned room…and both of those have their own difficulties.
Air Conditioning
Keep in mind that air conditioning (AC) is not standard in a lot of Italian homes. While 90 percent of Americans have AC, only about 30 percent of Italians do. Those that do most likely have a white wall unit (not window) that both heats and cools the house….to a degree.
What you also need to realize is that the Italian government regulates the dates and temperatures at which homes, condominiums, offices, shops, etc may provide central heat and/or AC to units. The country has six climatic zones, and each zone has specific dates and number of hours when all condominiums, private homes, shops and offices can use heat. To reduce energy consumption, the government regulates temperatures— a maximum of 66°F/19°C for heating and 80°F/27 for cooling.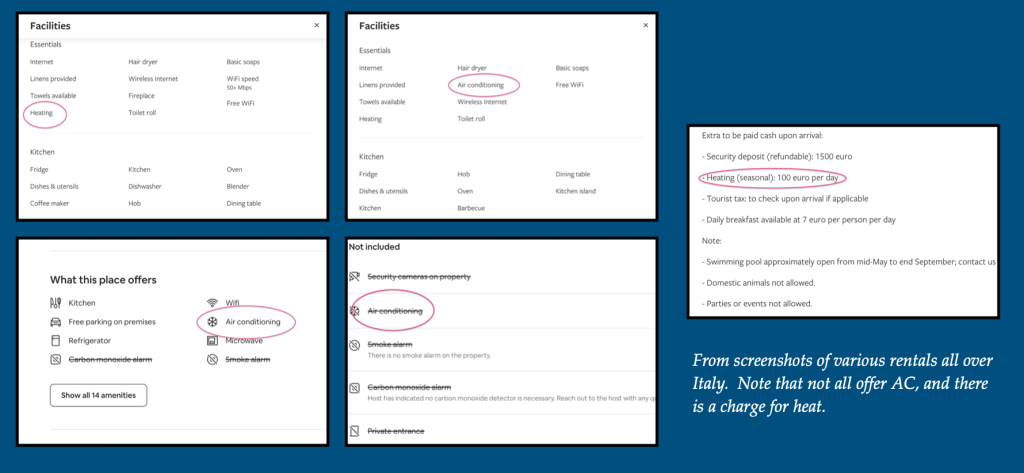 During the two weeks I spent in Orvieto in early May, it was rather cold and damp, especially at night. Unfortunately, government regulations shut off the heat on April 7. I wore layers of clothes to bed every night to stay warm.
The lack of air conditioning and utility consumption laws are not unique to Italy, by the way. Much of Europe is that way. My suggestion is that you make sure your hotel or rental (Air BnB, VRBO, etc) has AC before you book. In addition, make sure there is no extra charge for it.
Ferragosto
Italians celebrate Ferragosto on August 15 (the Feast of the Assumption of Mary) each year. The two feast days really have nothing to do with one another. Emperor Augustus introduced Feriae Augusti to his subjects in 18 BC as a time for them to rest. Ferragosto is a national holiday, so public offices, businesses, factories, restaurants, bars, shops, and some museums and groceries close for the day as Italians head for beaches or mountains to celebrate.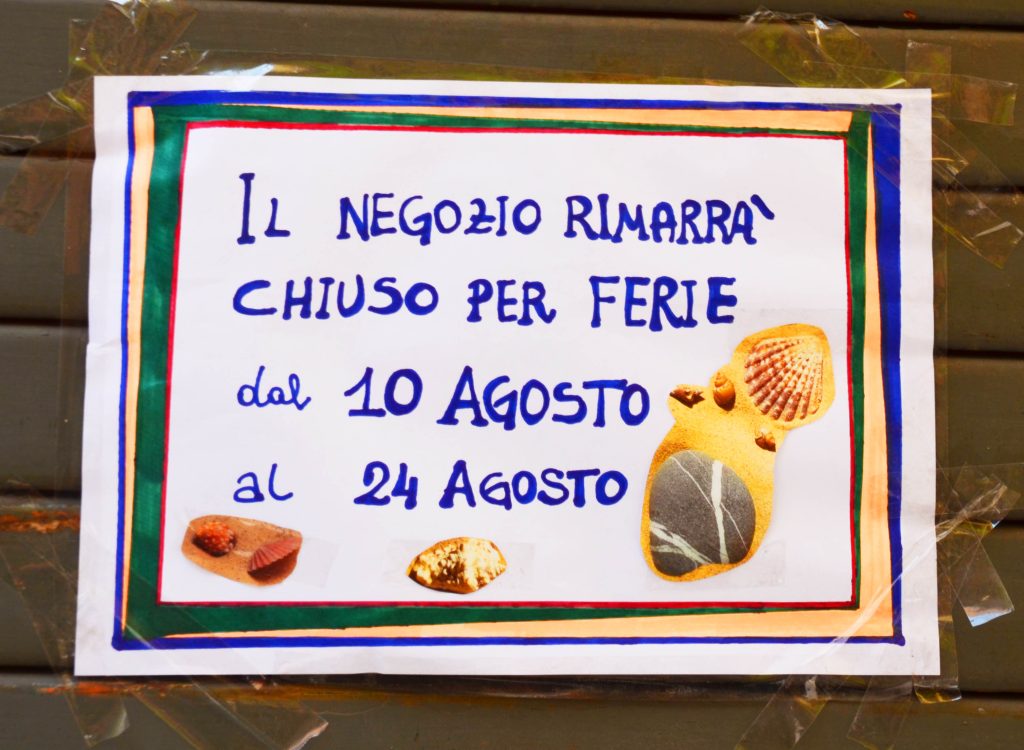 You may find that many family-owned bars, restaurants, and shops close for more than August 15. All over Italy, you'll see signs announcing closings that range from just a few days to weeks to the entire month.
If you plan to visit a museum during Ferragosto, make sure you check the Italian Ministry of Culture's website for closures.
Survive the Big Cities
If you've never been to Italy before, Rome, Venice, and Florence are probably on your list of must-sees. Unfortunately, they'll be on the list of every other first-timer, too, and no matter when you go, they'll be crowded. Trying to navigate the big cities when they are teeming with throngs of tourists can be tiresome.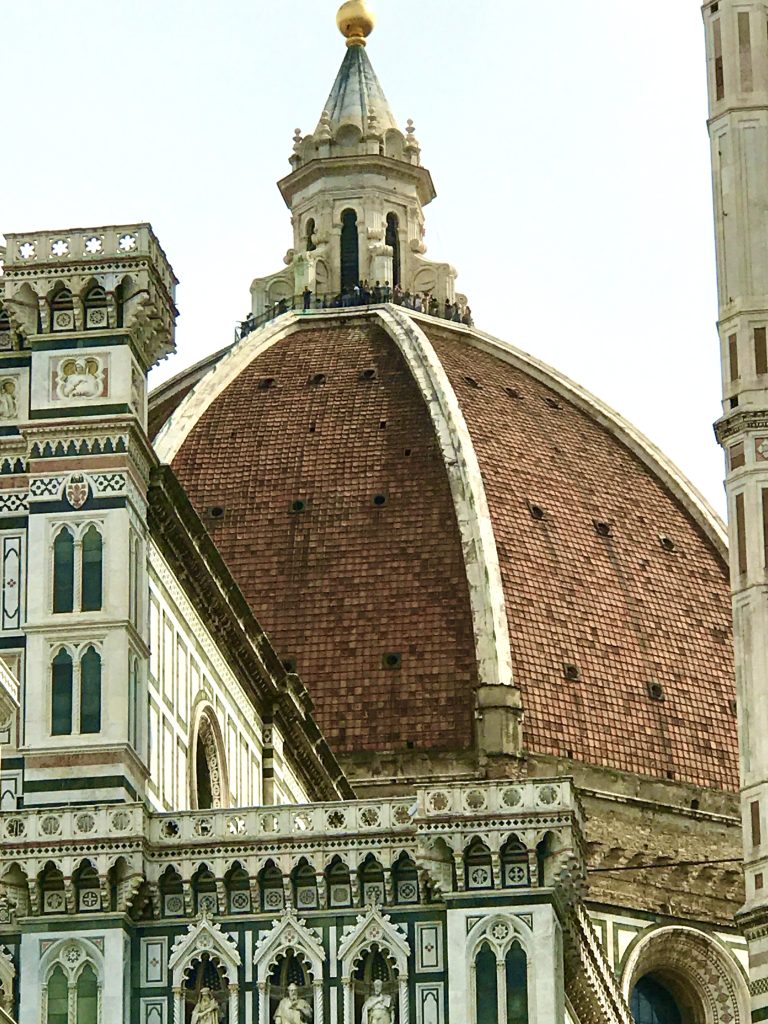 If you visit any of the large cities, plan your days so you spend the hot afternoons in museums or indoor historical sites.
Go to the Shore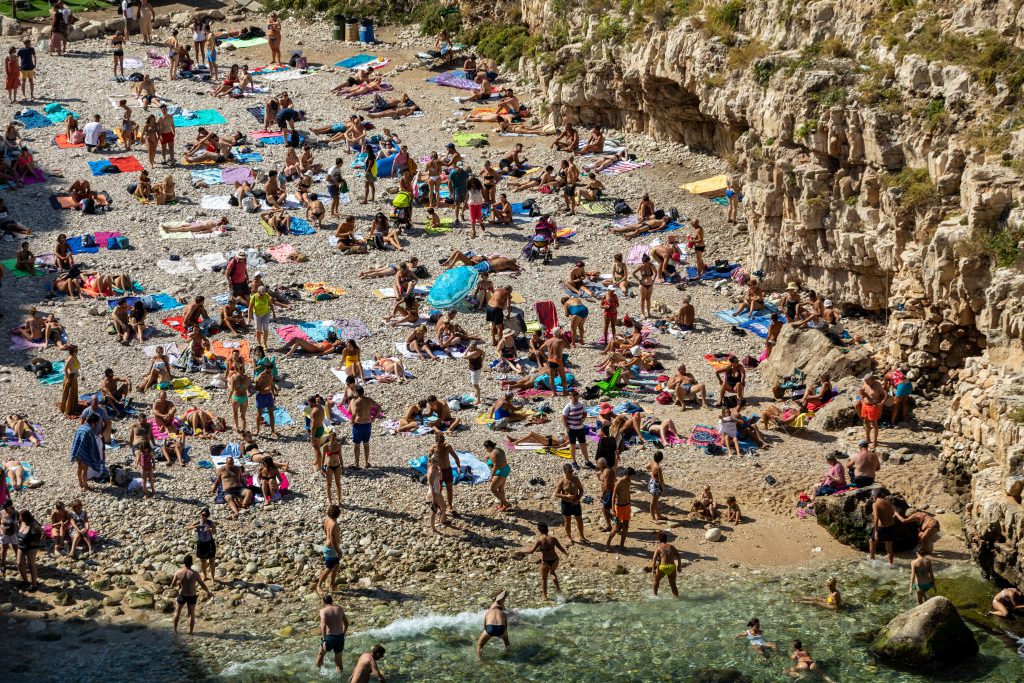 No matter where you are in the world, when it's hot, people flock to beaches. Italy is no exception.  All Italian regions, including landlocked Umbria, have beautiful coastal and/or lake shores to explore and enjoy.
5 of Italy's best coastal beaches
Tropea…Levanto…Pescara…Rimini…Gallipoli

5 of Italy's best island beaches
Cefalu…Mondello…Ischia…Cala Goloritz…Sansone

5 of Italy's best lake beaches
Riva del Garda…Scanno…Buccione…Arona…Tuoro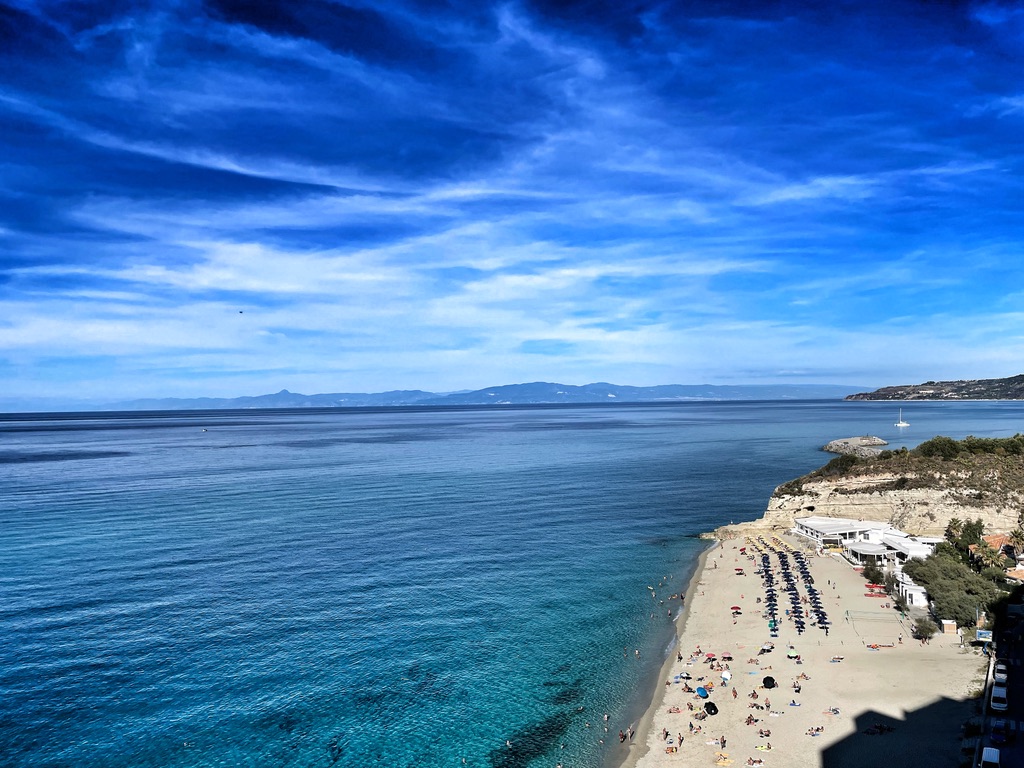 If you are intent on going to a beach, look at Lazio, Le Marche, Abruzzo, and Calabria as they have lesser-known beaches. And, don't forget the lakes; Italy has more than 1500 of them. Lakes—Trasimeno, Scanno, Bolsena, to name a few—are great for families with small children since they tend to be calmer.
Climb Every Mountain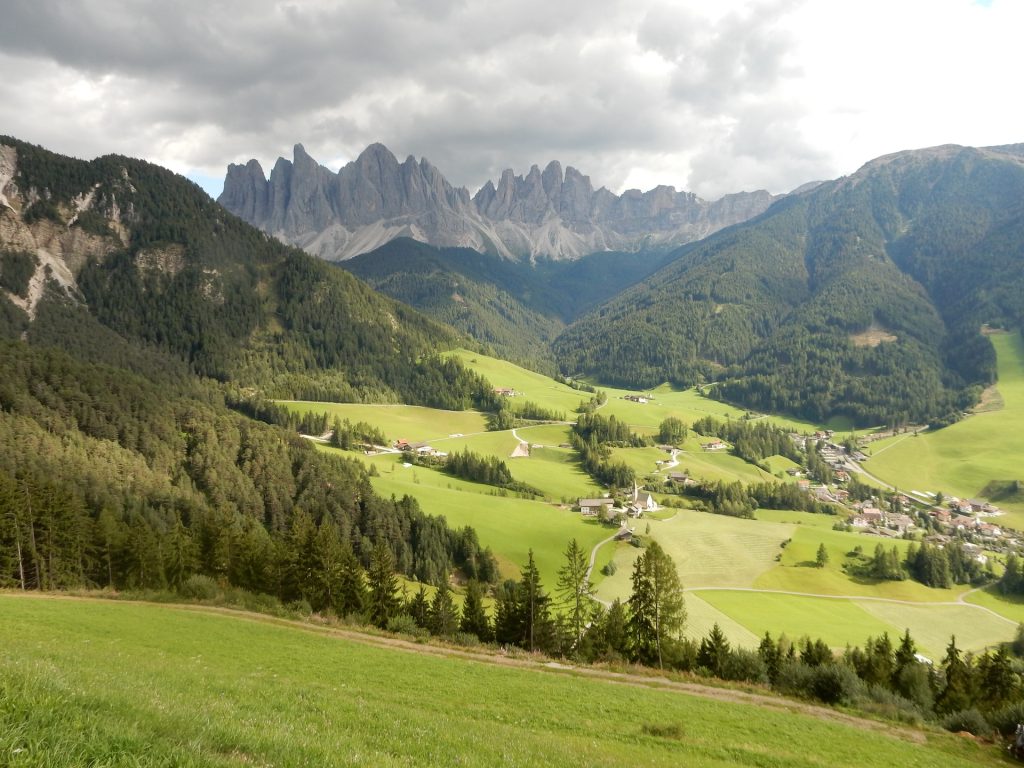 Did you know that almost 40 percent of Italy is mountainous? There are two major mountain ranges—the Alps on the northern border and the Apennines that run along the country's backbone. Packed with skiers in the winter, the mountain resorts offer hiking, rafting, hand gliding, and more as ways to cool off in the summer.
A Couple of Personal Tips
I currently live in St. Petersburg, Florida, aka The Sunshine City, and I used to live in Las Vegas, Nevada, so I'm used to hot (and humid) weather. Let me give you three personal tips to help you survive Italy in August.
Carry water with you so you stay hydrated. One of my favorite things is to fill a water bottle two-thirds with water and freeze it overnight. The next morning, I fill the empty space with water, and I have cold water constantly as the ice melts. One added benefit is that carrying it helps keep you cool, too.
Carry a fan. I have learned to have a hand fan with me at all times. I keep it at the bottom of my purse and pull it out whenever I feel the heat starting to get to me. You can also get small battery-operated hand fans, but I found they take up too much space.
Use sunscreen. The Italian sun is hot no matter if you are in the city or at the beach. Protect your skin.