Halloween, a globally celebrated holiday known for its eerie costumes, haunted houses, and sugary delights, has transcended its American origins to become a worldwide phenomenon. However, when we dive into the celebration of Halloween in Italy, we discover unique traditions and customs that may not match your expectations. In this article, we'll explore the captivating world of Halloween in Italy, shedding light on its history, distinctive traditions, and how this ghoulish festivity has captured the hearts of Italians.
Halloween in Italy: A Brief History
While Halloween, as we know it today, has its roots in the Celtic festival of Samhain and the Christian holidays of All Saints' Day (November 1st) and All Souls' Day (November 2nd), Italy has its own deep-seated history of autumn celebrations. Traditionally, Italians observe the Feast of Ognissanti (All Saints' Day) on November 1st, followed by the Commemorazione dei defunti (Commemoration of the Deceased) on November 2nd. Both these events hold profound religious and cultural significance for Italians.
Historically, these Italian celebrations entail visiting cemeteries to pay homage to departed loved ones by lighting candles and leaving flowers on graves. The juxtaposition of these somber traditions with the lively and playful ambiance of Halloween creates a unique blend in Italy's approach to the holiday.
Trick or Treat: Italian Style
One of the most iconic aspects of Halloween is the cherished tradition of "trick or treating." In Italy, this custom has gained popularity, particularly in urban areas. Children don costumes and go door-to-door, asking for sweets and treats, while playfully uttering the phrase "Dolcetto o scherzetto" (literally, "Sweet or prank?"). Many Italians, influenced by American culture, enthusiastically embrace this playful tradition, making it a highlight of Halloween for kids and families.
Haunted Happenings
Just like in many parts of the world, Halloween in Italy often features haunted houses, parties, and themed events. Some towns, especially in the northern regions of Italy, have embraced the commercial aspects of Halloween, with businesses decorating their storefronts and restaurants offering special Halloween-themed menus. While this trend is more prevalent in the north, Halloween celebrations are slowly spreading throughout the country.
Witches and the Occult
One intriguing aspect of Halloween in Italy is its connection to ancient beliefs and superstitions. Italy has a long history of folklore and superstition, and Halloween provides an opportunity to delve into these mystical traditions. Witches and other supernatural elements often take center stage in Italian Halloween celebrations. You might come across eerie decorations, such as witches' hats and broomsticks, as Italians embrace the spooky side of the holiday.
Costumes and Creativity
Costumes play an integral part in Halloween celebrations in Italy, much as they do elsewhere. However, the choices of costumes can vary significantly. While many still opt for traditional costumes like witches, vampires, and zombies, Italians often draw inspiration from their rich history and culture. It's not uncommon to see people dressed as iconic Italian figures like Leonardo da Vinci, ancient Roman gladiators, or even famous Italian cuisine, such as a walking pizza slice.
Pumpkins and Jack-o'-Lanterns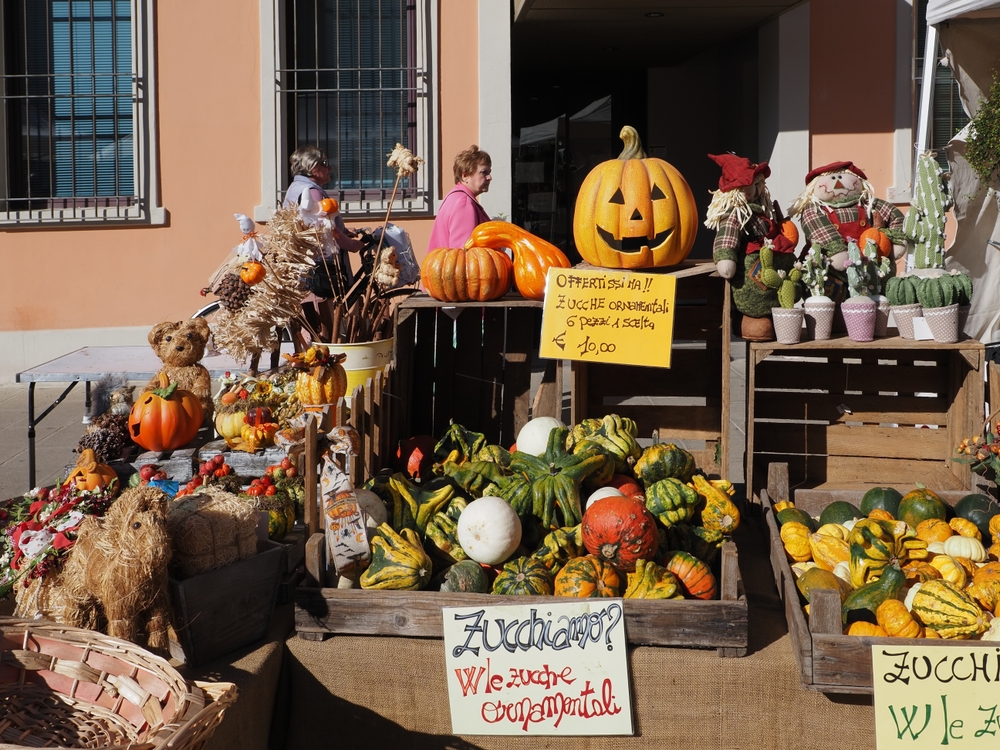 The carving of pumpkins and creating Jack-o'-Lanterns is a cherished Halloween tradition in many countries, and Italy is no exception. Pumpkins, with their vibrant orange hue, have become a symbol of the holiday's arrival. In Italy, however, you might also encounter different types of squash and gourds that are more readily available.
In recent years, pumpkin patches and pumpkin-themed events have gained popularity in Italy, allowing families to pick their own pumpkins and enjoy the artistic endeavor of carving them into spooky or creative designs. This tradition, inspired by American Halloween customs, adds an element of festive creativity to the Italian celebration.
Halloween and Italian Culinary Delights
Italy is renowned for its culinary excellence, and Halloween provides a unique opportunity to infuse the holiday with delicious Italian flavors. Many bakeries and pastry shops create Halloween-themed treats, such as cookies and cakes in the shape of ghosts, pumpkins, and bats. In addition, creative gelato shops offer spooky flavors and unique combinations to celebrate the holiday in a truly Italian style.
Halloween in Italy: A Blend of Tradition and Modernity
The way Italians celebrate Halloween is a testament to their ability to blend tradition and modernity. The combination of All Saints' and All Souls' Days with Halloween festivities demonstrates Italy's profound respect for its rich cultural heritage. At the same time, Italians eagerly embrace the playful and commercial aspects of Halloween that have been introduced from abroad.
In conclusion, Halloween in Italy is a captivating fusion of ancient customs and modern trends. Whether you find yourself in a charming Italian village or a bustling city, you're likely to encounter a delightful mix of superstition, creativity, and delicious treats that make Halloween in Italy an enchanting and memorable experience. So, if you're ever in Italy in late October or early November, don't be surprised if you're greeted with "Dolcetto o scherzetto" – it's all part of the captivating Italian Halloween experience.