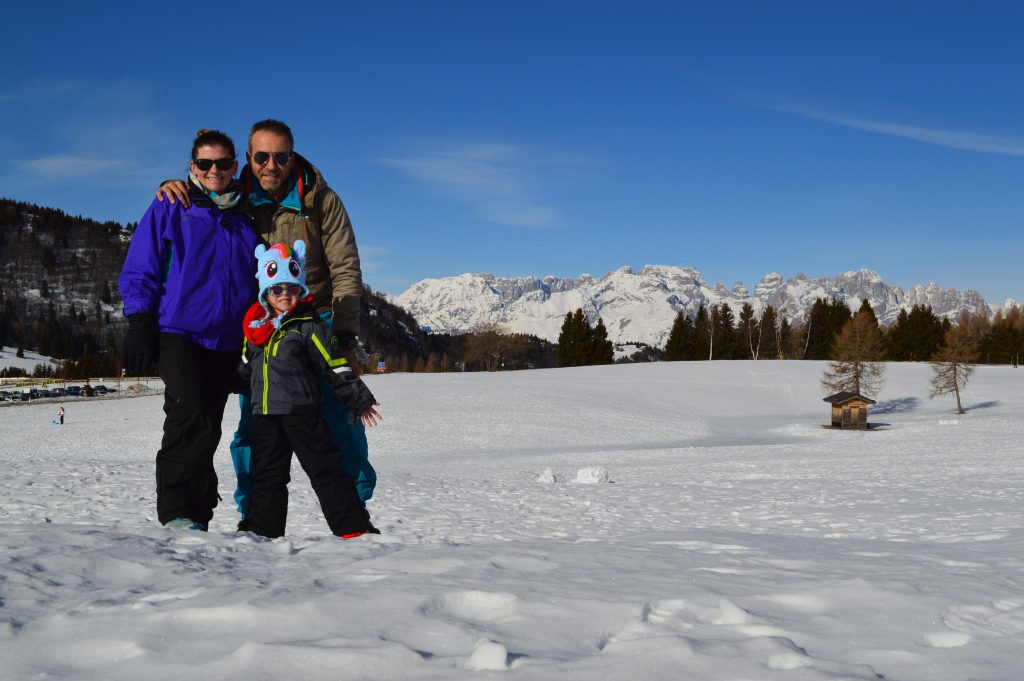 Having undergone not just one, but two open-heart surgeries in Italy's public hospitals, Katie's life as an expat has certainly been profound. Fascinated, we asked all about her experience of healthcare in Italy and how it compares to that in the US.
Here's what she had to say on everything from bedside manner, to the joys of having a bilingual daughter.
---
About Katie
Originally from Southern California, writer, mother and study-abroad professional, Katie Palumbo, first moved to Italy as a young twenty-something to study at Trento University.
Her experience as a study-abroad student was truly transformational and (gladly) went on to inform her career choices later in life, bouncing between the states and Italy as an international educator.
It was in 2019, though, that Katie and her family relocated to Florence and haven't looked back.
You will find them in the centro storico (historical city center), moments from Mercato Sant'Ambrogio, situated in one of the few neighbourhoods with a "locals" feel and blissfully without many tourist attractions.
---
How do your experiences of healthcare in Italy compare to healthcare in the US?
Apples to apples, the healthcare I've received in Italy is right on par with the US'. Although the difference in cost is truly striking, from my experience, it goes much deeper than that.
In Italy, the doctors represent just the tip of the iceberg in leading a healthy life. The most important work happens outside of the hospital.
There's an Italian saying: "La salute prima di tutto", "Health comes before anything." This kind of mentality is a value written into the Italian constitution. Article 32, I checked.
Last January I visited the Emergency Room with what I thought was a bad cough. It turned out to be early signs of heart failure.
By day two of my stay, I'd had enough. The meds had kicked in and the American in me wanted to be discharged, so that I could work from home until my surgery. The nurse's response: "No, you're staying right here. La salute prima di tutto."
I called my boss to assure her it would be but a few more days and I'd be back in action on Monday. "La salute prima di tutto", she replied.
I never did go back to work. I got to focus 100% on my health.
Approximately, how much did your healthcare cost in Italy?
I was hospitalized twice for a total of 4 weeks. After the surgery, I had numerous follow-up appointments, prescriptions and regular doctors' visits. All of this, alongside regularly attending to our daughter's severe allergies, didn't even reach €1,600.
The cost only made it that high because I went private during the height of the coronavirus pandemic when public hospitals were high-risk.
Are you receiving financial aid during your time-out?
There is a robust social safety net built into public policy and protections in place for employment contracts, for which I will be forever grateful.
In a culture where healthcare is valued as a basic human right, priorities line up in such beautiful and unexpected ways. You can feel the difference in all of your interactions and intentions.
In recovery-mode I was able to spend time with my family without being distracted by other obligations. I slowed down, examined how I was living my life and even slept! And I could do all of this while receiving financial support.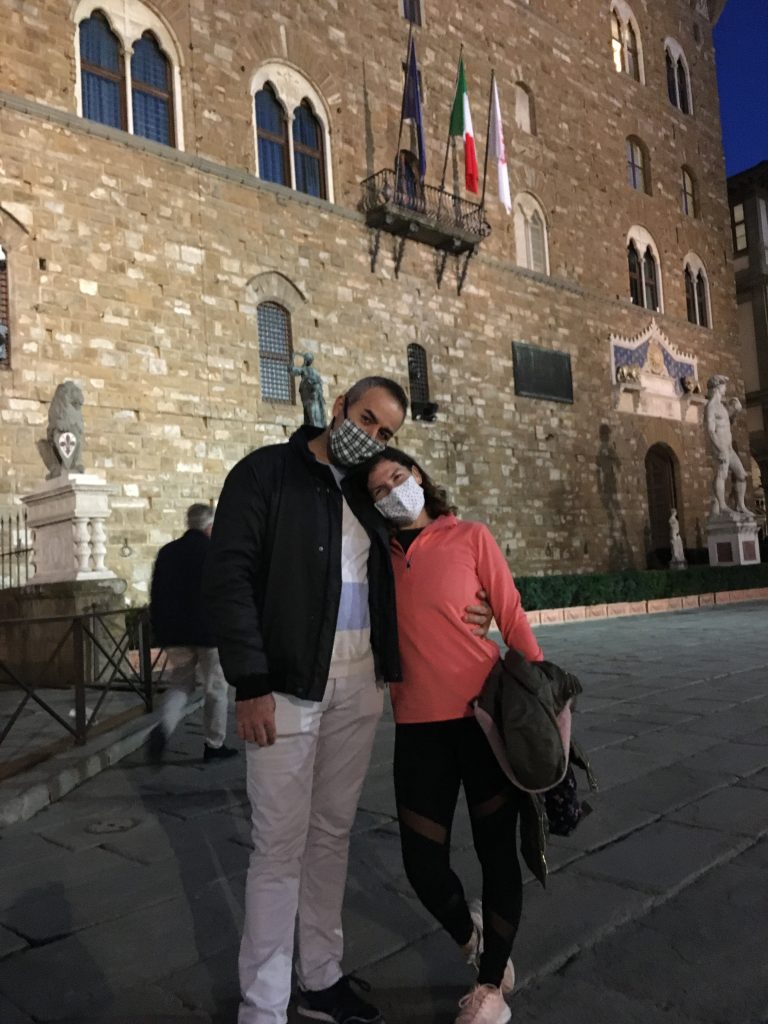 Why did you move from Trento to Florence?
I love Trento. It was my first home in Italy and where I met my husband.
Access in Trento to some of Italy's most beautiful natural sites is unmatched. There are many opportunities for hiking, swimming in beautiful lakes and skiing.
When my husband and I moved in together, we were in our twenties and wanted more action. Trento is more like a big town, not quite the city life that was calling us. We found that in Florence.
What were the challenges of moving from Trento to Florence?
I don't think I knew what I was getting myself into when we moved from Trento to Florence. Many residents were disturbed at Americans taking over the town, partying too much and destroying the local haunts.
Twelve years later, having worked with many cohorts of Americans in Florence, this is something I work hard to combat by providing students opportunities to engage with the community.
You see, Florence is one of the most multicultural cities in all of Italy, people from all over the world visit or relocate here. However, our presence isn't always appreciated when the town is treated like temporary stomping grounds.
This is something that informs the way my family interacts with and contributes to the community as we continue to call Florence home.
Talk us through dinner time in your house?
My husband, Davide, is an Italian chef just as invested in eating delicious food, as he is in cooking it. So, you can think mozzarella and tomatoes fresh from our favourite Neapolitan market vendor.
When I moved to Italy, the first thing I noticed was the lack of a microwave in my apartment. I panicked. That should tell you everything you need to know about my cooking skills, though I'll dust off my family recipe book for Thanksgiving.
The hospitality and restaurant industry has been hit hard during the coronavirus pandemic, but this hasn't stopped Davide from providing delicious recipes for the masses on TikTok. And he's acquired quite the following!
Anyone who is learning Italian should check it out, @goldendalia.
How many languages do you speak, and which one do you find the most difficult?
I am a native English speaker and speak, write, and read Italian fluently. Yes, I am one of those annoying people who always has to learn a few words everywhere I visit. I can hold my own in Spanish and French, too.
My dream is to speak Japanese fluently.
How do you spend your days in Florence?
Elementary schools have been learning in-person since September. This means my days are interruption-free – prime for job hunting and writing my blog, Thoughts From Abroad.
Beyond that, I walk along the Arno every day to clear my head and participate in local volunteer opportunities. I always try to do any outdoor activities with a friend or two. Even a mega-introvert like me struggles with all this isolation!
When possible, my husband and I rent a car or scooter to explore nearby areas, such as Chianti. We have also spent a lot of summers hiking in Trentino and Arezzo, and at the seaside.
What are the challenges and delights of having a bilingual daughter?
I'd say it's 99% delight and 1% challenge.
Italian kids tend to be much feistier and are given a lot more freedom to be wild and carefree than kids in the US.
When she started school in Italy two years ago and improved her fluency in Italian, our normally very sweet and quiet child was using her new language skills to talk back and serve us a lot of sass!
My heart rejoices that she has found her voice through this experience. Now, it's just about channeling that energy to help her stand on her own in a way that is still respectful to others.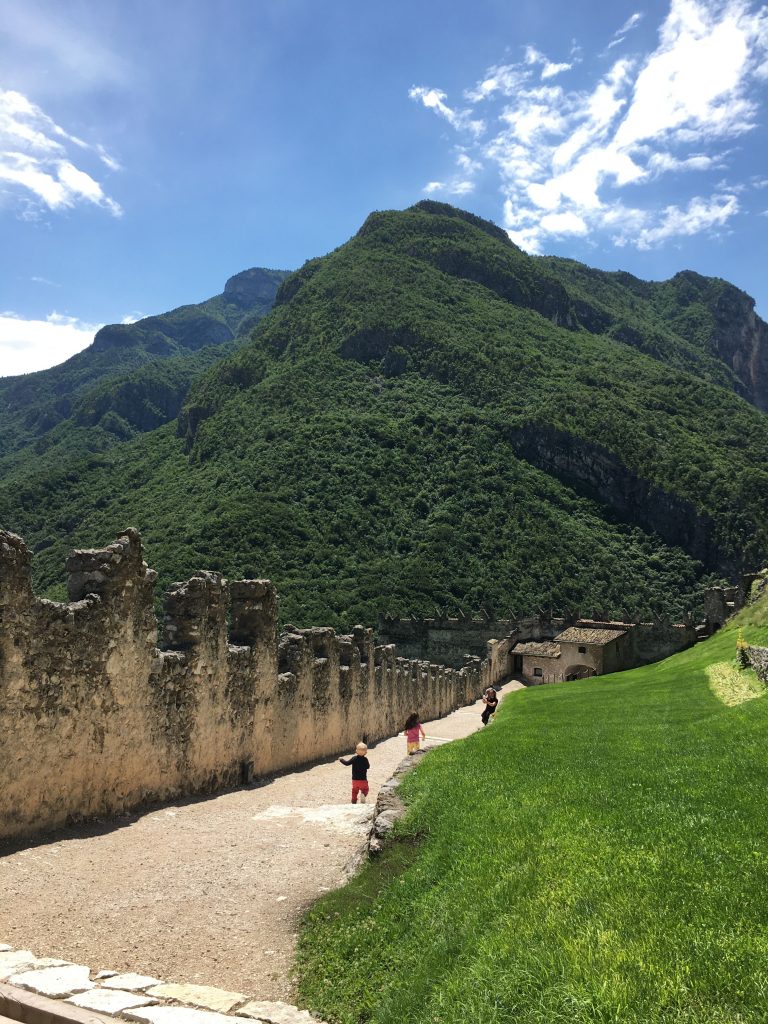 What is your personal definition of an expat?
Although I often describe myself as an expat, I find the term to be somewhat problematic. Nevertheless, I would define an expat as someone who chooses to live in a different country than the one in which they were born.
It becomes problematic because people-of-colour and people from lower socioeconomic statuses are rarely referred to as expats. The term immigrant/migrant is used in its place, which has a completely different and less empowering connotation.
What recommendations do you have for anyone wishing to move to Italy permanently or for an extended stay?
Be patient and ask for help.
Living in Italy is wonderful. As are its food, sites and people. But things take much longer here. Until coronavirus, technological devices/platforms were not the preferred methods of communication. Websites are usually out of date, anyway.
Talk to your neighbours, talk to shop owners, talk to immigration officials to get the right information. Who you know is always as – if not more – important than what you know in Italy.
Any top tips for learning Italian?
Do not be afraid of making mistakes. Talk! Even if you only know one word, say it. Use hand gestures. In Italy, you could probably get by on hand gestures alone.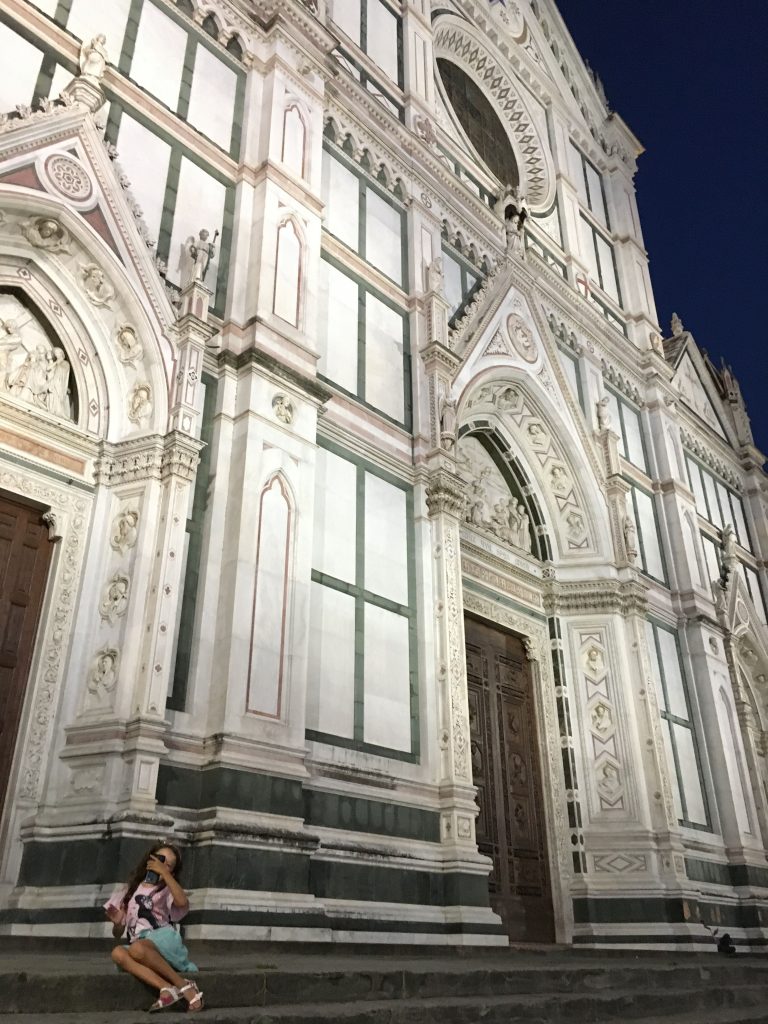 Tell us your favourite thing about Italian culture?
Italians take their vacations very seriously. You are not expected to work or be available on your days off. Rest is civilized. Rest is essential. On the back of this comes the practice of "fare il ponte." Literally: "make the bridge", which I love.
If a holiday falls on a Tuesday, most Italians will "fare il ponte" and take Monday off too, bridging the gap between their days off to create a long weekend. Productivity takes a back seat to "il dolce far niente", "the beauty of doing absolutely nothing".
What has Florence been like during the coronavirus pandemic?
I was discharged from hospital the day before Italy went into lockdown.
My doctor prescribed daily walks as part of my recovery, so I carried my discharge papers wherever I went. Walking around town was surreal, I was often the only person out and the police constantly asked to see my documents.
The first weekend of lockdown Florence had a "flash mob" in which everyone played an instrument or sung out of their apartment windows. Italy's national anthem was played everywhere, applause erupting at its conclusion. Neighbours even played bingo over a megaphone.
Banners with the phrase "Andrà tutto bene" ("everything will be ok") hung throughout the country in what became a symbol of optimism and perseverance. During that same time, I set up my blog. I look back at my first entries occasionally to remember what that sobering period was like.
On the whole, Italians wear their masks as required, keep their distance and take the rules seriously. Keeping others safe outweighs any personal discomfort.
Can you see yourself ever leaving Italy?
I consider Italy as much my home as the US and can see my family ending up in either country with no problems.
In terms of lifestyle, I feel most at home in Italy, though many loved ones are in the US. If I had a genie in a bottle, I would wish for all of my people to move here. But for now, I'll settle for frequent visits while soaking up la Bella vita here in Italy.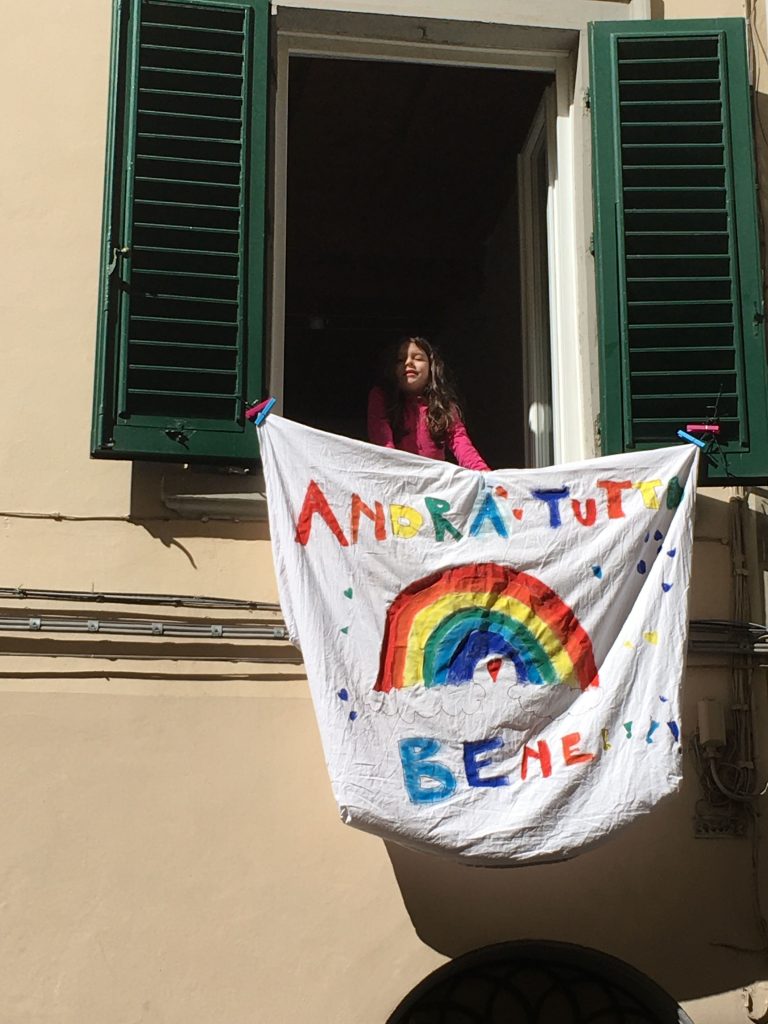 Follow Katie Palumbo @thoughtsfromabroad_on Instagram or at Thoughts From Abroad.
---