There's a plethora of great Christmas markets in Italy.  Most Americans don't realize that, like its EU neighbors to the north and east, Italy hosts Christmas markets all over the country. While the mercatini di natale (Christmas markets) do not have roots in the Italian Christmas traditions, you'll find Christmas markets from Bressanone to Taormina, from Milano to Bari, from Roma to Caligari, and beyond. 
We can't visit all of them, but here are five that will put you in the holiday spirit.
Bolzano
Bolzano hosted its first northern-European-style Christmas market in 1990, believe it or not. Like much of the Trentino-Alto Adige/Südtirol region, Bolzano's holiday traditions are close to the German, Austrian, and Swiss cultures.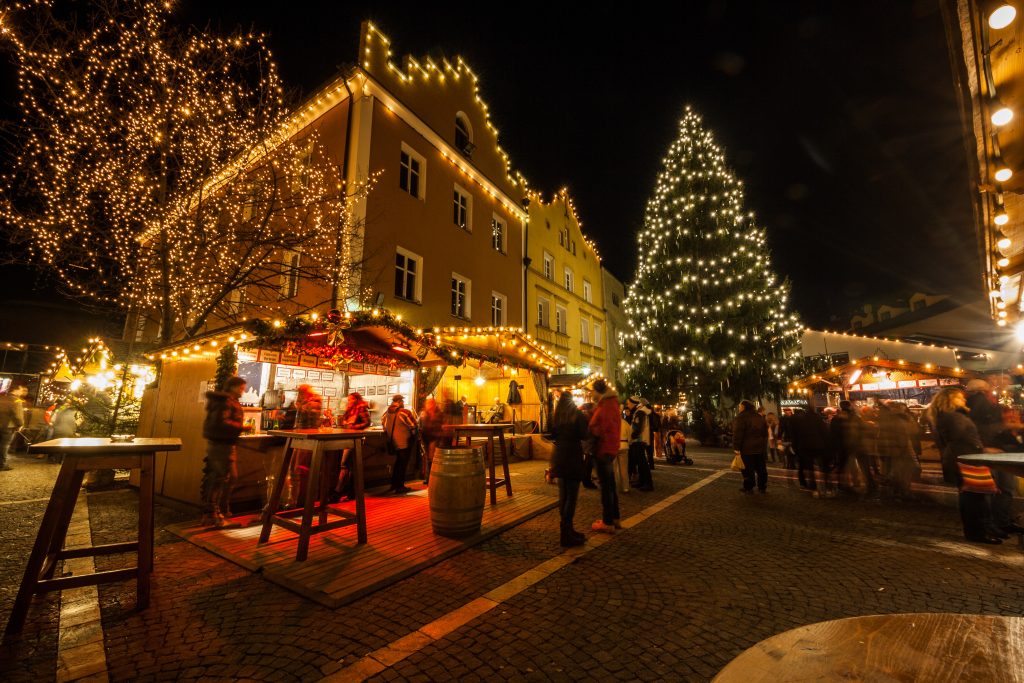 The wooden huts are full of handmade wood, pottery, and glass items. You'll find Christmas tree decorations and clothes typical of the Alpine area (called loden clothes) as well as soaps, fragrances, and candles. Sip mulled wine and snack on strudel, Zelten (a fruitcake from the area), speck, and other regional delights.
You'll find il Mercatino di Natale di Bolzano in Piazza Walther (in the city center) from late November until January 6 or so. For more information, click here. 
Bologna
There are a number of Christmas markets in Bologna. The Fiera di Santa Lucia, the oldest, takes place under porticoes on Strada Maggiore. The kiosks offer a variety of nativity scenes, ornaments, gifts, and more. It is open from mid-November until December 26.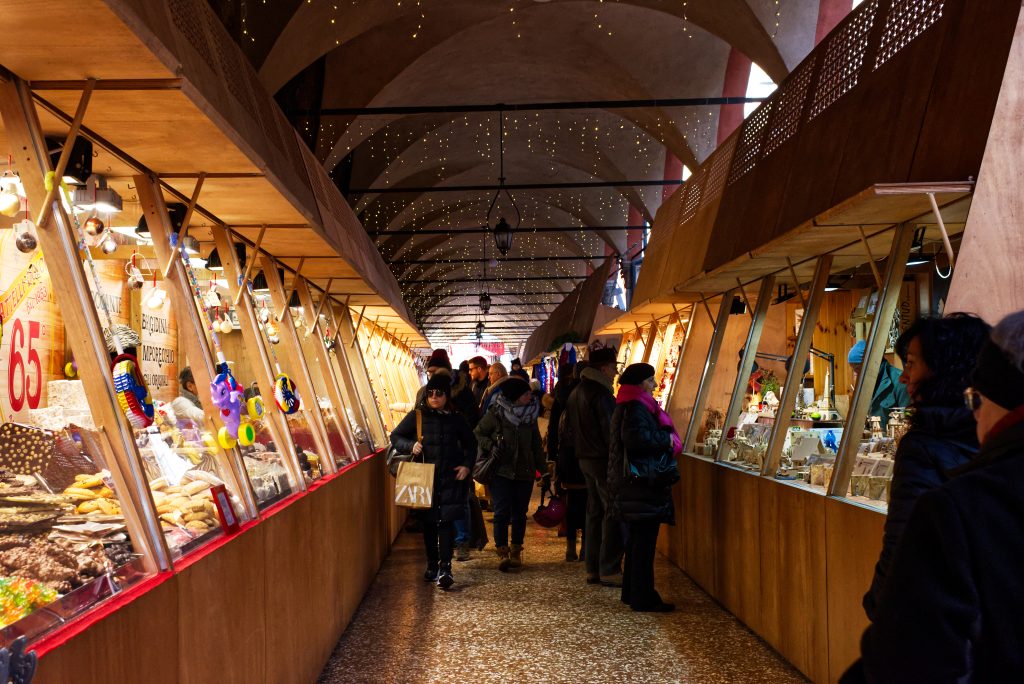 Not far away in Piazza Minghetti is the Villaggio di Natale Francese, the French Christmas Village. It is open only one month (November 25-December 24) but offers shoppers all things French—cheeses, pastries, breads, spices, wines, and handcrafts.
The Fiera di Natale, held next to Catedrale San Pietro in the city center. Open November 18-January 8, the Fiera's booths are full of costume jewelry, handcrafted items, holiday decor, and more.
FICO Eataly World, you'll find a Christmas village complete with an ice rink. Enjoy mulled wine while you zip around the ice.
And, last but not least, Bologna also hosts an Epiphany Fair from January 2-8 in the city center.
Firenze
Like Bologna (and Roma), Firenze is home to many Christmas markets.. The biggest, Weihnachtmarkt Santa Croce, has been around more than 500 years, and takes place in Piazza Santa Croce.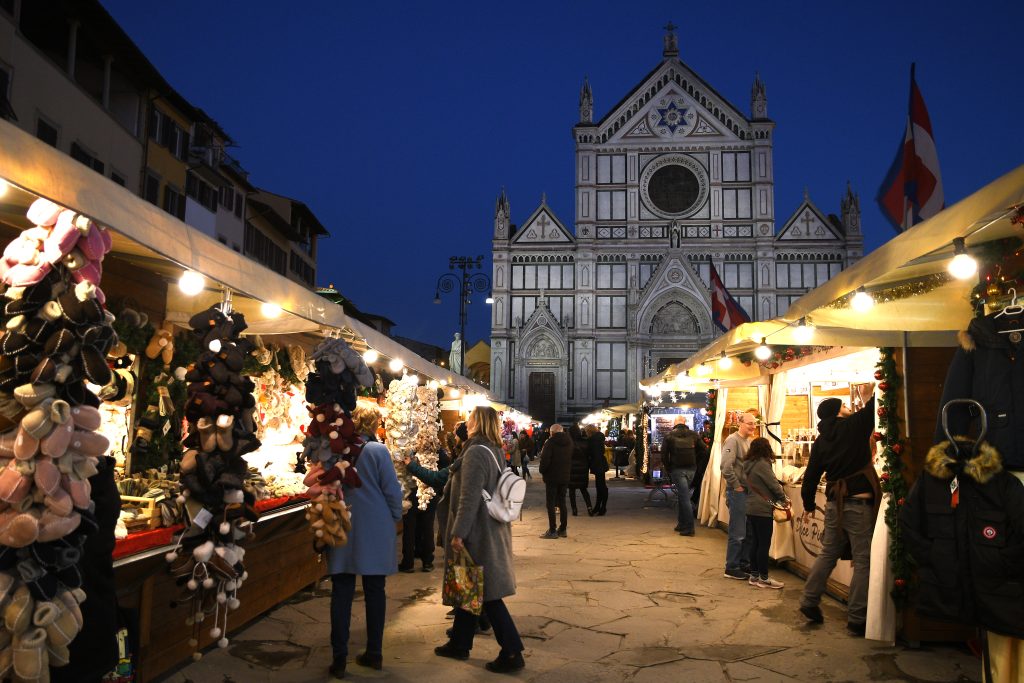 Inspired by the Weihnachtmarkt in Heidelberg, Germany, the Firenze market's stalls offer traditional German delights such as bratwurst, pretzels, sauerkraut, beer, and Kürtőskalács (chimney cake). Many vendors sell winter clothing—scarves, jackets (Don't forget Firenze is the leather capital!), hats, gloves, and more. And, of course, there are the holiday ornaments, candles, and other handcrafted items.
Weihnachtmarkt Santa Croce is open November 28-December 20.
Roma
The biggest and most popular Christmas market in Rome is the Befana market in Piazza Navona. After several years of turmoil, the market opened December 1 and offers food and drink of the Lazio region, toys, Christmas decorations, books, candies, leather goods, and more. Intended to be a family-friendly event, the market features a carousel and a puppet theater for everyone.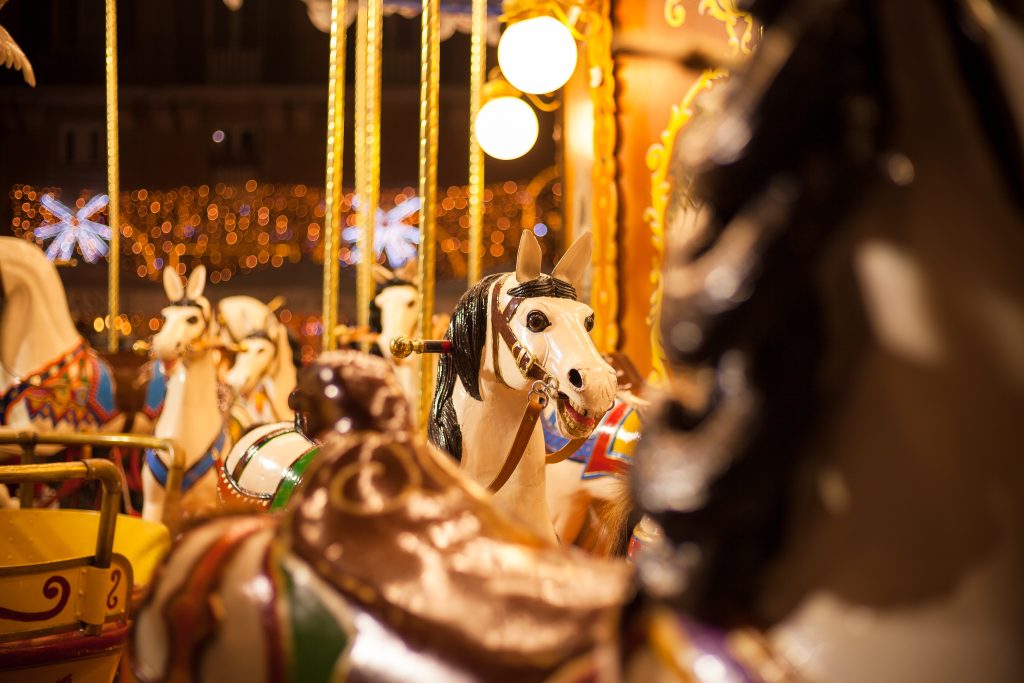 With 64 kiosks, the market runs from December 1-January 6.
You'll find a smaller Christmas market and nativity scene at the bottom of the Spanish Steps. In addition, the Prati district's Piazza Mazzini hosts a large Christmas fair with holiday gifts, food, decorations, crafts, and more.
Napoli
Known for its precepi (nativity scenes), Napoli is a place to see during the Christmas holidays. No place is more festive than Via San Gregorio Armeno where you'll fin presepi of all sizes. As you stroll down the glittering pedestrian-only street, you'll see thousands of figurines and accessories, ornaments, and gifts. Via San Gregorio Armeno has become so crowded that government has designated it one-way this year.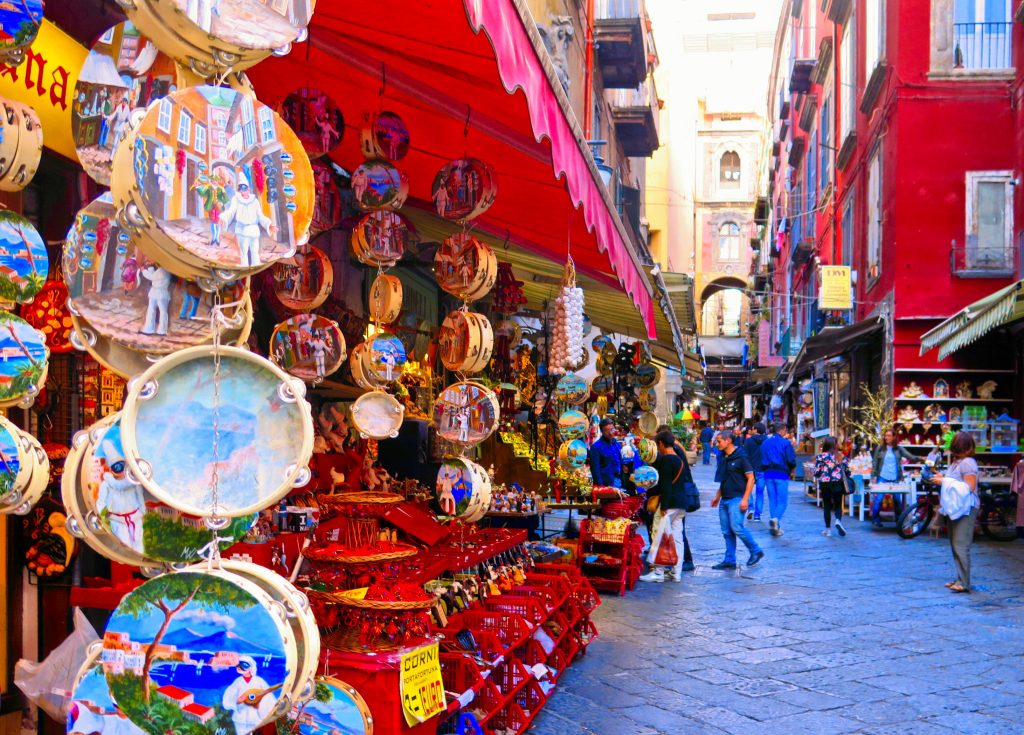 The Petrarsa National Railway Museum also hosts a more traditional Christmas market—Mercatini di Natale Napoli—from December 3-January 8. The market stalls offer a variety of foods and wines in addition to the holiday items. Another family friendly event, the market lets children visit Santa in his home and write letters to him. In addition, children can see the trains of the Polar Express in person.