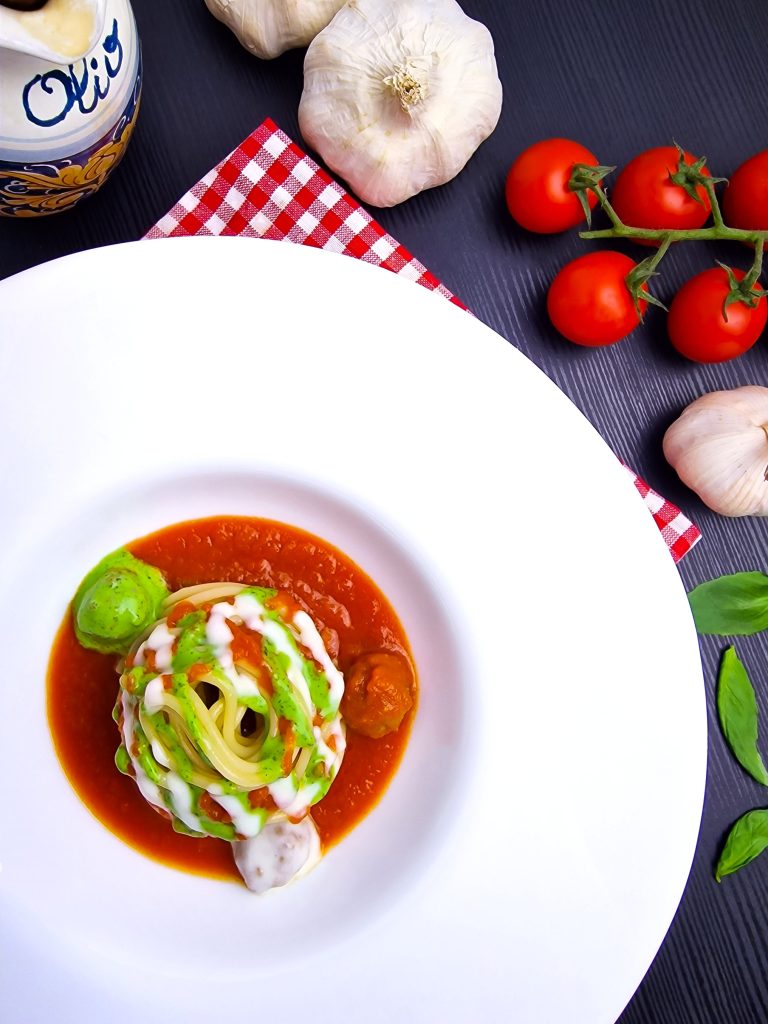 Spaghetti e polpette aka the famous spaghetti with meatballs, has always been a rather controversial pairing in Italy. This dish, so popular in the United States, represents a little the classic Italian recipe revisited by the American cuisine in a, shall we say, 'sacrilegious' way. But actually, "spaghetti with meatballs" is very Italian, a result of the migrations of the early 20th century: in those years, the poorest Italians moved to America, particularly to the Big Apple, in search of fortune. They were people who could afford very little and often brought to the table spaghetti and canned tomatoes, among the cheapest foods of the time.
Transforming a poor dish
Later, as their economic conditions improved, they began to afford also low-value meats, such as ground beef, which was low in cost but had great potential because it could be made into tasty meatballs to be added to that simple tomato sauce. They thus succeeded in transforming a poor dish into a tasty and complete dish, the very identity of that people in search of a better future. Spaghetti with meatballs are, therefore, to all effects a symbol of Italian-American cuisine, spread all over the world thanks to the cinema of the "New Hollywood" signed by the descendants of those emigrant families: from Francis Ford Coppola to Brian De Palma passing through Michael Cimino and the Sicilian Martin Scorsese.
Lady and the Tramp
A dish that then became iconic thanks to a Disney classic, Lady and the Tramp. The popular love story subverts the canons of fairy tale romances, introducing two dogs from very different backgrounds, who meet, have some initial misunderstandings and end up in a romantic night complete with spaghetti and meatballs under the moonlight. Tramp expands Lady's horizons and she lends him total acceptance. It is a story of freedom and growth that teaches that discoveries always come from suffering and that love -after much wandering- makes you find a home. The love story rides the notes of a "Dolce Sognar" and sanctions the union of the two protagonists with a special kiss over that so symbolic, so "bonding", so tasty dish.
Italian American Heritage Month
So if I've whetted your appetite, what better time to prepare a nice plate of spaghetti and meatballs than this time of year? October is the Italian American Heritage and Culture Month in the United States. The event celebrates the distinguished contributions of Italian immigrants to the growth of their adopted nation in various fields, concerning culture, art, science and, of course, cuisine. The commemoration of the Italian-American culture culminates in Columbus Day, which officially celebrates the anniversary of Christopher Columbus's arrival in the Americas on October 12, 1492.
I think it's fitting to celebrate with spaghetti and meatballs, an all-Italian recipe, identity, historical and a symbol of the emigration of those Italians who left their country in search of fortune with a baggage of dreams, a few clothes, spaghetti and a few cans of tomato sauce. This month we celebrate the spaghetti with meatballs, a symbol of discovery and abundance, of love and union, a bridge over the Atlantic between what was and what would be.
Spaghetti with Meatballs
Ingredients
For Pasta and Meatballs
Spaghetti 320 gr
Tomato puree 600 ml
Garlic clove 1
Salt to taste
Oil to taste
Ground beef 400 gr
Sausage 150 gr
Egg 1
Parmesan cheese 25 gr
Breadcrumbs 30 gr
Oregano to taste
Flour to taste
Basil cream
Fresh basil leaves 40 gr
Grated Parmesan cheese 2 tablespoons
Extra-virgin olive oil 3 tablespoons
Garlic 1/2 clove
Salt to taste
Parmesan cream
Grated parmesan cheese 200 gr
Whole milk 500 gr
Flour 00 50 gr
Butter 50 gr
Method
Combine ground meat and sausage in a bowl
Add egg, parmesan cheese, bread crumbs, salt, grated garlic and oregano
Knead everything evenly then form into meatballs
Dip them in flour, placing them as you go on a plate
Meanwhile, prepare a tomato sauce by cooking together tomato puree, salt, oil and garlic
Heat some oil in a high-sided frying pan, then fry the meatballs
Once the meatballs are nicely browned, drain them, and add them to the tomato sauce
Continue cooking over low heat for at least 45-50 minutes until the sauce is well reduced
In the meantime, prepare the basil cream: pick the fresh basil, wash it and gently dry it with paper towels
Place the oil, cheese, garlic, and salt in the bowl of a blender and blend
As soon as the ingredients have blended, add the basil and blend until the desired consistency is achieved
Parmesan Cream
Now move on to prepare the parmesan cream, heat the milk in a small saucepan, without coming to a boil
In another saucepan, melt the butter over low heat
Once melted, add the flour by sprinkling, stir with a whisk to obtain a well-blended, golden-colored roux
Add the previously heated milk a little at a time to the roux, stirring well with the whisk
Continue to stir and cook the mixture over low heat
When the mixture has thickened, remove the saucepan from the heat and add the grated Parmesan cheese a little at a time, mixing it into the mixture with hand whips
Stir well to achieve the desired consistency
Now cook the spaghetti in a large pot filled with already salted boiling water
Drain them when al dente and serve them on a plate
Top the dish with the sauce, a few meatballs, basil cream and parmesan cream.