As the slight alternation of the old proverb says, if you can't come to Florence, have Florence come to you. If you live in Florida, that's exactly what happened, thanks to a new art exhibition that has just opened in Miami. Joining forces, Frascione Arte in Florence, Italy and the Olga M. & Carlos A. Saladrigas Art Gallery at Belen Jesuit Preparatory School are proud to present a collection of rare paintings from the Medieval, Renaissance, and Baroque periods.
Titled "Faith, Beauty, and Devotion: Medieval, Renaissance, and Baroque Paintings", the exhibition consists of 30 sacred and secular art from 13th to 17th century by Italian and Flemish masters. It "traces the historical and artistic changes from the 13th to 17th centuries as they relate to the Italian Renaissance when the powerful Medici banking family transformed Florence into the cultural center of Europe." Now, these are in Miami thanks to Frascione Arte's fourth-generation owner, Federico Gandolfi Vannini, whose family have been avid collectors and patrons of art for decades.
Most paintings on display have never been seen in the United States before. Some of the highlights include the "Act of Devotion" oil on canvas attributed to Peter Paul Rubens and Jan Wildens from circa 1616, as well as a Medieval crucifix all the way from 13th century!
But that's not all: here are six other unmissable pieces of art from the "Faith, Beauty, and Devotion: Medieval, Renaissance, and Baroque Paintings" exhibition.
Madonna and Child, ca. 1510 – 1520 by the Master of the Scandicci Lamentation
We see here the work of an artist who remains unknown, although scholars were able to attribute a number of painted works to this same person, coming from the Tuscan town of Scandicci. We know the artist was active in Florence during the first decades of the XVI century and worked in a style close to the early manner of their peers, Ridolfo del Ghirlandaio and Francesco Granacci.
In one of several of the artist's depictions of Madonna and child, we see our subjects in an embrace; perhaps a slightly awkward one, as the child's leg hangs over his mother's arm. But what is perhaps more fascinating is the busy background, still perfectly decipherable after five centuries. We see lush landscape and even human figures and a horse. I was immediately reminded of a certain, very famous painting by one Leonardo da Vinci, and my suspicions were confirmed by the exhibition catalogue's text: "There is also a distant echo of Leonardesque landscapes translated into modern language which had begun to inspire the "Florentine eccentrics" by the second decade of the 16th century."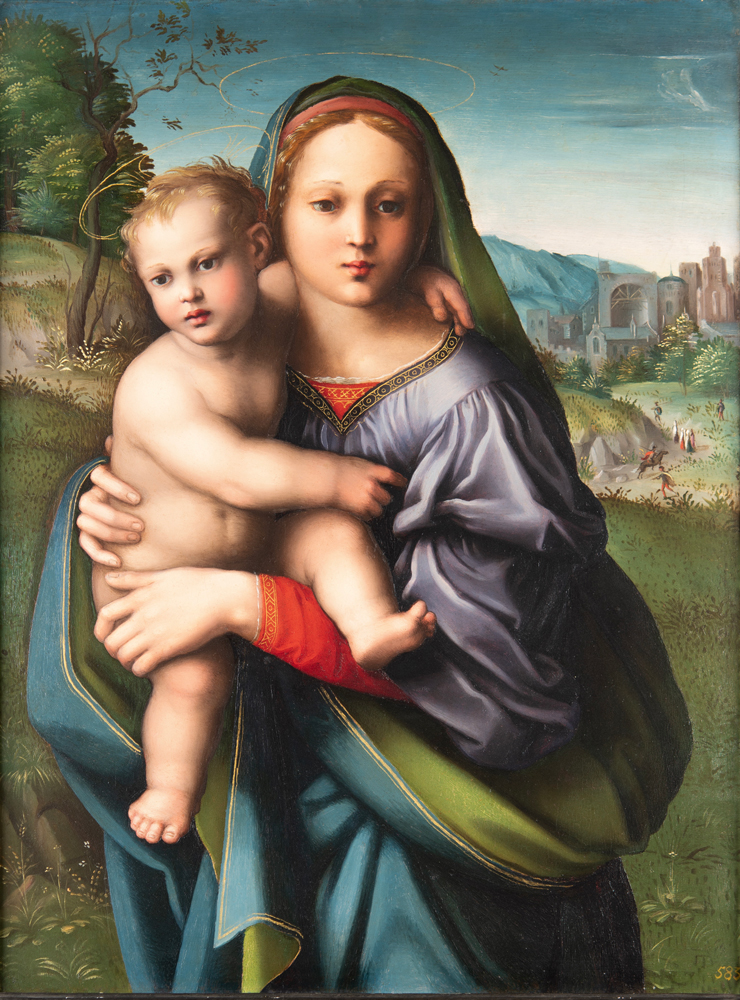 Portrait of Vincenzo Morosini, ca. 1580 by Jacopo Tintoretto
This portrait might as well be the perfect example of how to depict power just exuding from a person. Daunting gaze. Determined stance. An appearance that moves while standing still. Before us stands Vincenzo Morosini (1511-1588), member of one of Venice's most influential, richest, and oldest families. He is a knight, a member of the Senate, an all-around presence.
Jacopo Tintoretto had a close relationship with Vincenzo Morosini, and we can confirm it was a close one just by observing the intimacy of this painting. We know of three other portraits that the artist did of his subject, but I dare say this one is the most poignant. The details are simply exquisite and the color palette almost tells a story of its own.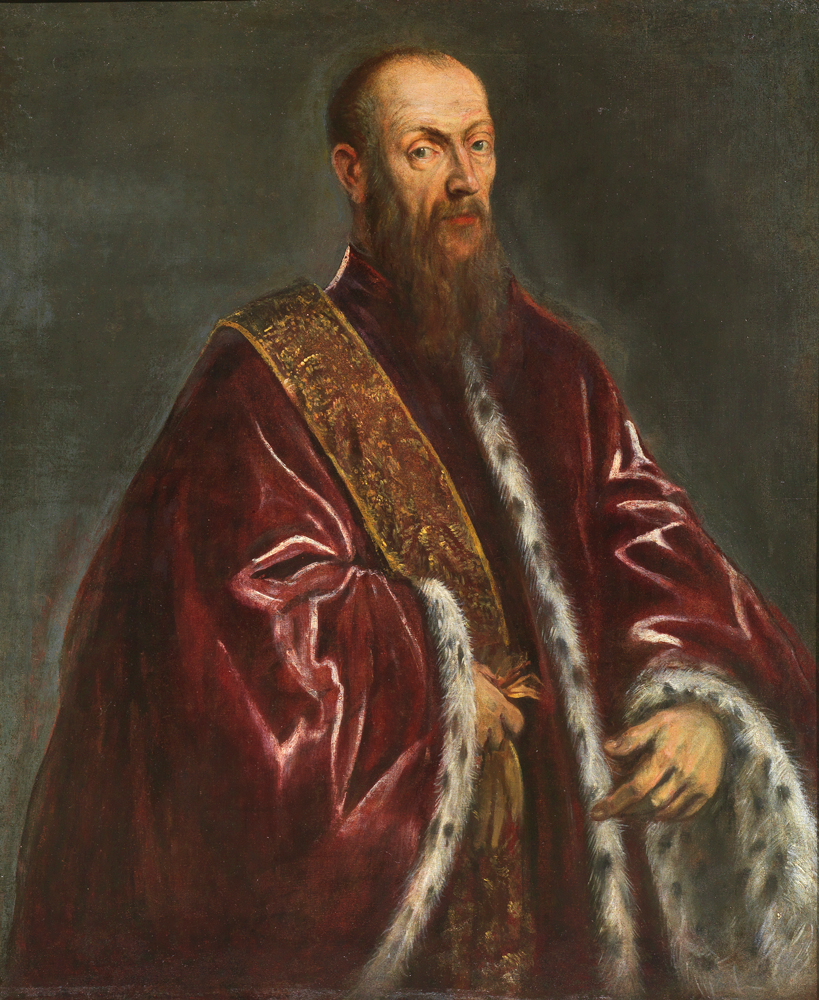 Saint Sebastian, ca. 1607 by Louis Finson
Brought to popularity by Renaissance itself, Saint Sebastian can be found in the paintings of Bernini, Botticelli, Mantegna, Perugino and El Greco. A soldier-turned-martyr, today he is a patron saint of archers and athletes, for instance. Joining his Italian colleagues in painting the scene of arrows hitting Saint Sebastian's body tied to a tree is a Flemish painter no less – Louis Finson. He moved to Italy early in his career and became one of the first Flemish followers of Caravaggio. The work below was created during their time together in Naples in the early 1600s.
Caravaggio's influence on Finson's work is evident. While reading this painting's description, I was struck by a connection made between the two artists. To my surprise, it wasn't stylistic, but rather a more philosophical one: that of the dramatic interpretation. If we look at the arrow to the left of Saint Sebastian's ribcage, we can notice that the arrow is just about to hit it – making us witness the moment right before it happens, right there and then.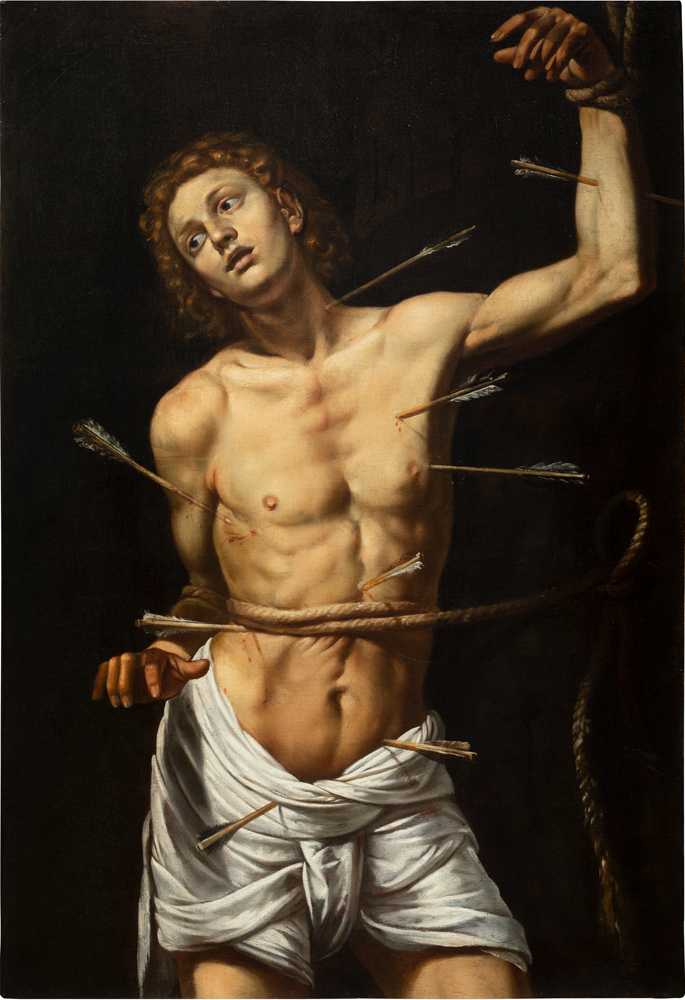 Christ Healing the Sick, ca. 1610 by Circle of Michelangelo Merisi da Caravaggio
Although it is unknown which of the circle of artists close to Caravaggio authored this painting, we can clearly see his influence. The very subject of the artwork, Christ's miraculous healings, is something that the famous painter liked to paint – like in the "Seven acts of mercy". Critics also allude to the gesture of the raised arm similar to that in "Calling of St. Matthew."
In this work, which measures a whopping 76.5 by 57 inches without its frame, Jesus Christ is commanding the scene in his red robe. The rest of the figures are in a sort of trance beneath him, light from above shining on their faces. This is also where we can witness the miracle he is performing: in the look they give him, full of awe and adoration.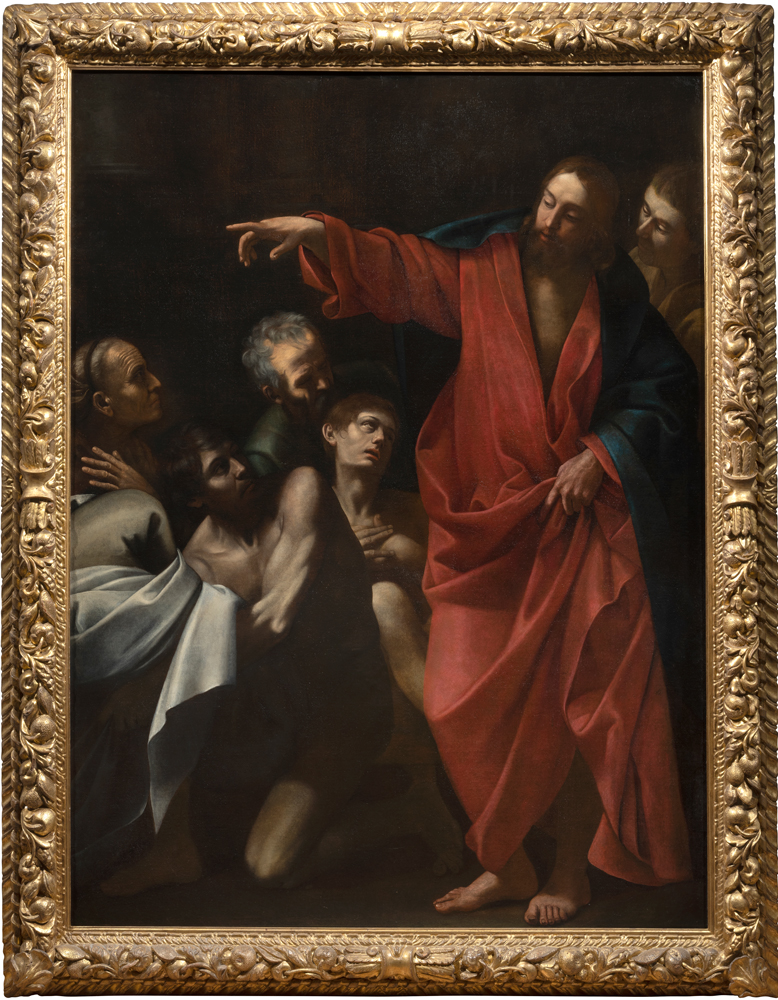 The Virgin, God the Father and a Carmelite Saint, ca. 1650 by Valerio Castello
There is so much going on in this Valerio Castello painting, and it seems as though all elements of it, be it the colors, the composition, or the narrative itself, tell the story all on their own. Set against a hopeful yellow-hued background, the scene depicts God, the Virgin Mary, and a Carmelite Saint, as the title suggests, surrounded by a number of angels.
It is a dynamic splendor of sights and emotions, as your gaze tries to follow the sumptuous blues and reds, the order of the subjects that takes you down, and then up again, to all corners of the frame. The critics call the painting "a perfect example of the finest Italian and International Baroque style" and a step towards modernity for the Ligurian painting, courtesy of Castello.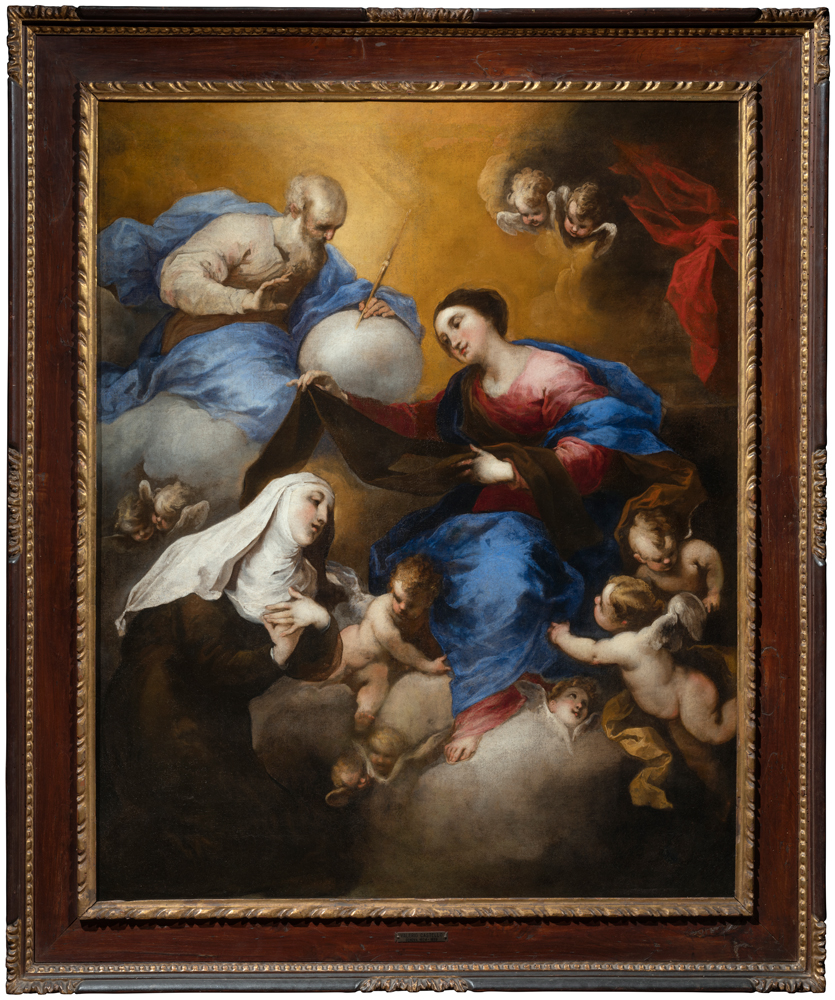 Susanna and the Elders, 1670 – 1675 by Cesare Gennari
This painting by Cesare Gennari, like many from the 17th century, depicts a Biblical episode, this time from the Book of Daniel. And true to its Baroque fashion, it is a rather nice-looking scene of the stuff of nightmares. Two old men spy on Susanna, a beautiful woman, while she is bathing. They threaten to tell her husband that she is unfaithful unless she gives herself to them. She refuses, and is then brought to trial. Daniel's intervention then saves Susanna from stoning.
The artwork directs us to look for the chiaroscuro effects, the play of shadow and light. Observe how the moonlight paints different shadows on the skin of Susanna herself. She takes center stage but is also the brightest subject, the other two painted slightly darker as our focus moves away and closer to the edge of the painting.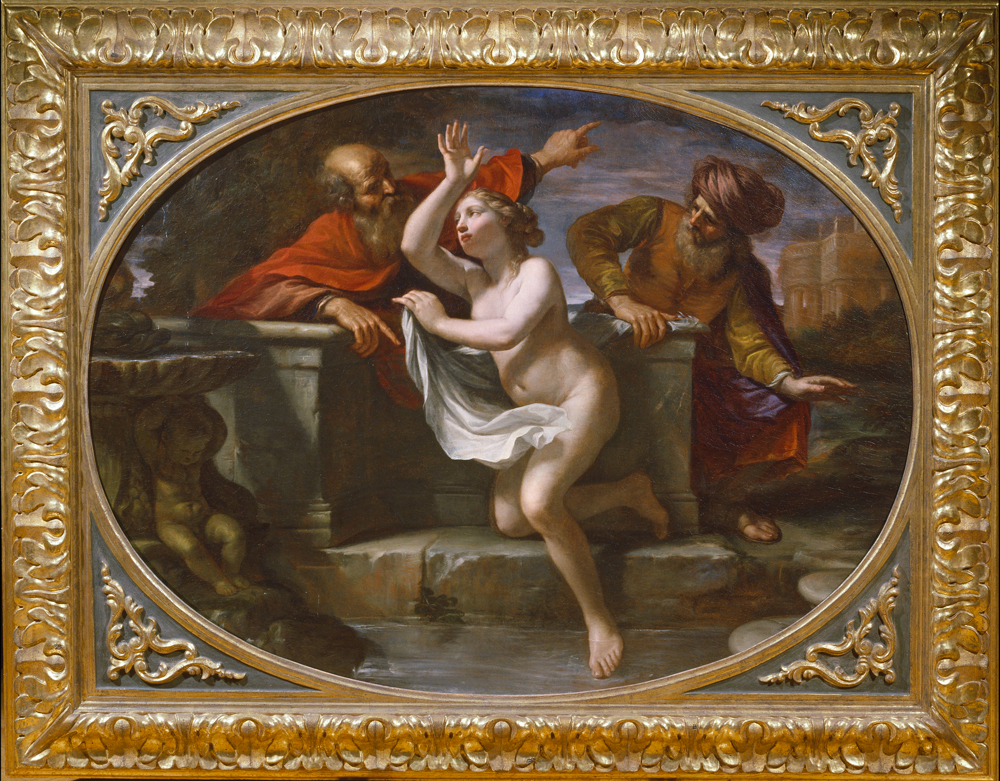 The "Faith, Beauty, and Devotion: Medieval, Renaissance, and Baroque Paintings" exhibition is open until December 16, 2023. Admission is free!