Family is, without a doubt, Italy's most important value, and celebrations, especially Italian Christmas traditions, do much to reiterate that bond. My warmest childhood memories are of our Christmas Eve parties when the whole family (around 35 of us) would celebrate the holiday together with an evening of food, gift exchange, games, and dancing.
Leggi questo articolo in italiano.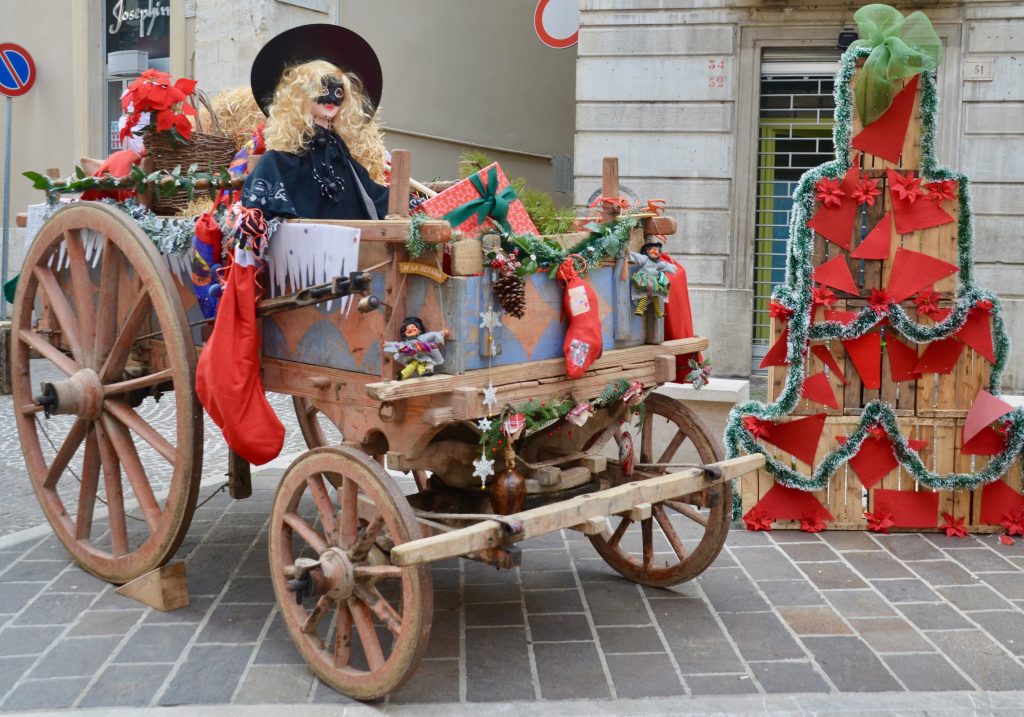 While we kids ran around, the uncles sat and talked, and the aunts put together a huge buffet that included salad, pasta, vegetables, and fish—baccalà (salted cod), scungilli (conch), calamari (squid), anguilla (eel), and shrimp. Even though Italians don't typically eat meat on Christmas Eve, Grandma always had chicken, meatballs, and sausage for those of us kids who didn't like fish. Dessert included panettone, pizzelles, Aunt Vera's rum balls, roasted chestnuts, pignolli, caggionetti (or 'pillows,' as my mother called them), and more.
On Christmas Day, we always started the meal with Stracciatella Soup, an Abruzzese tradition.. (Stracciatella is a rich soup made of chicken broth, greens, little meatballs, and raw egg dropped in the soup as it boils which make the stracciatella, aka "rags.").
"We used to have it every major holiday like Thanksgiving, Christmas, and Easter," Sergio Ciccone told me, adding, "We also had it on special occasions." He and his wife, Trish, continue the tradition using his mom's recipe.
Family Traditions = Best Gift of All
I have been thinking a lot lately about how lucky I am to have grown up the grandchild of Italian immigrants who taught my cousins and me to love the food, the culture, and traditions. It was common for the entire family—grandparents, aunts, uncles, cousins—to get together on Sundays, birthdays, and holidays, to enjoy. Once I married someone who is not of Italian descent and moved away from family, my life changed. While family is still the most important value, there were no more Sundays with family, and our celebrations became much quieter.
Over the last 11 years, I have traveled to Italy several times a year, have connected with family still in my grandparents' village, have gained my Italian citizenship, and live there a few months each year. I see that many of the traditions I took for granted as a child are still observed in Italy today. I now realize that what my cousins and I experienced as children was the most important gift that our grandparents brought to us from Italy.
Italian Traditions Today
As I mentioned above, when I was young, I didn't realize that our holiday celebrations were deeply rooted in the culture, so I had no idea that eating fish on Christmas Eve had any significance. Originating with southern Italian Catholics, abstaining from meat on Fridays and the eve of holidays dates back to early days of the Church as a form of penance. Immigrants to the United States brought the tradition, and it has evolved into the "Feast of Seven Fishes," a concept started by Italian immigrants in the Northeast and unknown in Italy.
Italian Christmas traditions like those of my grandparents are still alive and well in Italy. My friends and family there assure me that Italians do not eat meat on Christmas Eve. Giovanni Grillenzoni, who lives in Bologna, tells me that they don't eat meat on the Fridays of Advent, either. Cristina Di Pilla, a resident of Pettorano sul Gizio (my grandparents' town), agrees. "On Christmas Eve, we eat fish from appetizers to dessert," she says. "Well, not fish for dessert. Dessert remains the classic stuffed panettone…"
And on Christmas Day? Cristina's family starts with Stracciatella before enjoying roast lamb and vegetables.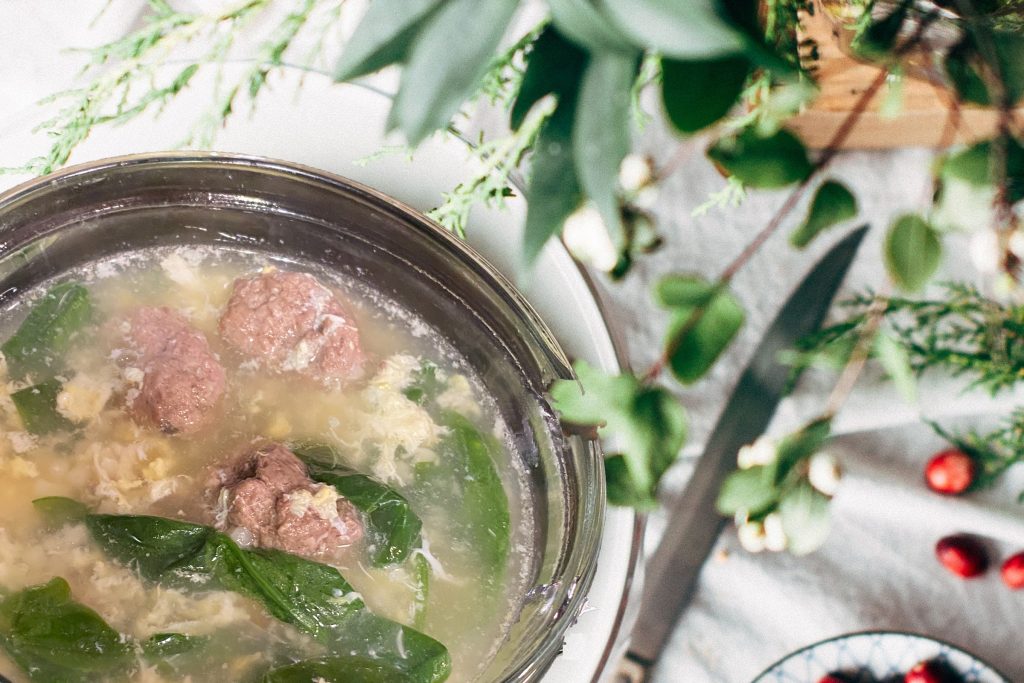 Christmas Traditions 2021
My husband and I hope to spend Christmas 2021 in Italy so that we can experience the Italian Christmas traditions from where my grandparents brought them. Until then, let me share my recipe for Stracciatella.
Stracciatella
For the meatballs
1/2 pound ground beef
1/2 pound ground pork
3-4 tablespoons grated cheese (Romano, Asiago, or Parmigiana)
1/3 cup breadcrumbs
1 tablespoon dry parsley
1 tablespoon dry basil
1/2 teaspoon salt
1/4 teaspoon pepper
1 egg
NOTE: You can add onions and garlic to taste. My grandmother and mother never did.
For the soup
48-ounces of chicken broth (Swanson, College Inn, etc)
2 large eggs
2 tablespoons freshly grated cheese (Romano, Asiago, or Parmigiana)
1 tablespoon dry parsley
1 tablespoon dry basil
12 oz spinach, endive, or escarole (I use bagged spinach)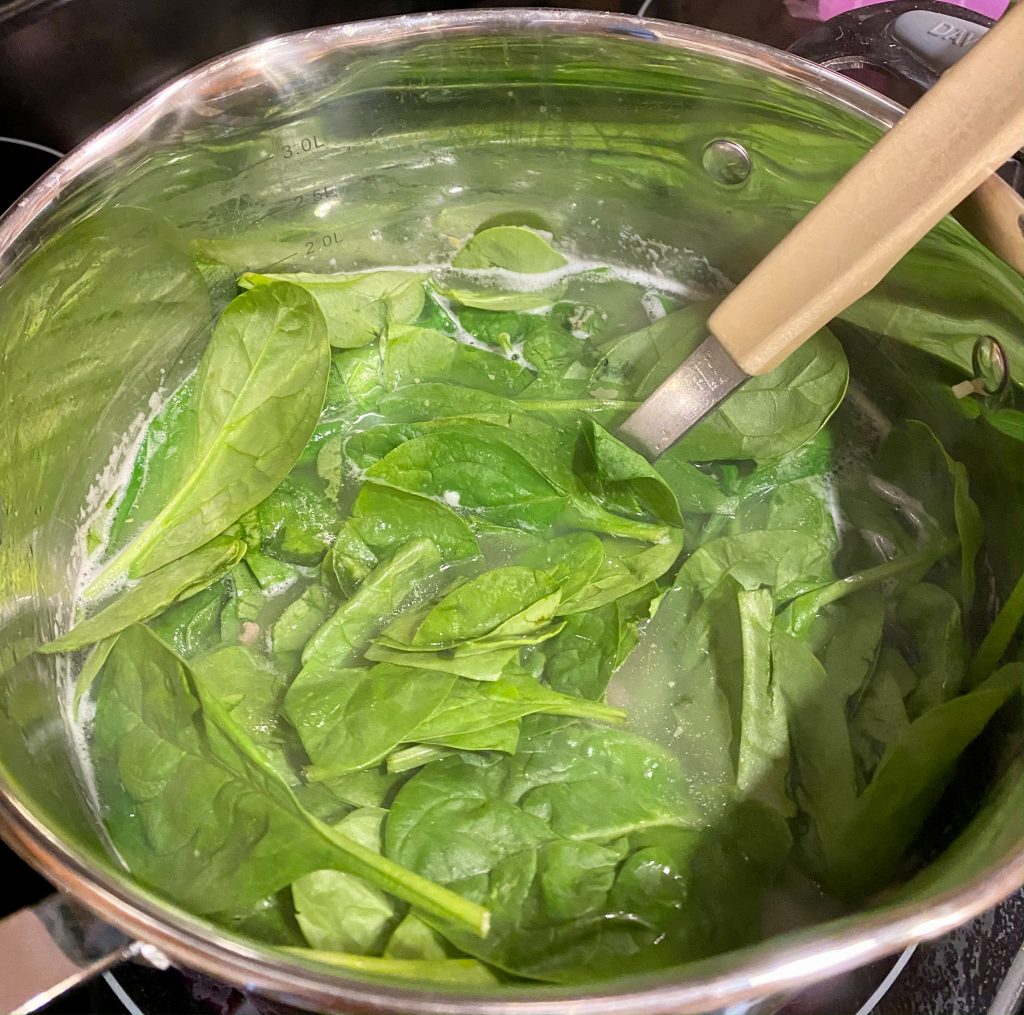 Directions:
Meatballs
Combine the ground meats in a large mixing bowl and mix together by hand. Add the remaining ingredients and mix until evenly combined. Be careful not to over-mix the ingredients.
Using about a heaping teaspoon of the mixture, form the meatballs and place on a baking sheet or in a baking pan. Bake at 400 degrees until browned, about 15 minutes.
Soup
Over medium heat, bring the broth, cheese, parsley and basil to boil in a medium saucepan. Add the meatballs.

Whisk the eggs and drizzle them into the broth while stirring with a fork to form the little strands. When the eggs are set, stir in the greens and cook until they are wilted.
You can serve the soup as is or add small pasta (tubetini, pastina, stars, etc) or croutons (Recipe below).
Maria Ciccone's Egg Croutons
Recipe courtesy of Sergio Ciccone
2 eggs, beaten with fork
2 tablespoons Parmigiana Cheese
Dash of Baking Powder
2 tablespoons cracker meal
Directions
Combine all ingredients. Grease glass baking dish with Crisco. Pour into dish and bake at 300 F until done. Cut into ¼ squares before cooling.