Oct 1 – Nov 6 at A Fish Called Avalon in Miami Beach
Oct 1 – Nov 6 at A Fish Called Avalon
For decades many Italian American personalities like Gianni Versace, Al Pacino, and Frank Sinatra have had ties to Miami Beach. A Fish Called Avalon restaurant on Ocean Drive in the Art Deco Historic District, is the ideal spot to showcase the "Italian American Icons" Mosaic Portraits. The art is from Italy's internationally renowned Scuola Mosaicisti del Friuli. 14 award-winning mosaic portraits will be on display from October 1 – November 6th. The exhibition is one of the many Italian American Heritage Month celebrations that take place across the nation.
The beautifully crafted mosaics were created using ancient techniques that go back centuries and were produced in over 5,000 distinct colors in the antique furnaces of Venice and Murano. The collection is dedicated to the portrayal of Italian Americans who have distinguished themselves in their chosen professions.
Italian American Icons
On display will be portraits of Gianni Versace, Al Pacino, Frank Sinatra, Luciano Pavarotti, Martin Scorsese, Lady Gaga, Bradley Cooper, Sylvester Stallone, Alicia Keys, John Turturro, Monica Bellucci, Kobe Bryant, Sophia Loren, and Leonardo DiCaprio. Each piece takes about three months to create, incorporating 200-300 individually cut pieces of glass, along with stone, plastic, wood and cloth, all melding together to form an impressionistic work of art.
Guglielmo Zanette — Naonis Cultural Association's Artist Director
The Italian American Icons collection was conceived and curated by Guglielmo Zanette, artistic director of Naonis Cultural Association. The non-profit organization in Italy dedicated to support talented young artists in Friuli Venezia Giulia. This is the second time that the mosaics will be shown in the US. The 2021 debut was held at the Marin Museum of Contemporary Art in Novato, California.
If living in Miami or planning to visit, Mr. Zanette will conduct private tours and collaborate with local cultural institutions.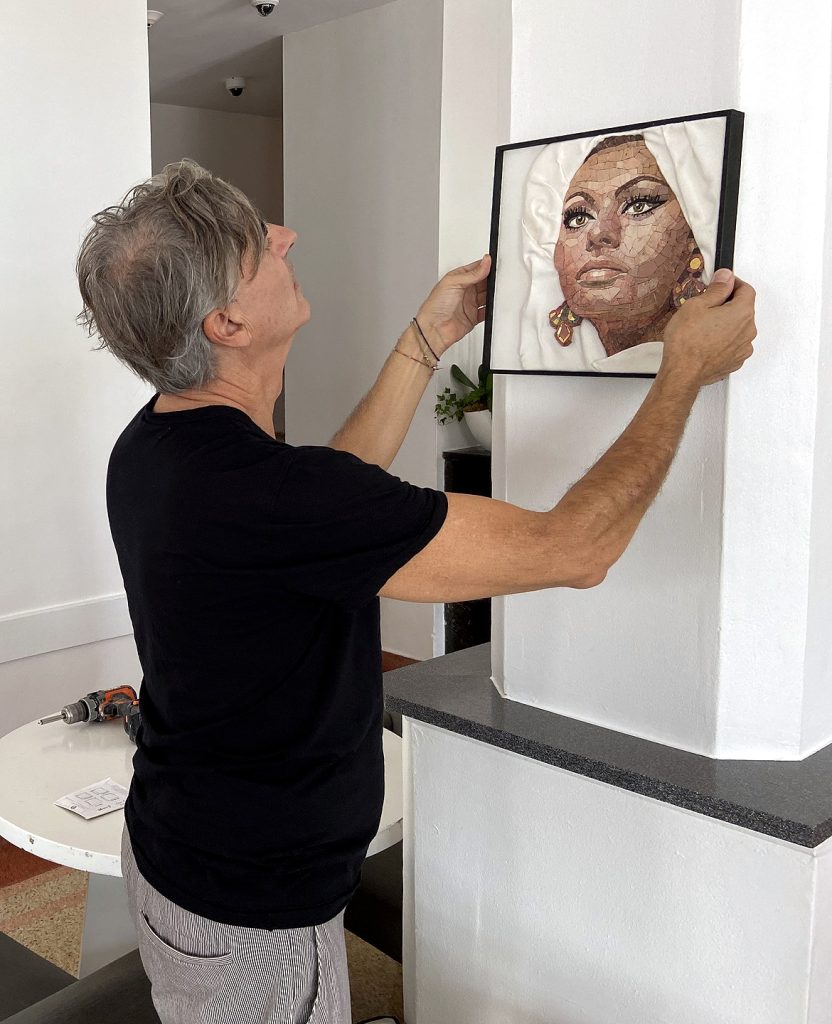 Scuola Mosaicisti del Friuli
The Scuola Mosaicisti del Friuli opened in 1922, in the small town of Spilimbergo, Friuli Venezia Giulia. It was founded with the aim of preserving and continuing the ancient art of mosaics.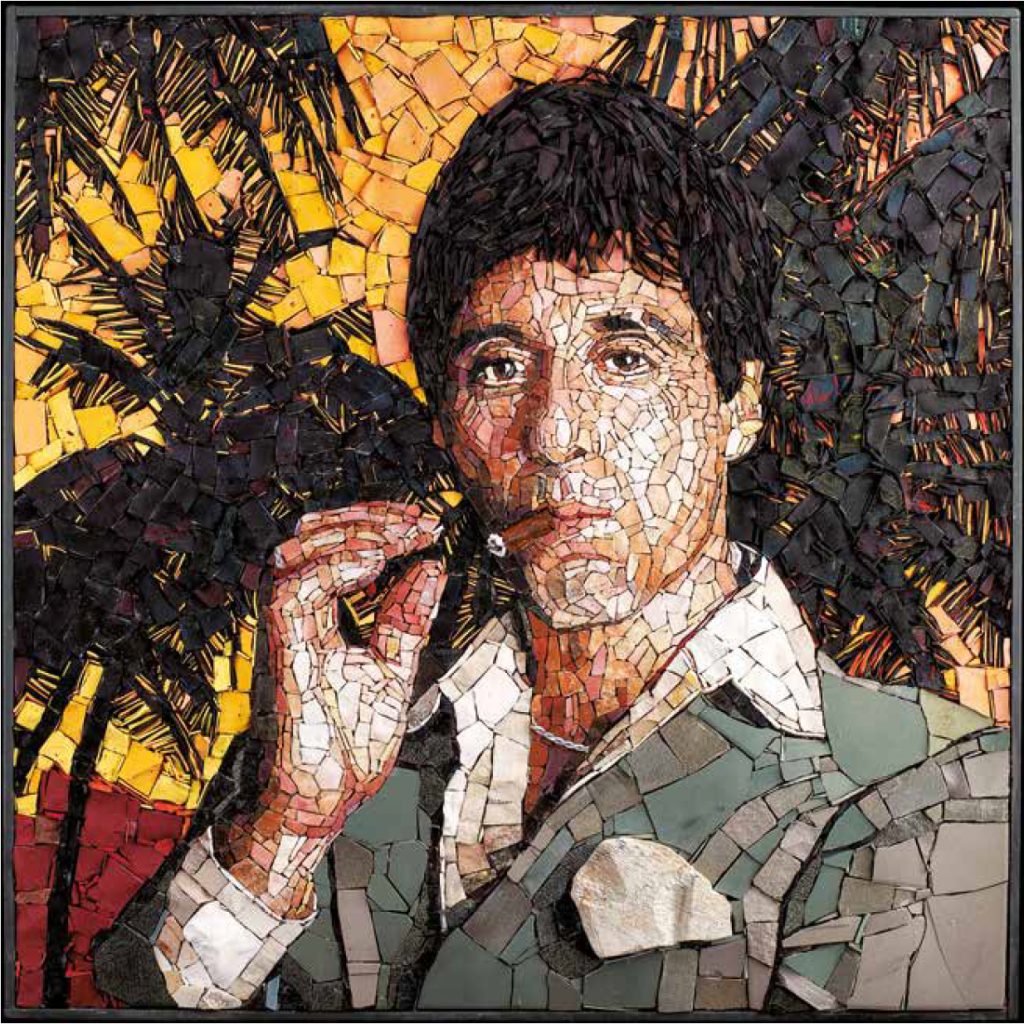 Italian Ministry of Culture Initiative
The project Mosaic Young Talent is supported by the Italian Ministry of Cultural Heritage and Activities and Tourism through a national competition called "Per Chi Crea". The initiative represents an extraordinary springboard for the promotion and appreciation of many young Italian artists under the age of thirty-five, as well as the field of artistic mosaics Made in Italy.
VIP Reception
We were honored to be invited to the October 3 VIP Reception. Our contributor Adriana Suarez captured some of the highlights on our Instagram Stories. Guests were fascinated the mosaic portraits and enjoyed listening to Italian arias by a Florida Grand Opera vocalist.
Other sponsors are Alessandro Berselli Wines, miamiartzine.com and Robbins Global Innovations.
More Information
A Fish Called Avalon
700 Ocean Drive
Miami Beach, FL
33139
Scuola Mosaicisti del Friuli
The Naonis Cultural Association @MosaicYoungTalent