Easter in Italy is a serious topic. Children and teenagers are on vacation for a week, adults plan Easter lunch weeks in advance to decide who should bring what. La settimana Santa (aka Holy week) starts on Palm Sunday and ends on Easter. But what about wine?
Easter: high, medium or low?
Let's start with a little curiosity: we know that Easter does not have a fixed date but changes from year to year. Traditionally in Italy we speak of "high, medium or low Easter" according to the date:
low Easter if between 22/03 and 02/04
medium Easter between 03/04 and 13/04
high Easter between 14/04 and 25/04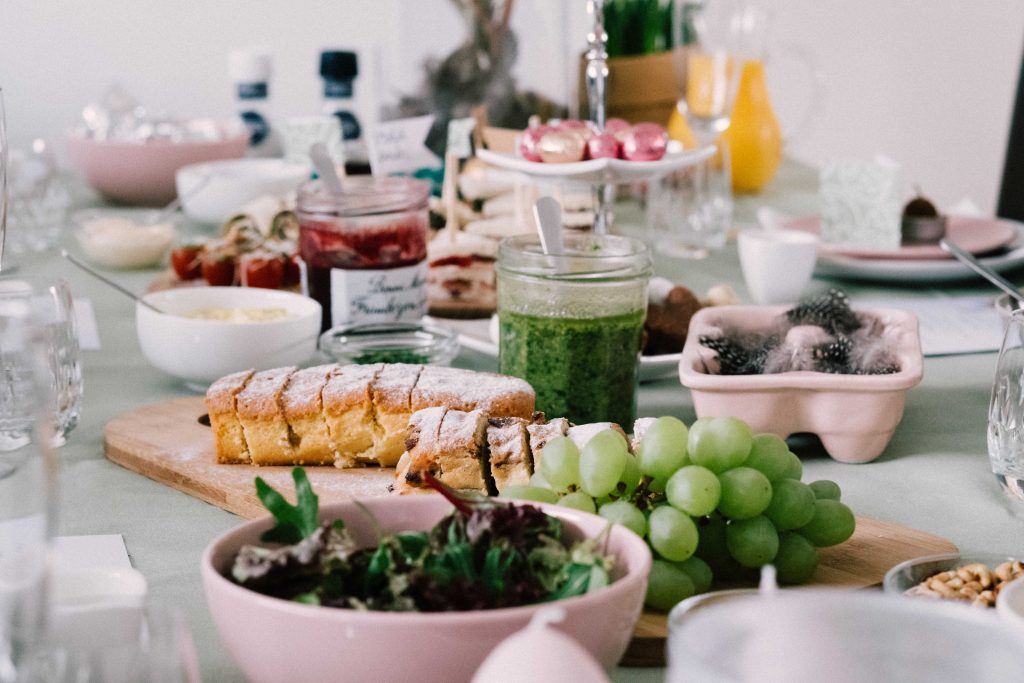 Easter is when the family gathers around a table: children run into the garden in the sunlight, adults eat and drink what family members have brought for the occasion. We usually gossip, remember past Easters or stories of childhood.
Air is crisp and cheerful. Voices rise in the house filling every corner and bringing carefree smiles to the faces of all of us. For us, Easter means family, like Christmas.
The table is set with countless traditional dishes, starting with appetizers to dessert. Every single Italian town has its own tradition. We never finish tasting dishes and wines….
This year I virtually bring you to Vicenza and talk about Vin Santo, an ancient and special wine.
Where is Vin Santo (aka Holy wine) produced and what is it?
Vin Santo is a dessert wine. Vin Santo is closely linked to the traditions of a few Italian regions: Trentino Alto Adige, Vicenza (Veneto), Tuscany and Umbria. Vin Santo is produced with local grapes in each region as follows:
Trentino Alto Adige using Nosiola grapes
Gambellara area (in the province of Vicenza) using the Garganega grape
Tuscany and Umbria using blends of different grapes
The name "Vin Santo" still has much disputed origins.
Vin Santo and its origin
The origins of this name are varied and no one knows exactly which is the correct one.
There are two more plausible versions to which the name can be traced: the first concerns the fact that this wine was used as a "common wine" for masses.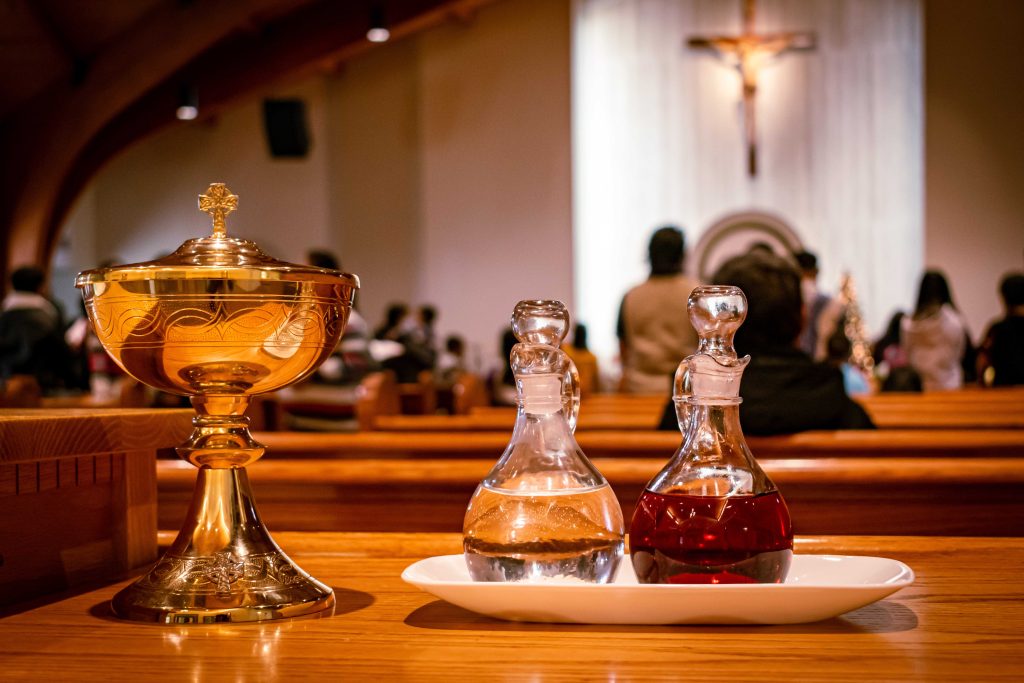 The second version, perhaps less romantic, is that in ancient times, the grapes were dried until the week before Easter. According to this production technique, the name "Holy wine".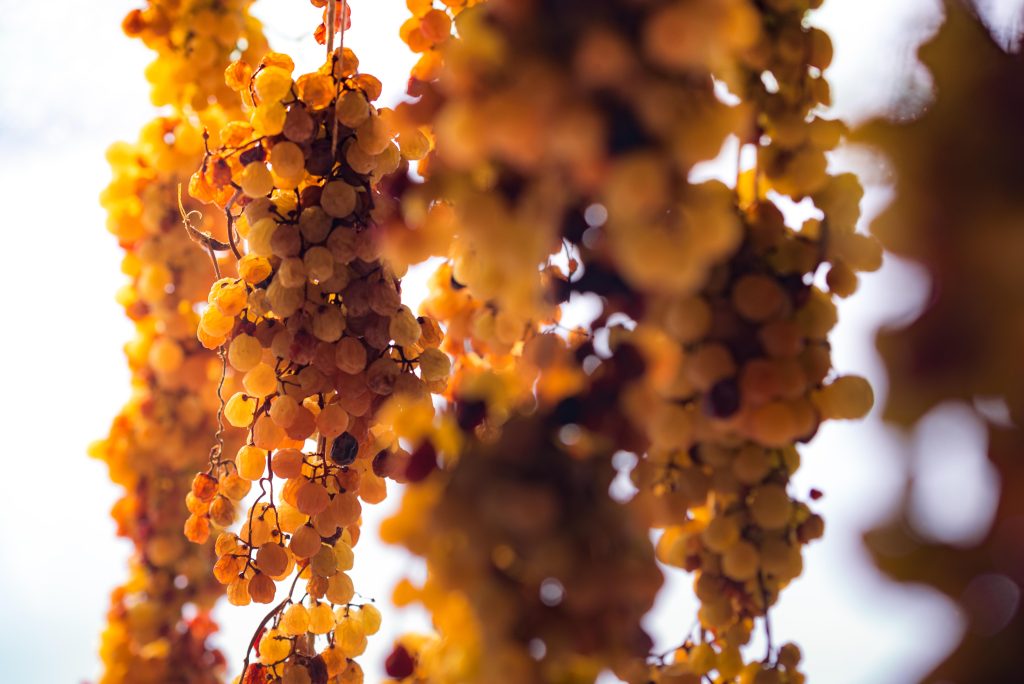 How is Vin Santo produced in Vicenza?
The grape harvest takes place usually at the end of September or beginning of October. In some areas part of the grapes are harvested later than others to give them time to overripe.
The winemaker selects the best grapes and leaves them to dry in special ventilated rooms, called "fruttai" for a few months. These huge rooms are usually located on the top floor of the cellar. The choice of this place derives from an ancient tradition: in the so-called "solaio" (aka attic). In past centuries, farmers stored food (fruits, sausages, vegetables) and wines that would be used for winter. The Garganega bunches are hung using an ancient technique that, by now, only very few people have handed down over time. The word, which cannot be translated literally, is "picai".
Over months, the hanging bunches lose most of their water. Consequently, a natural concentration of sugar occurs and aromas in what are now like raisins.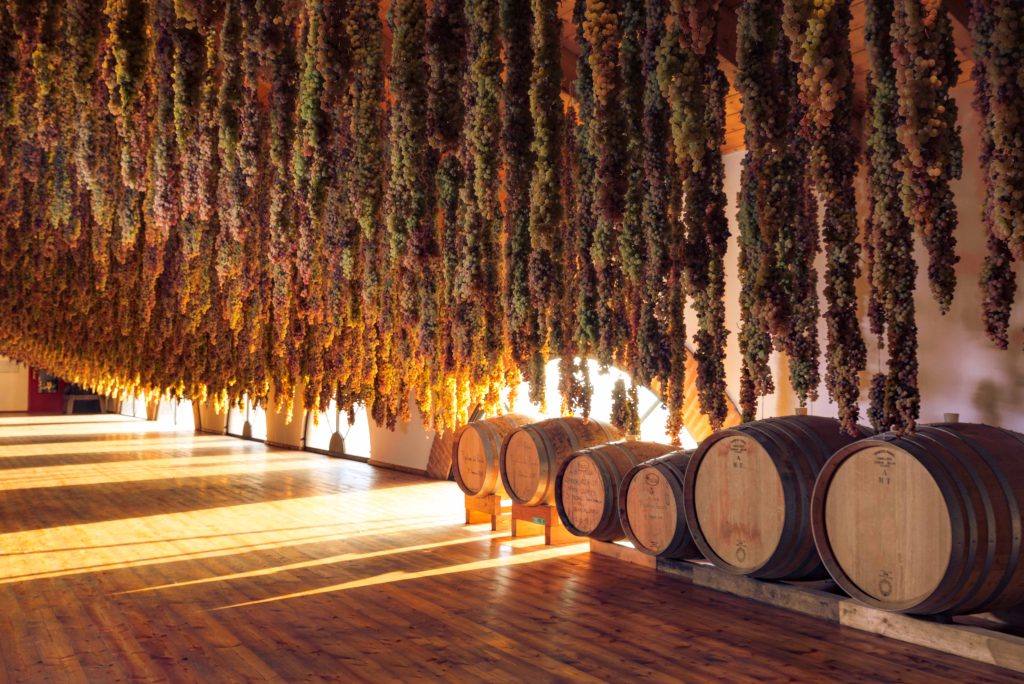 An amazing canvas!
The final grape color changes to orange, gold, brown or dark brown: an amazing canvas painted by mother nature.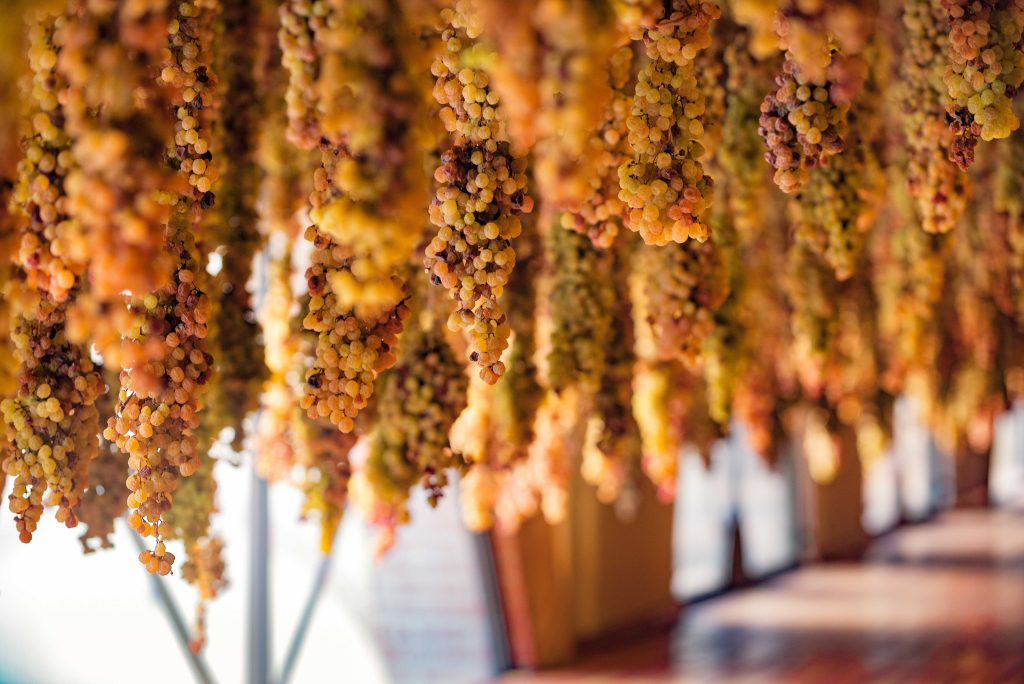 Only the most experienced winemaker knows when the drying process ends. The production of Vin Santo can then begin.
The Vin Santo ferments and matures in small barrels called "caratelli". The best wineries produce this wine with an ageing period of up to 10 years.

The final wine is an absolutely intense wine, balanced in its sweetness by an acidity. It is perfect in combination with some traditional Vicenza desserts.
Recognizable and clear are the aromas of caramel, honey, bitter almond, candied fruit (apricot, pineapple, apple).
If you want to taste Vin Santo, I recommend these two products:
"Vin Santo" Gambellara Doc produced by Dal Maso and "Vin Santo Classico" Gambellara Doc produced by Cavazza.
The perfect pairing
With a wine so closely linked to our tradition, I can only choose traditional pairings. For this special occasion, I went to visit the Loison company, a family business that is now famous all over the world for its quality and loyalty to the Vicenza tradition. The products used are for the most part local products or, in any case, 'Made in Italy' products.
The company is masterfully managed by Dario Loison. He has always cared about his territory, the enhancement of food, and the safeguarding of small Italian productions of excellence. With this purpose, the business adheres to Slow Food becoming a Slow Food presidium.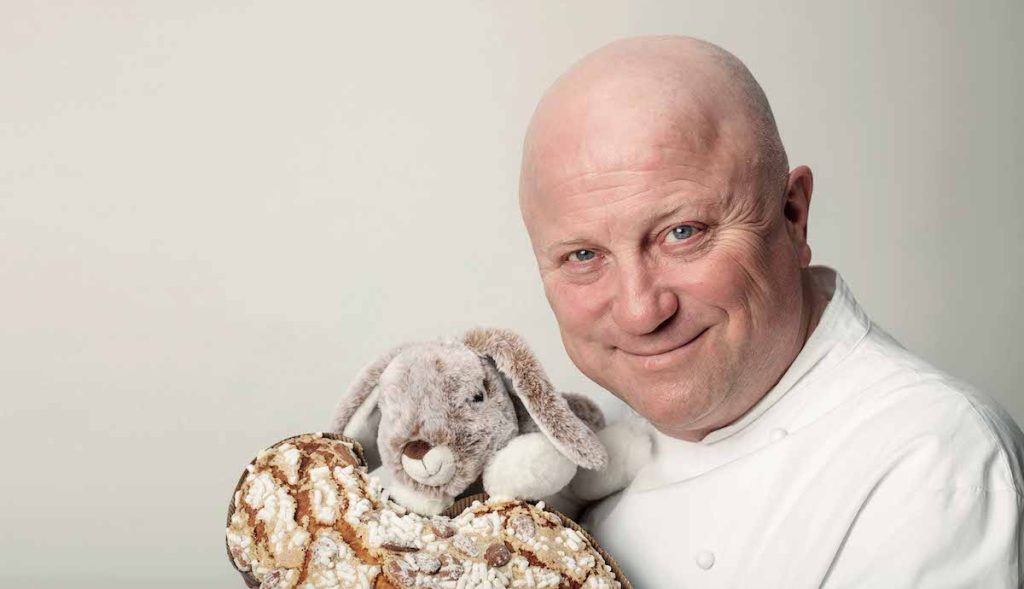 I wanted to pair the "Vin Santo di Gambellara" with two traditional Vicenza products: "Colomba di Vigna" made with raisins and a blend of late harvest wines (Recioto and Verduzzo) and "Sbrisola" with nuts and honey".
What is Sbrisolona?
The Sbrisola is a dessert of peasant origins born between the 16th and 17th centuries and made with poor ingredients like corn. Traditionally, it is prepared on special occasions and then preserved for a long time. The Venetian lords loved to break it into small irregular pieces, the so-called "sbrisole" in order to soak them in their passito wines.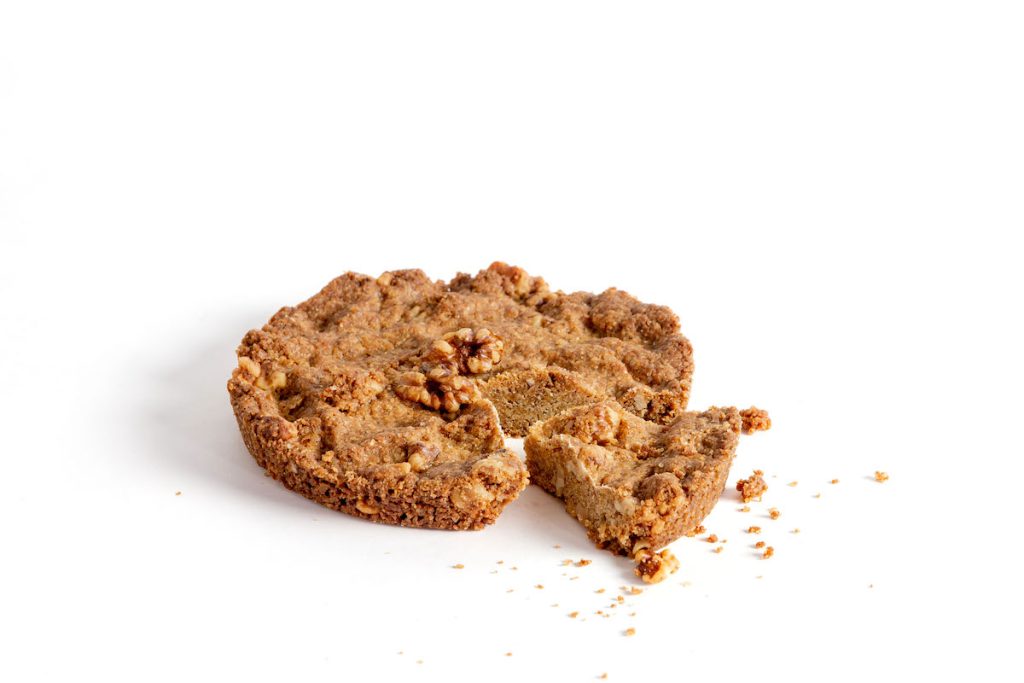 What is Colomba?
The pairing I chose with Vin Santo "Colomba di Vigna" made with raisins and a blend of late harvest wines (Recioto and Verduzzo)
The surface is covered with a fragrant Italian almond glaze and sugar grains. This soft pastry is obtained by the natural fermentation of sour dough, with a slow artisan processing of 72 hours. Its irregular oval shape is reminiscent of the dove. The dough has a good alveolation and is particularly soft thanks to the use of fresh butter, milk and cream.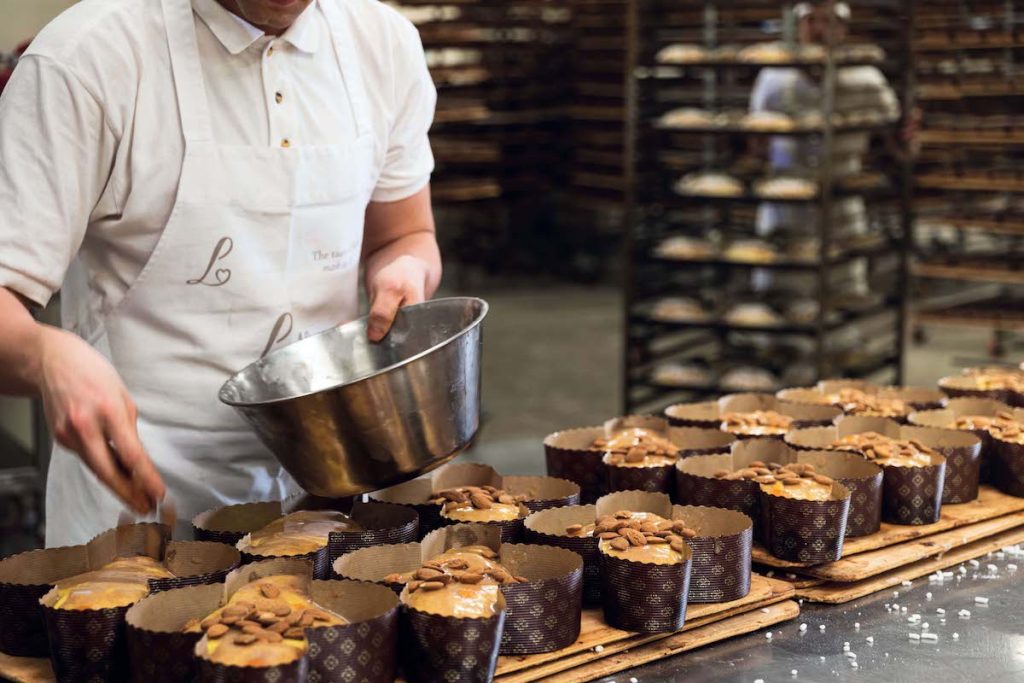 @Loison – production process of "Colomba"
The holidays are not over! Let's start with Pasquetta
Pasquetta (Little Easter) is celebrated the Monday after Easter. Usually people spend time with friends and following the real Italian tradition, we picnic with friends and family and games. This is our way to welcome Spring.