Home Has Been The 'Protagonist' of De Sica's Private Life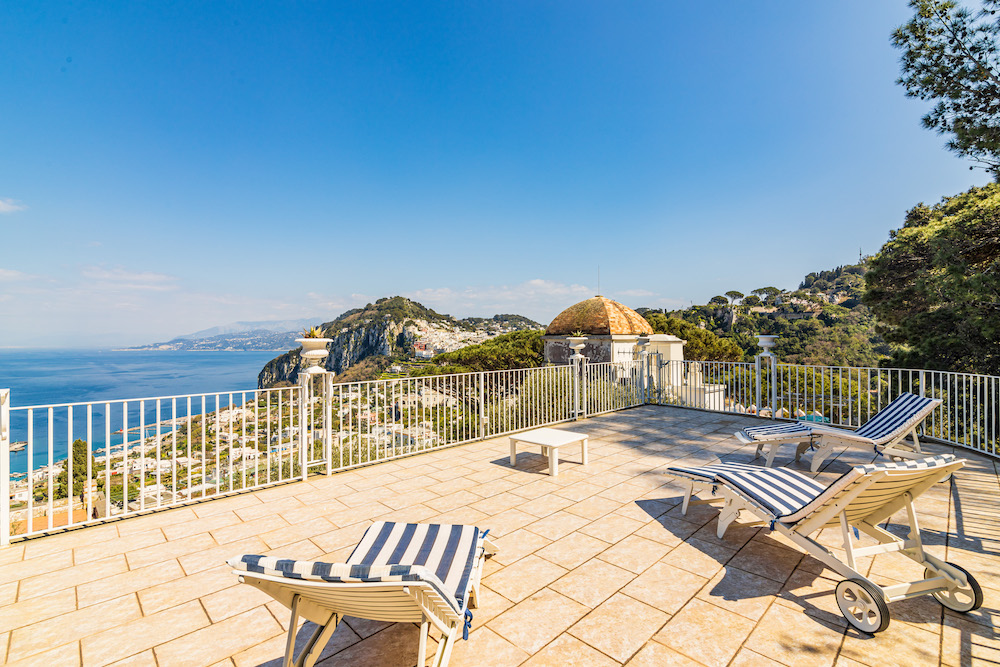 If in the market for luxury living with stunning sea views interrupted only by Mount Vesuvius, you may want to put this Capri villa at the top of your wish list! Christian De Sica, son of famous director Vittorio De Sica, has also had successful career in film. Over many years, the property has welcomed famous artists who have found refuge in the beautiful gardens and creative clarity taking in daily doses of Gulf of Naples (Golfo di Napoli) air and scents of lemon trees and flowers.
Here is what he says about his home:
"The first time I saw Capri was when I was nine", says Christian De Sica, "I went there with my mother to visit my father Vittorio De Sica on the set for the film The Bay of Naples in which he starred with Sophia Loren and Clark Gable." Since then, the island of Capri has been the protagonist for much of the private life of the famous actor, comedian and showman Christian De Sica and his wife Silvia Verdone where, since 1996, they have owned the splendid villa which is now for sale exclusively with Lionard Luxury Real Estate.
History
The villa is part of the historic residence "The Four Winds", one of those that contributed to the myth of Capri, designed and built by the American symbolist painter and poet Elihu Vedder, between 1900 and 1903, on the slopes of Mount Solaro. The villa of the De Sica family, in Capri style, was built in what was once the artist studio of Vedder. A destiny that will continue with the subsequent owners: sold to Earl Brewster, the villa "The Four Winds" was a long-stay residence for the writer D. H. Lawrence who worked here on the drafting of his famous book: "Lady Chatterley's Lover". The entire property changed hands again at the end of the 1930s, and continued to be frequented by many artists, including Joseph Beuys (who has dedicated one of his famous works to Capri) and Cy Twombly.
Unique View of Capri
The villa enjoys a unique view of Capri and, at the same time, the Bay of Naples and the Gulf of Salerno. Surrounded by a splendid garden with citrus and olive trees, which guarantees total privacy thanks to its strategic position, it is easily reachable from the port and, in just ten minutes on foot, from the famous Piazzetta di Capri. Completely renovated, using quality materials and attention to detail, the villa is spread over a total of 250 square metres of interior, harmoniously divided over two floors. Access to the large panoramic living room is from one of two terraces overlooking the sea, extraordinarily bright thanks to the high vaulted ceilings and large windows that open onto the green garden and the sea, completed by a kitchen and a bathroom. Part of the living area can also be used as a bedroom and, thanks to retractable blinds, becomes a completely independent room with bathroom and comfortable closets. On either side of the living area, the two large terraces are perfectly equipped to be comfortably lived in at any time of the day.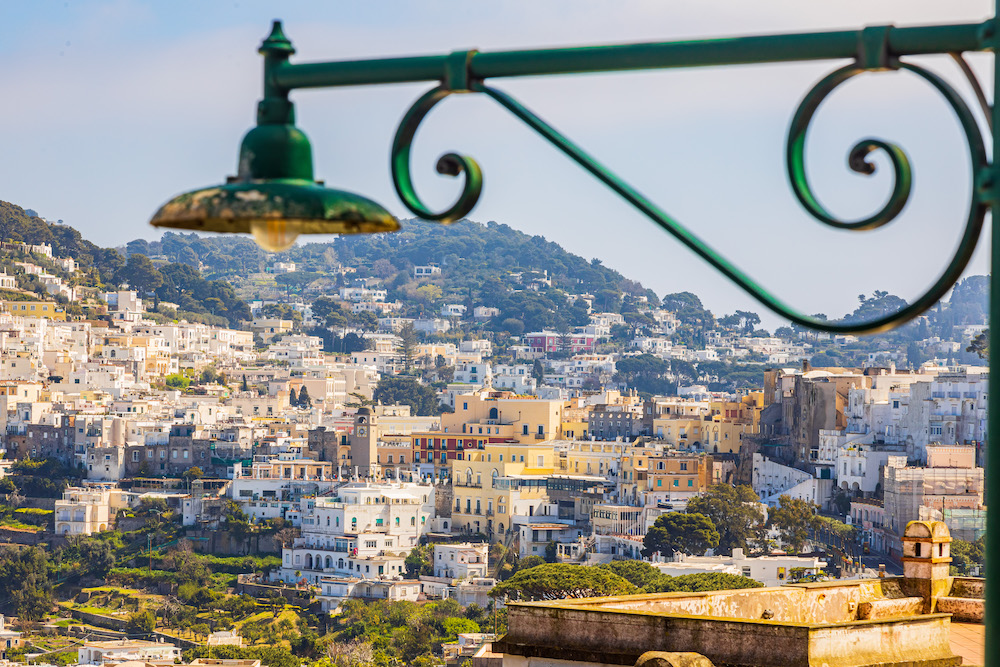 Timeless Design With Natural Light Filling the Rooms
Above, on the roof, another magnificent terrace. The sleeping area, connected internally by a comfortable staircase and externally accessible from the garden, includes two double bedrooms, each with an en suite bathroom. Near, but independent from the villa, there is the outbuilding used as a spa area, with magnificent mosaics and bathroom, easily convertible into a space for guests. On the roof, another panoramic terrace. This villa is the ideal solution for those who would like to own a charming property in one of the most exclusive spots in the world.
It is a particularly favourable time for the luxury real estate market in Italy. Villas by the sea are confirmed as one of the most requested and coveted assets, especially in exclusive locations such as Capri.

Dimitri Corti, CEO of Lionard Luxury Real Estate
Watch a Tour
Contact Information
Lionard Luxury Real Estatea
Florence, Via de' Tornabuoni, 1
Milan, Via Borgonuovo, 20
Rome, Piazza di San Lorenzo in Lucina, 26
Tel. +39 055 0548100
email: [email protected]
https://www.lionard.com/
---
COMUNICATO STAMPA
In vendita a Capri la villa di Christian De Sica
È l'ideale per chi desidera possedere un immobile di charme in uno dei luoghi più esclusivi al mondo
Qui soggiornarono grandi artisti come lo scrittore D.H. Lawrence che lavorò al suo celebre libro "L'amante di Lady Chatterley"
"La prima volta che vidi Capri fu quando avevo nove anni – racconta Christian De Sica – vi andai con mia madre per trovare mio padre Vittorio De Sica sul set del film La baia di Napoli in cui recitava con Sophia Loren e Clark Gable". Da allora l'Isola di Capri è stata la protagonista di gran parte della vita privata del celebre attore, comico, showman, Christian De Sica e della moglie Silvia Verdone dove, dal 1996, possiedono la splendida villa oggi in vendita in esclusiva con la Lionard Luxury Real Estate.
La villa è parte della dimora storica "I Quattro Venti", una di quelle che hanno contribuito al mito di Capri, progettata e fatta costruire dal pittore e poeta simbolista statunitense Elihu Vedder, tra il 1900 e il 1903, alle pendici del monte Solaro. La villa della famiglia De Sica, in stile caprese, è stata realizzata in quello che fu lo studio d'artista di Vedder. Un destino che proseguirà anche con i successivi proprietari: venduta al conte Earl Brewster, la villa "I Quattro Venti" fu luogo di lungo soggiorno per lo scrittore D.H. Lawrence che qui lavorerà alla stesura del suo celeberrimo libro: "L'amante di Lady Chatterley". L'intera proprietà passerà di nuovo di mano alla fine degli Anni Trenta, e continuerà a essere frequentata da tanti artisti, tra cui Joseph Beuys (che a Capri ha dedicato una sua celebre opera) e Cy Twombly.
La villa gode di una vista unica su Capri e contemporaneamente sulla Baia di Napoli e sul Golfo di Salerno. Circondata da uno splendido giardino con alberi di agrumi e olivi, che ne garantisce la totale privacy, grazie alla posizione strategica è raggiungibile facilmente dal porto e, in soli dieci minuti a piedi, dalla famosa Piazzetta di Capri. Completamente ristrutturata, utilizzando materiali di pregio e cura nei dettagli, la villa si sviluppa complessivamente su 250 mq di interni, suddivisi armoniosamente su due piani. L'accesso al grande living panoramico avviene da uno dei due terrazzi con vista mare, straordinariamente luminoso grazie agli alti soffitti a volta e alle ampie vetrate che si aprono sul verde del giardino e verso il mare, si completa di una cucina e un bagno di servizio. Parte dell'area living può essere utilizzata anche come camera da letto e, grazie a sistemi oscuranti a scomparsa, diventa una stanza completamente indipendente con bagno e comodi armadi. Ai lati della zona giorno, le due grandi terrazze sono perfettamente attrezzate per essere comodamente vissute in ogni momento della giornata.
Al di sopra, sul tetto, un'altra magnifica terrazza. La zona notte, collegata internamente da una comoda scala ed esternamente accessibile dal giardino, comprende due camere matrimoniali, ciascuna con bagno en suite. Vicino, ma indipendente dalla villa, si trova la dépendance utilizzata come zona SPA, con magnifici mosaici e bagno, facilmente trasformabile in spazio per gli ospiti. Sul tetto un'altra magnifica terrazza panoramica. Questa villa è la soluzione ideale per chi desidera possedere un immobile di charme in uno dei luoghi più esclusivi al mondo.
"È un momento particolarmente favorevole per il mercato degli immobili di pregio in Italia – afferma Dimitri Corti, amministratore delegato della Lionard Luxury Real Estate – le ville al mare si confermano un asset tra i più richiesti e ambiti, soprattutto in location esclusive come Capri".
---
You may also enjoy reading:
7 Places to Find Luxury in Sicily
Find a Luxury Home in Venice