If you're reading Live in Italy Magazine or following us on social media, you are probably following Davide of Italian with Davide too. Do you take his quizzes or practices his 'learn Italian' tips each day? I am. At just 27 years old, Davide is the most popular Italian teacher found online. He's developed a thorough course that will help you learn Italian. Stick with it and the course will prepare you for daily life in Italy as well as passing the language section of the Italian citizenship test — if that's your goal. However, most importantly Davide has single-handedly built a community of people who love everything about Italy, the language, and culture.
Read (and watch the video) until the end because Davide says that his goal is to "build a bridge". And, although he's almost sure how he will build the bridge, we're almost sure after talking to him, that one has already been built! Enjoy this month's "Chat with an Expat". Yes, we know he's not an 'expat', but he has been influential in helping people who wish to travel, move to, or visit Italy.
(1:42) Where were you born and raised?
My name is Davide and I'm 27 years old. I was born and raised in Italy in a city close to Lake Como. I'm an Italian teacher and have been teaching for quite a long time. I started my journey in high school where I was basically helping some foreigners who had recently moved to Italy learn Italian. It was mostly online rather than in person.
Quite recently I started all of my social media platforms. I produce very short video clips that I put mostly on Instagram and TikTok that help people grasp the most important words and concepts of the Italian language.
(3:18) Where do you recommend that visitors go in your region?
For me, Como is the most beautiful place in the world. It has everything. It is a beautiful lake surrounded by mountains. Because it's not in the Alps, it's not cold. If you come to Lake Como in the spring or summer, it's a fantastic place to be.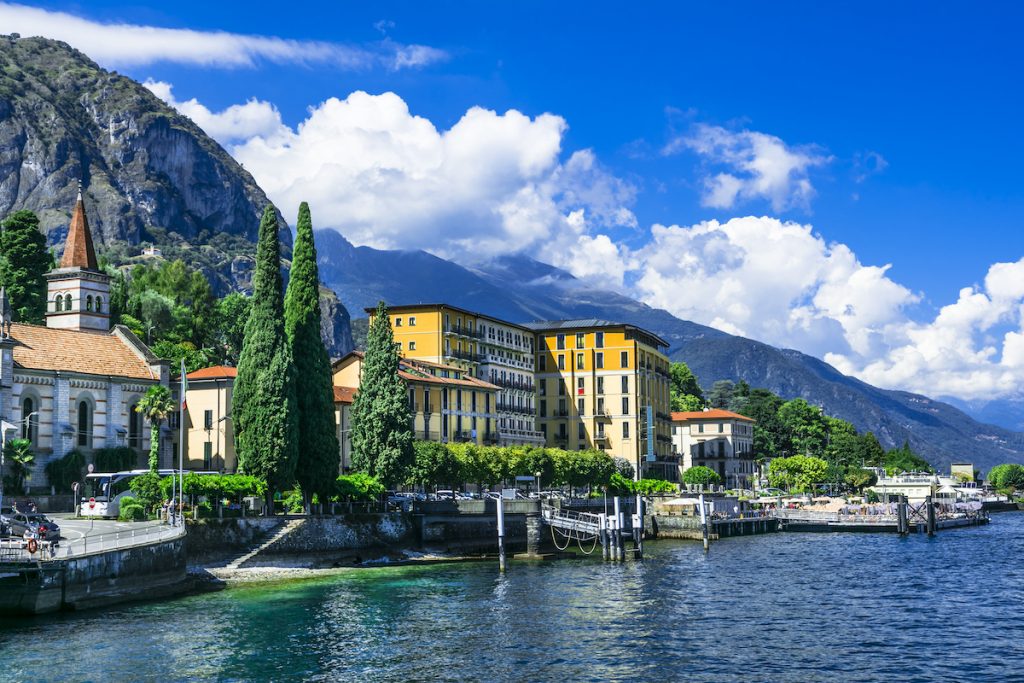 If you don't want to be in Como, there's a lot of places to visit in the surrounding areas. Vineyards, for example, are not that traditional to do, but it's something that I recommend. There are so many vineyards and areas dedicated to cultivating wine. You can see the full process from harvesting the grapes to the pressing and putting them in barrels.
Otherwise, if you like big cities you must go to the classics: Milan, Venice, Rome. You can't go wrong.
(5:25) When you were in school, was it your plan to teach English?
No. It just developed. I enjoyed languages since an early age. I also speak Spanish and some Swedish. I've always found it fascinating especially because of the ability to connect when I travel. I feel that sense of belonging and connection that I would not have if I didn't speak those languages.
I never thought that I would become a full-time Italian teacher. It just grew on me in time. By doing a lot of lessons and being on social media, I realized how much I liked it. I enjoy helping people connect to their roots or adjust to their life in Italy.
(6:54) What did you think your career might have been had you not found teaching?
I had a lot of passions when I was younger. I was very much into sports. As for many young Italian males, you dream of a career in football. That was my dream for a long time – to be the best footballer in Italy. I didn't make it unfortunately.
(7:45) How did you learn English?
I got to practice over time. We learn English in Italian schools, but what really made me learn the language was my travels. For example, I lived in Boston for three months and also in the UK. So, while I was there it was easy for me to practice the language.
My students are almost always English speakers. I need to communicate with them in English, so I practice every day.
(8:42) How did the idea of Italian with Davide come about?
First, I was teaching in person and then I switched to online. Then I moved onto social media. I realized that the first way to help my students was to make a course of compact and condensed videos so that they can study from wherever they are, whenever they want, and according to their own pace.
That provided the flexibility and freedom that people in this age need.
Everybody's busy and learning Italian is never a top priority. You open up your phone or laptop and watch the video and then can practice with the community of other people who have bought this course.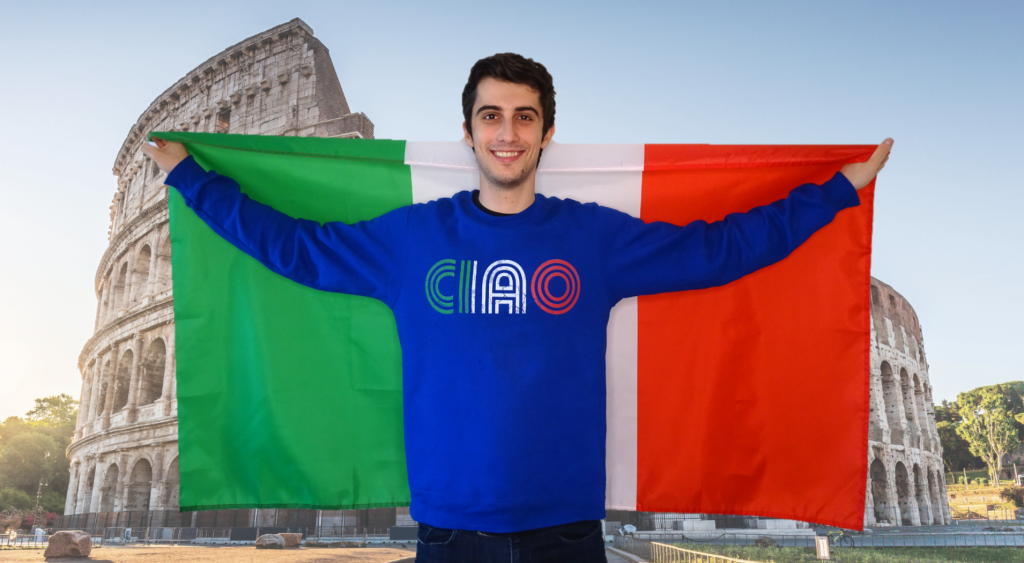 This community aspect that I developed for this course if super important. You can chat with other students. The course is the foundation, but then it's up to you to apply what you've learned as much as you can.
(10:53) How does the chat room work?
We have an Italian conversation room. There's a Zoom link that is open all of the time for the students enrolled in the courses. Then the students organize with each other times to meet. Of course, then some have become friends. Then you have friends to talk with!
Sometimes I'll join the calls.
(12:00) How long ago did you start?
It was two years ago during Covid. I feel that during the pandemic people really learned. No even an older audience is more comfortable with the online experience because they are more familiar with the tech tools.
Learning through social media was a thing that really helped people to have fun and be active during the pandemic.
(13:23) Are you doing any in-person classes?
No. Only on special occasions if a student really needs my help. My courses are drafted well enough to make a student succeed. We don't need to do one-to-one lessons. The only advantage is the speaking opportunity, but that is provided within the course). It's not needed.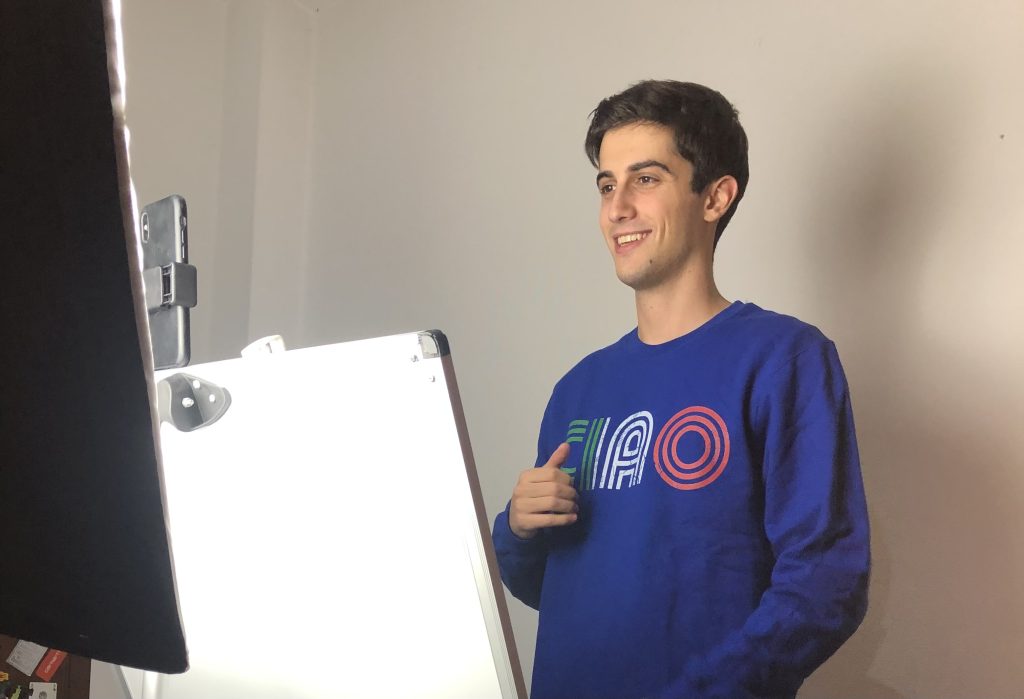 (14:45) Do you organize all of this yourself?
Now I have a person who helps me. However, it's mostly me and it's fun. I enjoy it and using social media to keep people in the loop. They need to rewire their brain to the Italian language at least 5 minutes per day, think, and get the concept.
(15:40) Is TikTok a lot more popular now?
Yes. To be honest, I still prefer Instagram. I find it easier to build up a connection. I also think that Instagram has an audience that fits better with Italian learners because TikTok users are predominantly young people. My students are a little bit older like from 30 to 35 and older. They mostly come from the US, Canada, Australia, the UK, and South Africa.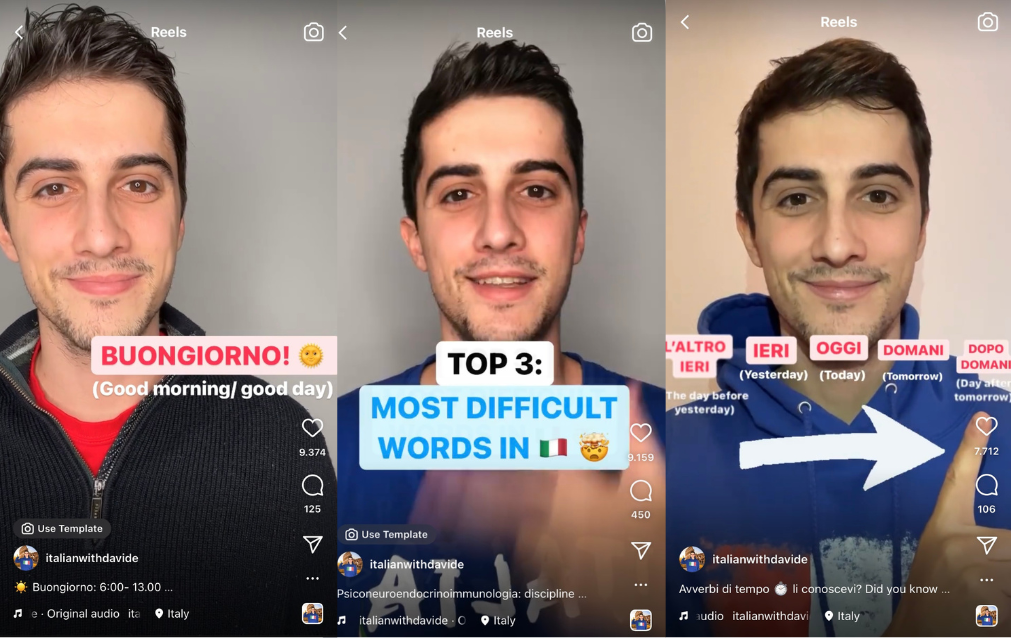 (16:50) What kind of courses do you offer?
The main thing to understand is that it's a "self-paced course". It's a compilation of videos and exercises that you can do whenever you want and wherever you are. There is beginner, intermediate, and advanced. According to the level that you are there are multiple lessons which you always learn at your own pace.
Beginners start at level 0, so the first lesson is the alphabet and then you are prompted to some exercises. There are a mix of topics mostly grammar, pronunciation, vocabulary, expressions and idioms, and also Italian culture. I share that because most of my students want to come to Italy and connect with Italians. So, you need to understand our culture as well to do that.
Language is a tool to (for example) find a job, talk to family, relocate to or retire in Italy.
(19:06) Do you help students achieve what is required by the Italian government to obtain the language portion of the citizenship requirement.
Most of my students are in that situation. They are for example, serious about moving to Italy and bought a house. To get citizenship you need to pass an Italian test. Otherwise, the government doesn't want to give you citizenship. I have had many students who have taken the course and have successfully passed the citizenship language test.
(20:12) What is the most common thing that people are uncomfortable with when learning Italian?
The most uncomfortable thing by far is taking the courage to speak. Not just for Italian, but for any language. You need to have the mindset that nobody is going to care or judge me. Just speak because you are doing it for yourself and not to please other people. That is the biggest mind switch that my students need to do. Italians are not going to judge you. They are encouraging. We don't care if you pronounce all of the words incorrectly. Just by trying you are seen in a super good light.
Just do it!
(22:00) Tell us about the masterclass.
My courses are called 'masterclasses' and they are different levels: beginner, intermediate, and advanced. Beginners are for people who nothing (maybe just Ciao.) Then the intermediate level is for people who have been learning for quite a while. Advanced is for people who need to become fluent. They need that last piece of the puzzle to reach that fluency level.
(23:22) Do you offer anything specific to help students prepare for the citizenship test?
The courses are designed to prepare you for the test. If you do beginner and intermediate, you can pass the test. If you accomplish the intermediate test, you are B2. I cannot tell you that 100% you will pass the test, but you will have all of the foundational knowledge.
(24:35) What do you think expats are looking for when moving to Italy?
It's the lifestyle or for love. Love can be their life partner or to reconnect with family and ancestral roots. Italy especially in the smaller cities, is still slow-paced. It's about enjoying life.
I would say that there are many things that are better than other countries like food. Not just because it tastes good, but because it's good for your body. It's more organic and fresher. Everything is more convenient and smaller. It's easier to get around.
To live in Italy is beautiful especially if you have a job. The only difficult part is the money part. If you have the money and language parts, then it's fantastic! It's the best place I would say.
(27:45) Were you abroad long enough to understand the difference in lifestyle more?
It's different. I have to say that there are still Italians (especially in the big cities) that have hectic lives. Milan for example is a pool of professionals. However, the small cities are still super slow.
Americans and the British tend to be more career oriented and careful about their professional moves on the corporate ladder. However, Italians care more about their overall happiness and stability. Italians want to preserve their well-being even if it means working a little less. Of course, there's pros and cons!
There's still always a one-hour lunch break and coffee time. Pressure is not well seen and we tend to avoid it.
Life is just once.
If this is your goal in life come to Italy!
(32:40) Where do you see yourself ten years from now?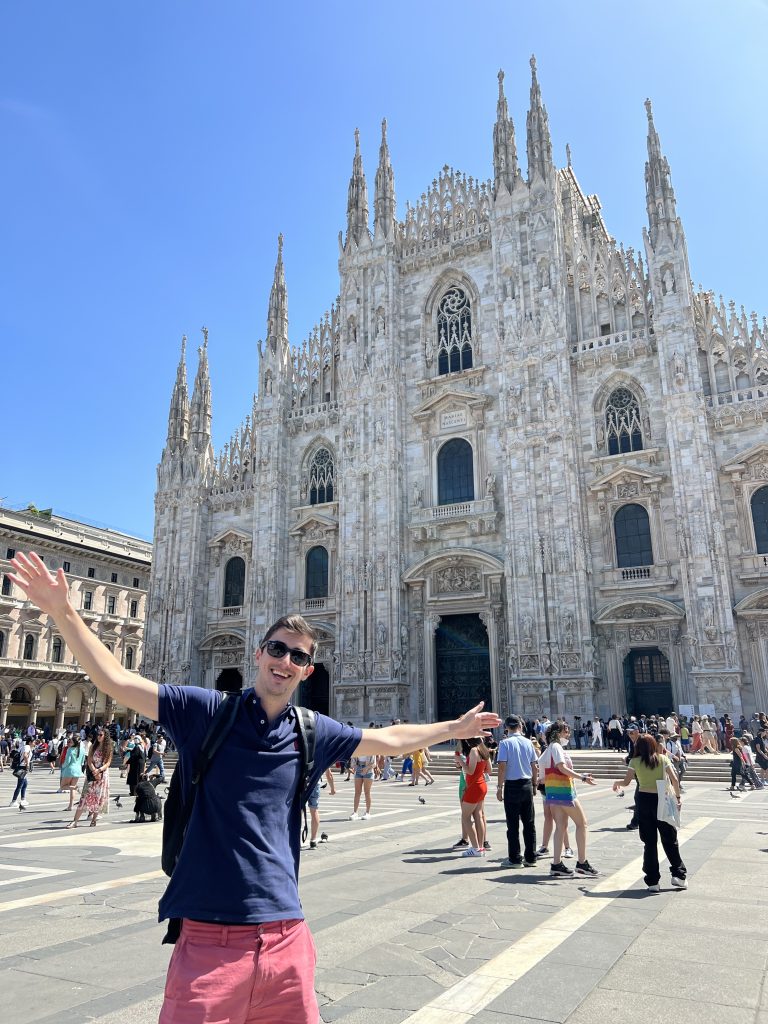 Good question! What I do now I really enjoy. I hope to still share my love of Italy and the language through social media. Through those platforms, I can spread the messages. Personally, I want to travel more and visit my students in the US – especially the east coast. I would like to build a bridge between Italians and Italian Americans, Italian Canadians etc. The main reason my students want to learn Italian is for that sense of belonging. They feel Italian although not raised in Italy. They don't speak Italian, but maybe their parents do. Through the language, I can help them connect to their roots.
You are never going to feel welcome in Italy if you don't speak the language. You will feel like a foreigner regardless of if your parents or ancestors are Italian.
I want to be the bridge so they feel that they belong.
FOLLOW: @ItalianWithDavide on Instagram, Facebook, TikTok, and YouTube