A Caravaggio Pilgrimage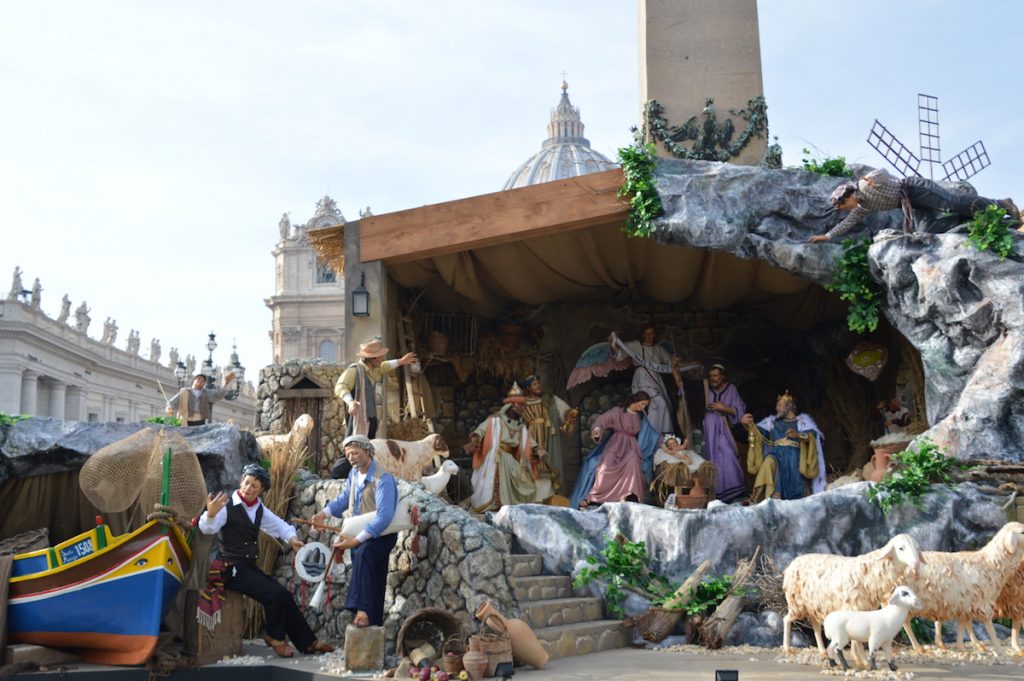 Some people travel to Rome to see the Colosseum; take a photo on the Spanish Steps; toss a coin in the Trevi Fountain; visit the Vatican to catch a Pope's blessing in the wind; or eat Bonci's famous pizza. While I did go for all of those reasons and more, I really went because of a long, unrequited romance with Italy's infamous bad boy. Now that I have your attention, know that I went to Rome for what I call, A Caravaggio Pilgrimage.
Leggi questo articolo in italiano.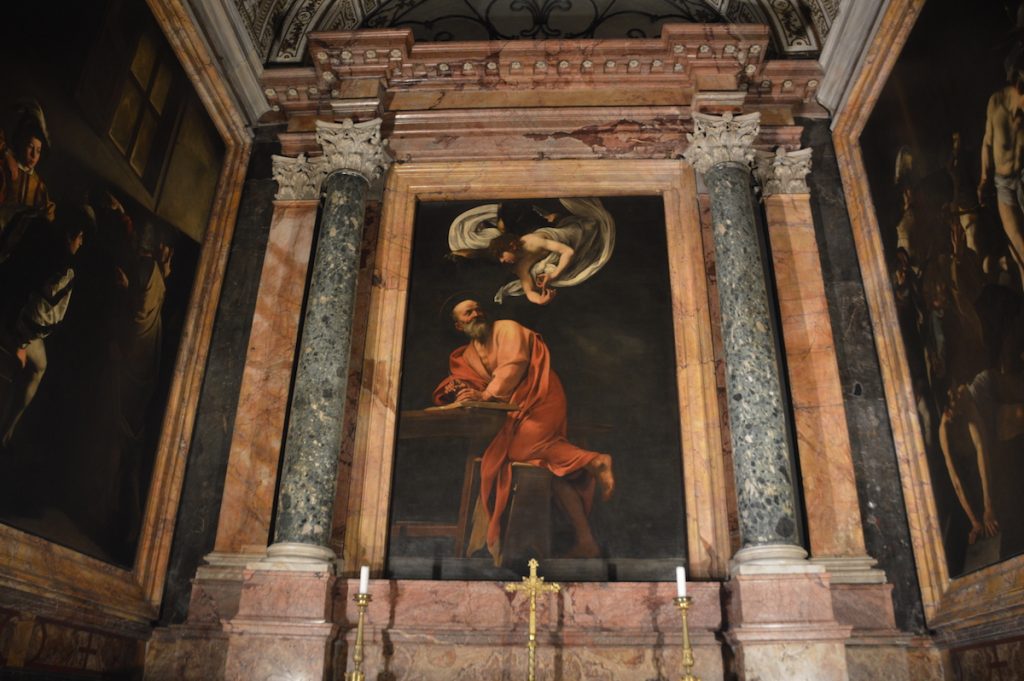 Yes, there is something wildly attractive about a guy who turns his back on society's norms and flirts with the law. However, I am in love with Caravaggio's art – Master of chiaroscuro and a prophetic filmmaker or photographer long before those art media existed.
Mannerism, Realism, or His Own 'ism?
I appreciate the Renaissance masters, but when in a museum, you'll find me lingering in the wings that hold gothic and mannerist art. Michelangelo Merisi da Caravaggio's art falls in the period closer to mannerism and Baroque. However, to me, he deserves his own 'ism.'
Speaking of 'ism's,' his realism calls to mind Italian neorealism filmmakers like Pier Paolo Pasolini or Vittorio De Sica. (I am a cinema studies graduate.) Realism in Caravaggio's time was an instrument of the Catholic Church during the Counter-Reformation. What stories would Caravaggio's street actors tell had he been born in the 20th century?
My Caravaggio Pilgrimage meant seeing his paintings in their original home. Here's Where to See Caravaggio Paintings in Rome.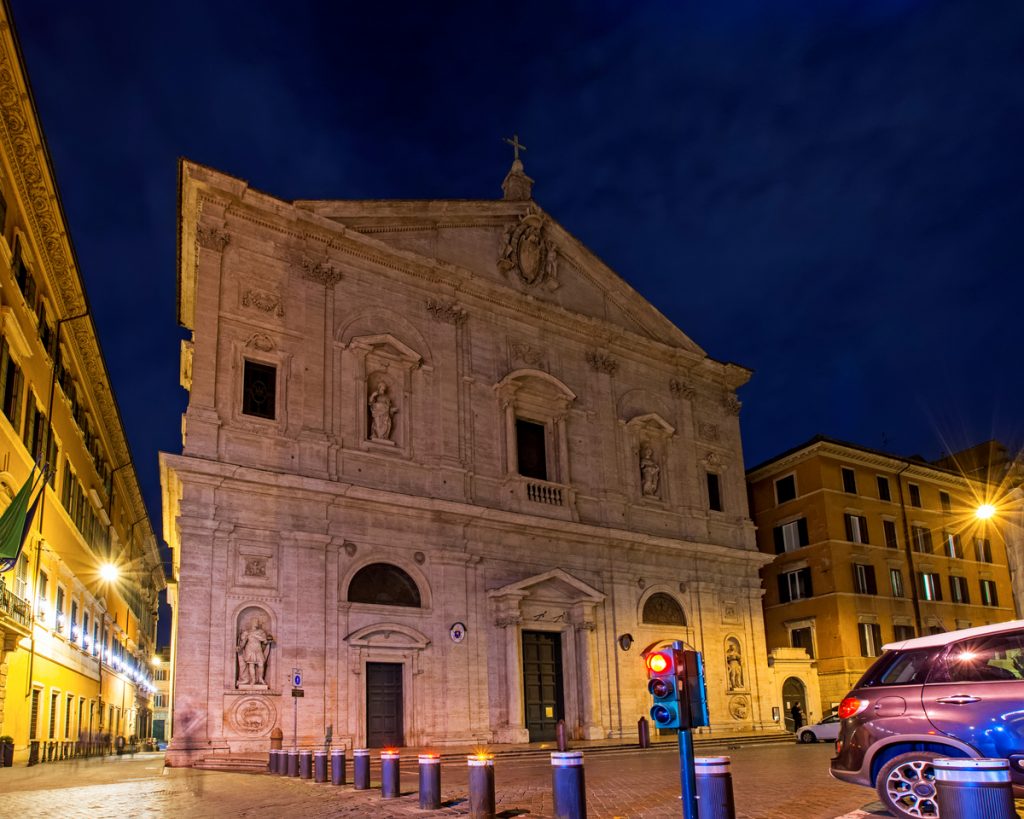 Only hours off a plane due to a missed connection in Paris, I managed to clean up in time for Christmas Eve Mass at S. Luigi dei Francesi. The service was in French which came as a bit of a relief since as a Canadian, I learned French in school and know very little Italian or Latin. December 24th by the way, is my birthday so having Caravaggio paintings by my side was the gift of a lifetime.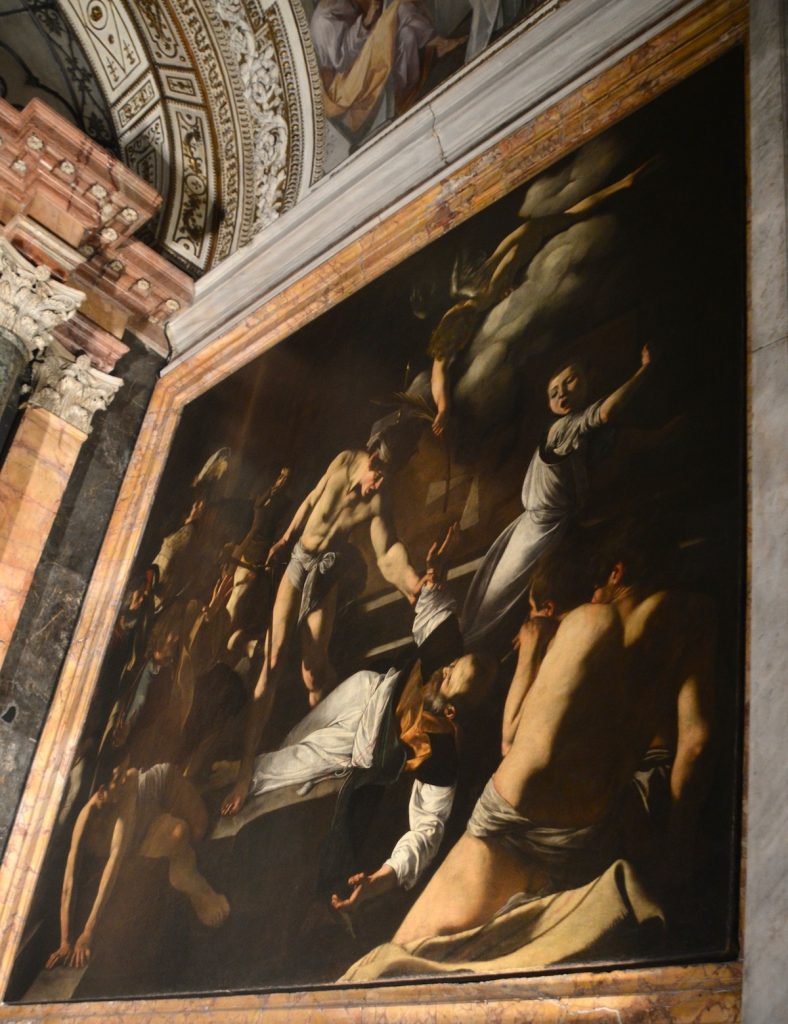 At Church of S. Luigi dei Francesi you will find:
The Calling of St. Matthew (1599-1600)
The Martyrdom of St. Matthew (1600-1601)
St. Matthew and the Angel (1602)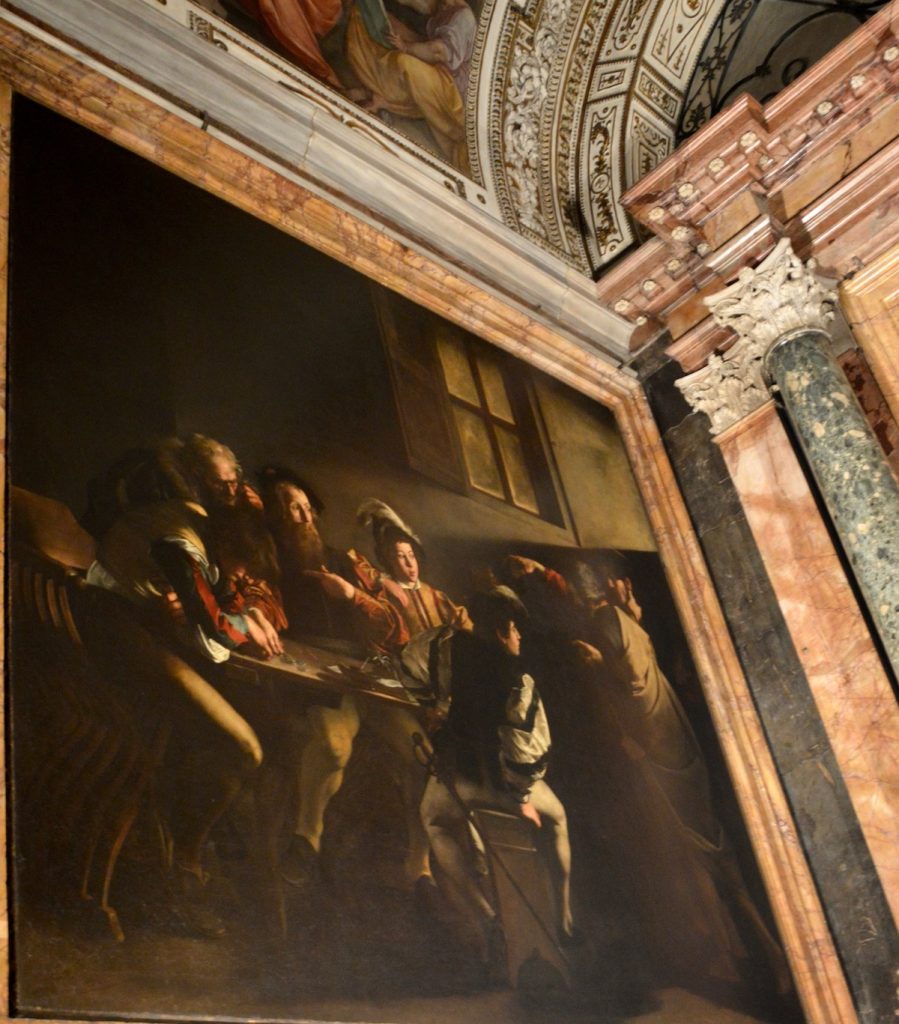 Note: I have since found out that Caravaggio had lived across the street from this Church. See my reference at the end of this article.
---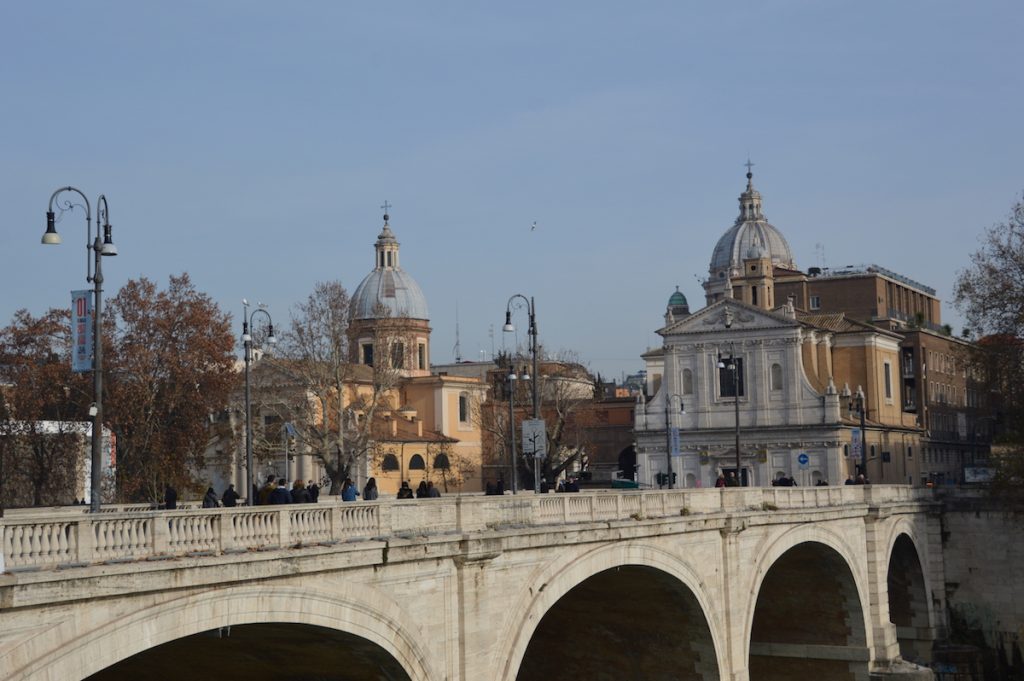 Is there anyone besides me who intentionally books the rental apartment steps from Caravaggio paintings? Well, I did and to be exact, the Prati district is a five minute walk from Piazza del Popolo. It was the Conversion of St. Paul that led me to Rome. However, this church is closed on Christmas Eve.
Crucifixion of St. Peter (1600-1601)
Conversion of St. Paul (1600-1601)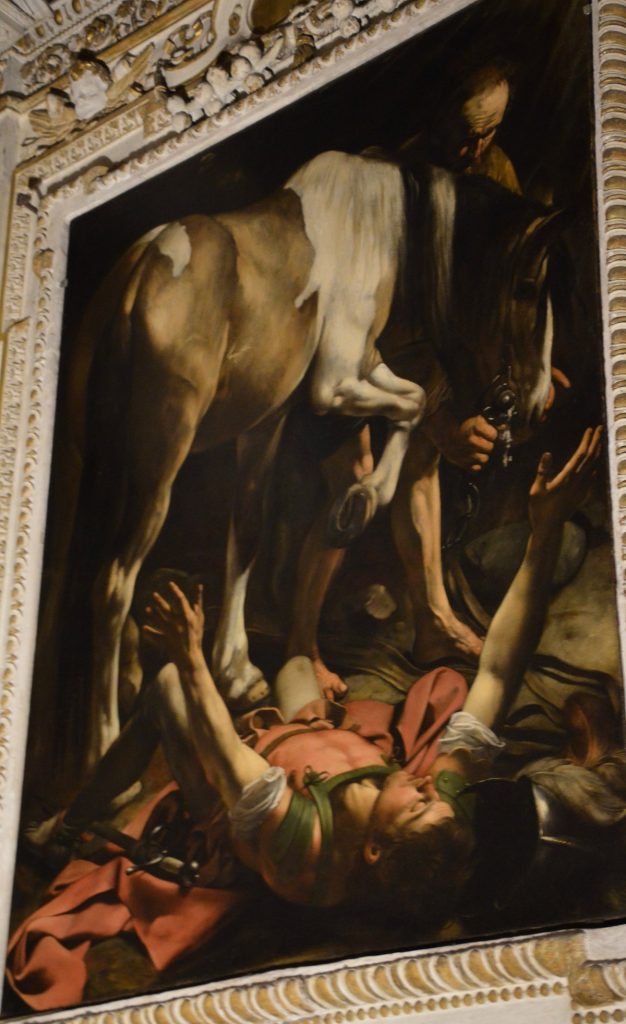 ---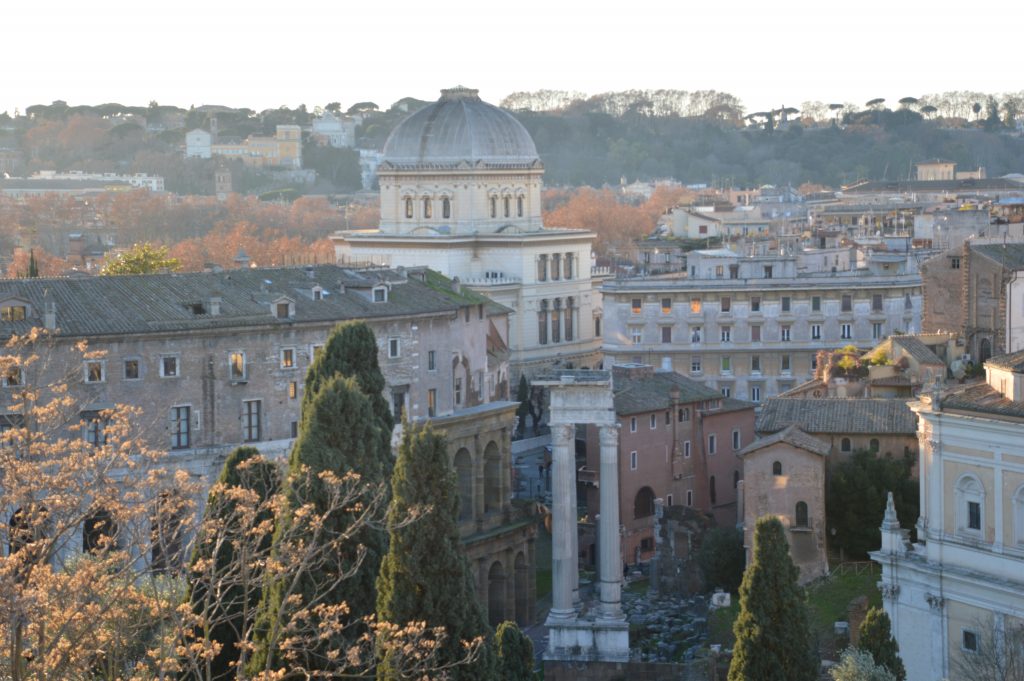 The Capitoline Museum is a must-see. Plan your visit to allow enough time to go through the whole museum and then end on the rooftop to catch sunset. There's a large terrace with a bar and a stunning view overlooking Rome and the Capitoline.
John the Baptist – Youth with Ram (1602, commissioned by Ciriaco Mattei)
The Fortune Teller (1593-1595.) This first version was purchased by Marchese Vincente Giustiniani from Caravaggio who desperately sold it for eight scudi (dollars.) A second version was commissioned by Cardinal Francesco Maria del Monte and can be found in the Louvre.
Note: These paintings mentioned are not in their original home, but were made while Caravaggio lived in Rome.
---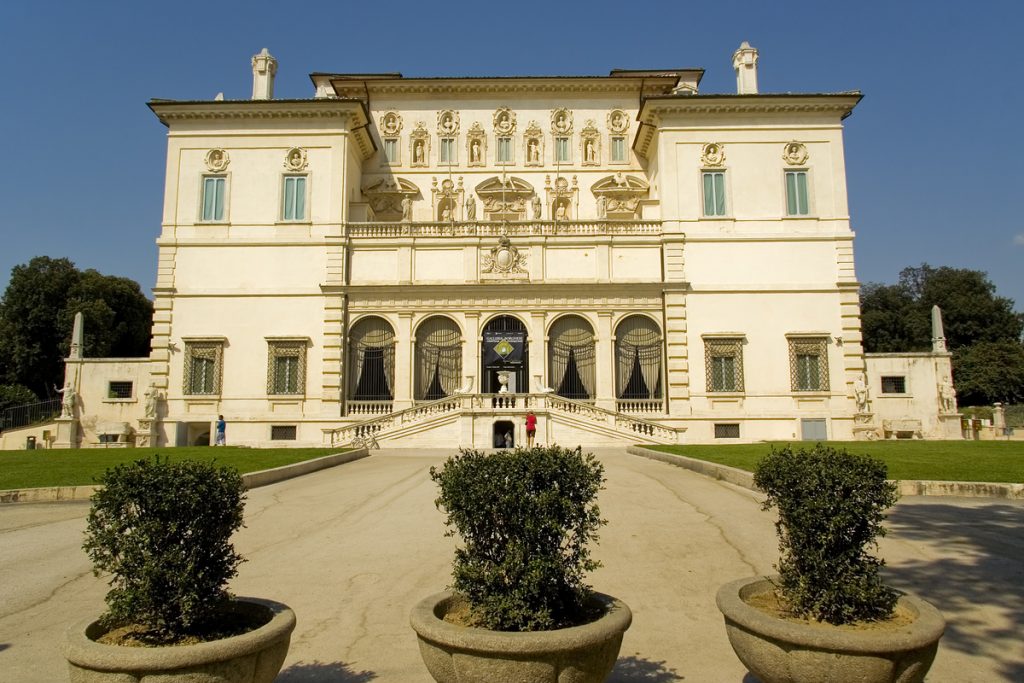 Here you will find Rome's largest collection of Caravaggio paintings.
Self-portrait as Bacchus – Young Sick Bacchus (1593-1594)
Boy with Basket of Fruit (1593-1594)
St. Jerome Writing (c. 1605)
Madonna and Child with St. Anne (1605)
Portrait of Pope Paul V (1605-1606)
David with the Head of Goliath (1609-1610)
St. John the Baptist (c. 1610)
Note: Cardinal Scipione Borghese was a patron of Caravaggio. Caravaggio gave the Cardinal Borghese St. Jerome Writing after he helped Caravaggio settle an assault charge. It is written that Cardinal Borghese used his wealth and power to acquire the other Caravaggio paintings.
I wish I could return to Rome this Christmas to reignite this romance with Caravaggio's art. However, for now I'll continue the pursuit by reading Andrew Graham-Dixon's, "Caravaggio: A Life Sacred and Profane."
Caravaggio's Rome: I shall return.
---
Helidon Xhixha's "Luce, la Rinascita di Venezia"