History and Style That Began in Vicenza
As you know, I live in the province of Vicenza. A few kilometers from home, there was a ham factory that made history because it had produced wonderful prosciutto crudo for decades. The company's name was "King's".
King's was the heart of a small town in the Vicenza countryside. The company sent Mr. Natalino to San Daniele in the Friuli Venezia Giulia region. In San Daniele, he began his own business and realized his dream of starting his own ham factory.
Why am I telling you all this? I feel connected to the DOK Dall'Ava ham factory story because it all started a few kilometers from home. Many parents of my friends worked in this ham factory. I'm proud to write about this wonderful product — prosciutto crudo.
What are the fundamental characteristics of Prosciutto Crudo di San Daniele?
Remember, everything that is done today comes from the past following a long and family tradition. As you know, the base of everything in Italy is family!
Here are the main features of the Prosciutto Crudo di San Daniele:
Pigs are born, raised, and slaughtered exclusively in Italy and must follow a controlled diet
The salting takes place with sea salt and the leg of ham is left at a temperature between 0° and 4 °C.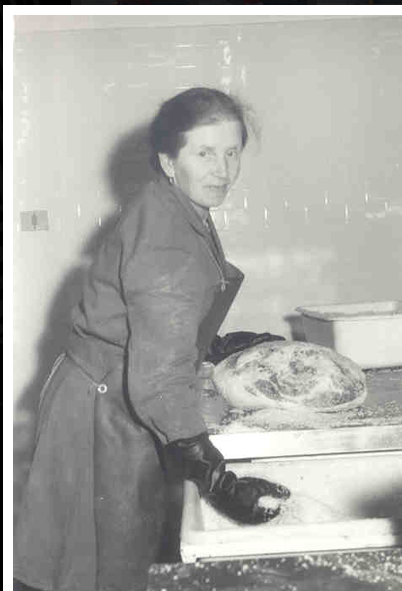 Salting — All images © Dall'Ava – San Daniele del Friuli
Guitar shape: this typical shape derives from the pressing that helps to penetrate the salt deeply and to give the right consistency to the meat.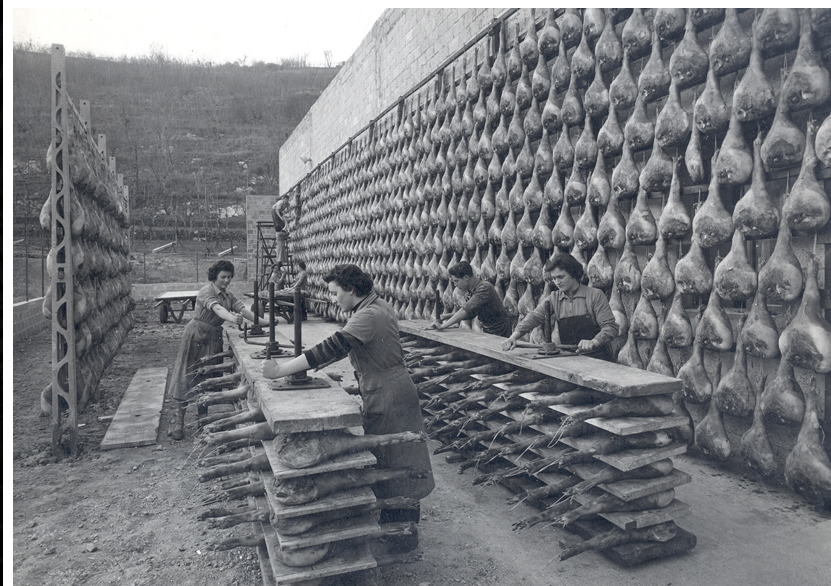 The Prosciutto Crudo di San Daniele must age for at least 13 months from the start of processing and the curing must take place in the municipal area of San Daniele del Friuli.
Pointing is a check done manually by highly specialized people using the so-called "horse bone" with the aim of checking the quality and progress of the seasoning. This occurs only through the olfactory ability of the operator.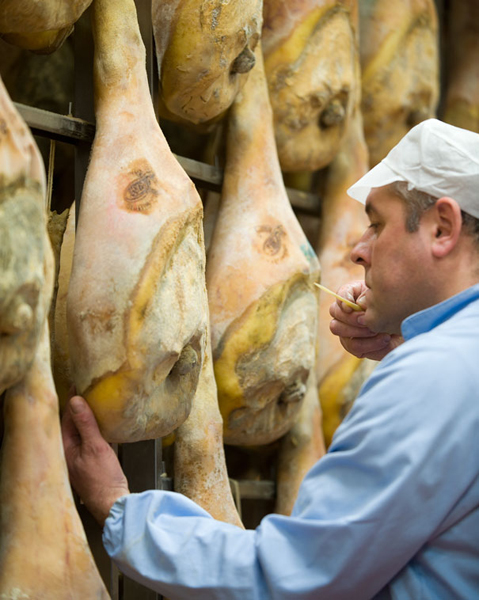 Marking only hams that comply with all these steps and that respect the qualities required by the consortium, can, after at least 13 months, be branded.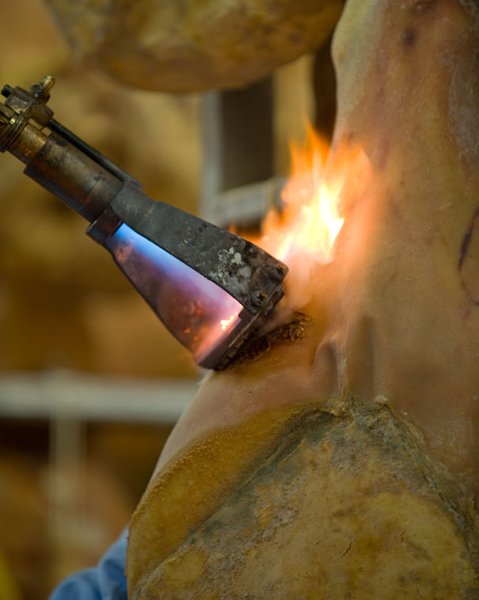 Why is prosciutto crudo made in San Daniele?
The answer is so simple, but at the same time so precious. In San Daniele there is a unique microclimate. The cold air descends from the mountains and meets the warm sea air. In the past, the various stages of curing a raw ham took place simply by following the rhythm of the seasons. The photo below dates back to the 1960s, when the hams were placed in the sun (facing south) for drying.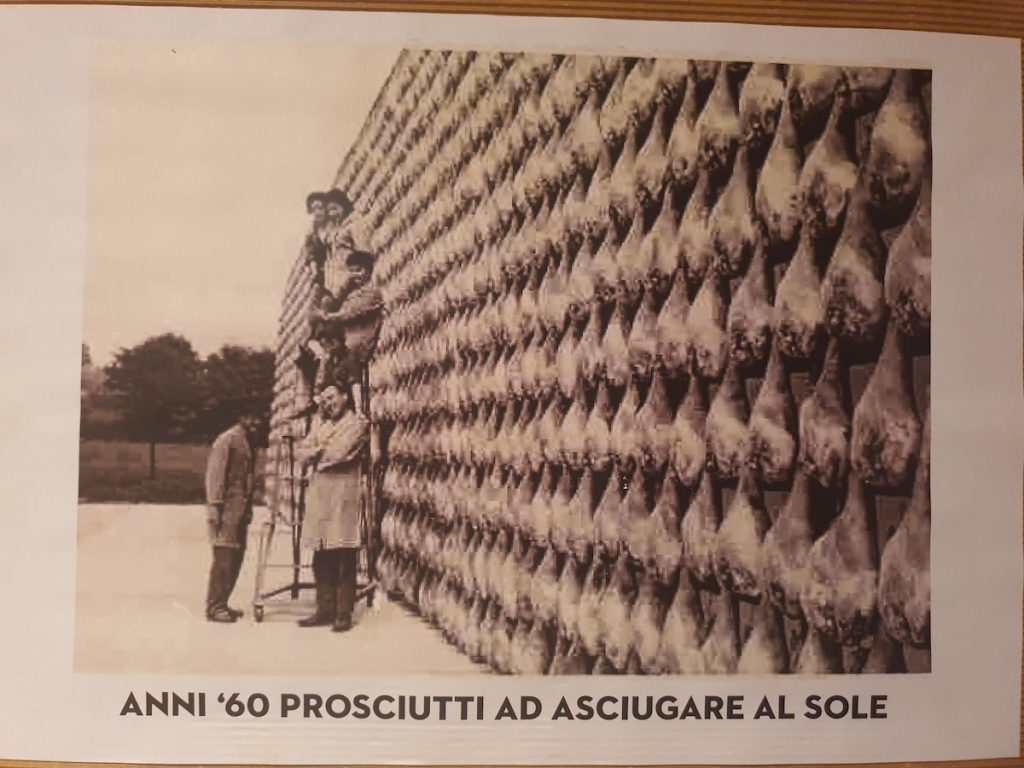 DOK Dall'Ava – San Daniele del Friuli
IMPORTANT TIP:
The true etiquette of prosciutto crudo obliges you to eat it with your hands: therefore cutlery is banned when you are in front of prosciutto crudo. Use your hands and enjoy the flavors.!
Vino e prosciutto crudo
Prosciutto crudo and bread with a glass of wine is one of my favorite dinners, both in summer and in winter!!
I was lucky enough to participate in a tasting of raw ham paired with wine and believe me, there is a world to be discovered.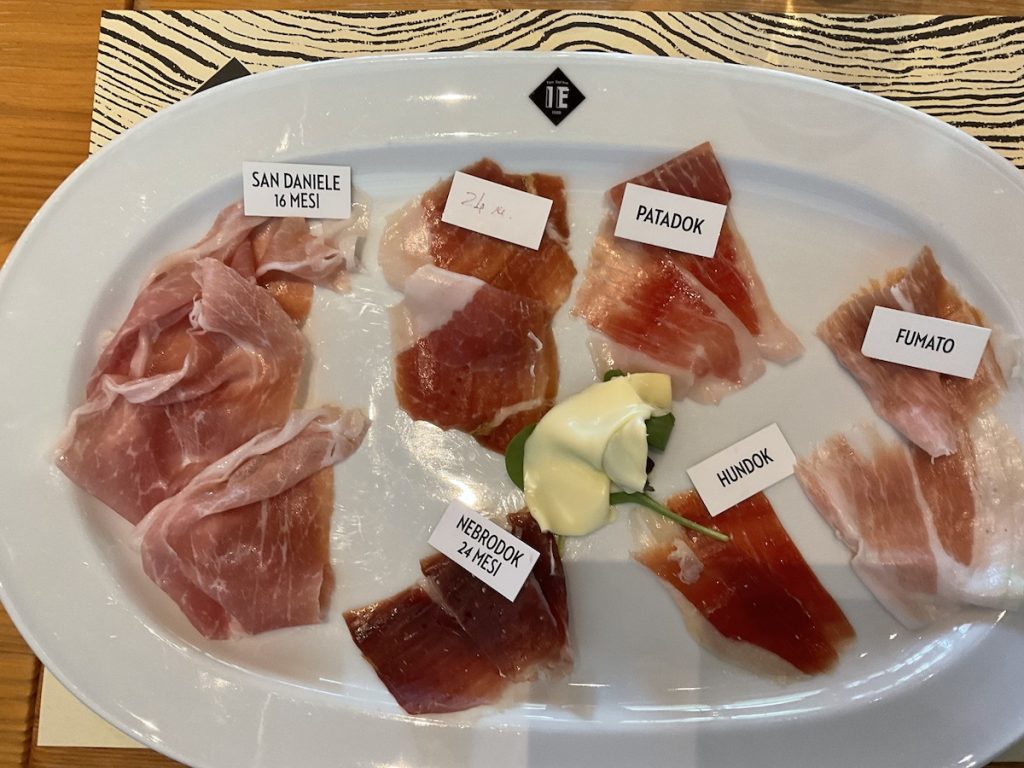 The types of prosciutto crudo tasted were:
Prosciutto Crudo San Daniele 16 months
The color is a rosy-red, with white veins of fat. The scent is delicate, the taste delicate. I consider a ham with this seasoning to be a "daily" product. To eat on any day, as an aperitif or as a simple dish. What surprises me is that it does not leave grease on the hands. The hands are clean and the fat dissolves in the mouth in an absolutely delicate way.
Prosciutto Crudo San Daniele 24 months
Hand-cut, characterized by a marked marbling. Soft and sweet. Very elegant notes of dried fruit, butter and a light toasting.
Patadok
Produced from the Iberian black pig
Prosciutto Crudo Fumato
Aged for 16 months with a light natural smoking of beech for 15 days. Excellent balance of sweet, savory, smoke and spices
Hundok
Produced from Mangalica pig, a rustic breed originally from Hungary and reared there. Aged 16 months, dark red and with a splendid marbling. It has a sweet scent, rich in toasted, forest, mushroom, truffle and peat notes. A riot of truly surprising aromas to be found in a ham; the palate is complex and slightly savory.
Nebrodok: produced from black Nebrodi pig (typical breed from Nebrodi, Sicily). Seasoned for 24 months. Intense, almost black color. Intense hints of acorns, thyme and oregano.
Wine Pairing
"FRIULANO" Friuli Grave Doc
This wine is probably the wine to pair par excellence with raw ham. The "Friulano" grape is a native white grape variety in the Friuli Venezia Giulia region. This wine is characterized by its herbaceous vein which brings out the sweetness of the prosciutto crudo.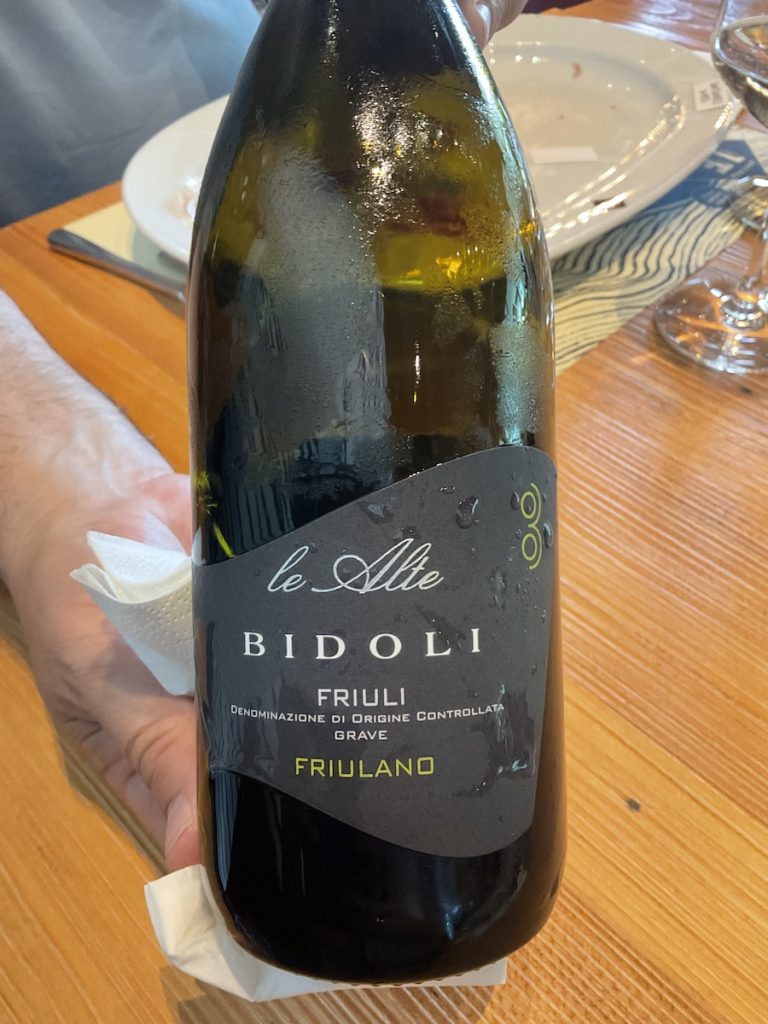 "RIBOLLA GIALLA" IGT Venezia Giulia
A native white grape variety from the Friuli Venezia Giulia region. Thanks to its acidity it allows to degrease the mouth and maintain an excellent balance between ham and wine. In the nose it immediately strikes the notes of yellow fruits, aromatic herbs and a light touch of mineral notes.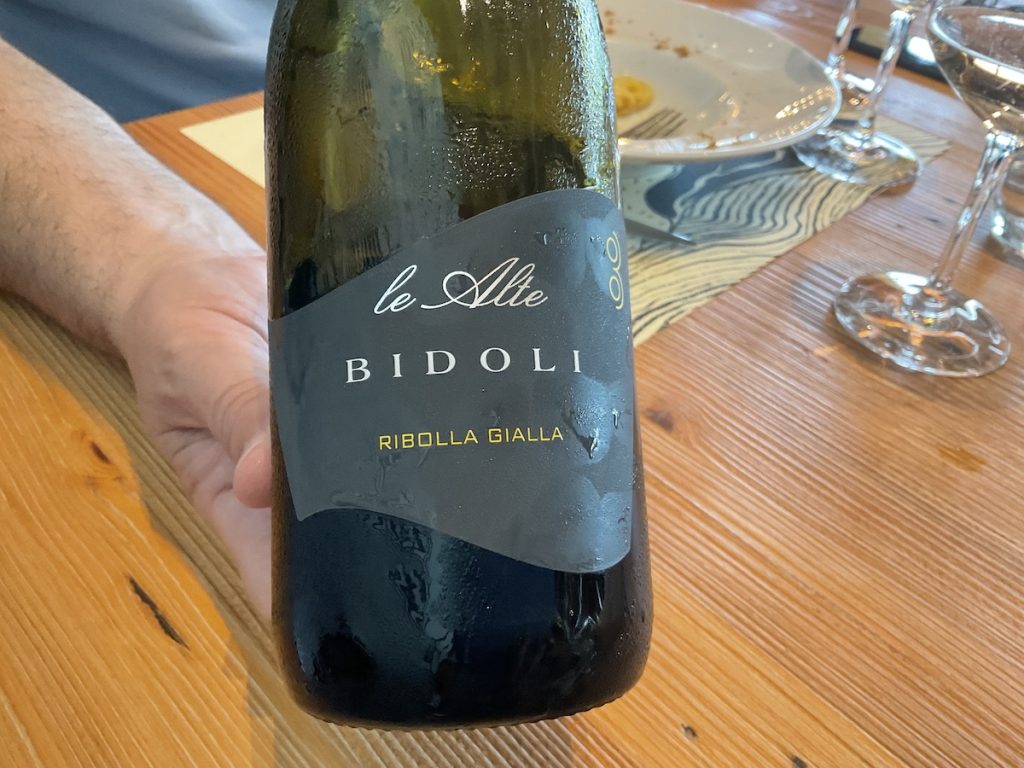 I personally love this wine. Unfortunately it is not yet well known but its potential is infinite. It is a wine that lends itself to many combinations: from fish, to simple aperitifs and white meats.
Ready to try these wines with some food?
I recommend a recipe to combine with the Friuli DOC Grave wine "Friulano", simple but tasty and you can choose one of the 2 versions.
TAGLIOLINI WITH CAVIAR OF PROSCIUTTO CRUDO
Ingredients for 4 people:
250 gr tagliolini
2 spoons of caviar of Prosciutto Crudo di San Daniele – if you don't have the caviar you can use a single 140 gr slice of prosciutto crudo di San Daniele
Extra virgin olive oil
Shallot
White wine
40 gr grated Parmesan
Salt
Version with caviar of Prosciutto Crudo di San Daniele
Cook the tagliolini and drain them. Drizzle with oil and add the caviar.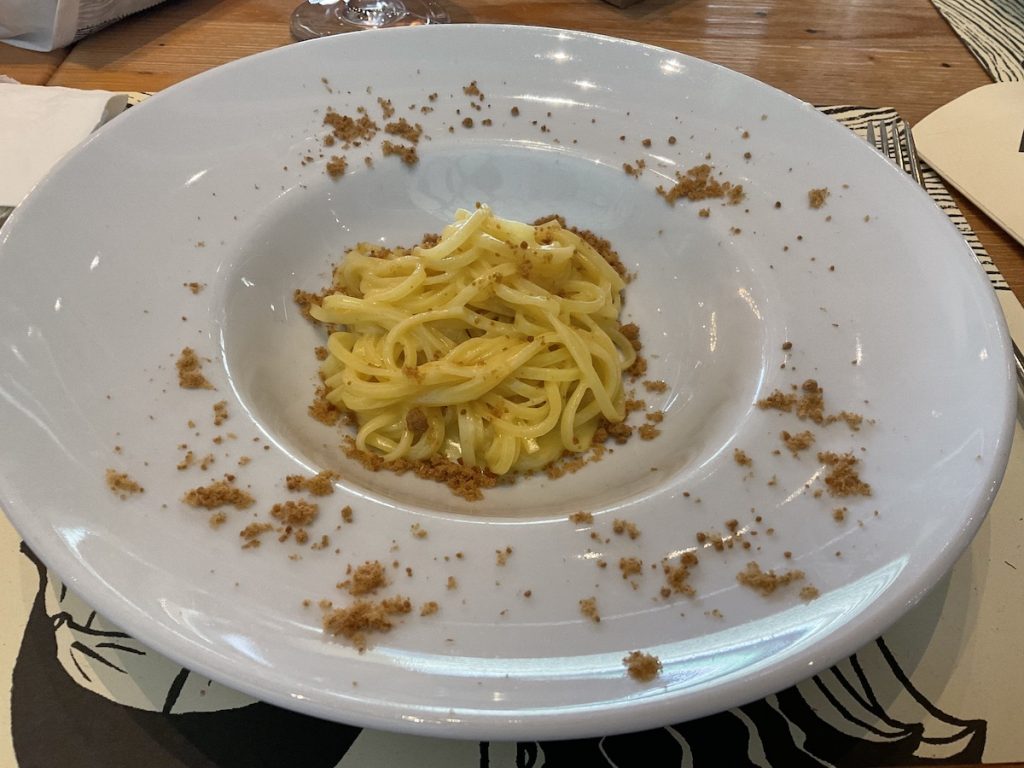 With caviar of prosciutto crudo di San Daniele DOK Dall'Ava
Version with a slice of Prosciutto Crudo di San Daniele
Melt the butter and add the finely chopped shallot. Let it cook for about 1 minute.
Cut the raw ham into thin slices and add it to the butter. Sprinkle with a drop of white wine.
Once the wine has evaporated, add the grated Grana Padano and, immediately after, the tagliolini, boiled and drained a little. Skip the noodles over the heat off, softening, if needed, with a little cooking water.