The churches in Italy amazed me. Architecturally and artistically stunning I always wondered what a Christmas Mass would be like in one of these beautiful places of worship. Stopping to see different churches, cathedrals and basilica's while making my way from Florence to Lake Como was a spiritually rewarding experience.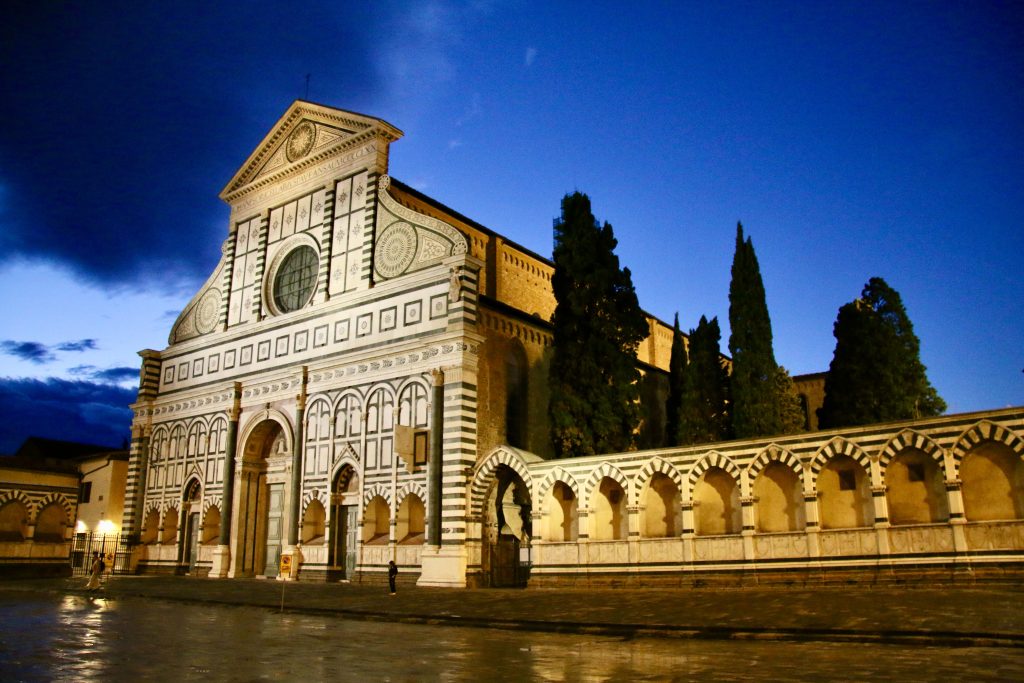 Firenze – Florence.
Basilica di Santa Maria Novella – Santa Maria Novella Church.
One of my all-time favourite churches of Italy, in Florence, is the Basilica of Santa Maria Novella. Its gorgeous smooth pine-green and white marble facade captivated my heart early one morning before the city awoke. While standing in the rose garden across from the entrance I watched as a tiny Nun stood patiently in front of its huge doors, waiting for them to open.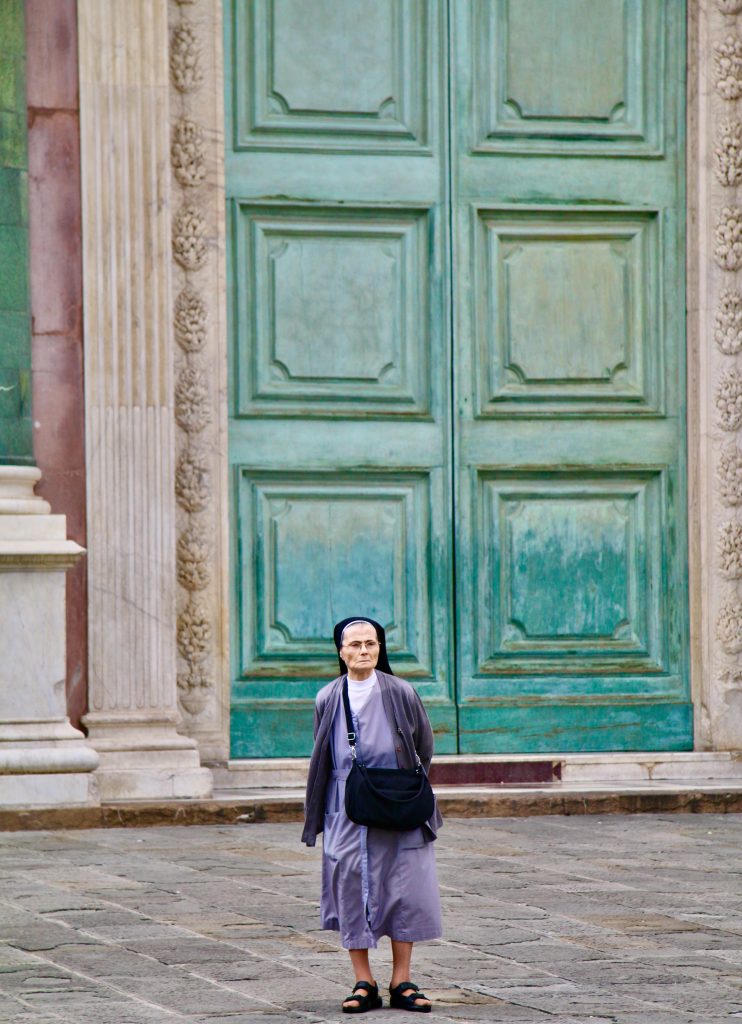 It was like time stood still. The world was quiet, the faded green of the doors marking the passage of time, while the glorious strong perfume of roses surrounded me. I wanted to go and sit with her and wait. To this day I wish I had. This church always seems peaceful, even in the hustle n bustle light of day. It would be my perfect church for a Christmas Mass.
Florence Cathedral – Duomo di Firenze – Cattedrale di Santa Maria del Fiore
Not only one of the most majestic churches of Italy, the iconic Florence Cathedral is one of the world's most prized. Making it the top 'must see' thing every person visiting Florence stands in line for hours to experience. Right in the heart of the city, the Duomo dominates the Florence skyline.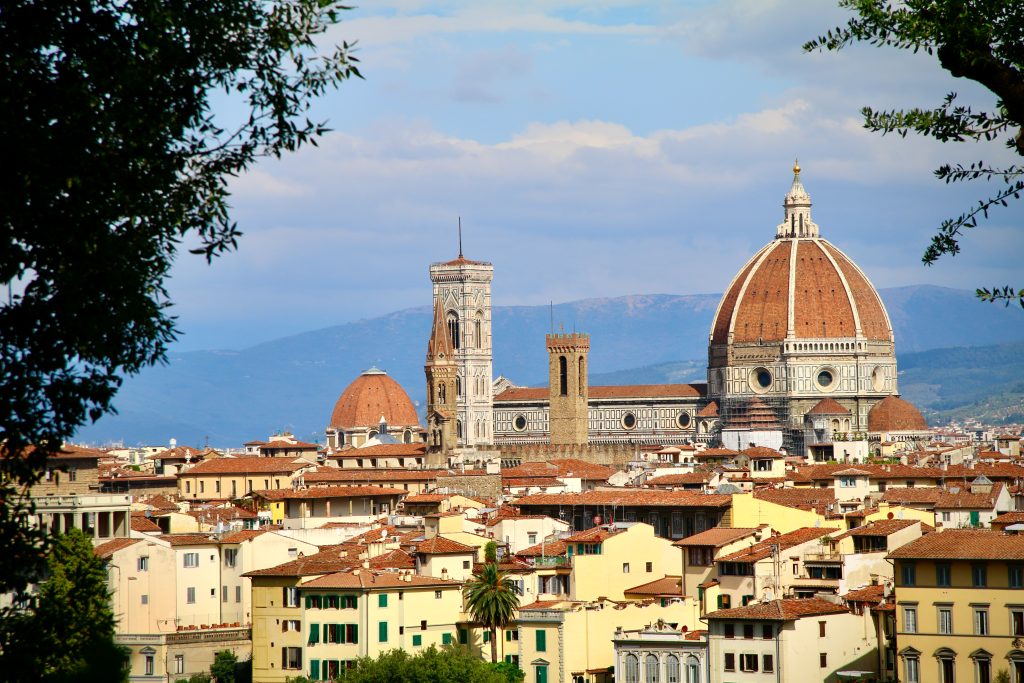 The third-largest church in the world, since its completion in the 15th Century this gorgeous white and green marble cathedral is a feat of engineering, architectural beauty and amazing art. Master carvers expert skill adorns its facade with elegant marble saints and religious icons.
Even lit up at night the incredible detail is breathtaking.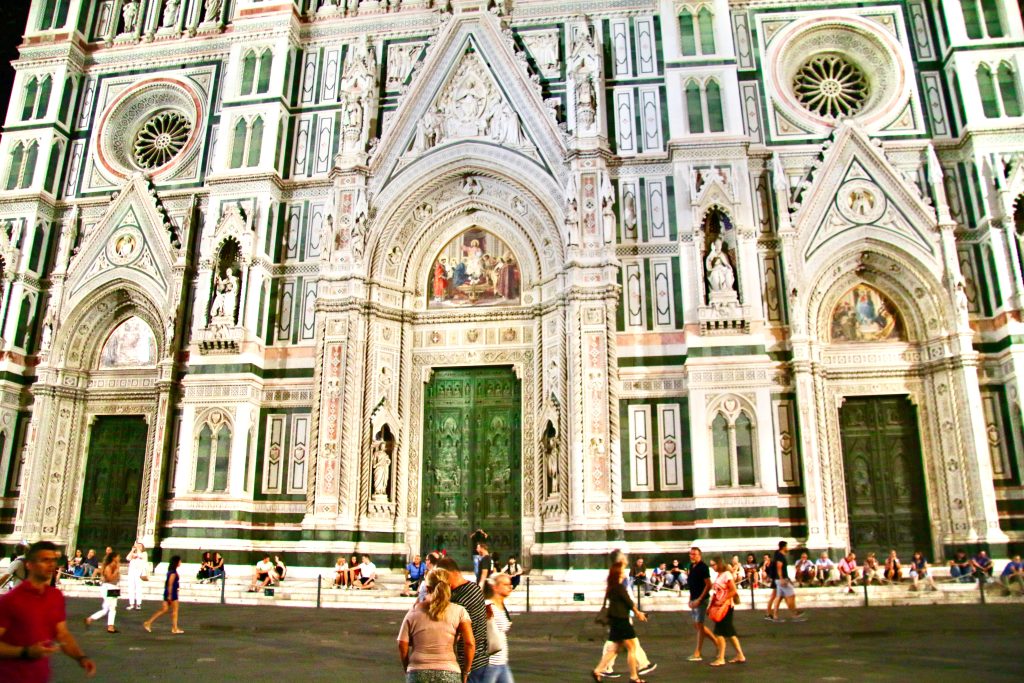 I stood before the Duomo doors one night for about two hours just looking at all of the incredible detail in the architecture. The huge domed roof and vaulted ceilings have bought hundreds of generations peace and the perfect place to celebrate a Christmas Mass.
Tuscany
Duomo di Siena – Siena Cathedral.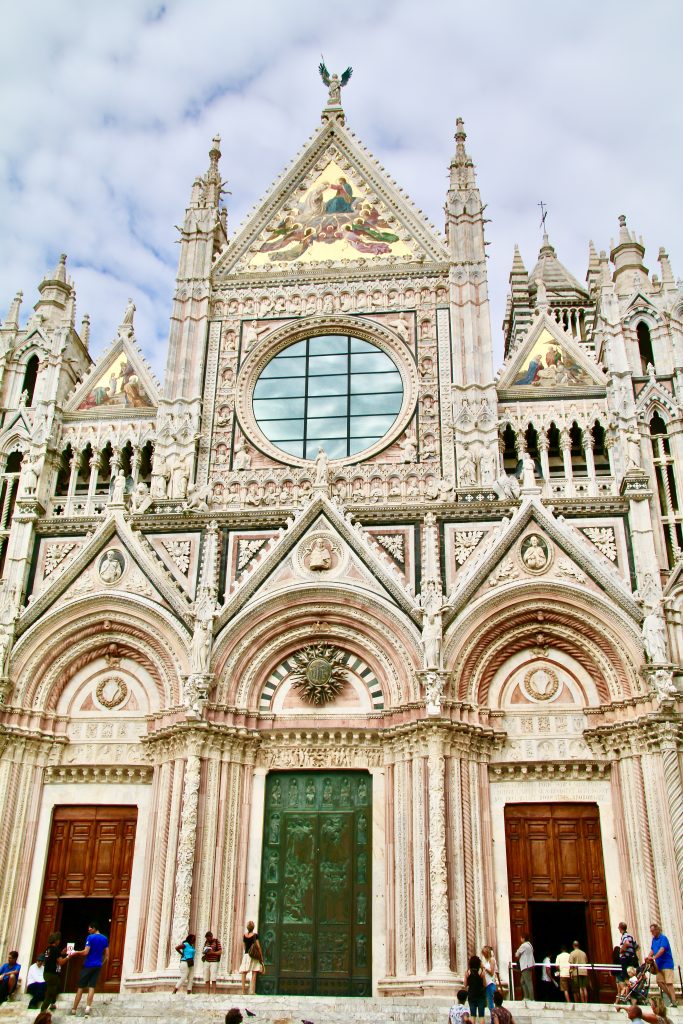 Wandering the winding narrow streets of Siena the surrounding architecture was glorious.
Then immerging through an archway the beautiful Siena Cathedral, Duomo di Siena shining white and green marble stood before me. That was impressive enough but walking the length of it to make my way around to the front I stood transfixed.
Towering before me, the facade of the cathedral was breathtaking. Even on an overcast day the sky seemed a little more romantic reflected back in the circular window high above. Perfect symmetry and balance in architecture, the cathedral was one of the most beautiful I'd ever seen.
Monteriggioni Castle's Santa Maria Church
Historically significant in Italy's and especially Tuscany's past, Monteriggioni Castle is a marvel in every way. Inside its high walls, I loved the little stone church. Simple with no flashy adornments it is very peaceful. Like the deities, saints and your ancestors would hear your prayers.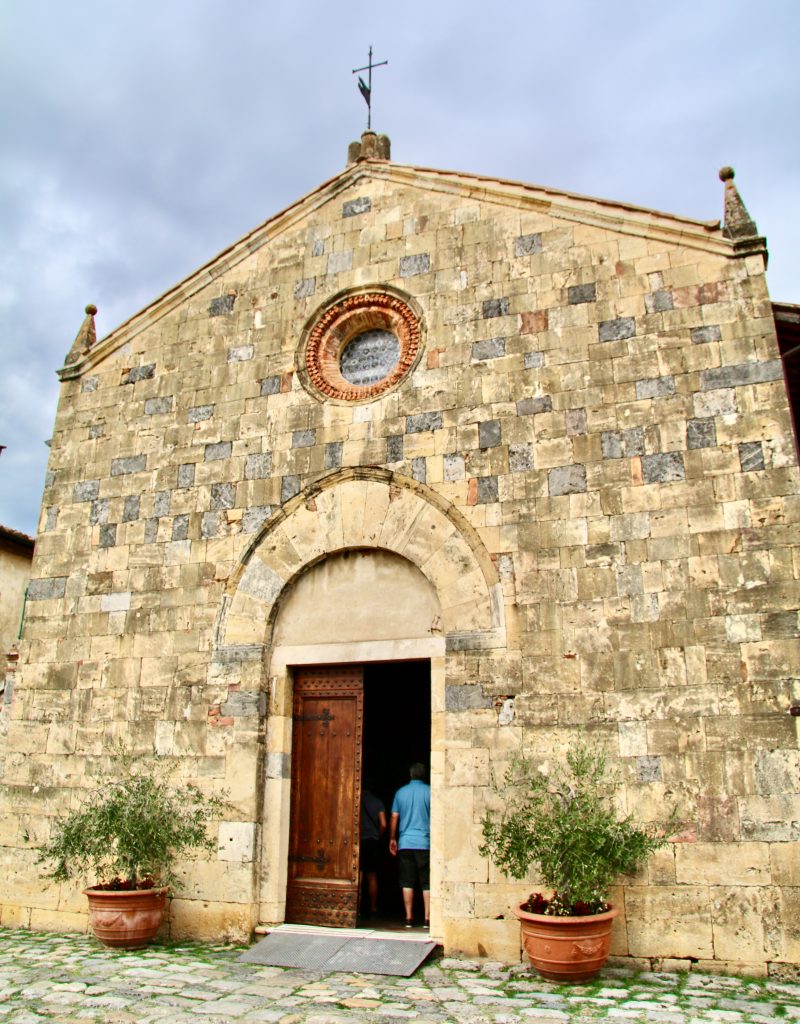 Not all churches need to be flashy. In fact, I found this one incredibly beautiful in its simplicity. Comforting in the solidness of it, as if nothing could ever destroy it. For that reason, it would be one of the churches of Italy that I would love to attend a Christmas mass. A beautiful experience without the crowds.
Basilica di San Petronio, Bologna
The Basilica di San Petronio in Bologna is near and dear to my heart. Discovering the hidden treasures within was one of the most delightful things I did in Italy, which you can read about here.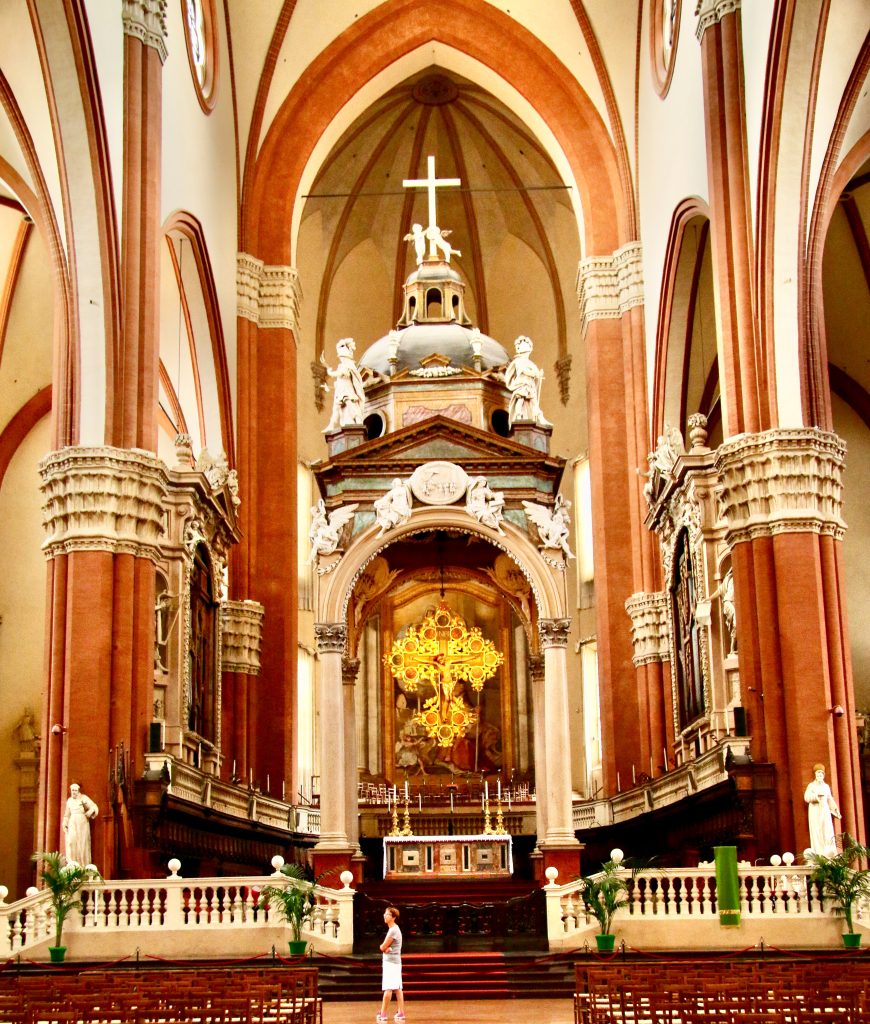 Entering this basilica the acoustics are amazing. Walking around I imagined it to be the perfect place for a chamber music concert. Or a big holiday mass, like a Christmas mass. The priest's voice ringing out, bouncing off the perfectly symmetrical architecture and vaulted ceilings it would be an amazing place to attend Christmas mass.

Lake Como
The Lake Como Province is divine. So are the churches. Each township around the lake has a church within walking distance of the ferry terminal. Usually, you can see it as you land ashore. I visited a few but my favourite was in Bellagio.
San Giacomo (St. James) Church, Basilica di San Giacomo, Bellagio.
A Romanesque church, Bellagio's Basilica di San Giacomo is one of the top attractions in Bellagio. I won't lie, you'll have to walk up quite a few stairs to get there but it is worth it.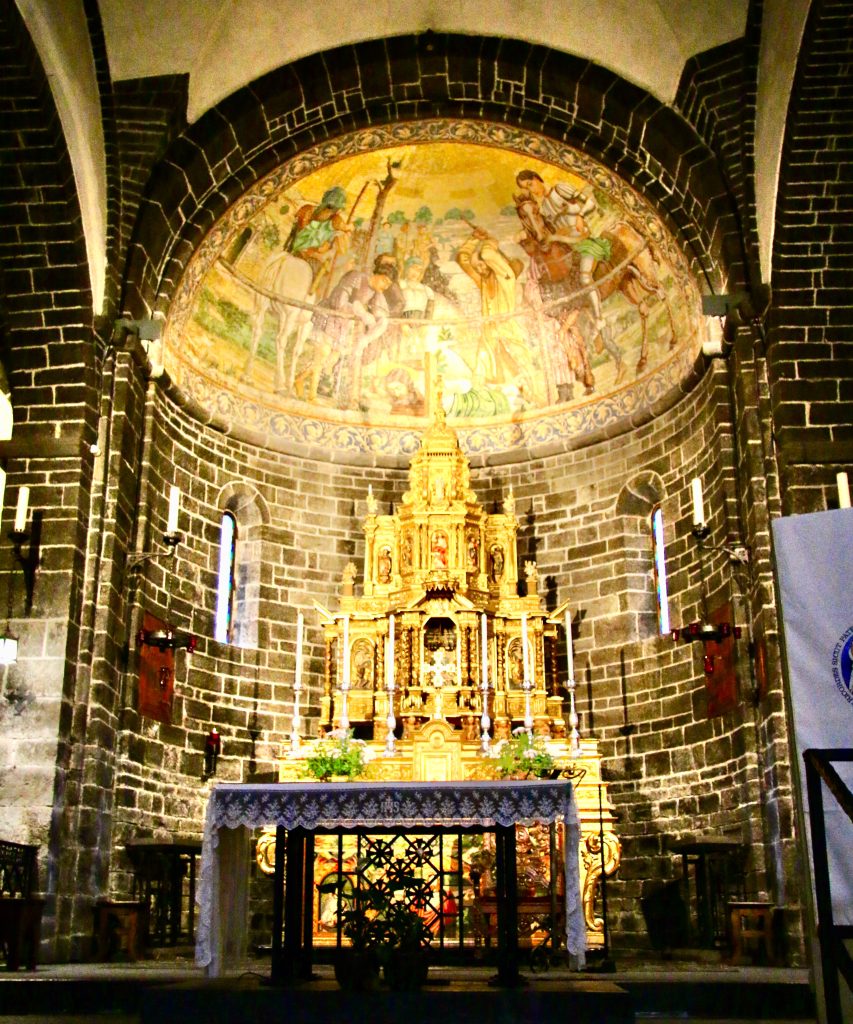 From the outside, the Basilica di San Giacomo didn't look like a lot. Plain grey brick, no ornate detail. In fact, I almost walked right past it. But stepping inside I got goosebumps. Bathed in golden light and warm tones under the dark brick arches it filled me with peace.
This church ended up being a favourite, precisely for that reason. It felt like a place of worship when you entered the building. Like the bricks themselves, welcomed a weary traveller and comforted its townspeople. Standing there, the only person in the church, it felt like a living thing and a warm embrace.
Como Cathedral – Duomo di Como – Cattedrale di Santa Maria Assunta
What struck me most about the Como Cathedral was its spires. Amazing delicately carved spires crowning the cathedral drew my eye every time. Staring up at them until my neck hurt wasn't enough time. Thankfully there are lovely restaurants lining the piazza in front of the cathedral. So in true Italian style, I went and enjoyed a glass of prosecco while appreciating them.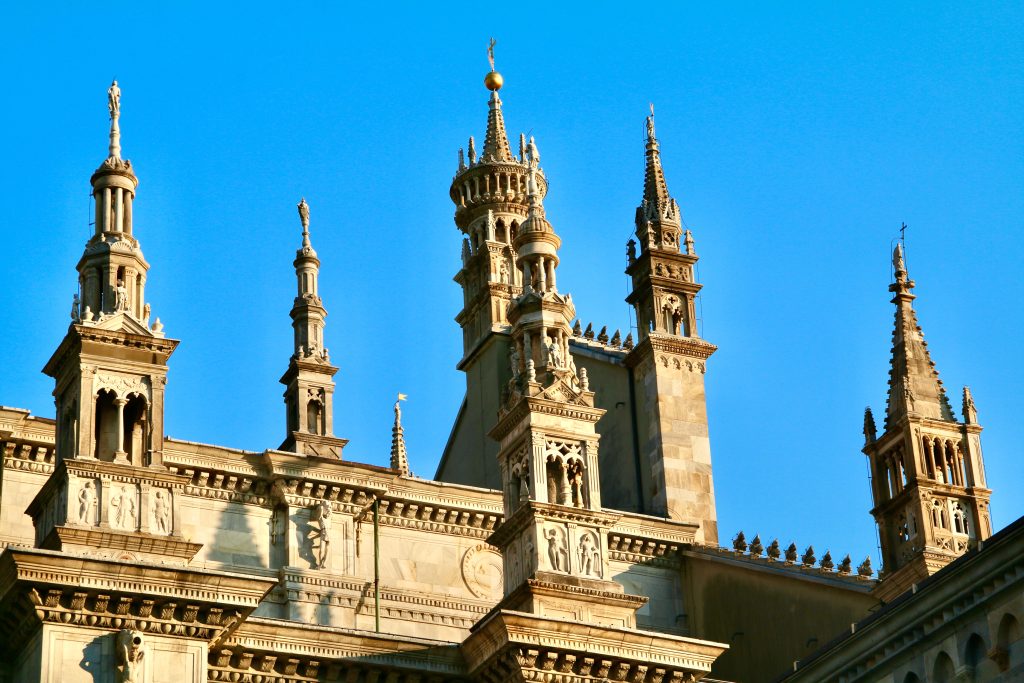 Of course, the facade of the Duomo is beautiful as well. Saints vertically line the height of the facade drawing your eye to the majestic roofline. Its history is written right before your eyes.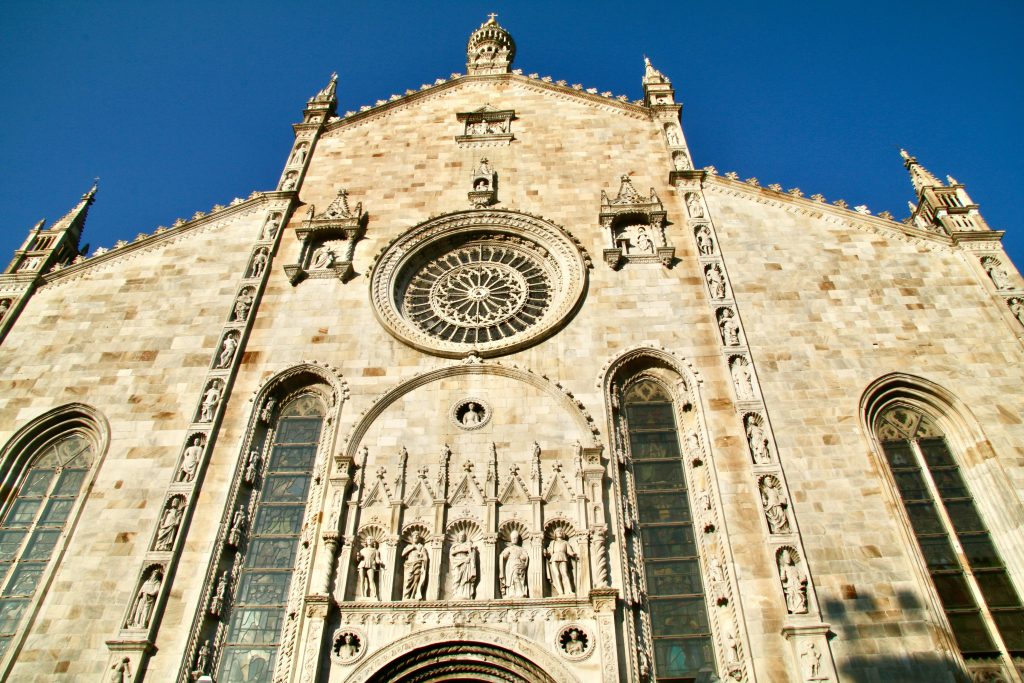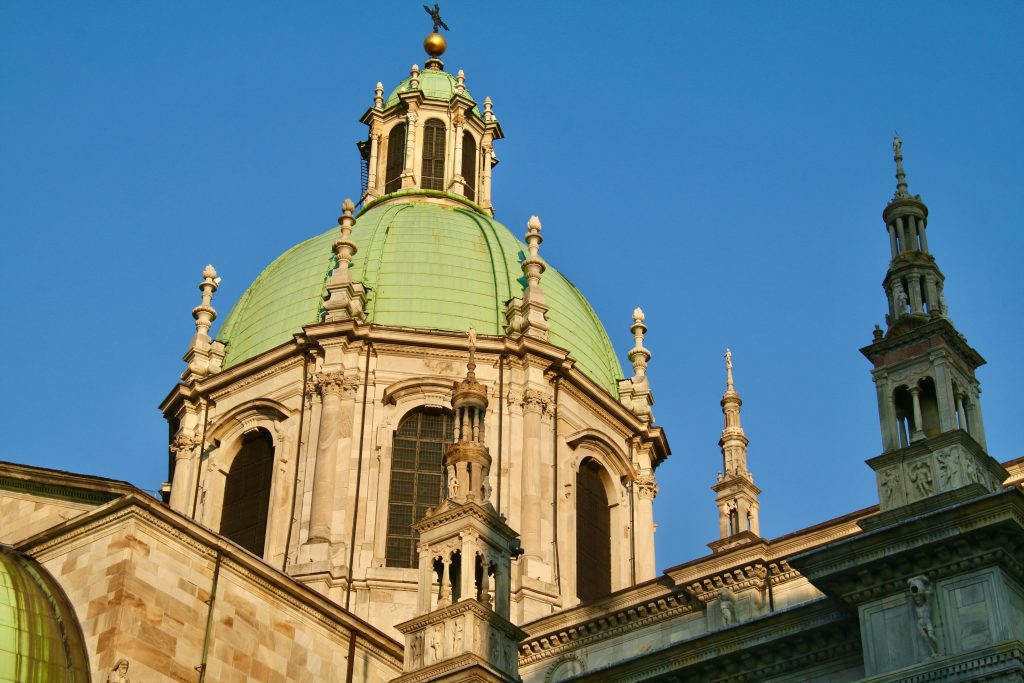 More than a few hours are needed to appreciate the beauty of Como's crowning jewel. It really is a photographer's delight shining in the afternoon sun.
As with all of the churches of Italy that I was fortunate enough to see along my journey, the artistry was amazing. Even the less ornate churches of Italy hold beauty so don't overlook them. I'm sure they will amaze you and I sincerely wish you a beautiful Christmas mass in any of them.