The Berici Hills, a gem in the province of Vicenza, in the heart of Veneto region.
I was born in this area and carry it in my heart. Here I grew up seeing the sunsets and sunrises over our hills. I've visited the Palladian villas and tasted dishes and wines that have been handed down for generations. In short, Vicenza is my home and I am proud of it. Today, I am taking you with me on a journey of history, culture and, food and wine.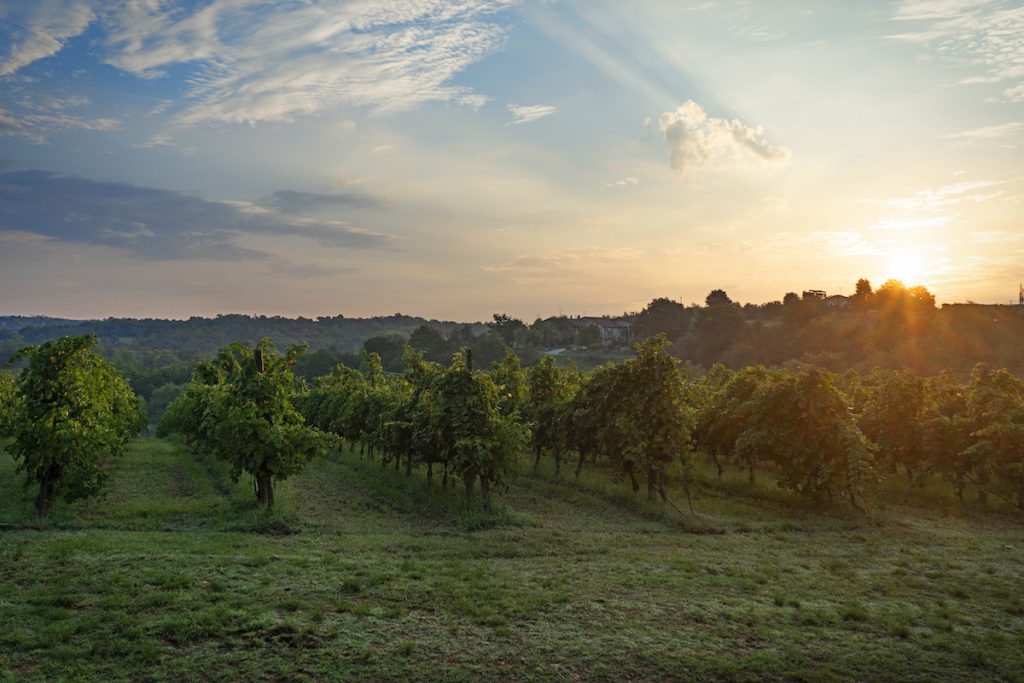 Origins
The Berici Hills have a marine origin. It would not be strange during a walk to find fossils of mollusks, sea urchins, corals, algae, etc. To a lesser extent, there are also rocks of volcanic origin which have determined the formation of basaltic soils rich in mineral salts.

But what does this all mean? This soil composed of basaltic rocks combined with the low annual rainfall, represents the ideal condition for the production of great red wines.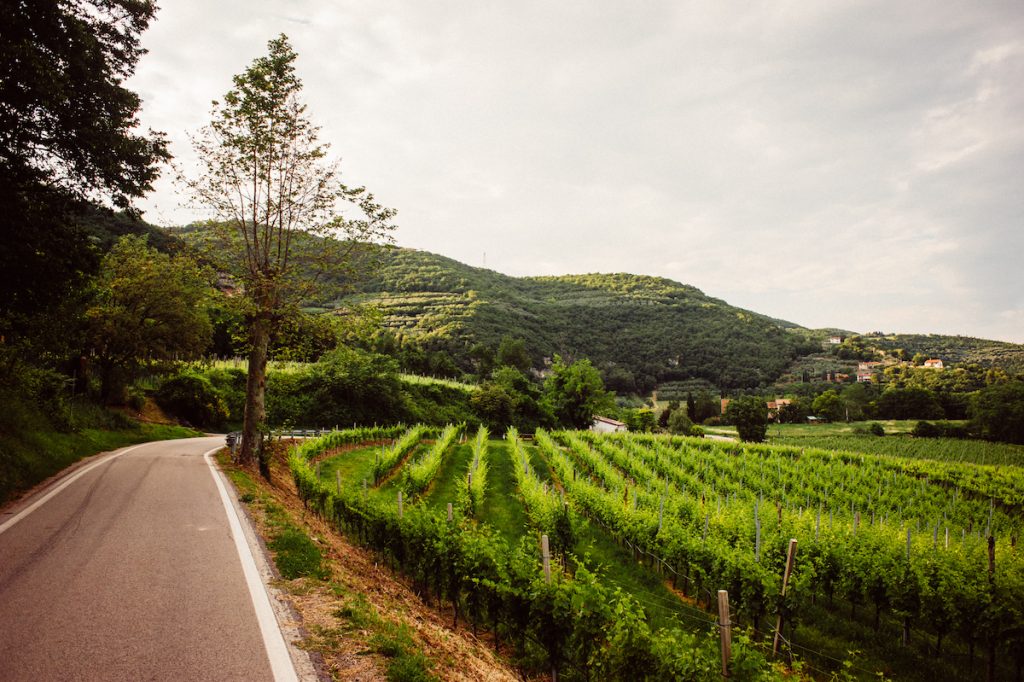 Vincenza: The Land of Palladio
Vicenza was included in the UNESCO World Heritage List in 1994 thanks to the 23 buildings attributed to Palladio. Then, in 1996, another 21 villas in the province of Vicenza were included in this very famous list.

Palladio, a famous architect (1508 – 1580), gave Vicenza the unmistakable mark famous all over the world. His style spread to England and other European states until it reached North America.

Among the most beautiful buildings we can mention are:

The Basilica Palladiana: it left Goethe speechless.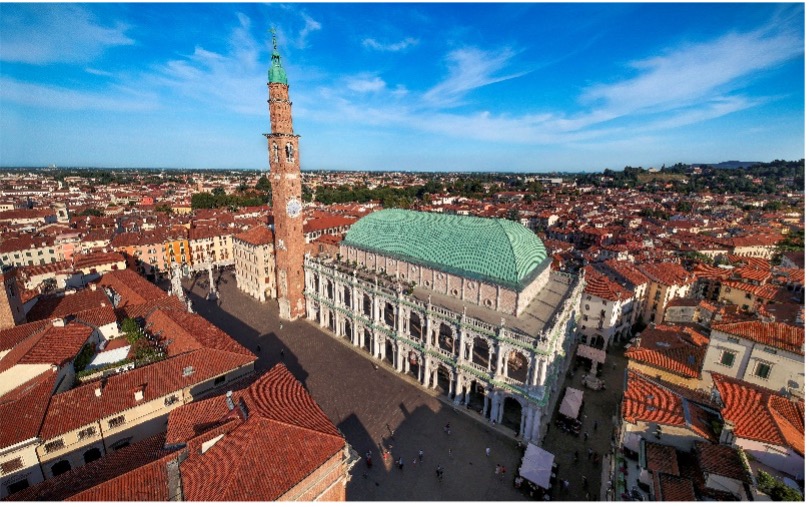 Teatro Olimpico: the oldest covered masonry theater in the world.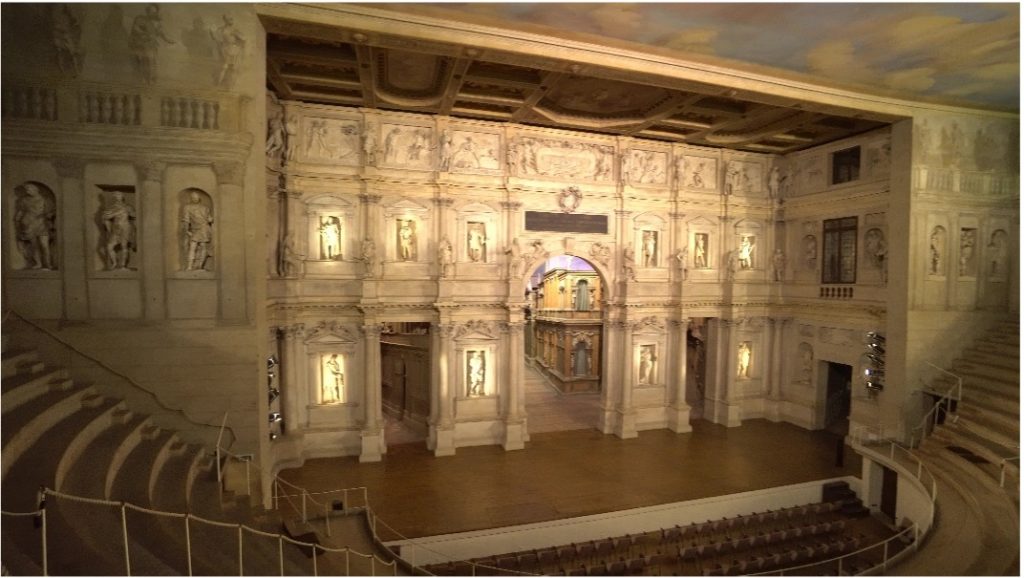 La Rotonda: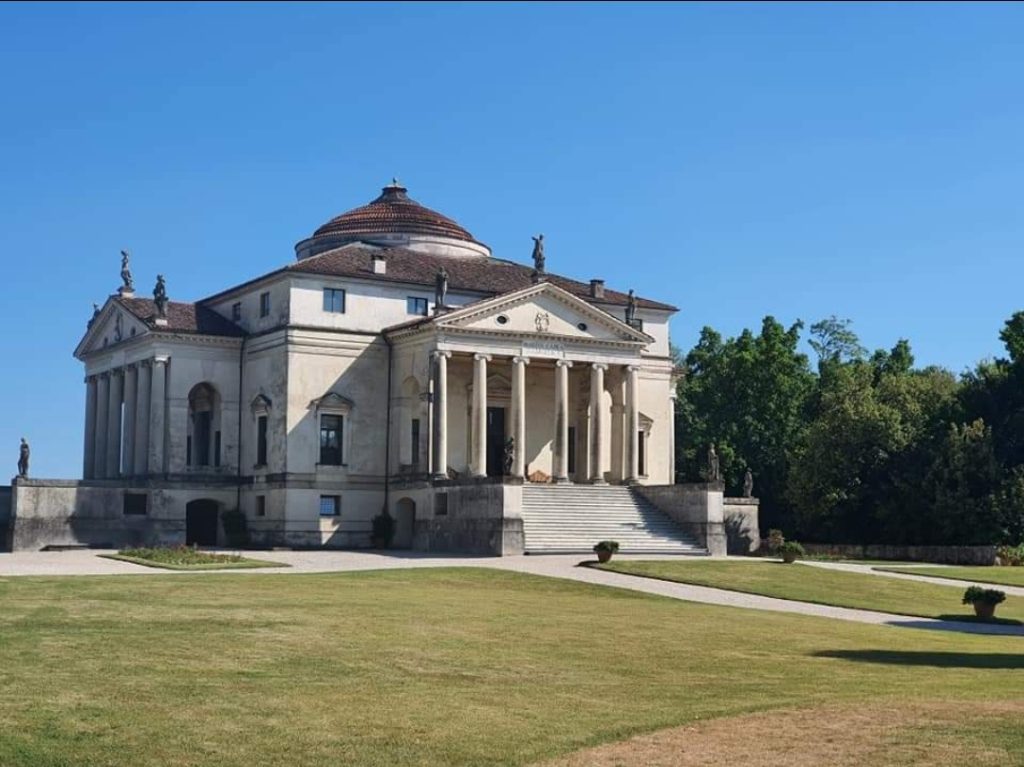 The Vines of Vicenza

When we talk about Colli Berici it is natural to make our minds run wild with red wines made from international grapes, such as Cabernet Sauvignon, Merlot and Carménère. But, even more with the indigenous grape par excellence, Tai Rosso.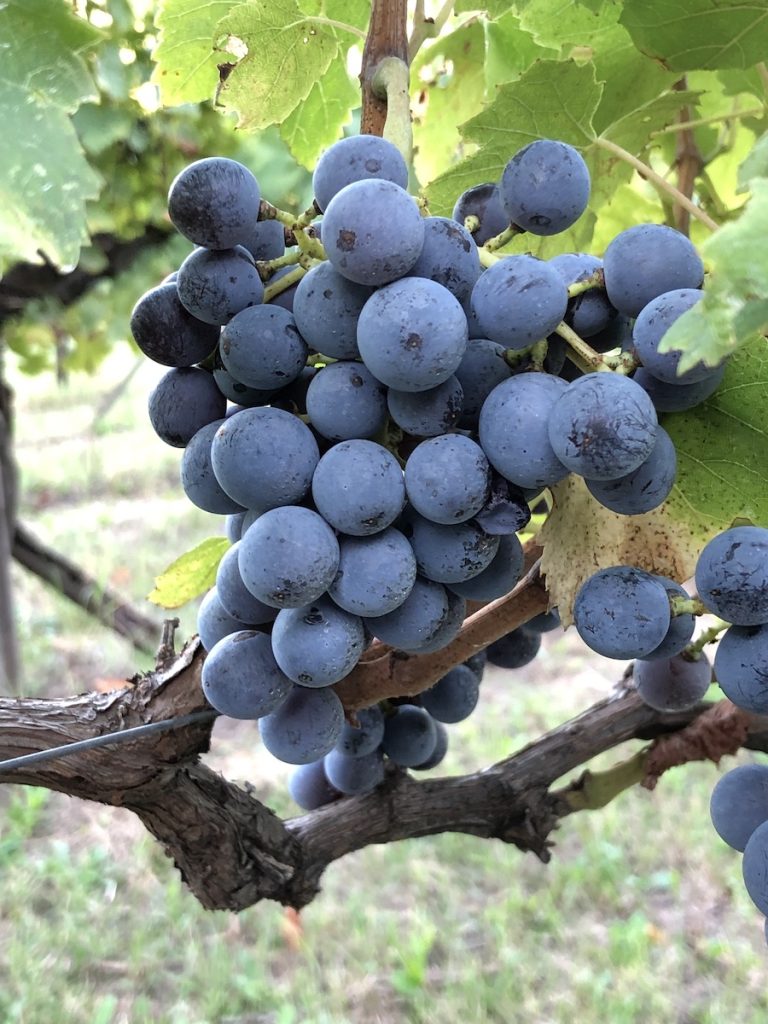 Tai Rosso, is a strange name for us from Vicenza. In the past, this vine was called Tocai. In Vicenza talking about Tai Rosso is like saying Sangiovese in Tuscany. This native vine of the Berici Hills (which has a genetic nature like that of Sardinian Cannonau, French Grenache and Spanish Garnacha), has found its own specific identity in the Vicenza area.

Tai Rosso has always been found on the Berici Hills and what most makes this grape wonderful is the variety of wine styles that can be created. Tai Rosso based wines can be rosé, ready to drink or wines with great body and long aging. Fruity aromas that mix and hints of violet, with a freshness that recalls balsamic notes. elegant on the palate, refined and combinable in a thousand ways: these are the main features of this amazing wine.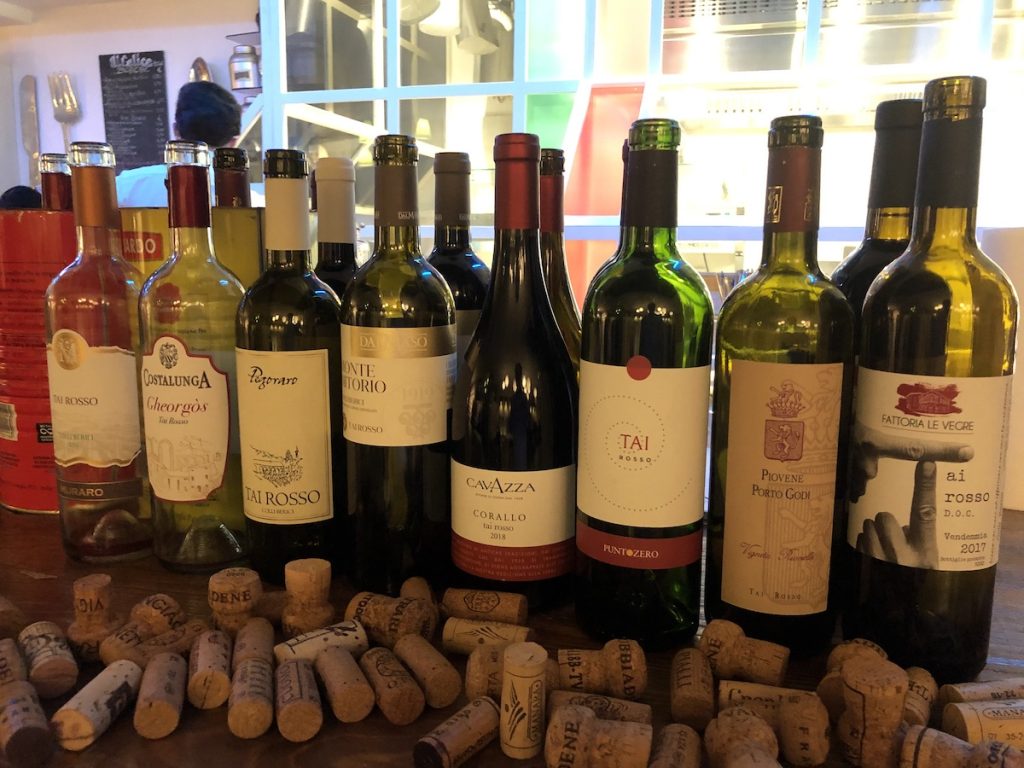 The Best Pairing: Tai Rosso and Bacalà

We always go back to my passion: combining wine with food. I know, it might be boring and mundane for some, but I find it challenging and utterly fascinating. Being able to find the right balance of flavors and perceptions between a dish and a glass.

So what do we pair with Tai Rosso? The first thing that comes to mind is the traditional combination with Bacalà alla Vicentina.
What is Bacalà?

And now you are wondering: what? What is Bacalà? It is nothing more than stockfish. In Rost (one of the most remote of the Lofoten islands off the coast of Norway) more than four centuries ago (1432), the expedition under the command of the Venetian captain Pietro Querini was wrecked. And there, for a singular long-term effect of that adventurous landing, today is in Vicenza's heart. The merit goes to the stockfish that Captain Querini brought with him on his return home, and which inspired, after appropriate treatment, the birth of the dish called cod. Polenta is the recommended accompaniment to enlightened Vicentine gastronomes.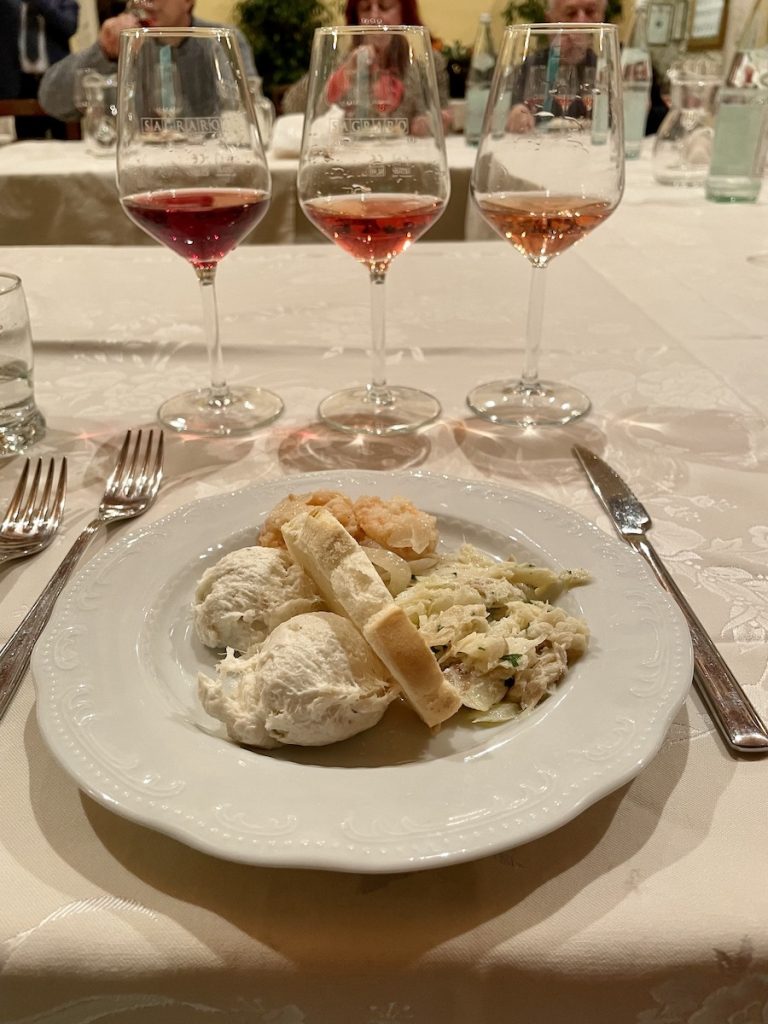 Creamed bacalà and Vicenza-style bacalà -© Consorzio Colli Berici
In the photo you can see two types of cod:
Creamed bacalà: perfect when spread on grilled bread.
Bacalà alla vicentina: served with traditional polenta.

Bacalà Recipe
(Ingredients for 12 people.)
1 kg of dry stockfish
250/300 gr. of onions
1/2 liter of extra virgin olive oil
3 salted sardines
½ liter of fresh milk – a little white flour
50 gr. of grated Parmesan cheese
a sprig of chopped parsley
salt and pepper
Preparation
Soak the stockfish, already well beaten, in cold water, changing it every 4 hours, for 2-3 days.
Open the fish lengthwise, remove the bone and all the bones. Cut it into pieces.
Finely slice the onions; brown them in a pan with a glass of oil, add the salted sardines, and cut into small pieces; finally, with the heat off, add the chopped parsley.
Flour the various pieces of stockfish, sprinkled with the prepared sauce, then arrange them side by side, in a terracotta or aluminum pan or in a baking dish (on the bottom of which a few spoonfuls of sauté will be poured first); cover the fish with the rest of the sauce, also adding the milk, grated parmesan, salt, pepper.
Add the oil to cover all the pieces, leveling them.
Cook over a very low heat for about 4 and a half hours, moving the container from time to time in a rotating direction, without ever stirring.
This cooking phase, in the term "Vicenza", is called "pipare".
Only experience will be able to define the exact cooking of stockfish which, from specimen to specimen, may differ in consistency.
Bacalà alla Vicentina is excellent even after resting for 12/24 hours. Serve with polenta.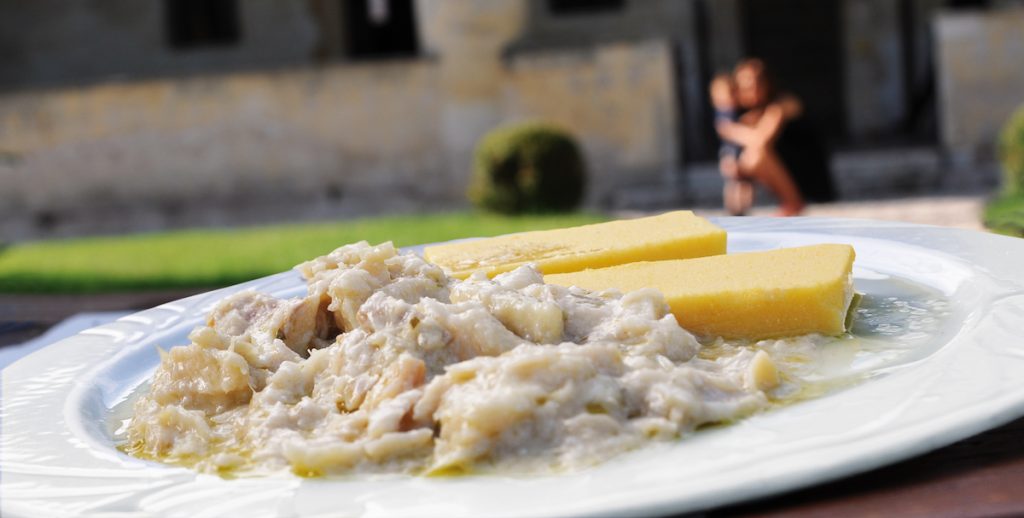 Bacalà and polenta. © Proloco Sandrigo
LA CONFRATERNITA DEL BACALA'

When it comes to bacalà in Vicenza, we take the subject very seriously. There is The Confraternity of Bacalà alla Vicentina born with the aim of safeguarding and spreading the ancient and original recipe of "Bacalà alla Vicentina" which boasts over 400 years.