Beach season is over now that it's winter in Italy. However, tourists and locals alike can delight in piazzas filled with magical and light-filled Christmas Markets.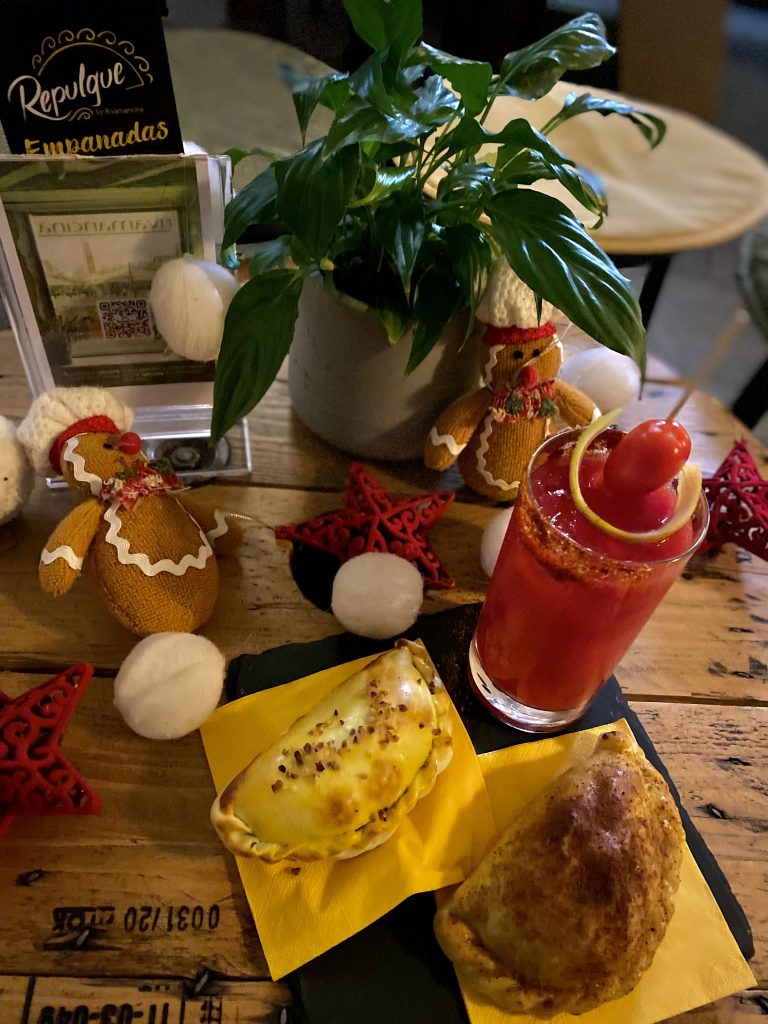 If visiting the Veneto region, know that Venice isn't the only place to find a beautiful and historic Christmas market. Don't miss a trip to Verona and Vicenza's historic centers where Christmas markets run from December 4th until the new year. Once finished your Christmas shopping, enjoy an aperitivo and tasty food options at Rivamancina. Owner Michele and his wife will warmly greet you and explain "repulgue" – the art of folding and shaping their empanadas made in-house and from scratch.
www.rivamancina.it
Vicolo Quadrelli, 1 – Verona
@rivamancina
Here is a list of 7 of Italy's most dazzling markets:
Piazza dei Signori – Verona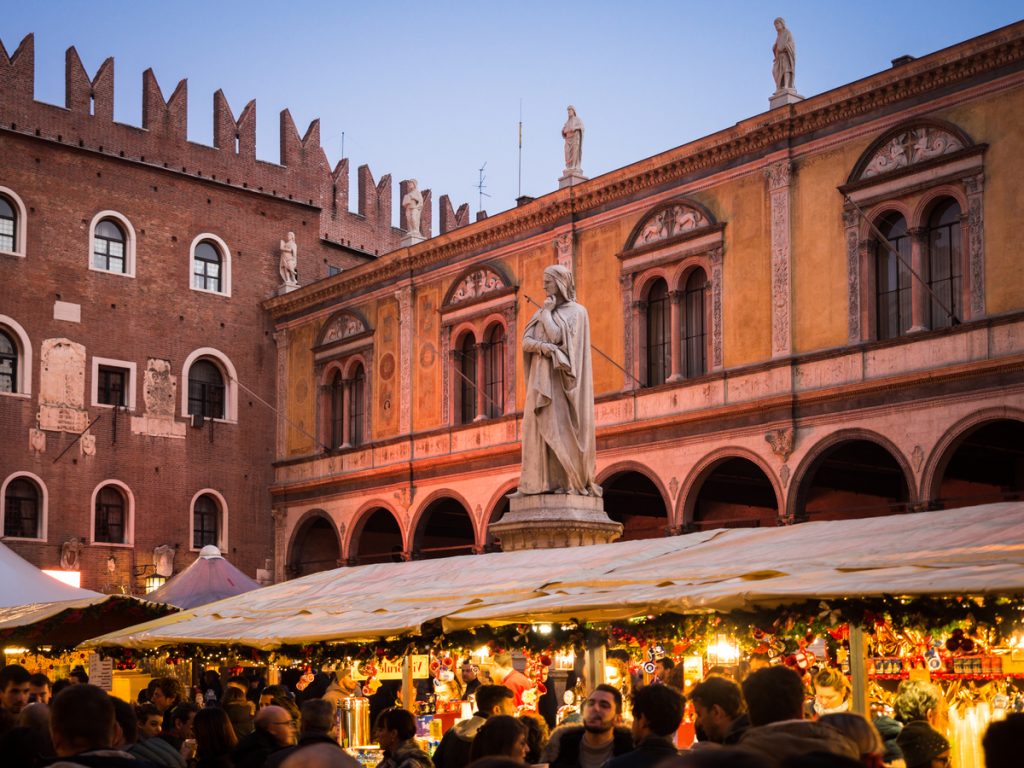 Under the Lamberti tower in the centre of Verona, you will find the Piazza Dei Signori. Not only is the Piazza's history and beauty enough to make your jaw drop, in December the whole town is filled with Christmas atmosphere and dazzling lights. The market is famous for the Pandoro Christmas cake: a must try for any tourist wanting to try traditional food. The markets are mainly wooden toys and items which are available to buy.
Piazza del Campo – Siena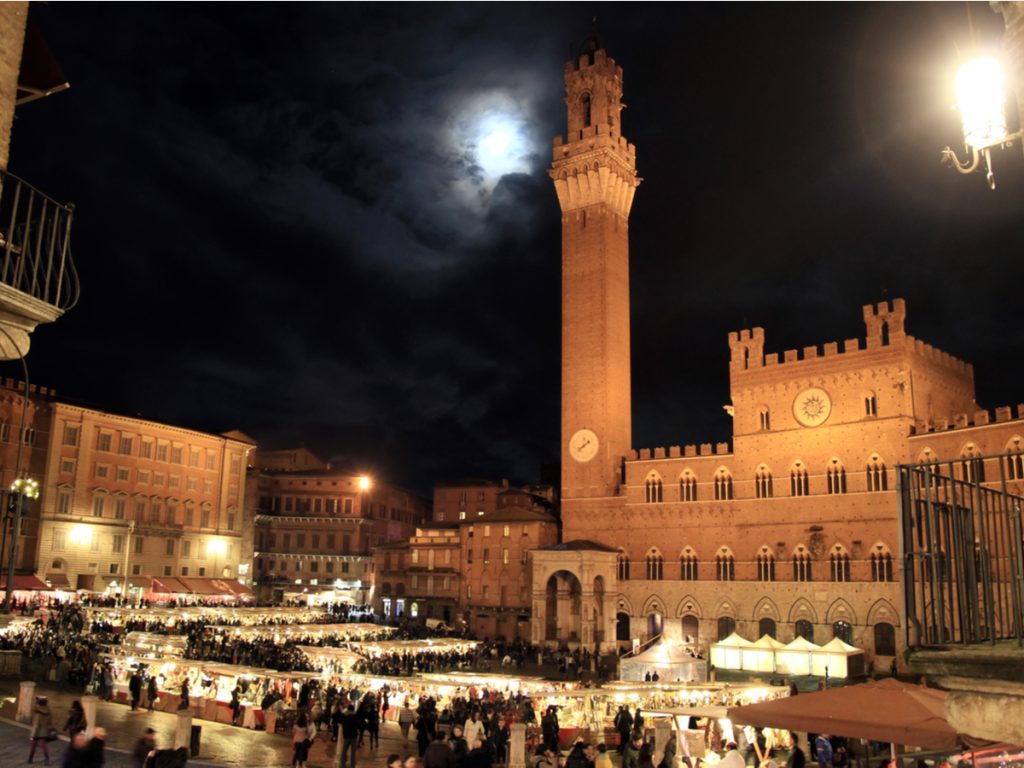 The town of Siena holds one of the most historic Christmas markets in Italy. Stalls are laid out in exactly the same way as they were in 1300 to replicate a medieval themed market. Along with this, exquisite Italian delicacies are available on each stall to buy. Beautifully lit up from the 4th of December onwards, the Piazza is a sight to see for anyone wanting to get into the Christmas spirit. From tradition to modernity, this year will see a 3D Christmas themed video mapping on the Palazzo Comunale.
Piazza Navona – Roma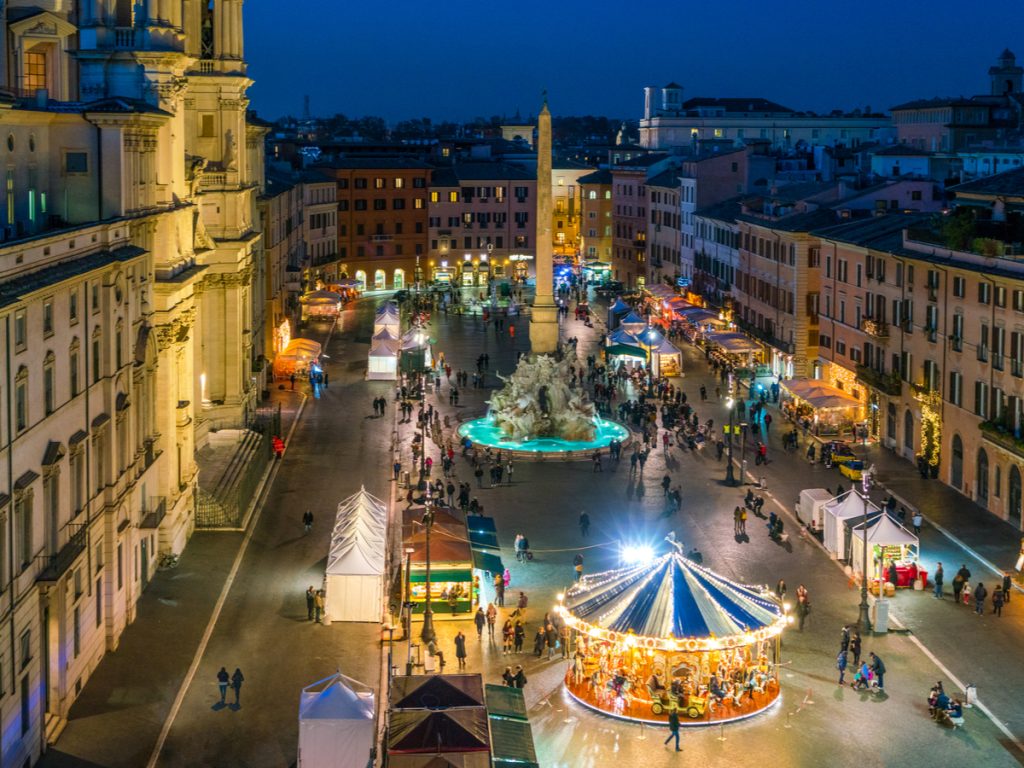 Lying in front of the Church Saint Agnes in Agone, Rome's most famous Christmas market never fails to dazzle each year. The modern market is surrounded by amusement rides, toy venders and tents filled with traditional Roman foods and treats. Due to the thousands of people who trek to see the market in all its glory, many people book hotels weeks before in order to be able to find somewhere to stay close by. Due to it being in the capital, this market is one of the biggest in Italy.
Piazza Walther – Bolzano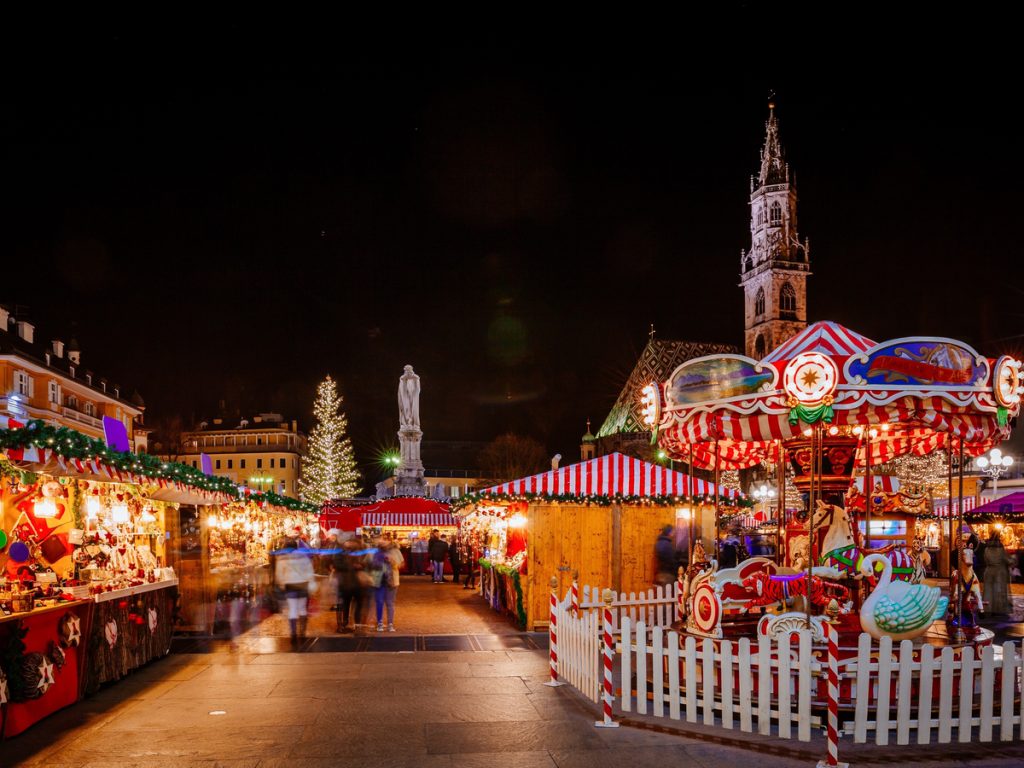 Situated in the Dolomite mountains, Piazza Walther has one of the most beautiful Christmas markets surrounded with equally beautiful scenery. Traditionally on the 23rd, local carol singers perform to the crowds as they wander through the hundreds of stalls serving wine and treats. As well as this, for only €9, you can get a horse and cart tour from the centre of the town into the market. Due to its closeness to Austria and Germany, the market also provides foreign treats and beverages as well.
Piazza Castello – Milano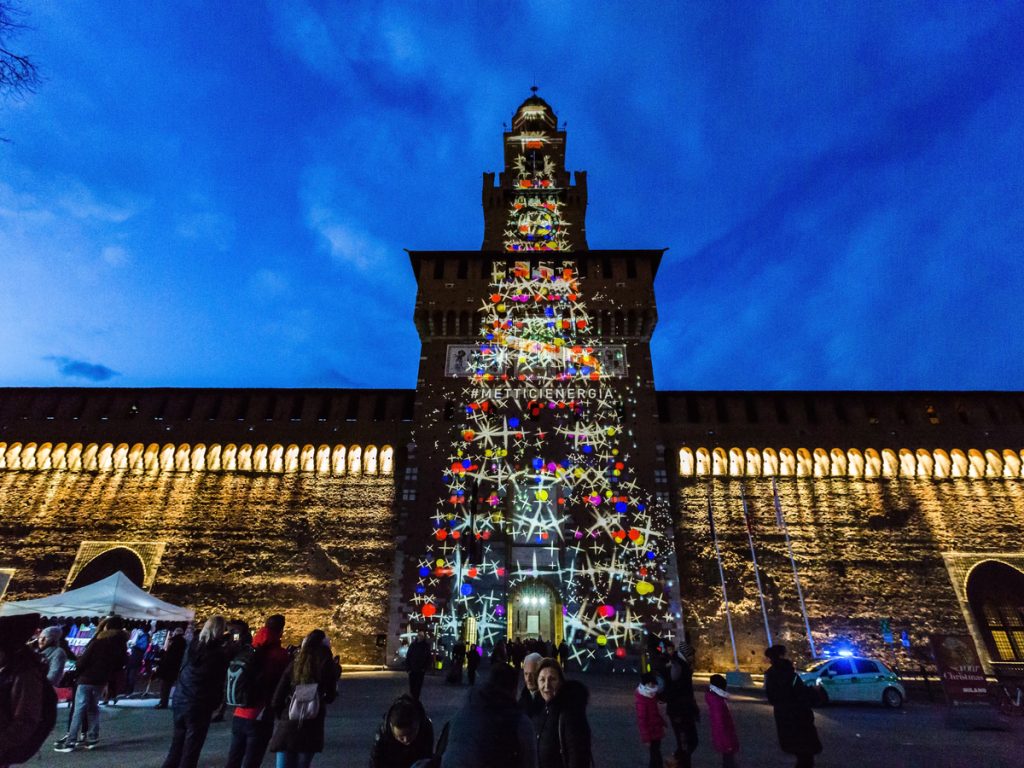 Once a celebration to the City's patron "Saint Ambrose", the market held in the Piazza Castello, is now a modern Christmas market boasting stalls selling luxury items such as handmade leather goods as well as traditional delicacies and scarves along with other items of clothing. The market's locally known name is"Oh Bej! Oh Bej" which loosely translates to "How nice! How nice!" You can also attend a beautiful Christmas service at Basilica di Sant'Ambrogio (Milan's oldest church).
Govone – Piemonte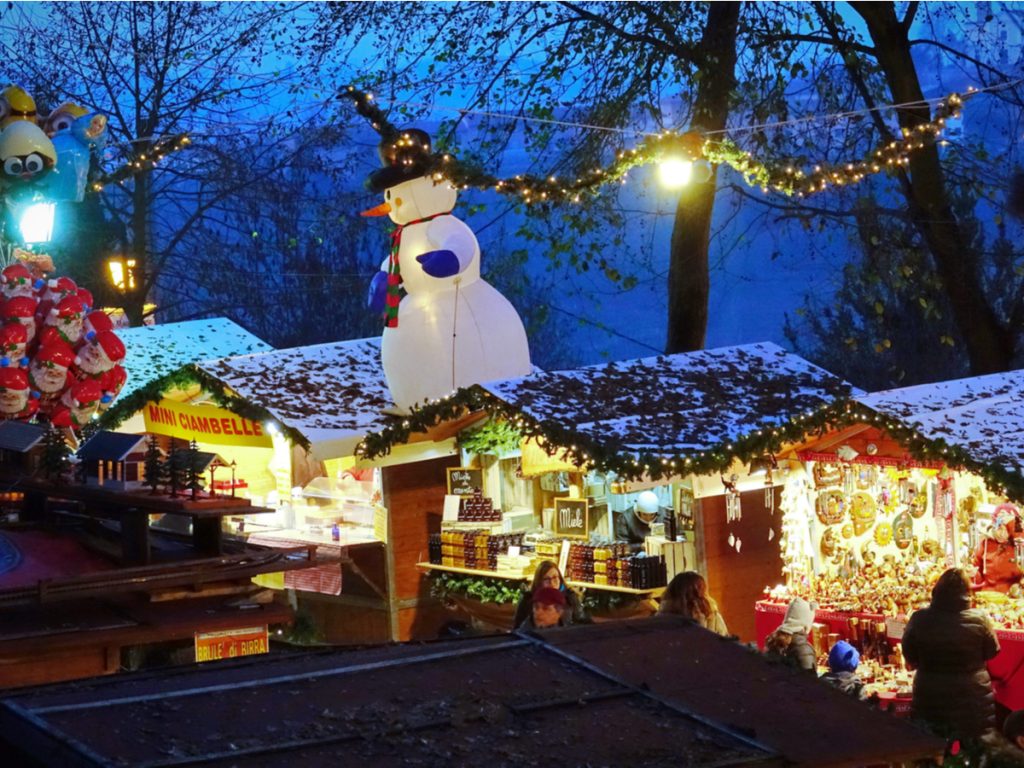 In a cute little town named Govone in Piemonte, the beautiful "Magico Paese Di Natale" market happens every year. It has a whole range of events from adults to children. For the parents, enjoy a traditional wine tasting event. Find some of the best choices found in this region: often named, Italy's wine capital. For the children, the whole town turns into Santa's magic kingdom. There's also a beautiful music show hosted in the Savoy Royal Castle of Gavone.
River Passirio – Merano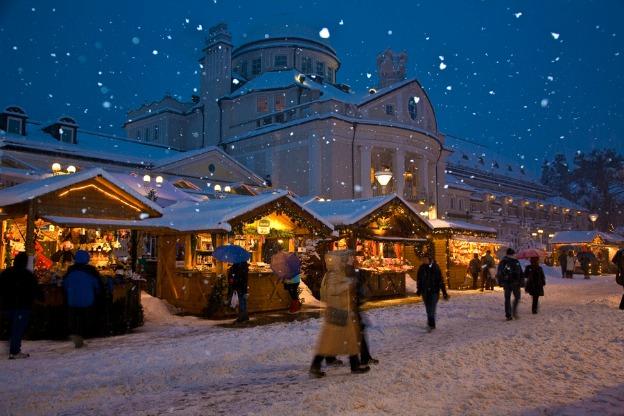 From November to January, this beautiful Christmas market is a sight to behold. Beautifully lit up stalls sit alongside the breathtaking river. Passersby will see stalls selling a whole range of Christmas treats. Find boiled wool slippers, pottery, musical boxes and much more. The market is a sensual overload with the smells of traditional foods and beverages filling the air. Many consider it as one of the most beautiful Christmas market in Italy.
---
Choose from thirteen variations of empanadas at Rivamancina, as well as other menu items such as fine meat, local Italian cheese, fish and vegetarian offers, and desserts. Enjoy the festive season with friends and try these Rivamancina beverages:
Ginger Beer, 100% handmade: Savor the qualities of ginger that can be enjoyed with their fine non-alcoholic and alcoholic cocktails.
Bloody Mary:  Made only with fresh tomatoes!
Vin Brulé "mulled wine":  Winter in Italy winter isn't complete without it.
Italian Craft Beers: For a 360 ° empanada experience, pair your choice with a bold Italian beer.
In a hurry? Rivamancia offers items "to go" and area delivery service too!
www.rivamancina.it
Vicolo Quadrelli, 1 – Verona
@rivamancina