For me, getting lost in the beauty of Italy's rugged Riviera coastline was the highlight of my day trip to Cinque Terre. Elegant striped umbrellas line the beaches, bright colours paint the towns like an Italian master's brush, and a long lovers' walk stretches over the headland.
I sighed with nostalgia for lost loves upon seeing padlocks lining the walks, especially the romantic thought that padlocks signify a life-long bond. Keys thrown from the cliffside to the watery depths for eternity seal the lover's commitment.
Cinque Terre is a romantic part of the country. I think of it as the Italian Riviera's heart and, like Juliete's balcony in Verona, is an iconic heart for lovers worldwide.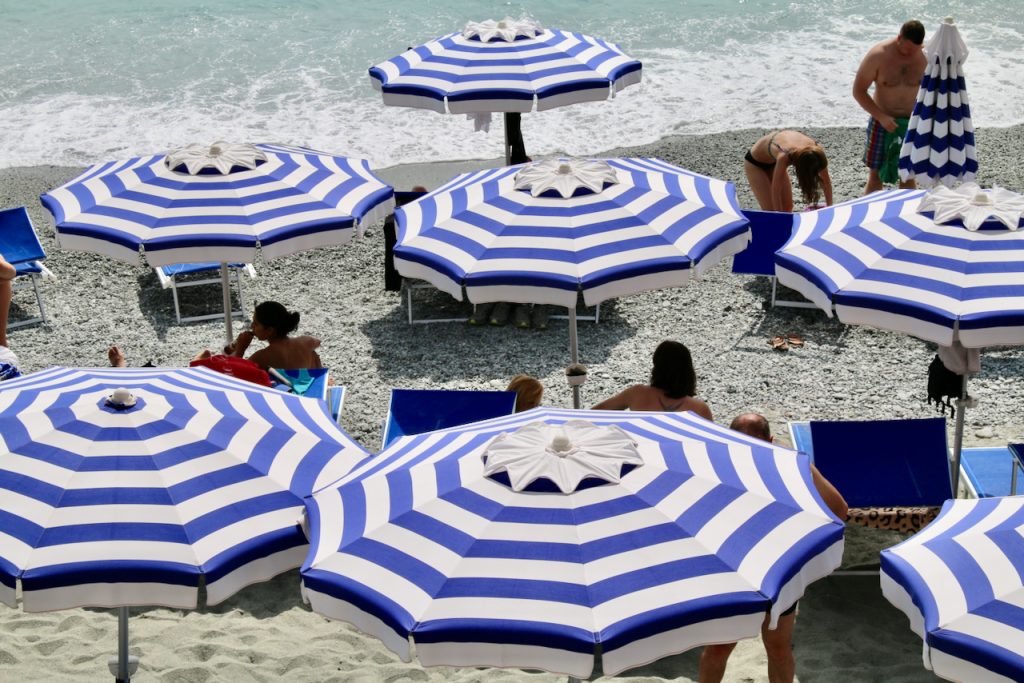 It truly is a postcard-perfect snapshot of the Italian Riviera, one area that I sincerely hope you will explore, if not for a holiday then at least, for a day trip.
Where is Cinque Terre?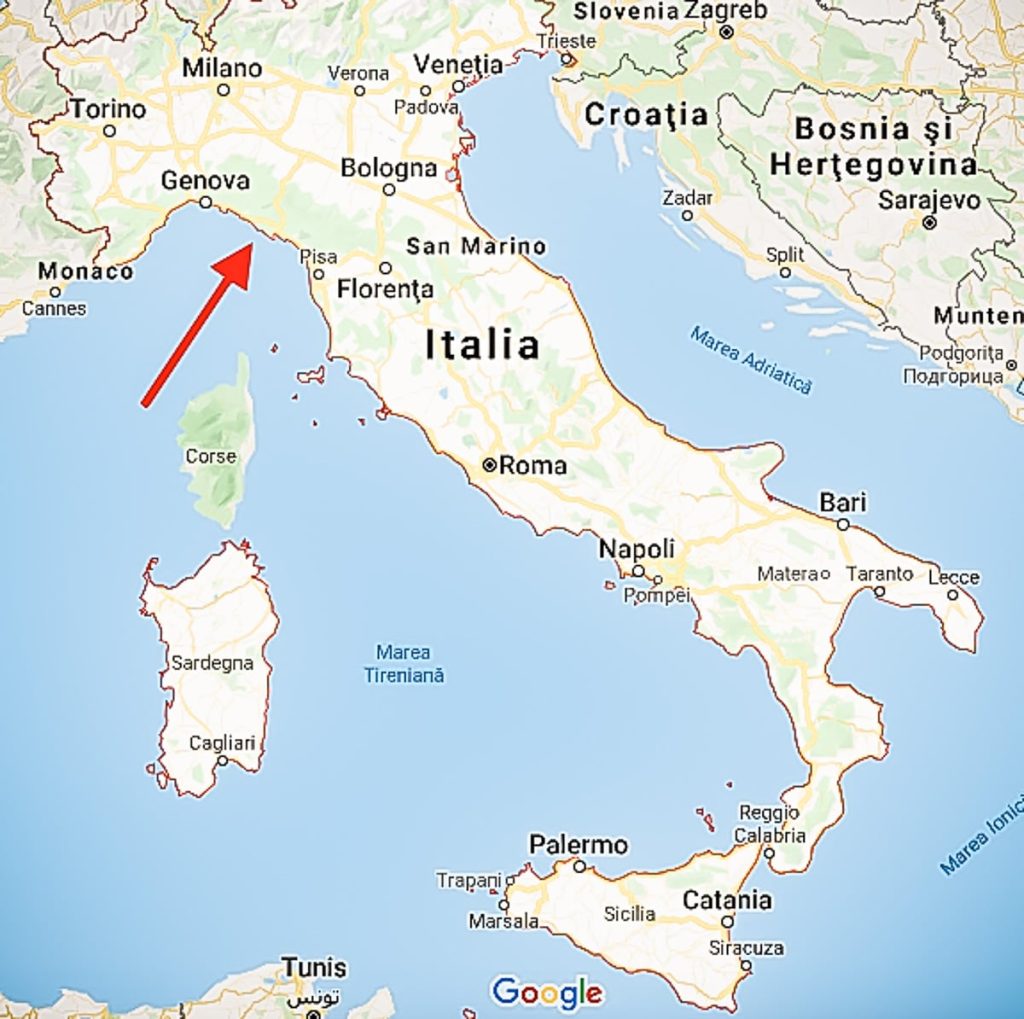 Located in the Liguria region (right next to Tuscany), the Cinque Terre is a popular day-trip outing from Florence (Firenze).
Cinque Terre means 'five lands' in Italian, and I love how each of the five centuries-old seaside towns on the Ligurian Sea is classed as its own land.
So they should be.
Vineyards contour the cliffside in layers of gold and green, overlooking the townships below. In true Italian style, the town squares are filled with cafés. Outdoor dining spots are shaded by huge multi-coloured umbrellas. Best of all, the rugged cliffside looking over the Ligurian Sea is breathtaking.
Getting Around
Bus, ferry, and train rides are fast and fun ways to get from one town to the next along the steep jagged cliffs of Cinque Terre. Nature lovers and avid walkers may also like to take the day to hike the headlands Cinque Terre trail. Being a sailor and boat lover, I thought the ferry ride was perfect.
Traveling by ferry gives you a different perspective. I loved seeing the hillside contoured grapevines above Corniglia as we glided past on the ferry from Manarola to Riomaggiore.
Our day trip to Cinque Terre started in Manarola, then worked its way north to Monterosso Al Mare before returning by train to finish in Vernazza — one of Italy's most beautiful towns. It was a wonderful day. In fact, the day trip to Cinque Terre was one of the best days I had while traveling the length of Italy.
Manarola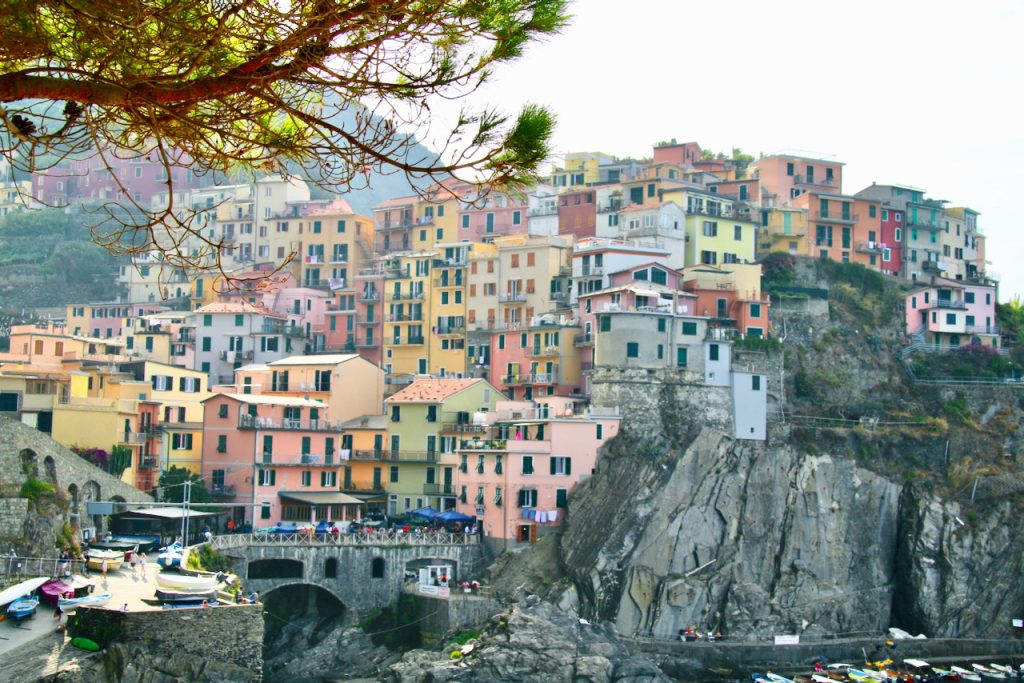 Manarola won my heart. I loved making my way down its main street filled with warm sunset colours. Happy voices from Manarola's 350-something inhabitants filled the air with laughter as friendly restauranteurs smiled and waved while opening for the day.

It's a tiny township that feels like love. To me it was everywhere—in the smell of cooking coming from the houses as I passed and in the way people leaned in and spoke to each other with genuine affection. Plus it was written. Lovers carve their initials on cactus paddles along the wide stone walk up to the headland where their padlocks are sealed with a kiss. Manarola was the perfect place to start the day.
Riomaggiore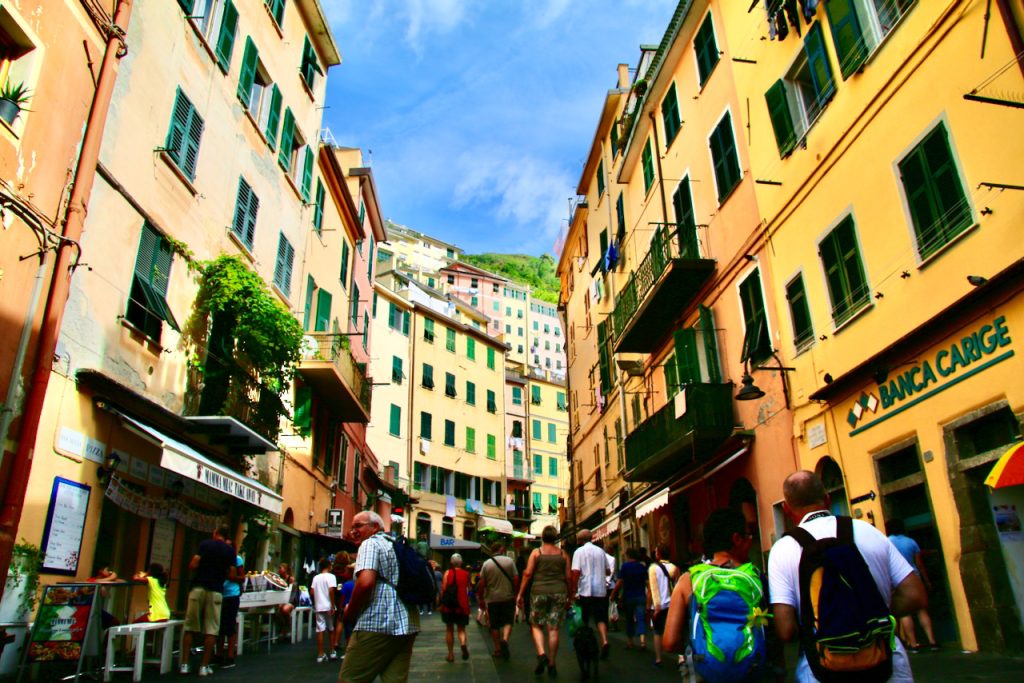 Riomaggiore is my favourite town in Cinque Terre for shopping and indulging my passions. Its intimate streets are brimming with the freshest produce and most beautiful shops. Huge baskets of locally grown glossy deep red pomodoro (tomatoes) were so tempting as I smelled the sweet tomato fragrance meters away.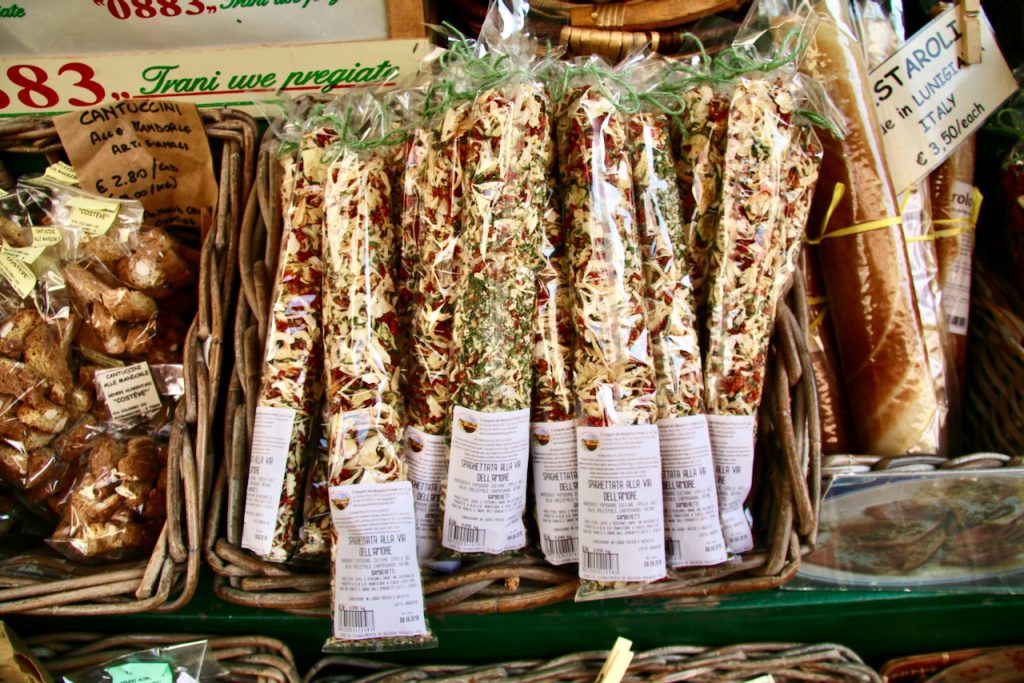 I love to cook and the only regret I have is that there wasn't there enough time to do a cooking class in this gorgeous town. The ingredients on display in front of shops had my mouth watering and foodie lover's heart singing.
Things like Spaghetti alla Via Dell'Amore– spaghetti to the way of love– were begging to be made. A delicious mix of hand-made pasta, tomato, zucchini, onion, garlic, and mushrooms, it is ready to throw in a pot and make an amazing meal to feed the one you love.
Oh, yes, please!
Elegant clothes, bags, and shoe stores were woven along the streets amongst artisan leather goods and artists galleries. It was a joy just to wander the streets of this town.
Monterosso Al Mare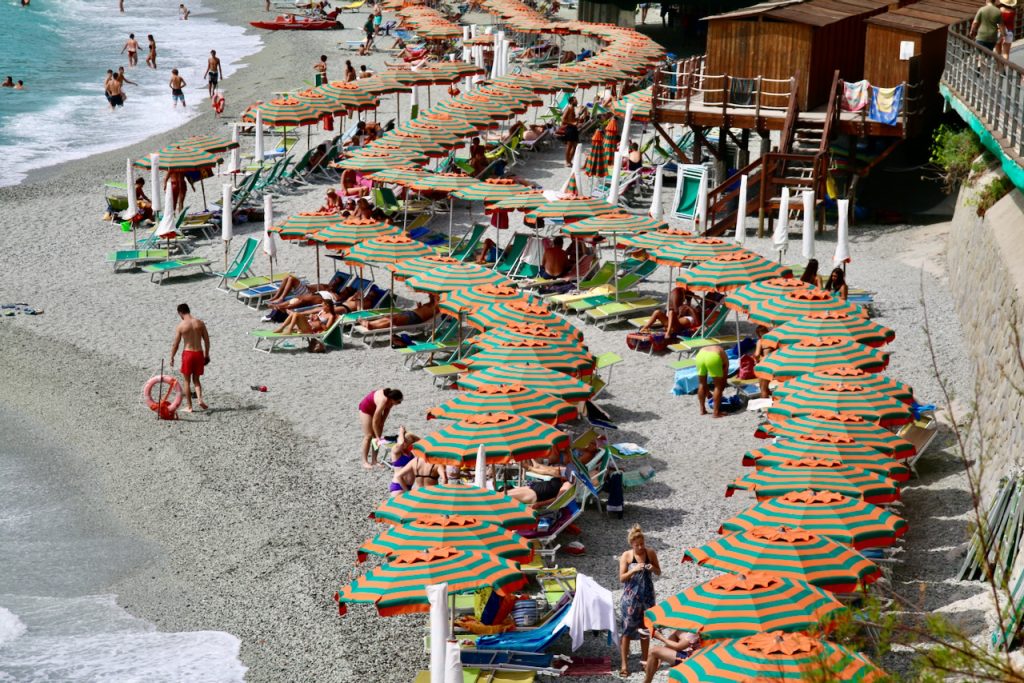 As I walked down to Monterosso Al Mare, classic romantic Italian films like Roman Holiday played through my mind. It is the perfect place for a boy-meets-girl-and-falls-in-love-in-Italy movie. You know the ones. The ones we all love and secretly wish would happen to us.
Vibrant umbrellas hug the shoreline like lazy squiggly caterpillars stretching for miles. Each one had people enjoying the warm sand underfoot and playing in the calm waters. Watching the people relax and play in the sun, you'll see why this is the most visited of the towns in Cinque Terre and the perfect place for lazing away the day with sun and sand.
Along the beachfront, restaurants' delicious aromas tempt you to stop for a bite. This is where I had lunch, and my vegetarian meal was scrumptious. I and every other person on the day trip raved about our meals. From seafood and salads to pasta and plates of any meat dish we could want, it was all amazing.
Vernazza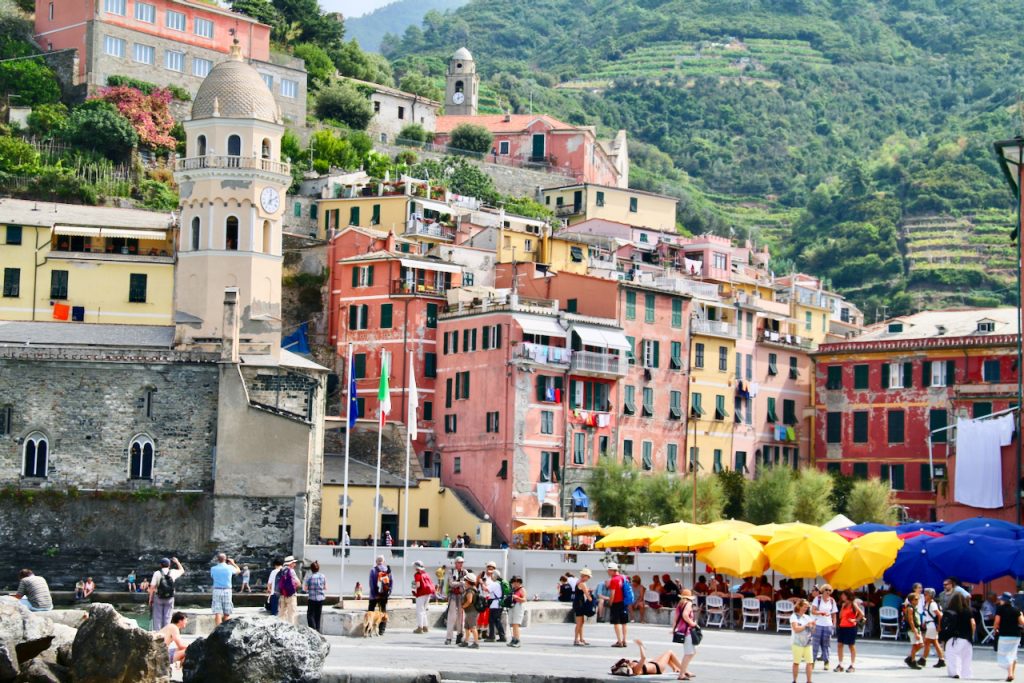 Vernazza is a gem. It's easy to see why so many consider it one of Italy's most beautiful towns. The gentle knock of boats in their sheltered horseshoe protected marina, adds to the seaside charm. A vibrant rainbow of large fabric umbrellas, as colourful as the towering buildings beside them, enchant the town square where most of the restaurants are.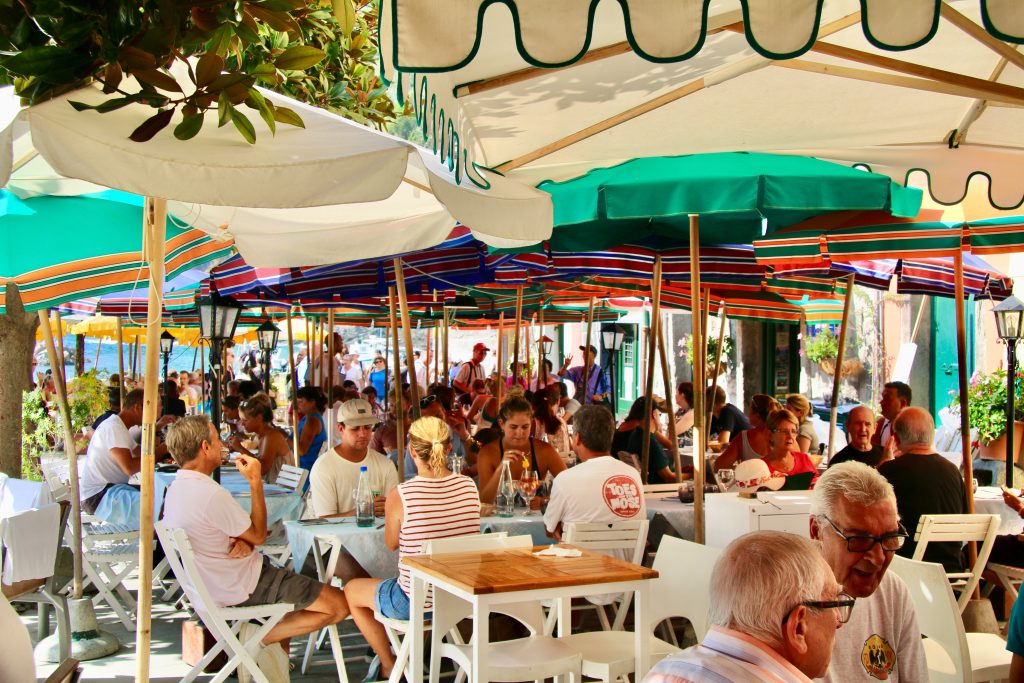 To me, it is seaside Italy, a place where the local chefs walk down to meet the fisherman with the catch of the day for you to eat mere hours later… A place where groups of locals enjoy lunch mingled with the tourists… And most of all, a place where you feel at home.
I could see myself living there. You'd find me writing or sketching on the shallow wide steps that lead down to the small beach, in between swims. I could see myself greeted by the local waiter at my favourite café or restaurant each day while gazing upon the beautiful sunset-coloured, rustic peeling paint of the buildings.
This seaside town was the perfect place to finish a day trip to Cinque Terre. It was a place that if you hadn't fallen completely in love with these five lands, you would. The earthy terracotta and ochre houses with laundry hanging from the windows are typical Italy.
Overall I loved the day trip to Cinque Terre. Yes, I may have a romantic view of the five lands, but when the food is amazing, the surroundings so picturesque, and the locals so happy, it's hard not to. This area of Italy will forever be in my heart. I know that I will return for that cooking class in Riomaggiore and spend more time exploring these lands.