I ravioli fritti sono un piatto molto diffuso in Italia ma non solo. Da nord a sud, salati o dolci, sono tantissime le varianti presenti in tutta la penisola ma quello che molti non sanno è che i ravioli fritti sono apprezzatissimi anche oltre oceano.
Un piatto transnazionale
Un piatto transnazionale, viene da dire, che viene cucinato nelle case  nelle trattorie e persino nei ristoranti stellati. Ovviamente non esiste una ricetta codificata ma in questo caso mi sono ispirato ad una versione in particolare: quella ligure dei Barbagioan o Barbagiuai, ravioli fritti tipici della Val Nervia, nell'entroterra di Ventimiglia il cui nome dialettale significa "zio Giovanni" e leggenda vuole che questi sia il nome del cuoco che li ha inventati, mettendo a punto un ripieno caratterizzato dal contrasto tra il dolce della zucca e il sapore deciso del Brussu, un formaggio tipico di queste zone fatto con latte di pecora e di capra.
Una ricetta povera
Una ricetta povera nata dall'esigenza contadina di portare un pasto "comodo" nei campi, ma non sempre certi piatti nascono per necessità, a volte sono frutto di pura casualità, come la versione americana dei ravioli fritti: I ravioli di St. Louis chiamati "Toasted ravioli", probabilmente per renderli più accattivanti . Un piatto che nacque per errore negli anni Trenta nel ristorante di Angelo Oldani a The Hill, il quartiere italiano di St. Louis, nel Missouri.
Il cuoco Angelo
Sembra che tale Angelo, in quei tempi proprietario del locale, ordinò al lavapiatti di cuocere dei ravioli; Costui, inesperto, buttò la pasta nell'olio bollente anziché nell'acqua, friggendo di fatto la pasta. Nonostante la rabbia per l'errore del ragazzo, il cuoco Angelo decise di servire ugualmente i ravioli che, con grande sorpresa, furono fortemente apprezzati dai clienti del locale.
Una storia bizzarra che ci racconta di come ricette simili, presenti in paesi lontani, possano avere genesi completamente differenti e di come nasce un piatto italo-americano che in qualche modo fa da ponte tra due paesi che da sempre mescolano le loro culture e questa ricetta è un goloso contributo alla memoria dell'eredità italiana negli Stati Uniti nel mese dell' Italian-American Heritage and Culture Month.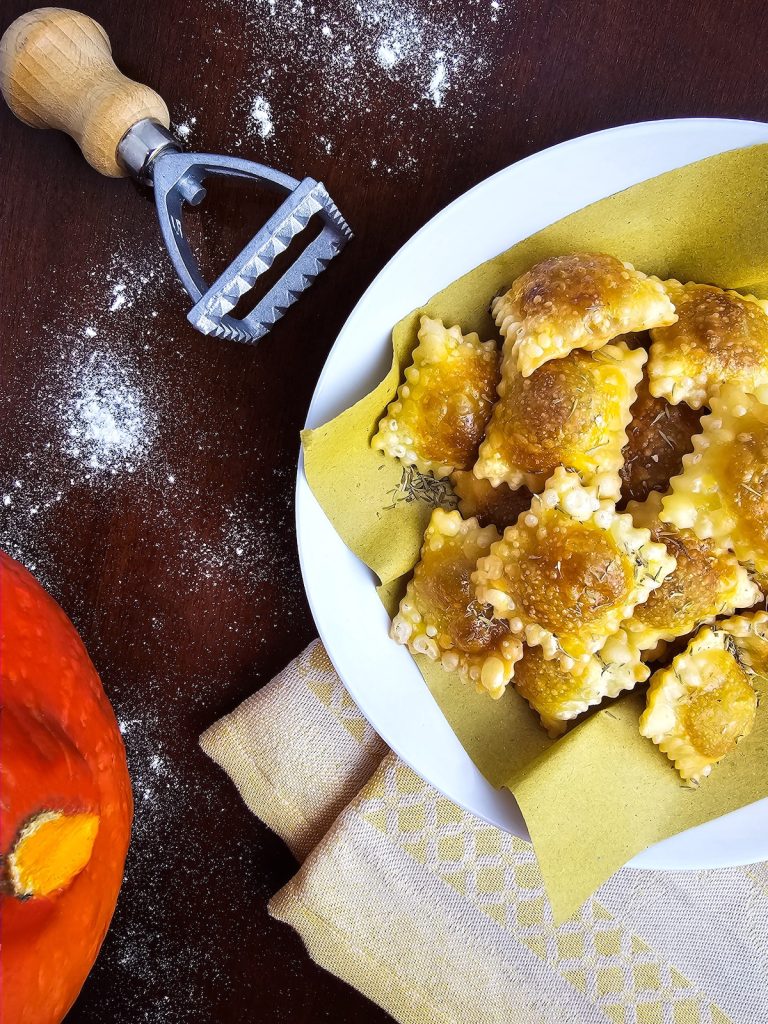 Ingredienti
Per il ripieno
Per la sfoglia
Vino bianco 1/2 bicchiere
Olio extravergine di oliva Ligure 1 cucchiaio
Procedimento
Pulite la zucca, sbucciatela e tagliatela a cubetti
Sbollentate la zucca per circa 15 minuti
Scolatela e lasciatela raffreddare, poi passatela nel passatutto
Prendete la bietola, sbollentatela per 2 minuti in acqua bollente, scolatela e lasciatela raffreddare
In una ciotola mettete la ricotta, le uova, la bietola e il formaggio grattugiato
Amalgamate tutti gli ingredienti con una forchetta ottenendo un composto omogeneo e regolate di sale
Preparate la sfoglia con farina, olio, vino bianco e acqua tiepida aggiungendone quanto basta per ottenere un impasto liscio e omogeneo
Impastate bene la sfoglia e tiratela sottile con un mattarello o con la sfogliatrice
Stendete sulla sfoglia delle piccole cucchiaiate di ripieno, inumidite con l'acqua i bordi della sfoglia e infine coprite con un'altra sfoglia facendo aderire bene
Tagliate con il coppapasta o la rotellina lungo i bordi per ottenere il raviolo di zucca lasciando almeno 1 cm di bordo
di sfoglia intorno al ripieno.
Fate asciugare i ravioli un paio di ore prima di friggerli in padella con abbondante olio di arachidi
Toglieteli dall'olio e fateli asciugare su una carta assorbente