Chat with An Expat: Ashley Bartner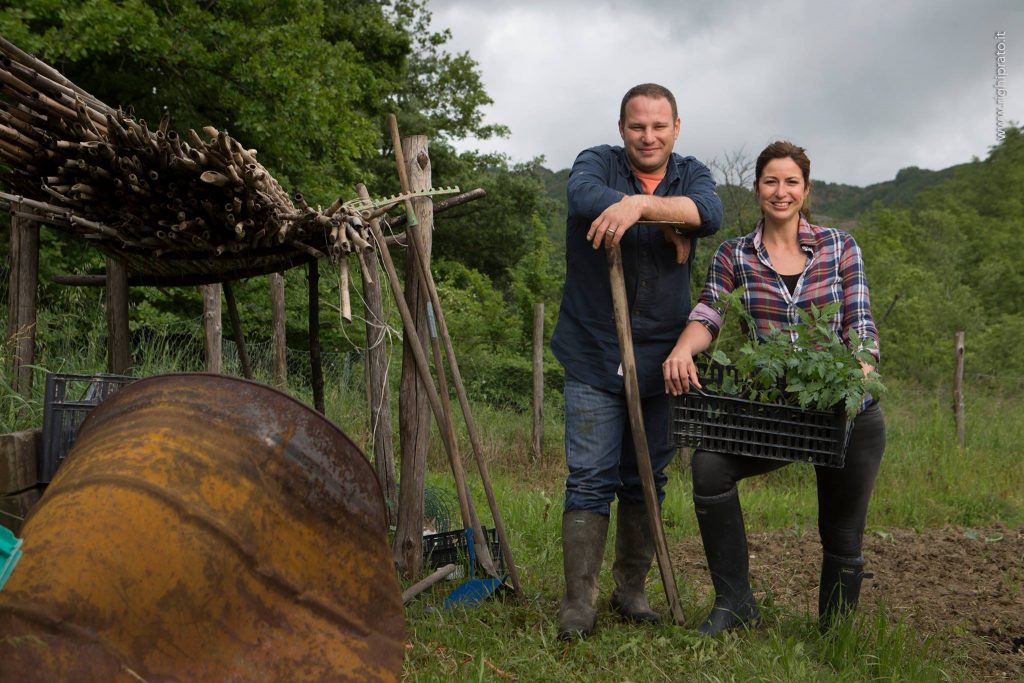 It's been almost fourteen years since Ashley and Jason Bartner left their hectic New York City lives behind and moved to a small, rural town in Le Marche. The 500 year old, once off the grid farmhouse they bought is now La Tavola Marche, a highly successful agriturismo (inn and farm) as well as a cooking school.
Over the years, the couple has welcomed guests from all over the world who are seeking an authentic Italian experience. Italians too have traveled to La Tavola Marche to learn about regional cooking traditions and dishes inspired by the zero kilometer food philosophy.
---
Keep reading to learn about Ashley and Jason's journey that helped them realize their own version of the American Dream; the challenges and rewards of moving to Italy; and being adopted by the people of Piobbico and beloved Papa Gaggi.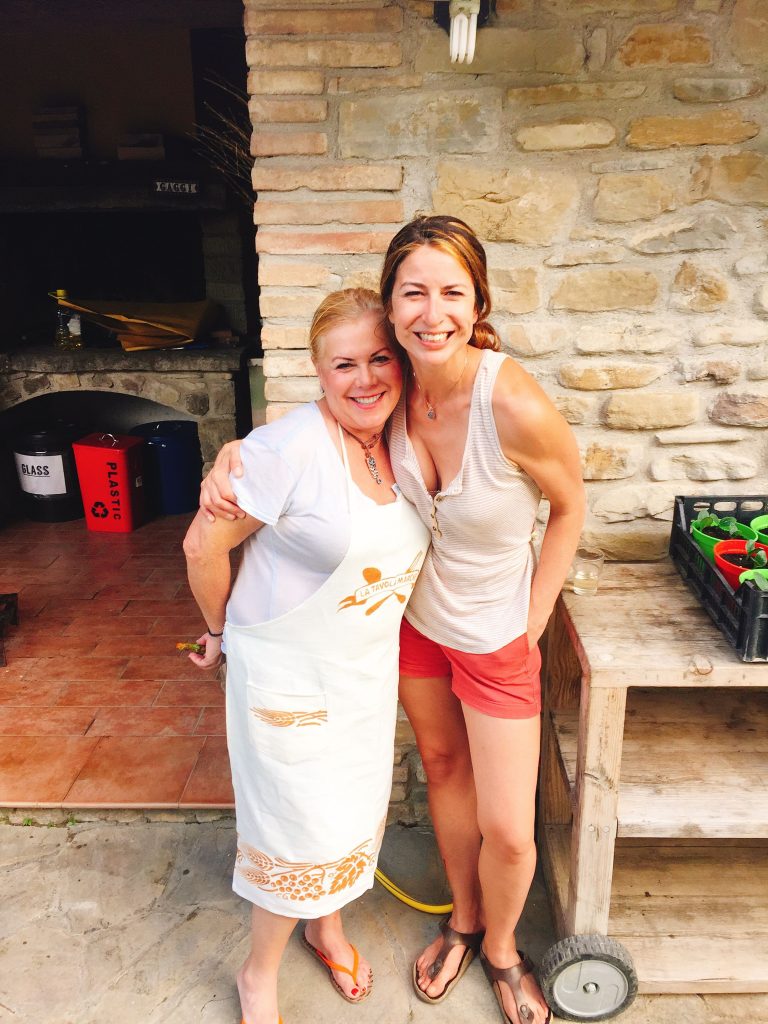 Plus. listen to the full interview on Live in Italy Magazine's "Italy Answered" podcast, by visiting this link.
The giant leap happened in 2007. Explain some history behind the idea to leave big city life in the U.S. to countryside living in Le Marche.
Well, it's crazily romantic I have to say in a wild way. We came to Italy on our honeymoon and experienced this quality of life, this sense of community, this idea of eating seasonally that we were unexpectedly looking to find. And, we returned to our little tiny apartment in Brooklyn that we'd been living in for eight years and we were ready for a change anyway. We thought maybe that we'd move back to west coast, but instead one Sunday instead of looking at properties in California, I looked up agriturismi in Italy. I thought, "why not?" It's just crazy enough, why not? We're 25, 26 what do we have to lose? If it all fails, who cares? We've got a great story to share and we've learned something. If it succeeds then, oh my gosh: we've figured out the secret to success!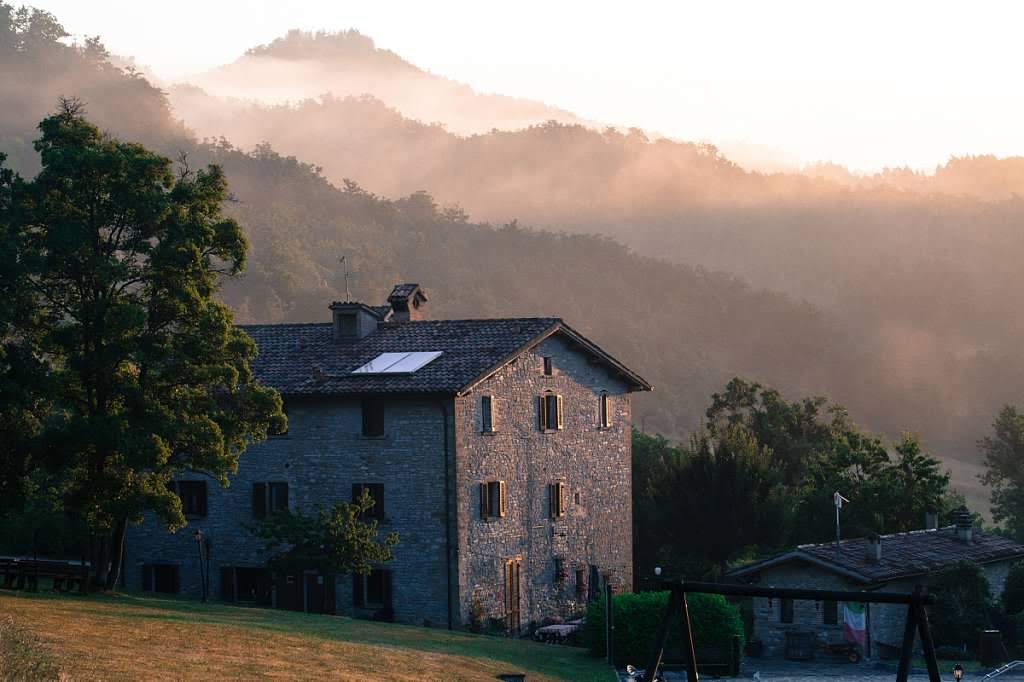 Tell us more about the inn and cooking school.
Yes, we are an agriturismo and that was created in Italy in the 80's to help support the farmers. So, as much as you can, the majority of what you feed your guests with should be from your land and if it's not from your land, then basically it's kind of the same idea as a zero kilometer diet, if you will. It's kind of that slow food idea in practice and if it's not from your land, it should be from your direct area.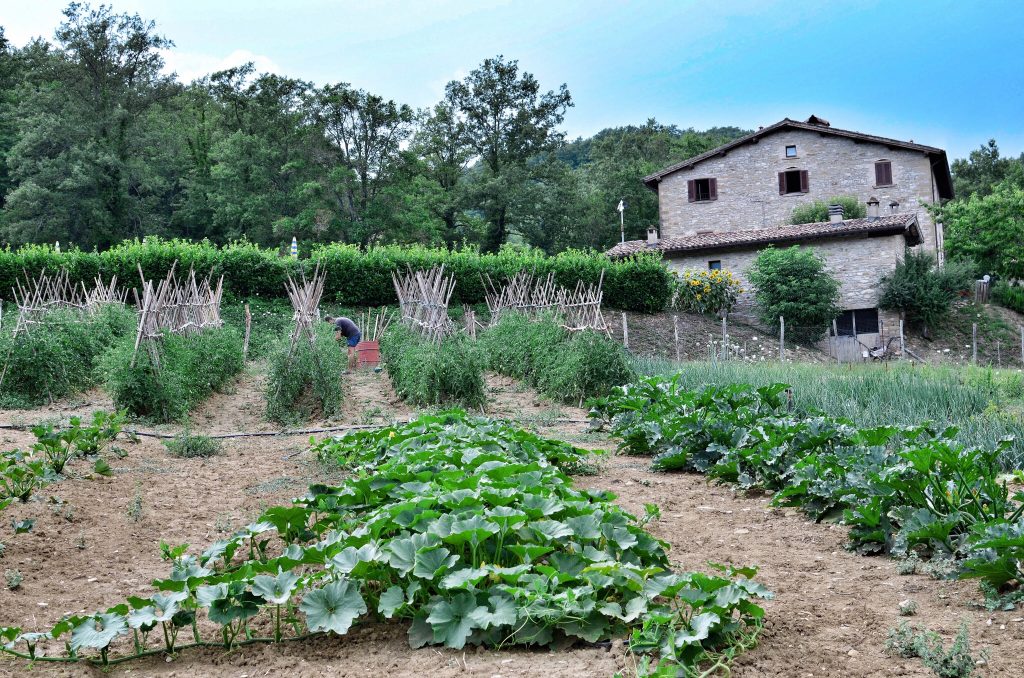 So, we have a big huge garden with like four or five hundred tomatoes depending on the time of year, five hundred onions, peppers, lettuces, zucchini, melons, pumpkins, a little bit of everything. And, we have a farmhouse inn and we do a cooking school. My husband Jason was a trained chef in New York and had gone on to the French Culinary Institute and was an executive chef in New York. He kind of got burned out early on and by 25, as an executive chef, he realized that the higher up in the kitchen you get, the less in the kitchen you are and the less you are working with food. It's more paperwork and all of that. Coming out here [Le Marche], he was not only able to cook again, but actually become a farmer. I think that for him has been the most fulfilling – growing the food and then sharing it and teaching others how to cook it.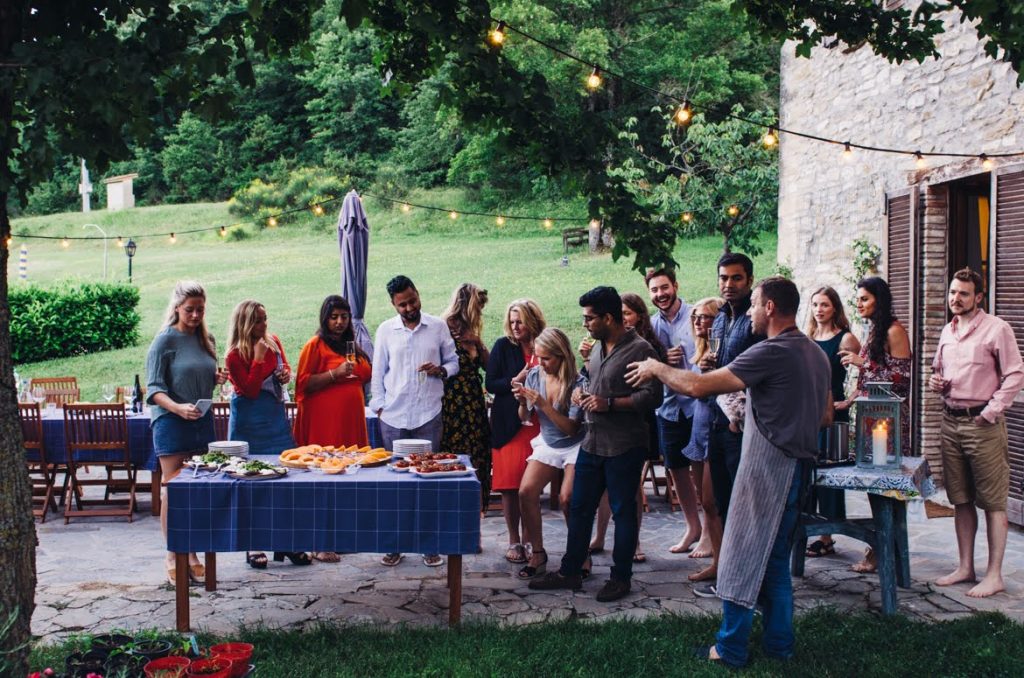 Who goes and stays there and for how long? How do they find you?
People find us through our website, social media and podcast. It's all La Tavola Marche – LaTavolaMarche.com. We have a podcast called, "Podcast from Italy" that we've been doing almost since the beginning. It's stories of day-to-day life. Plus, we kind of bitch about bureaucracy, travels, just day-to-day living, watercooler talk in Piobbico – the hot gossip! Of course, Instagram and Facebook for all of the photos and daily "what's happening" and what we are picking and harvesting from the garden right now and cooking depending on the time of year. We are super social! Definitely, check us out.
You have to want to come. People don't stumble upon us. Being so far out of town, down this long dirt road, you really have to want to get here. Most of our guests, I would say, speak English, so they are from North America. We get a lot of Canadians also, Northern Europeans, Danish, Swedish, a lot of Dutch love Le Marche and we get a few Italians here and there, depending on the season. They'll even come for the cooking classes which is just hysterical!
And, Australians: we love our Australians, they are a great group.
Normally, our cooking workshops are three nights or five nights and then we have the whole farmhouse rental. You can come with a group of friends and family and take over the whole place for a week or just a few nights.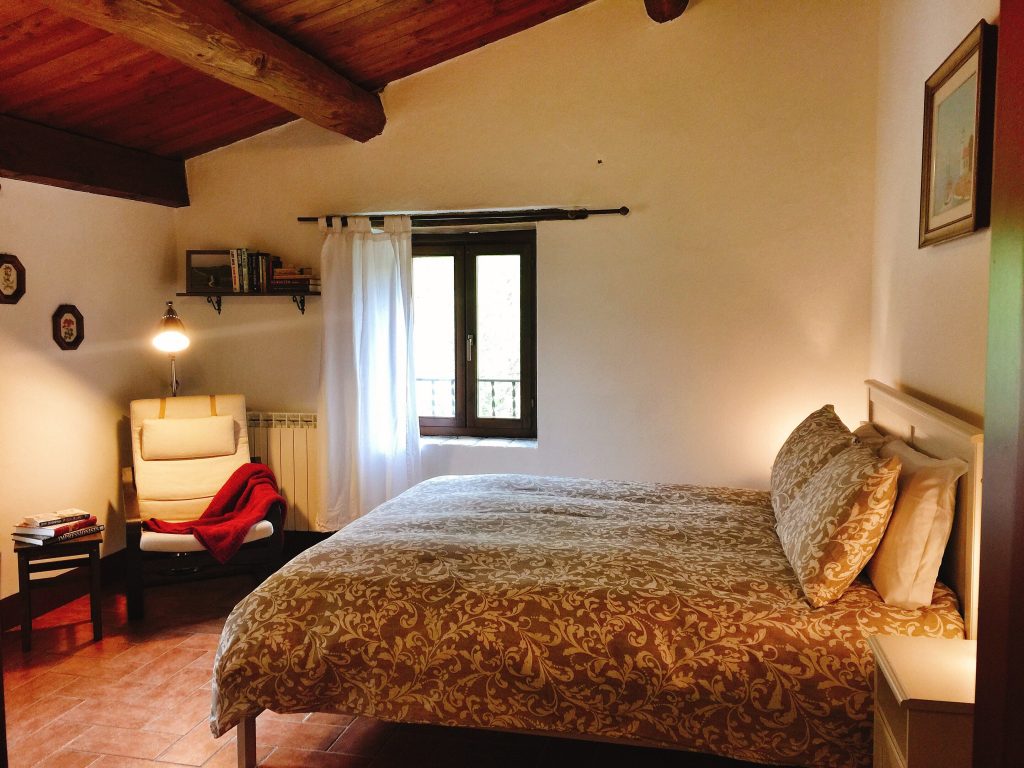 We have five apartments and they're two bedrooms/two bathrooms – they're big. So depending on if it's couples or families with kids, we have a couple of rollaway beds — I would say eighteen is normally the max.
How has the meaning of the word "family" changed since moving to Italy?
It's funny because as soon as we arrived being 25/26, the neighbors thought we were orphans. They were like, "where is your mother? Where is your family?" It was immediately like being adopted. Being an expat was not the case. They would deliver us Easter bread and say, "my mother made this for you because you can't be here without your own mother and the first Easter without this bread…" They really took us under their wings and it was overwhelming because we lived in New York for eight years and we hardly knew our neighbors.
We lived here for barely eight weeks and everyone knew who we were and would want to invite us (the Americans) over. They were just so curious why we were here and why did we choose this tiny town. And, so incredibly proud to share any or all of their family traditions. So for us, it was incredible because we were sponges and we just wanted to learn everything. We still do, wherever we are. They were more than willing to share everything and more than what we asked for.
We were incredibly lucky to be adopted by the town.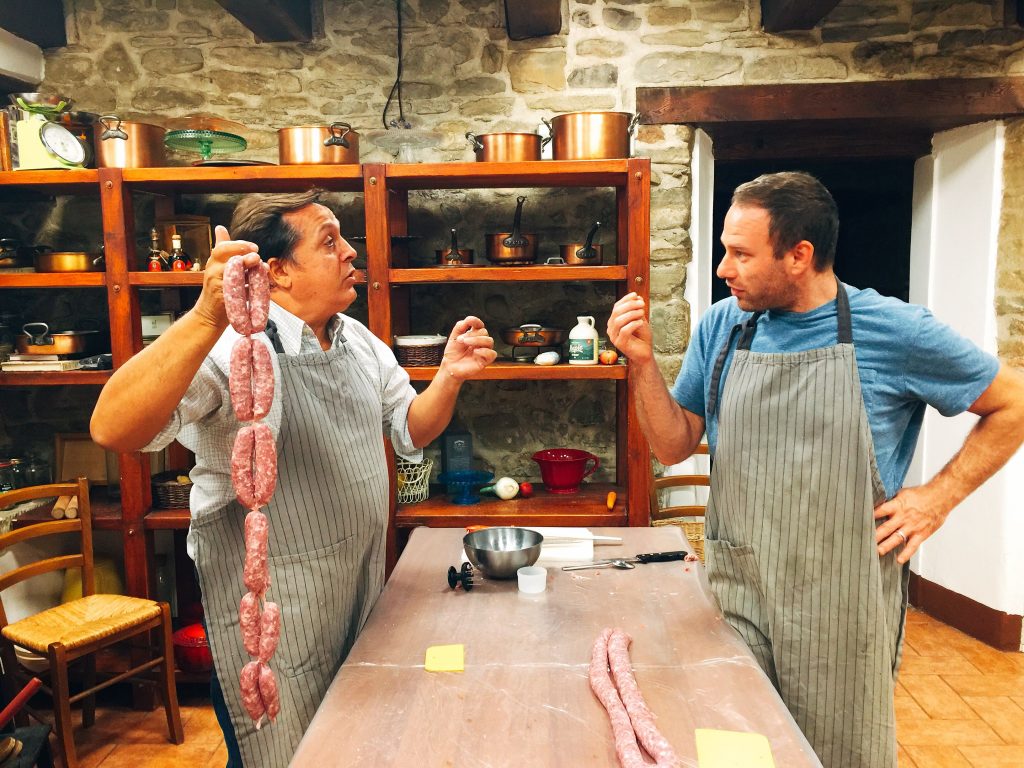 Can you talk briefly about the difference of starting to learn Italian while in the US and communicating in Italian with locals once living in Le Marche?
We started learning Italian right away from the moment we had the conversation, "let's move to Italy." It was, I need to find a class or school. Thankfully, we were in New York so there was a lot of options and I found a children's school that just started doing adult lessons. There was three or four of us in the class and it was great because it was really basic.
(Note: They continued to do classes a few days a week for a year and a half, but because they were so busy with work it was not until they moved to Italy that they started to learn.)
Once we moved, it became terrifying, not only trying to negotiate and deal with the house and rely on the real estate agent to help translate things properly. We were just out there and there was no satellite service like we now have, no internet, phoneline or waterline. We'd have problems with the pipes being frozen and have to call the plumber and look everything up in a dictionary, write it out, call him with our script and then just say, "oh, si, si, si" when he'd reply. We'd write as many things down as possible and then look it back up in the dictionary, call him back and say, "oh no, no, no, no, no!" It was just so slow, the process.
We eventually took lessons here in town and throughout the years, we have continued to take lessons in different ways and forms such as YouTube, videos, private tutors on Skype, online classes, and other people in town who taught in person.
It's always going to be something that you keep working at. For me, it probably took about a year and a half to start to really get the jokes and stuff, and that was big because I would put my foot in my mouth so many times or try to tell what I thought was a hysterical story and it did not land!
You learn a lot the hard way and I just need to learn how they tell jokes to learn the right way to say some of these colloquialisms and go from there. And, not trying to Americanize it because when you do that you make mistakes.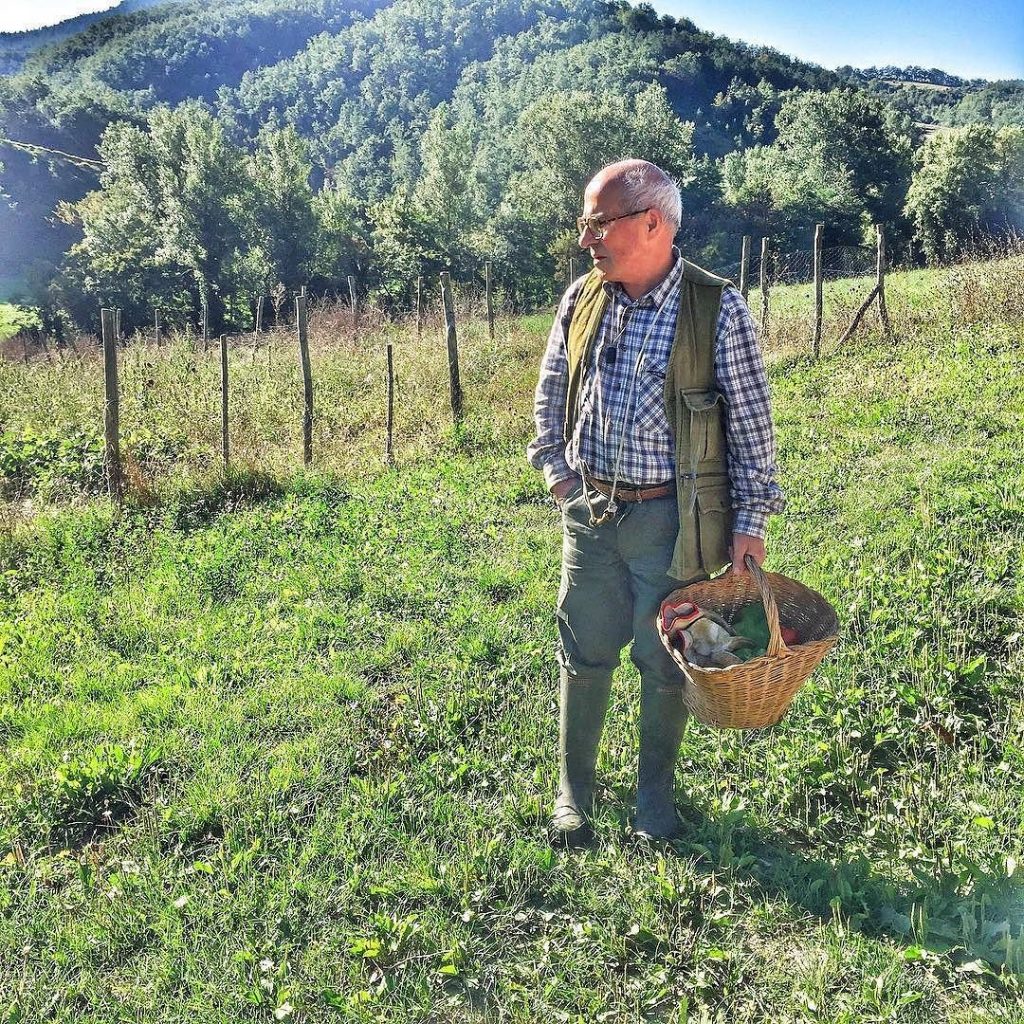 Tell Us About Il Capo/Dr. Gaggi
He is our full on Italian Papa. Whether we asked for it or not, he has forced himself into our lives. When we first moved. we thought let's take apple pies to all of our neighbors because it was the most American thing we could do and it was maybe a nice way to become a new neighbor. Some of the neighbors loved it, one old lady freaked out and some husband popped out and said, "I'll take her pie."
We then went down the road in the other direction and we delivered a pie to a guy who not always lives here and was there with a bunch of other guys who were hunting. We didn't actually know who owned the house, but we know that they were all really happy about the pie. Then about a week or so later, we see a note on our front door that says, "come to dinner at our house," signed Dr. Gaggi. From then on, they just infiltrated our life.
Watch "The Story of Dr. Gaggi" here.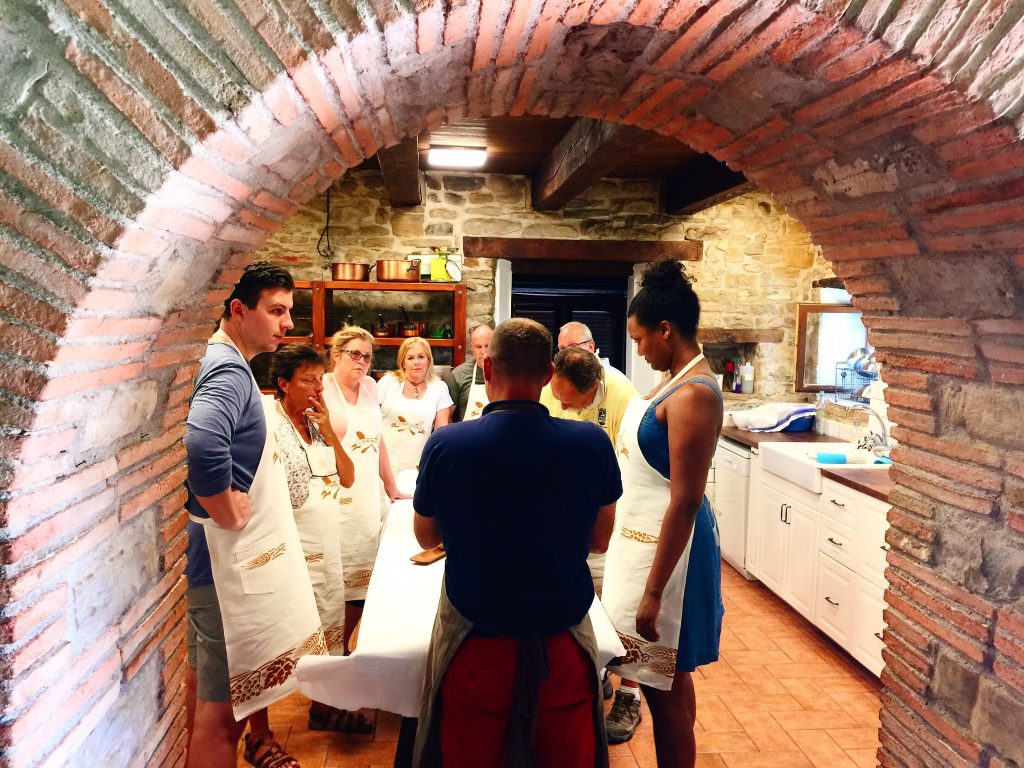 What are some of the classes that you host?
The normal cooking classes are farm to table. We start off in the garden, collect the produce and veggies and come up and start cooking. The main cooking classes are four or five course dinner parties. That's in the afternoon and we do a bunch of antipasti, a primo (pasta, or soup) and then a secondo, meat dish and dessert. Then, of course we have the pasta and sauces, the pizza class with the wood oven, we do forage, slaughter butcher courses; and whole hog butchery courses; sausage making and all of that. Then a couple of years ago, we started "Move to Italy" classes because we got so many emails on how did you do it; how did you get your visa; how did you start your business?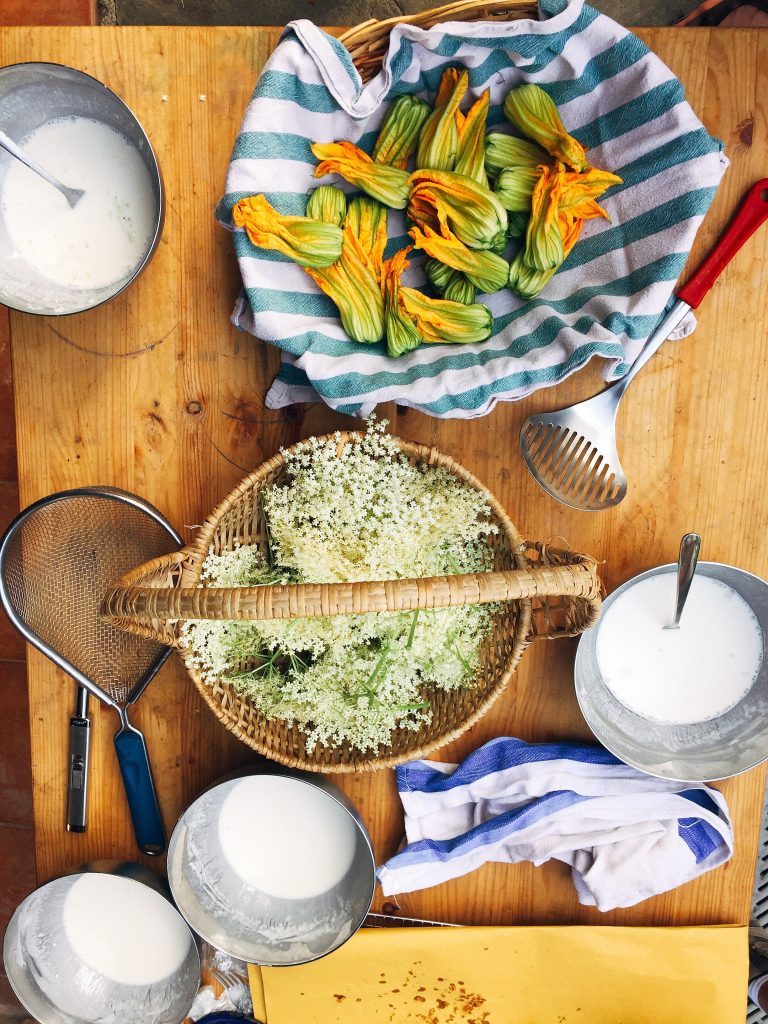 As an expat, what do you miss the most?
What I miss the most is of course, family and friends and being there for birthdays, celebrations funerals, and things like that. But, on the fun side of it or the day-to-day side of it, I miss things like food delivery, going to a good Mexican restaurant, or I miss a football game that's on at a normal time and being able to watch it at a bar or with friends. It's some of those little things, but after thirteen years we have the NFL package or have friends and family come out, or you make your own out here and you start to let it go.
What has been the biggest challenge?
I would say what we talked about earlier, the language just because it's an ongoing battle. Trying to do business and not sounding like a fourth grader and to be taken seriously. Second to that is the bureaucracy if you're starting a business. If you're coming here as retirees, it's a lot less.
What recommendations do you have for anyone wishing to move to Italy?
Do your research. First figure out if you need a visa and you most likely do. Go to your local consulate, check online and see what you need to start, and collect the paperwork. A lot of people think they're going to move in 18 months and it's possible…but a lot can stand in your way. Create a timeline, work backwards, learn the language and start researching about the different areas of Italy or wherever you think you may be moving to. You can do a lot without being there in person. Start researching for properties on websites that are in Italian because the ones in English are geared towards foreigners and are higher priced.
There's a lot you can do while still in this dream phase and realize, "is this still right for me?"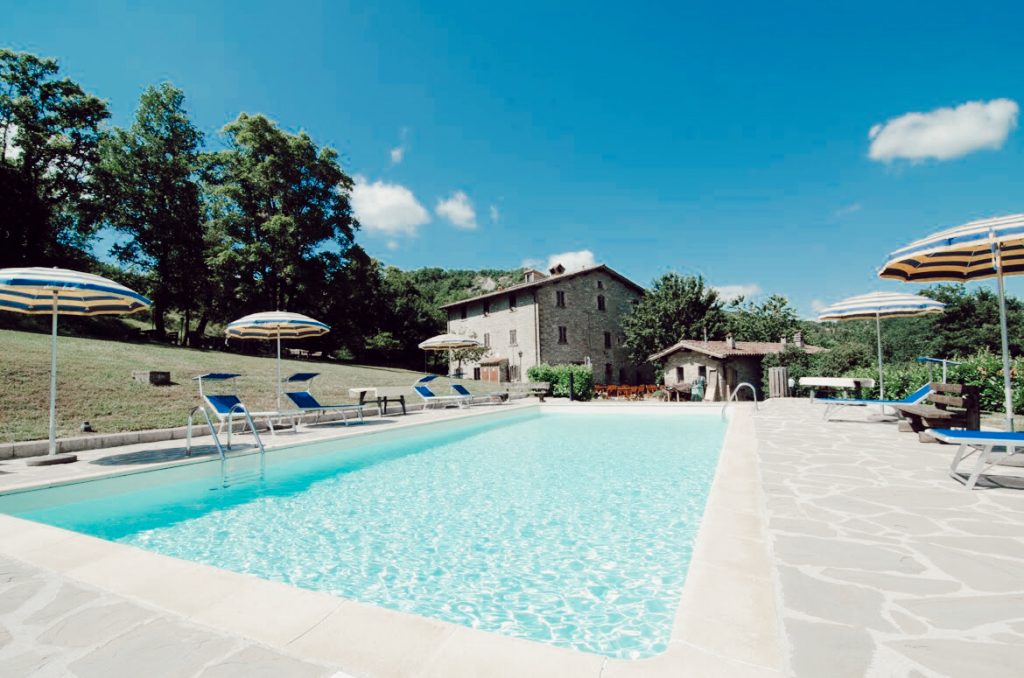 Italy has 101 million bed & breakfasts and agriturismos. Everyone wants to run one and I have no idea why when you don't have a background in hospitality. But, Italy could use a lot more innovation, technology and alternative sources of energy. People who have backgrounds in other expertise could be useful here also. Think outside of the box. Better the country in a better way.
What is your personal definition of an expat?
We always joke that we fulfilled the American Dream, but it just so happened to be in Italy. We have our own business, we work together, are happy and successful, we've made our home our castle. However, it wasn't with a white picket fence, but with a stone farmhouse. We bring this spirit of America with us where we go. Coming here and being amongst Italians, they thought that we were this epitome of the American Dream. "Look at that. Here's this couple that are young, 'orphans' and they're following their dreams to another country to see if they can make it work." People here barely leave the town they were born in, let alone an ocean away. It's becoming a part of the culture and learning their traditions, sharing it with others, passing it on and being ambassadors of where we are living.
---
With COVID-19, Ashley and Jason have continued to take care of the farm, make improvements, relax and see other parts of Italy. They also offer classes online and one that helps people learn more about moving to Italy.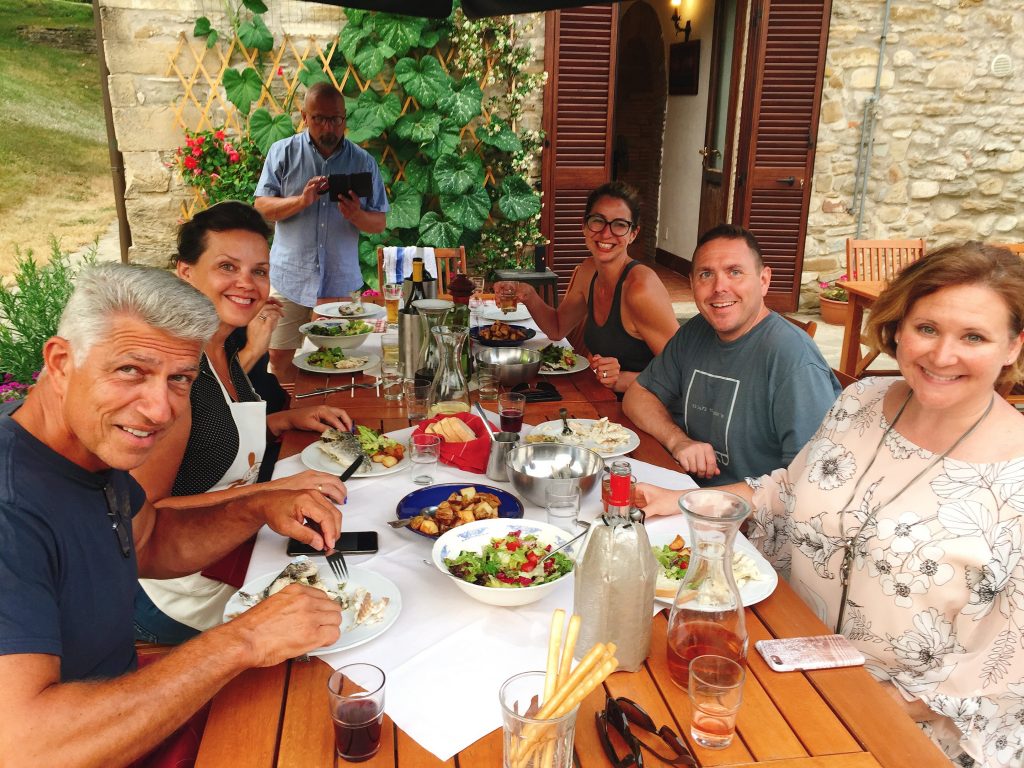 Ashley is working on their 2021 reservations and conveys that La Tavola Marche is the perfect place for a family or large group to have a private stay. She concludes,
This big old house just having two live in it is a shame. It needs to be full, have the people and the energy and feed that many people. Whether the garden and the flowers or the kitchen, the house wants to be full to do it justice.
All Photos Courtesy of La Tavola Marche
---
Watch the full version of this interview on YouTube.
---
Read another "Chat with an Expat" featuring Katie Harris of Easy Italian.