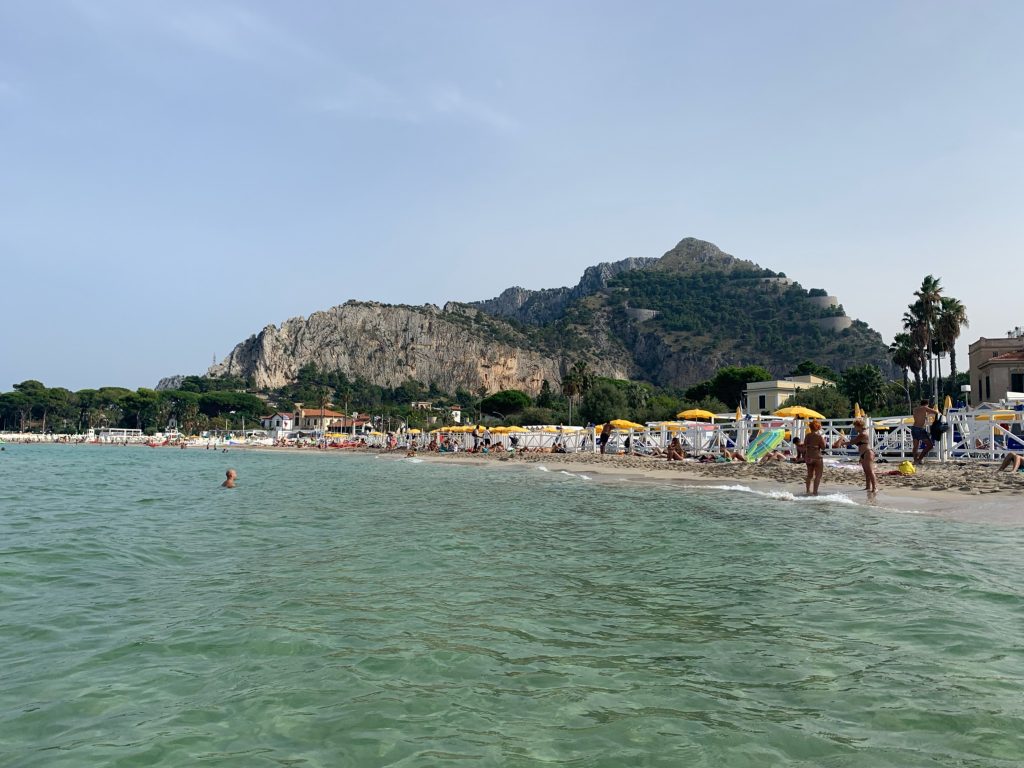 Mondello Beach is Palermo, Sicily's most popular seascape, replete with clear waters, granita stands galore, and an unparalleled view of Monte Pellegrino. Thanks to its large crowds and proximity to the Sicilian capital, however, it often gets a bad rap relative to the island's more glamorous beach towns. Think: Cefalù, Taormina's Isola Bella, and Scala dei Turchi.
But unlike Sicily's more luxurious coastal getaways, Mondello doesn't feel curated; rather, what you see is what you get, and with a mostly Sicilian demographic, the town offers a vibrant glimpse of authentic Sicily. While Mondello may be more lively than it is relaxing, our suggestions are certain to help you uncover the charm amidst the chaos.
Getting Around:
Less than ten miles outside Palermo's center, Mondello is primed for a weekend getaway, a quick day trip, or even a morning swim. Local buses run to and from the beach all day, while more adventurous travelers may opt to bike or even electric scooter. Sicily is no stranger to the burgeoning e-scooter craze with rentals available in both Palermo and Mondello.
When To Visit:
Summer in Sicily is scorching, making shoulder season the optimal time for a visit. March through May, as well as September and October, span the sweet spot, with weather warm enough for swimming but crowds subdued enough for relaxing.
If you do decided to visit in the summer, the beach fills up fast. The earlier you arrive, the better. Consider renting a chair and umbrella at one of the many beach clubs along the water to guarantee an all-day spot.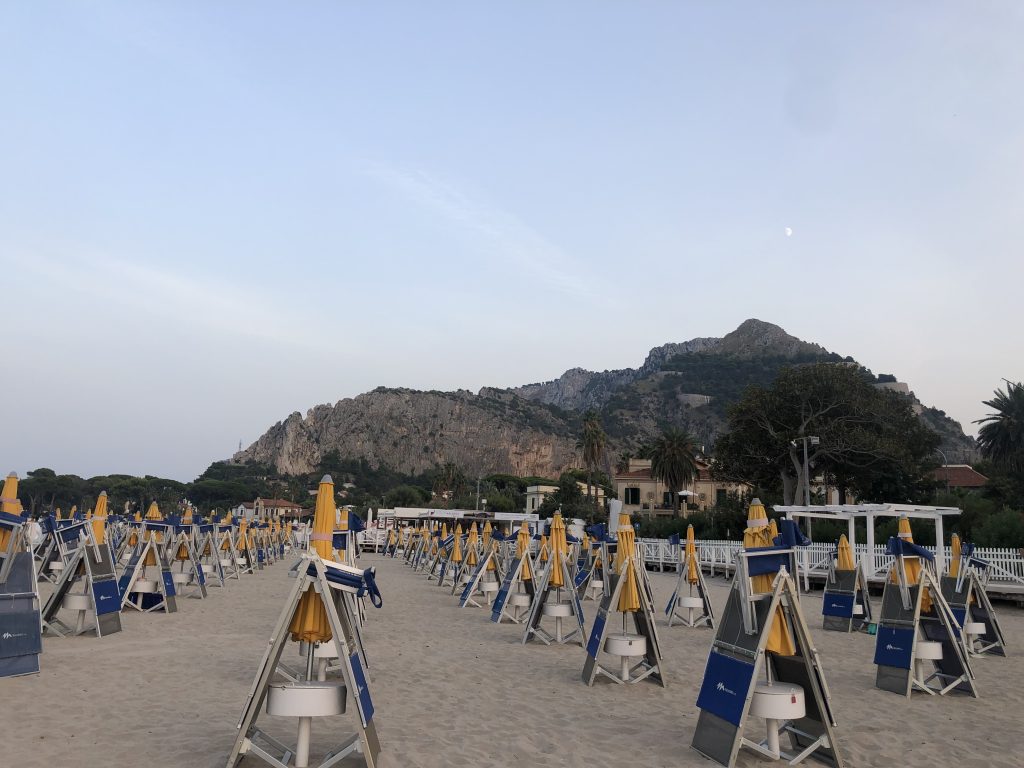 What To Do:
It's no secret that Mondello's sea is its star. You'd be remiss to visit the beach without taking a dip in the town's trademark turquoise waters. With views of Monte Pellegrino in your periphery, the Mondello swimming—rather, floating—experience is one-of-a-kind. You can also rent boats, paddle boards, floats, and the like.
If relaxing on the beach is more your thing, lather up with sunscreen and open a Sicilian classic. There's nothing like reading the likes of Andrea Camilleri or Leonardo Sciascia while on the very island that inspired their works. Forgot your book at home? Duck across the street into Libreria Sellerio to pick up a new one. Perusing the books is nearly as fun as reading them.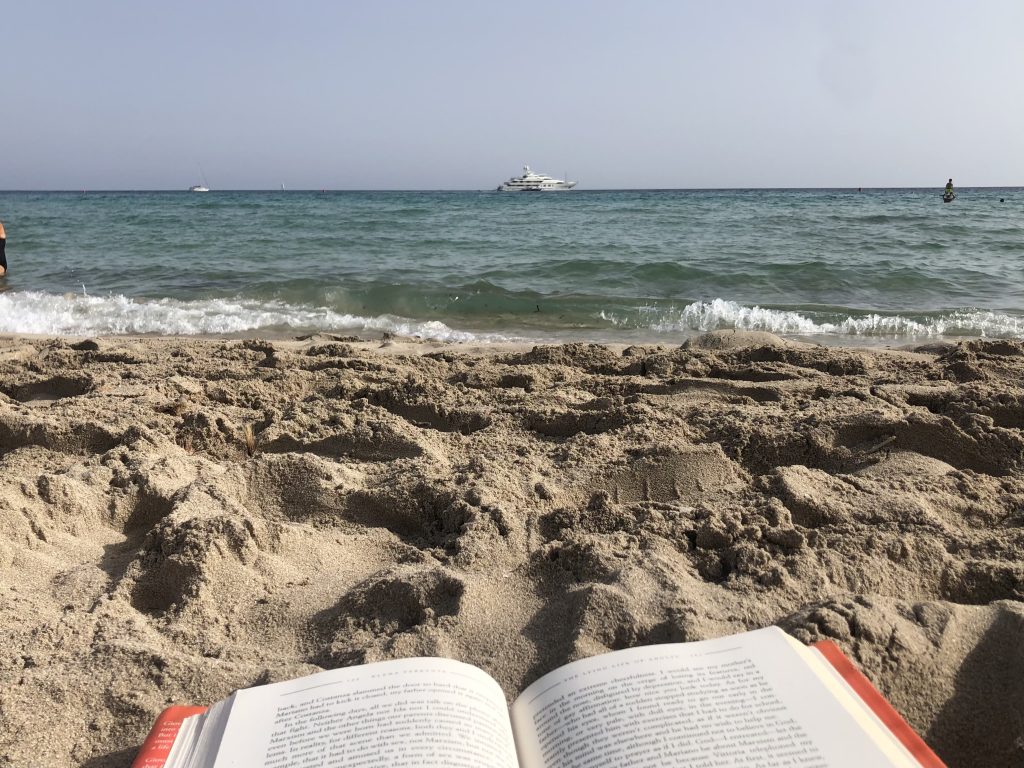 Fair warning: no matter what book you bring, you may have trouble focusing. Mondello is picturesque but it's certainly not quiet. You'll hear beach vendors traversing the shoreline, calling out a range of products—beer, jewelry, towels, corn on the cob, and so forth—with impressive persistence. This is the norm at Mondello, as well as other Sicilian beaches. Chalk the cacophony up to local charm, and soak up your surroundings.
Outdoor Activities:
For the more active vacationer, Mondello also offers a slew of outdoor activities that range from the adventurous to the breathtaking. The Capo Gallo Nature Reserve is a microcosm of Palermo's natural environment, known for its cool caves, unique fauna, and local wildlife. Go for a leisurely stroll or an exploratory hike to glimpse the island's natural beauty. Out there it's easy to forget that you're mere miles from Sicily's most bustling city.
On the cusp of Mondello, closer to Palermo, Monte Pellegrino is primed for an afternoon hike. When the midday sun begins to set, summit the top of the mountain for a golden hour vantage point of the beach below. Buses also run to the peak. No matter how you get there, make a pitstop at the Sanctuary of St. Rosalie: a shrine honoring Palermo's patron saint. It just so happens to be in a cave. 
Where To Eat:
Breakfast
Mondello may only span a few streets, but it offers all of Sicily's best street treats. Rows of seaside gelaterias and bakeries dot the town; start your day with a brioche and granita from one of these local stands. There's nothing like sampling the flavors of Sicily by the sea.
Lunch
Once swimming works up your appetite, stretch your legs and take a stroll along the water. Pop into any number of Mondello's cafes for a filling riceball, prosciutto panini, or a slice of sfincione—best enjoyed on the beach.
Dinner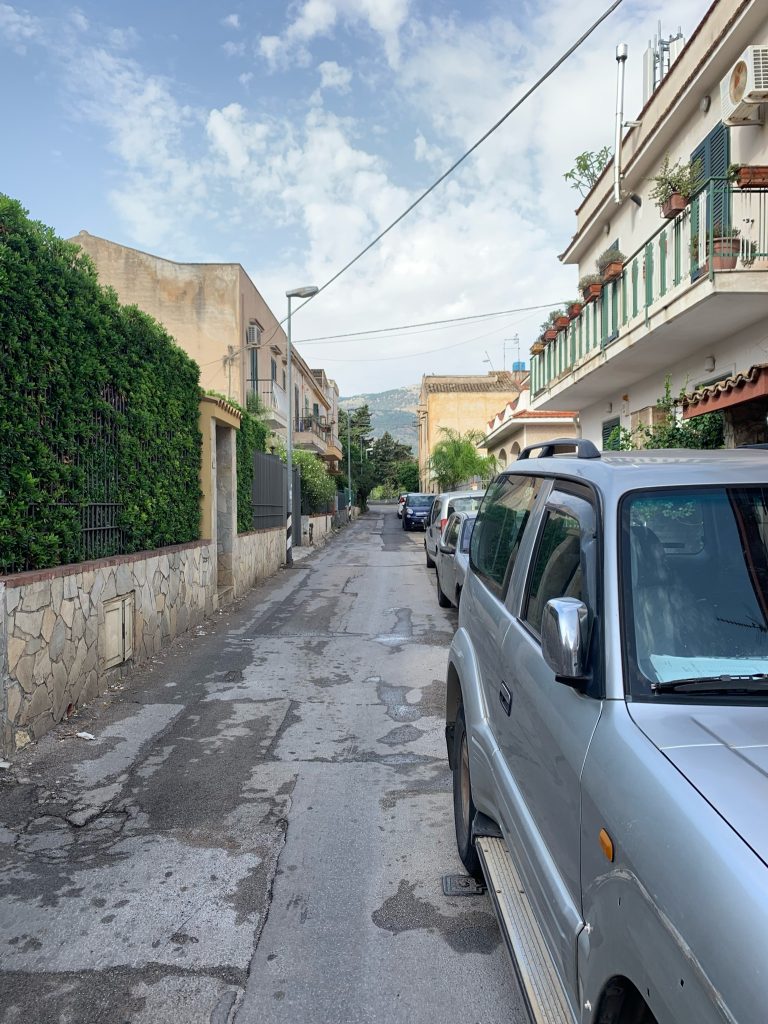 When you've had your fair share of the sun, opt for dinner at Bar Touring, a nearby cafe that offers two kinds of apericena: one for fish-lovers and one for meat-fanatics. For more vegetarian-friendly options, order something à la carte. If you're looking for a place further into town, pizza at La Vecchia Masseria is a slightly more formal option, with plenty of seating for larger groups.  Enjoy one of their unique pizzas on the outdoor patio, and savor the end of full day with a celebratory spritz.