Consorzio Tutela Vini della Maremma Toscana Tasting In New York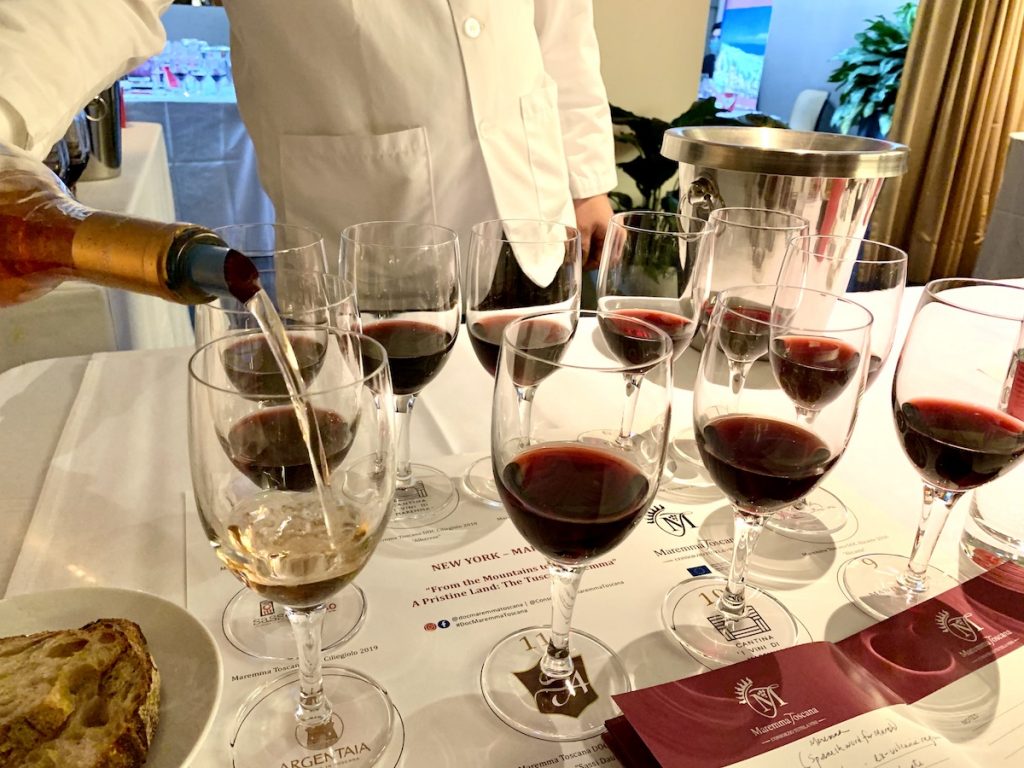 At a recent tasting of wines from Maremma, I began to think…this region of Tuscany is often compared to Provence, northwest of the area by some 400 miles and around the bend of the Ligurian Sea, but comparisons with Sicily, almost 650 miles due south, bear remarkable  similarities. Both see fewer tourists than other Italian regions, yet there are so many reasons to visit, not the least of which are their wines. They are among the best kept secrets for travel in Italy.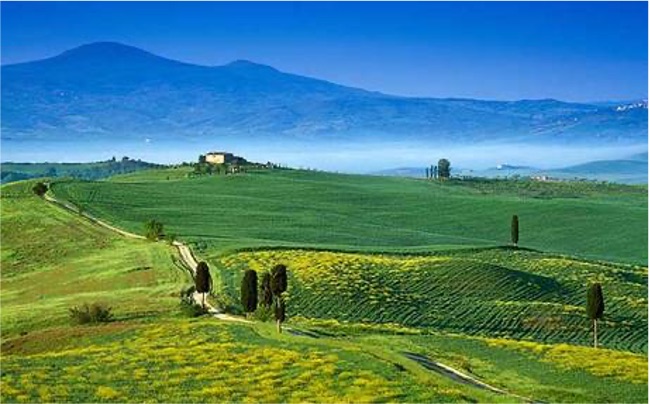 Situated in Tuscany's southwest area, Maremma has mountains and 100 miles of coastline, vineyards and olive groves, abundant wheat growing on its plains, and marshland, from where Maremma takes its name. The forests are full of pine trees that perfume the air, and mushrooms carpet the undergrowth. Like Sicily, it is very biodiverse, and both are mainly agricultural. They both breed cattle but only Maremma's herders resemble cowboys roaming the land wearing 10-gallon hats, Italian style, of course. This is not the Tuscany of conical cypress trees and sunflowers. Instead, it resembles the largest island in the Mediterranean with sandy beaches, a lot of sunshine and a wild, passionate feel: Sicily!
History
Culturally speaking, they both have ancient roots. Maremma had an Etruscan population in the 6th century BCE that left necropoli, caves and grottoes carved from the abundant tufa, a light colored, porous stone. Sicily had Greek colonies that left evidence of great cities full of temples and theaters, also built from local tufa. They all prayed to their gods and drank wine. Both places have a plethora of charming small hill towns with stunning vistas, dominant castles, and a distinct medieval feel, yet both have been off the tourist radar until recently.
Wine has played a large part in luring enthusiasts to their shores to explore. In many ways, Maremma and Sicily have had parallel paths. When each area committed to raising the quality of their wine production in order to play on the international field, it brought a lot of media attention to the areas. Centered around wine, the growing descriptions of stunning vistas, enviable climate, unique history, culture and traditions, increased the overall interest in both places. In recent years both Maremma and Sicily have developed various consorzi to act as resources for the local wine and tourism industry and help promote the quality of what they offer. They advise and market, support and work together. They are causing people to be intrigued, to taste the wines and to visit, and they are meeting with success.
Understanding
In 2014, only a short time ago, Maremma achieved DOC status. It is a small area with 8,770 hectares of vineyards and growing. They grow a wide variety of native grapes that include reds such as Alicante, Canaiolo Nero, Ciliegiolo, Pugnitello and Sangiovese (a Tuscan favorite but not a protagonist in the Maremma area). Among the planted whites are, Ansonica, Grechetto, Malvasia Bianca Lunga, Trebbiano Toscano and Vermentino. There are international varietals too, but the focus today is mainly on native grapes.
The same can be said for Sicily. The Sicily DOC, designated in 2011, is a much larger area, with some 112,000 hectares under vine, but unlike Maremma, many vineyards have consolidated over recent years in an effort to emphasize quality from what was historically a bulk wine mentality. The Sicilian winemakers also concluded that grapes grow best in their natural environment and they are not only working with the indigenous varietals, but producers like Donnafugata and Marilena Barbera are studying and planting "relic grapes" as well, those lost to time such as Vitarolo and Alzano. Common indigenous white grapes in Sicily are Carricante, Catarratto, Grillo, Inzolia, Malvasia and Zibibbo. Most planted of the red grapes are Nero d'Avola, Nerello Mascalese, Nerello Cappuccio, Perricone and Frappato.
Pair to Compare: Ciliegiolo and Frappato
Maremma's Ciliegiolo grape and the Sicilian Frappato are a very interesting pair to compare. The climate in both areas is not extreme, blessed with sunshine and good winds (think Scirocco from Africa and Mistral from France) meaning naturally healthy grapes. They are both almost by default organic. Statistically, Maremma boasts that more than 50% are certified organic and Sicily is the most important region for organic wine production in Italy. Tuscany is third after Puglia.
Most of the Ciliegiolo grapes grow in the Tufa Area in the southeastern part of Maremma. Frappato, based in Vittoria, is also in the southeast. The soil composition is tufa in Maremma and sand mixed with tufa limestone in Sicily. Like the Ciliegiolo grape, the Frappato yields a fresh wine, with minimal tannins and pronounced cherry fruit notes a style of wine that is easy drinking. In Sicily it can be a little richer than Ciliegiolo from the heat. It becomes a real star when it blends with Nero d'Avola to make Sicily's only DOCG wine, Cerusuolo di Vittoria.
At the recent Consorzio Tutela Vini della Maremma event here in NYC, we tasted 6 different Ciliegiolo wines. All were bright, with some soft silky tannins, those distinct cherry notes and body that showed structured elegance across the selection. From DNA studies, and the important work of Carole Meredith of UCDavis's Department of Viticulture and Enology, we know that Ciliegiolo is one of the parents of Sangiovese, and that Sangiovese is a parent of Frappato, so that makes Frappato the grandchild of Ciliegiolo. It is no wonder that there are similarities in the grapes, but there are clearly other parallels.
Exploration
During the presentation at the event, we heard a little about each of the producers. The stories are deep and passionate, just like the countless stories of winemakers in Sicily. Some families have had vineyards since the 1800's and others left big cities and careers to find the soul of winemaking. Smaller farmers pool their grapes to make wines at cooperatives. They are all working to shepherd the grapes to their potential.
We know from mythology that wine was considered divine. To have it flow through your body puts you closer to the gods. When you meet grape growers and winemakers you have a chance to understand their motivations, their passion and dedication. Like an artist explaining their paintings, you come away with a context, an understanding of what's in your glass. Do this while sitting under intensely colored bougainvillea, gazing at breathtaking landscapes, nibbing perhaps on a little wild boar sausage and some impossibly flavorful cheese, and maybe the newly brined olives and you too, can share in the divinity of it all. Travel to Maremma and Sicily will reward you. These less traveled routes are still a little wild and magical. Bring your glass and an empty piece of luggage to take a little piece of it home.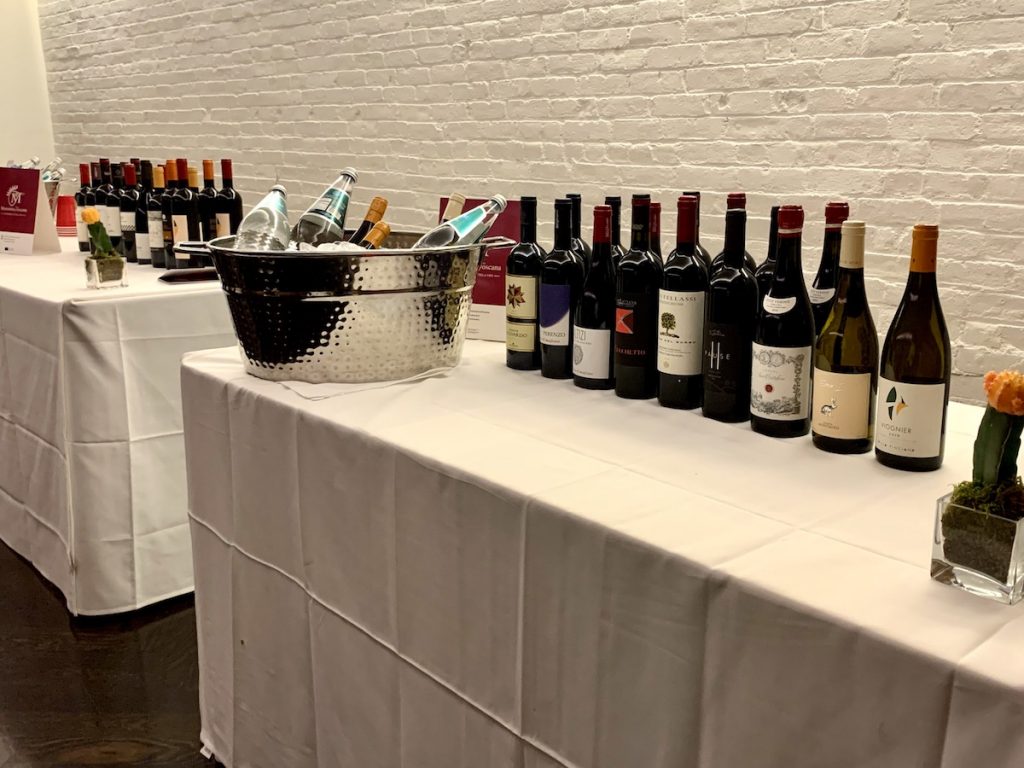 Wines we tried at the Consorzio Tutela Vini della Maremma Toscana tasting were:
Maremma Toscana DOC, Ciliegiolo 2019 – Sassotondo
Maremma Toscana DOC, Ciliegiolo 2019 – Sequerciani
Maremma Toscana DOC, Ciliegiolo 2016 – Cantina Lasvela
Maremma Toscana DOC, Ciliegiolo, 2018 Albarese – Cantina "I Vini di Maremma" SAC
Maremma Toscana DOC, Ciliegiolo, 2018 Ciliegiolo – I Cavallini
Maremma Toscana DOC, Ciliegiolo, 2015 San Lorenzo – Sassotondo
Sicilian Frappato to try:
Vittoria DOC, Il Frappato, 2019/2020 – Valle dell'Acate
Vittoria DOC, Frappato, 2018 – Planeta
Vittoria DOC, Bell Assai, 2018 – Donnafugata
Vittoria Frappato, 2019 – Gurrieri
---
You may also like reading…
3 Women Influencing Sicily's Wine Landscape
Bring Home the Gold with Trentodoc Sparkling Wine
Learn the Local Aromas of Rome