Recipe and Easter-Inspired 'Food for Thought'
Acquacotta is a traditional soup from Umbria and also common in many areas of Tuscany and Lazio. There is an old story related to this dish that has been lost over time but is still told by some grandfathers.
Stone Soup
The story tells about a wayfarer who arrived in the square of a small village, lit a fire, put a pot on it, poured some water in it and then added two beautiful smooth and clean stones. Sitting next to the pot he waited for the water to boil. The villagers were definitely intrigued.
"What are you cooking?" asked one villager.
"Stone soup!" was the stranger's reply.
"And it's good?"
"Sure!" he assured, "Although with a couple of onions it would be even better."
"I have a couple of onions here in the basket," replied the villager. "We can use them!"
They put them in the water and now there were two of them waiting for the soup.
Shortly after, a second curious villager asked the stranger: "What are you cooking?"
"Stone soup!" he replied.
"And is it good?"
"You bet. But it would be a delicacy if there was a bit of chicory."
"I'll go get it," replied the second villager.
Aqua cotta = "cooked" water
As the villagers gradually approached, the stranger boasted about the taste of his special stone soup. And to each one he emphasized how much tastier it would be with the addition of a few more ingredients. By the end of the story, many villagers had contributed to the mysterious soup and were all sitting around the fire waiting to taste it. And when everyone had a bowl of it, they found this acqua cotta (cooked water) to be really good.
The legend is faithful to two very important aspects of this dish. First, it's a 'potluck' dish that originates as an experience of sharing and conviviality. Secondly, it recalls humble workers who, by putting together a few personal provisions, created a nutritious and timeless dish. It is therefore a dish of peasant origin made with ingredients that were traditionally picked directly in the fields. Then the vegetables combined with unsalted durum wheat bread and seasoned with extra virgin olive oil.
It is difficult to find the authentic recipe of Acquacotta as it varies according to the seasonality of the ingredients and the areas of preparation. Certainly, we can always find onions, celery, and basil to add to tomatoes and chicory or other field greens. All these things give flavor to the soup. Eventually, other ingredients such as pork rind or lard were added to give consistency and increase the nutritional power of this dish. However, for our readers, I opted for a healthier and more balanced version, and completed it with poached egg.
Warm and Nourishing
Born as a poor man's soup and nutritious dish for coalmen, shepherds, and lumberjacks. Acquacotta is a recipe that draws its origins from the land and from the hard work of man who, with few means, tried to scrape together a warm and nourishing dish.
Many recipes are born this way, with frugal ingredients and healthy inventiveness and collaboration stimulated by necessity. The simplicity and origins of this soup makes us reflect on how complex nutrition has become today.
Food for Thought
The ever-growing demand for food has triggered a complex and increasingly globalized mechanism of production and supply that heavily affects climate change and consequently affects agricultural productivity. In fact, who produces what and where, has become a decidedly controversial socio-political issue, even more highlighted by the current military conflicts that not only put in crisis supplies, but confuse our minds and afflict our hearts too.
Hence the choice of acquacotta, a soup that wants to be auspicious and 'food for thought', tells us how food is a means of sharing and how we can eat well with simple and easily available products. The egg is my personal touch I added to give royalty to the dish and because it is a symbol of liberation and life: a symbol of Easter.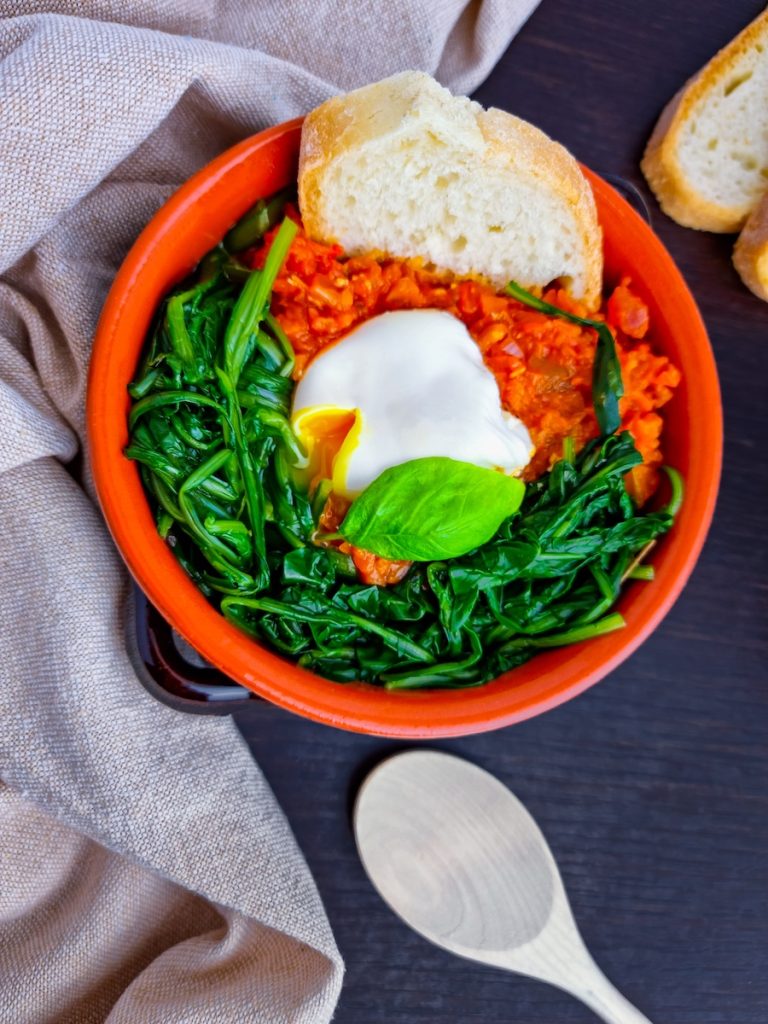 Recipe:
Cooking time: 30 minutes
Cost: low
Preparation: 20 minutes
Difficulty: low
Ingredients:
6 celery stalks
2 medium-sized carrots
4 medium-sized white onions
700 grams of peeled tomatoes
800 grams of chicory
salt to taste
pepper to taste
extra virgin olive oil to taste
4 eggs
vinegar 20 gr
vegetable broth to taste
unsalted durum wheat bread to taste
Method:
Cut the celery and onion into slices that are not too thin, and the carrot into rounds.
Cover the bottom of a large, high-sided pan with a drizzle of extra-virgin olive oil, then sauté the celery and onion until slightly wilted.
Add the carrot and brown them as well, followed by the previously blanched chicory.
Add the peeled tomatoes and plenty of vegetable stock.
Season with salt and cook over low heat, covered, for about half an hour.
Season with salt and pepper.
Meanwhile, prepare the poached eggs. Put on the fire a pot filled with water with high sides; the water must be at least 8-10 centimeters high.
Pour the egg into a bowl without breaking the yolk. Once the water is boiling, lower the heat immediately.
When the water is simmering slightly, lower the heat again to zero and add the white vinegar. Wait a minute for the water to cool slightly and use a spoon to create a circular current around the edges, so that a small vortex forms in the center.
Slide the egg from the bowl into the hot water exactly in the center of the swirl.
Leave it in the water for at least 4-5 minutes, continuing to swirl.
Repeat the operation for each egg
Pour the soup over the slices of bread, remove the eggs from the water with a skimmer, taking care not to break them, and place them on top of the soup.
Drizzle with extra virgin olive oil and freshly ground black pepper.