In the first five days I was in Rome this year, I walked by San Baylon Ristorante & Cocktail Bar numerous times without noticing it. Unlike many other restaurants near Piazza del Popoli, San Baylon does not employ someone to coerce passersby to eat there. Nor does the restaurant have an obtrusive sign polluting the historic building in which it resides. It wasn't until I was invited to dine at San Baylon that I knew what was behind the façade of the 1642 building.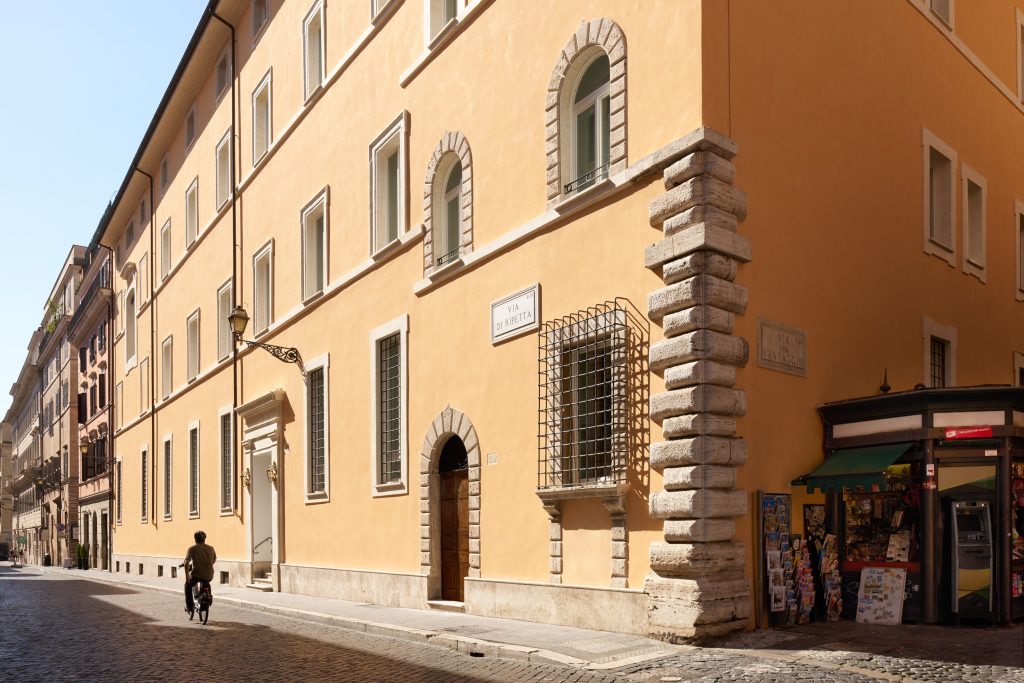 Located in the five-star Palazzo Ripetta Hotel, San Baylon Ristorante & Cocktail Bar has both indoor and outdoor dining spaces. Intimate and warm, the wood-paneled dining room has historic photos that line the walls.
The restaurant takes its name from San Pasquale Baylon,
a 16th century saint who is patron saint of chefs and cooks.
He also created Crema San Baylon, which is today known as zabaione.
You can sink into the soft leather banquettes and relax with drinks or cicchette (appetizers) while you wait for dinner. Piazzetta Ripetta, the building's former cloister, is now a charming courtyard filled with lemon trees and other green plants and trickling fountains. After a day of roaming around in the hot Roman sun, it's the perfect place to unwind and enjoy meals and drinks.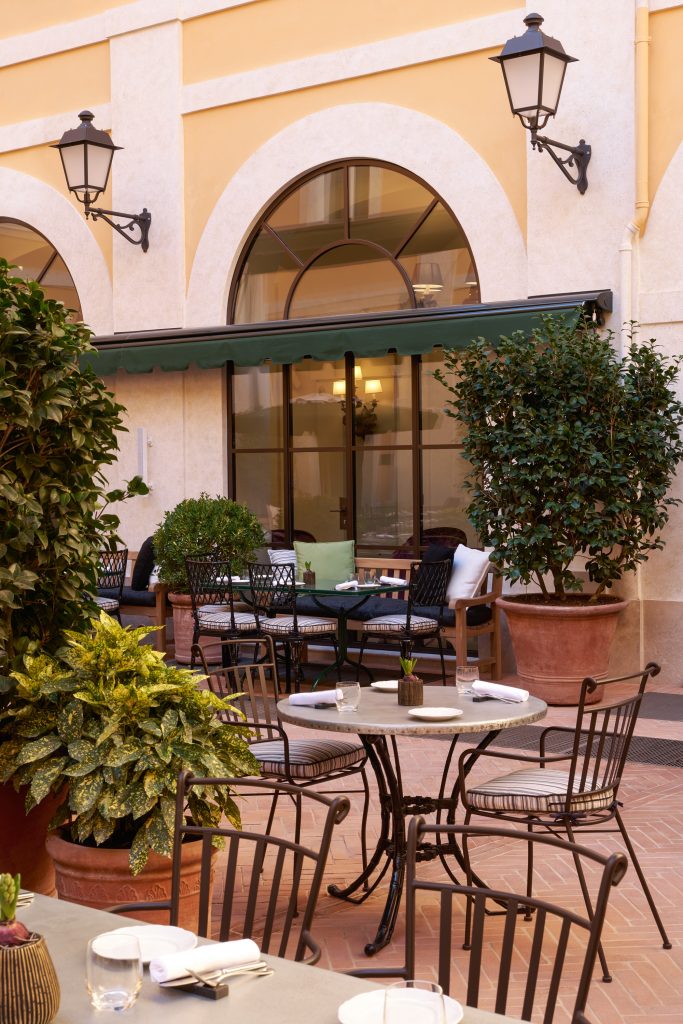 And, if you are not hungry but just want to relax with a drink in the evening, try the San Baylon Cocktail Bar. The restaurant worked with mixologists at the Jerry Thomas Project to create a signature menu of drinks and cicchette.
The Menu
And that, dear readers, is exactly what my friend Gary Bodnar and I did at San Baylon's invitation. After the shock of finding out I had walked by the restaurant so many times had worn off, we entered San Baylon. Giacomo, our waiter, immediately greeted us and guided us to our table in the piazzetta. He handed us menus, took our drink order, and left to get our drinks after inviting us to try anything.
The menu of Chef Marco Ciccotelli embraces its Italian heritage by sourcing ingredients from small Italian farms and producers, especially from Rome's home region of Lazio. Ciccotelli is Abruzzese by birth, and that region inspires his cooking. Having worked in Michelin-starred restaurants, the chef is dedicated to using seasonal and quality ingredients.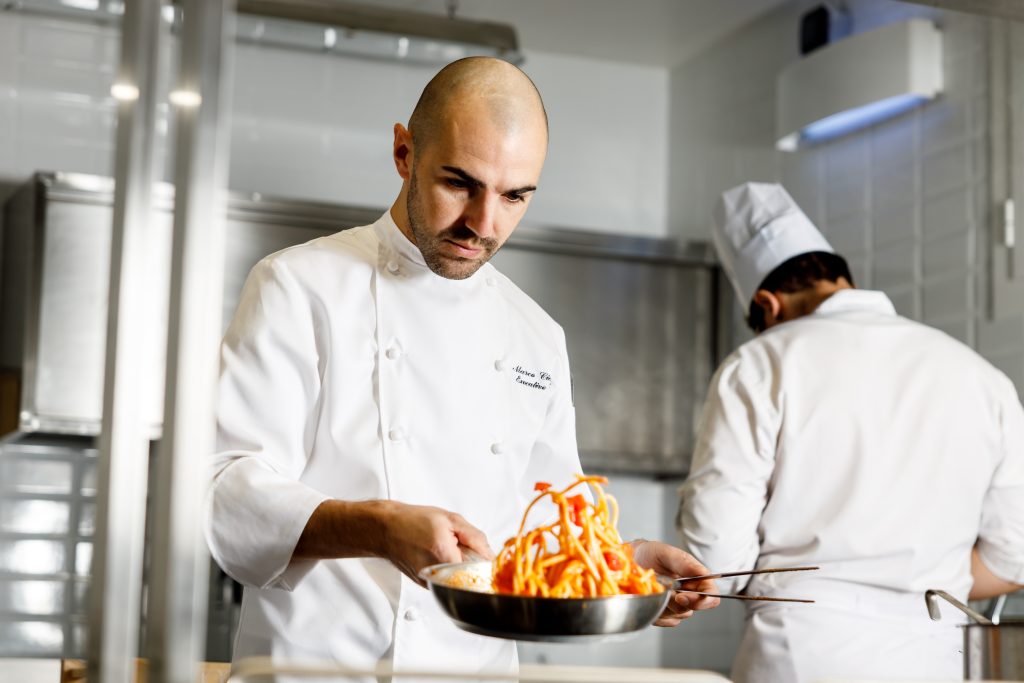 Acclaimed pastry chef Giuseppe Solfrizzi (Have you been to Le Levain, his Trastevere bakery?) brings indulgent desserts, freshly baked breads, croissants, and more to San Baylon. Solfrizzi, who hails from Puglia, studied under Alain Ducasse, and he puts a Pugliese twist to French pastries.
Choices, Choices, Choices
Giacomo delivered a basket of bread accompanied by Buffalo Cream Cheese topped with crispy olives. Good bread is my downfall, and I tried not to tear into it as soon as Giacomo's hand left the basket. He gave us a few more minutes, during which time I tried the chewy walnut bread while studying the menu.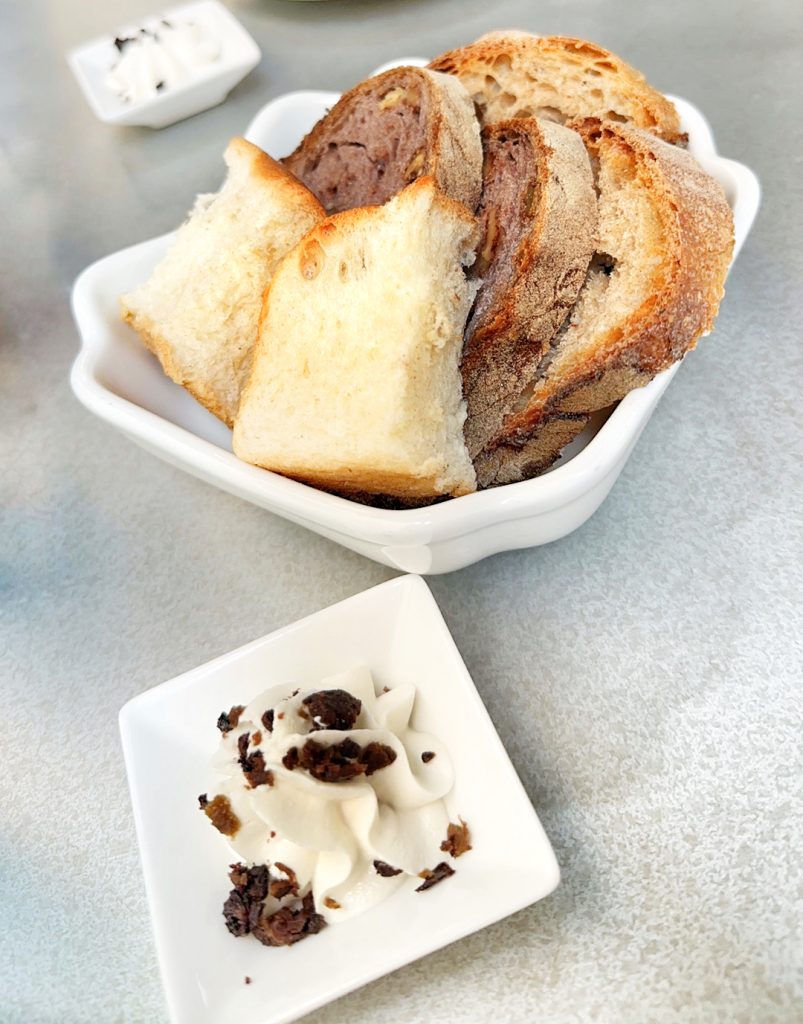 "Have you decided to try a starter?" he inquired when he returned. I asked for his recommendation, and he said his favorite was the "cacio e ova," traditional Abruzzese cheese balls. I had been thinking those would be a good choice, so we ordered that quickly. Our main meal, however, was more difficult.
Gary decided that he would try the Risotto Agli Asparagi Bianchi (Risotto with White Asparagus). "I really like rice dishes," he told me and added, "and the parmigiano reggiano is aged 120 months. That has to be fantastic."
I had considered the risotto, also, but since Gary was getting it, I thought I would try something different. I was also concerned about consuming a large quantity of cheese as I prefer to eat it in moderation.
Stuck between two dishes, I looked at Giacomo "Does the Chittara, pomodori in fornati, gambrel, e pistil di zafferano (Fresh pasta with sun-dried tomatoes, prawns, and saffron) have a lot of seafood in it?" I asked Giacomo. He assured me that it did, so I asked about the Bottoncini di pasta fresca ripieni di faraona e piselli (Fresh pasta—little buttons—filled with guinea fowl…. Think ravioli that resemble a man's bowler hat.)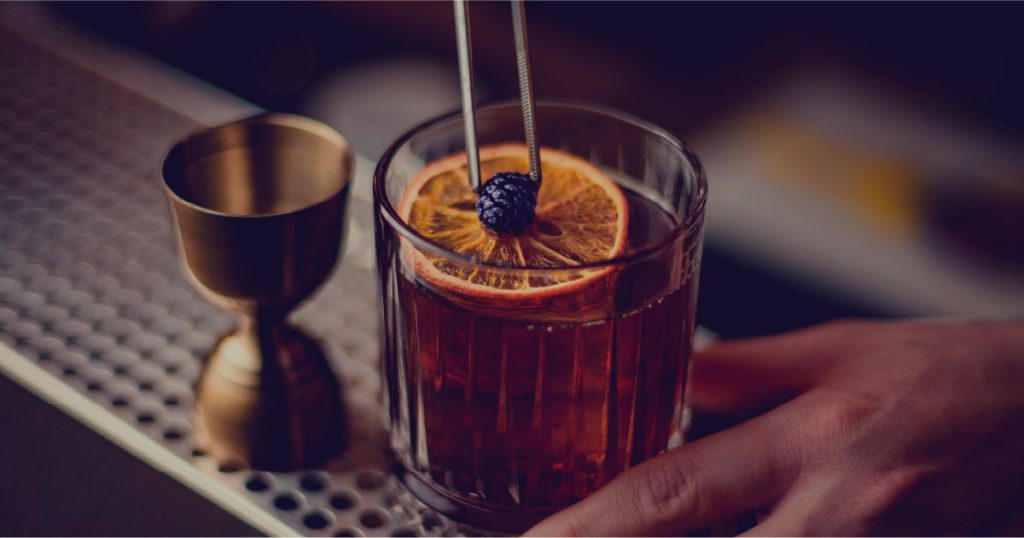 "Chef slow-cooks the faraona for a day-and-a-half," Giacomo explained to me. "It is a rich and delectable dish." Never having tried guinea fowl and still not quite sure what I was ordering, I opted for the Bottoncini. "It sounds safe," I said to Gary once Giacomo walked away. "I just hope it isn't gamey-tasting," I added.
I should probably point out that I am not very adventurous when it comes to trying new foods. While I am allergic to a few foods, and there are many that I don't like. Among that latter group are foods I have never tried because they either look or sound disgusting (Think natto, stigghiola, pane con le milza, trippa, kimchi, and a slew of others). Being as guinea fowl are a wild bird, my choice was pretty brave on my part.
Taste Test
Giacomo delivered the cacio e ova, and the smell of the aromatic sauce immediately took me back to my grandmother's kitchen. A classical historic dish of Abruzzo, cacio e ova (or pallote cacio e uovo) are part of the region's cucina povera tradition. Originally made of day-old breadcrumbs, leftover cheese, and eggs, the cheese balls replaced expensive meat and saved what might once be discarded foods. If you have not tried them, you should. You would swear you are eating meatballs.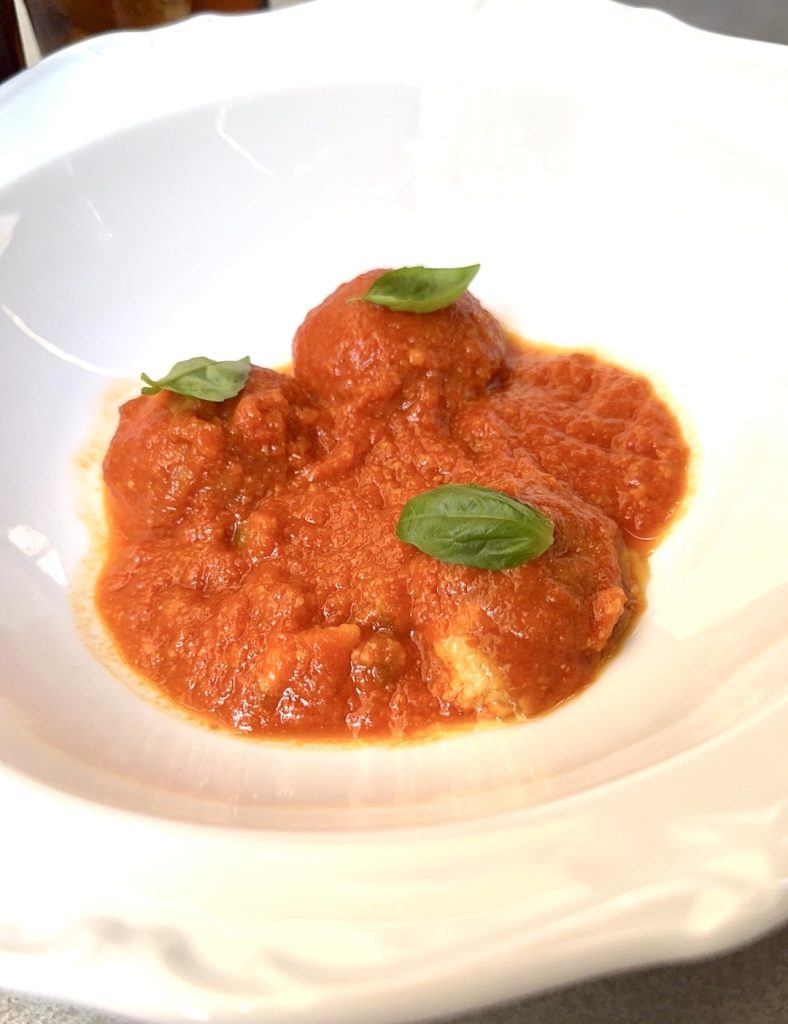 Ciccotelli's cacio e ova were probably the best I have had since my grandmother passed away some 50 years ago. Lightly fried and then simmered in red sauce, the cheese balls were plump and soft with a complex, toothsome taste. While some people say the cacio e ova are meant to replace meatballs, Ciccotelli's had an intense, cheesy flavor that paired well with the tangy tomato sauce. Gary, who had never tasted cacio e ova, agreed that we could have made a meal of them and salad.
As Giacomo approached our table, the aroma of Gary's risotto wafted towards us. Made with parmigiano reggiano that aged 120 months (Yes, 10 years), the risotto appeared to have the perfect consistency and texture—soft and creamy. (The minimum aging time for parmigiano reggiano is 12 months, by the way, and the longer the cheese ages, the more pronounced are its flavors, textures, and aromas.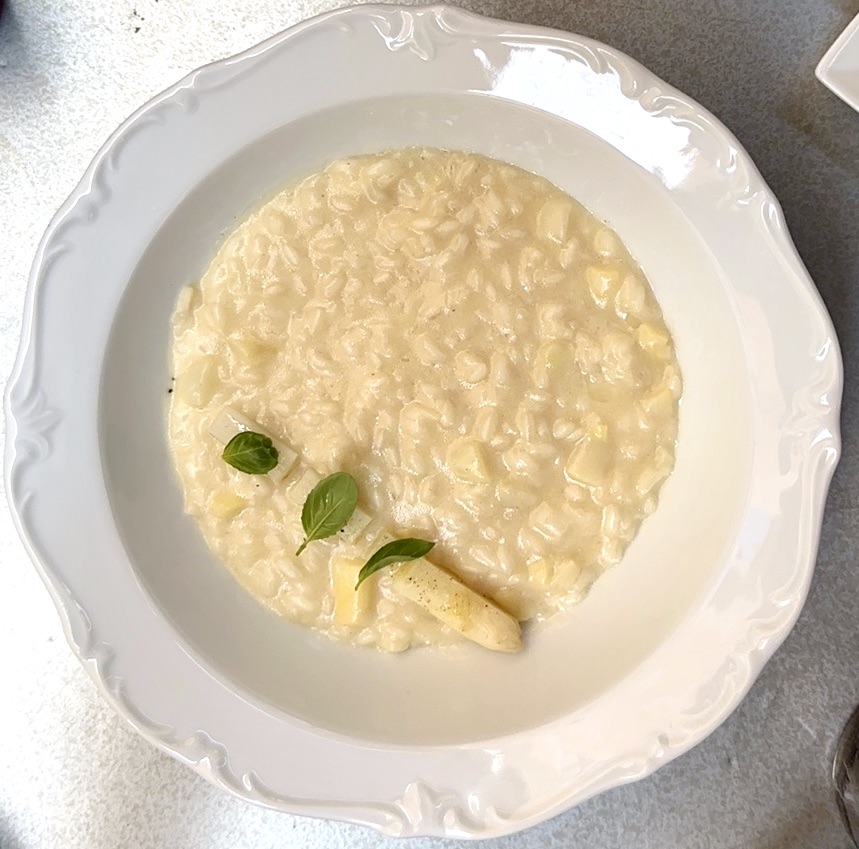 "The flavor exploded in my mouth," Gary exclaimed after he had taken his first bite. He offered me a taste, and I let it sit in my mouth so I could enjoy the umami flavor for a minute. The flavors did, indeed, explode in my mouth. "Oh, my gosh," I gasped. "That is so luscious." The savory, creamy cheese balanced the sweetness of the asparagus perfectly. So good was the risotto that, had Gary turned his head for a minute, I might have absconded with his meal.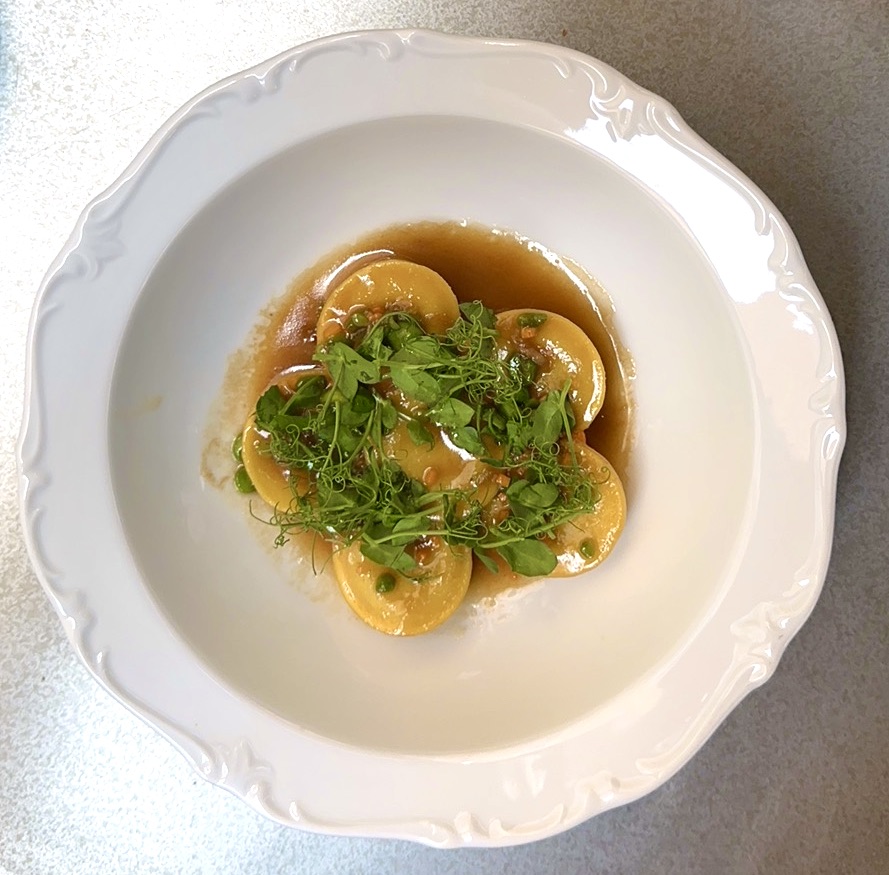 I turned my attention to my meal—six perfectly formed bottonccini sitting in a dark, fragrant broth made from guinea fowl and topped with a wreathe of fresh micro-greens, peas, and carrots. Taking a bite of the pasta and sauce, I again savored it for a minute before I swallowed. The slight crunch of the fresh greens added texture to the mellow, succulent poultry and pasta.
"Oh, my gosh," I repeated after eating another bit of the bottonccini. "The flavor of this dish is exquisite. How can such a delicate sauce be so sophisticated?" I invited Gary to taste my pasta. He agreed with my assessment, saying, "That is very good."
Gary and I lingered over our meal, delighting in the delectable meals in front of us. We chatted a bit, interspersing anecdotes about our school years with accolades for the food. (Side note: Gary and I went to elementary and high schools together, so we have a lot of stories.)
"I wasn't sure what to expect," Gary said to me as Giacomo cleared our lunch plates, "but this was one of the best meals I've ever had."
But Wait! There's More
"Do you want to share dessert?" I asked Gary after Giacomo brought us the dessert menus. We pored over the offerings, eventually deciding to try the Vanilla e Caramel Millfoil as the millfoil's flaky pastry would be a light ending to to the meal.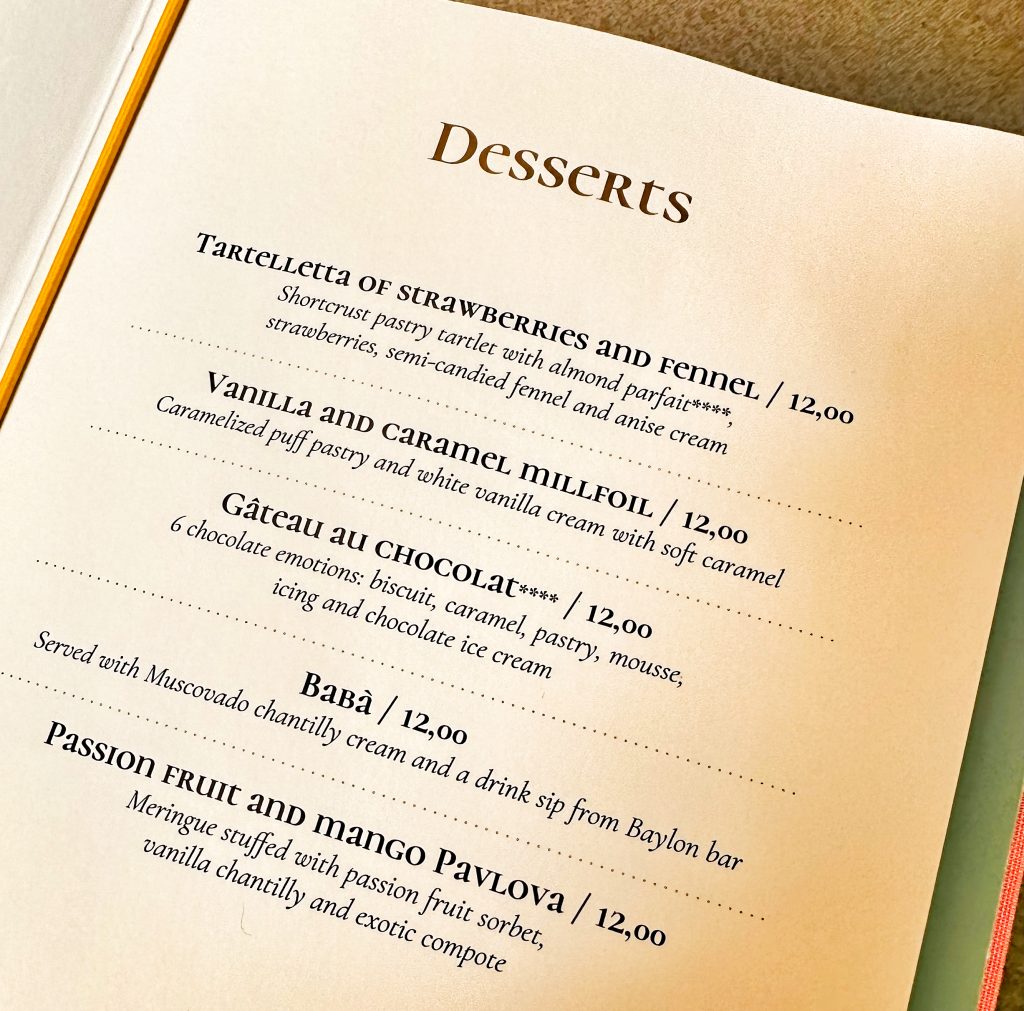 Giuseppe Solfrizzi's carmelized all-butter pastry sandwiched a vanilla cream that was light and not too sweet. Off to the side was a scoop of vanilla gelato topped with ribbons of soft caramel. The salty-sweet dough complemented the vanilla and caramel perfectly. Combining the crunchy pastry with the creamy filling raised this seemingly simple dessert to a new level.
"What a sweet way to end our meal," I said as we finished our meal. "Pun intended." Gary and I laughed and clinked our glasses together.
Dreaming of Risotto
As I write this article, it's been three weeks since Gary and I dined at San Baylon. I'm a bit embarrassed (not really) to say that I've dreamed about that meal a number of times. I crave the risotto, although I note is not on the menu currently since white asparagus is out of season. I also obsessed over guinea fowls, and since I wasn't sure what they were, I had to look them up. After seeing photos of the cute polka-dotted birds, I'm glad I didn't know anything about them before the meal. I would have missed out on a fantastic dish.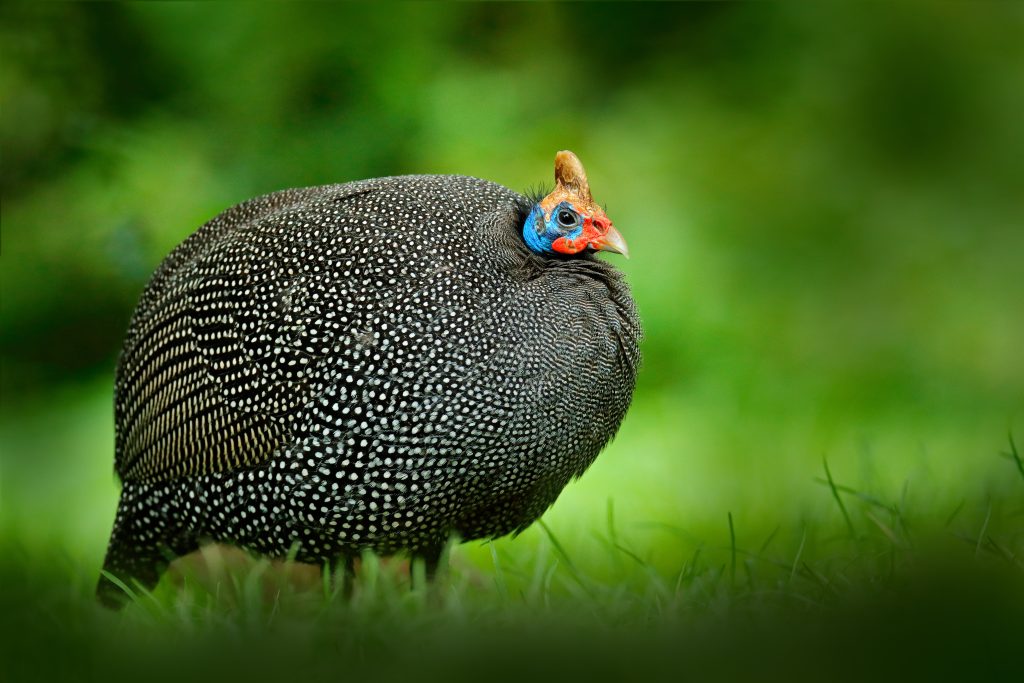 San Baylon offers its guests flavorful meals that highlight not only the very best ingredients Italy has to offer, but also the history and culture from which they came.
San Baylon Ristorante & Cocktail Bar
Via di Ripetta, 232,
00186 Roma RM, Italy
+39 06 322 2381
sanbaylon.com
Full Disclosure: While San Baylon Ristorante & Cocktail Bar invited me to lunch, they did not pressure me to write this article. All of my (and Gary's) opinions are our own and sincere.