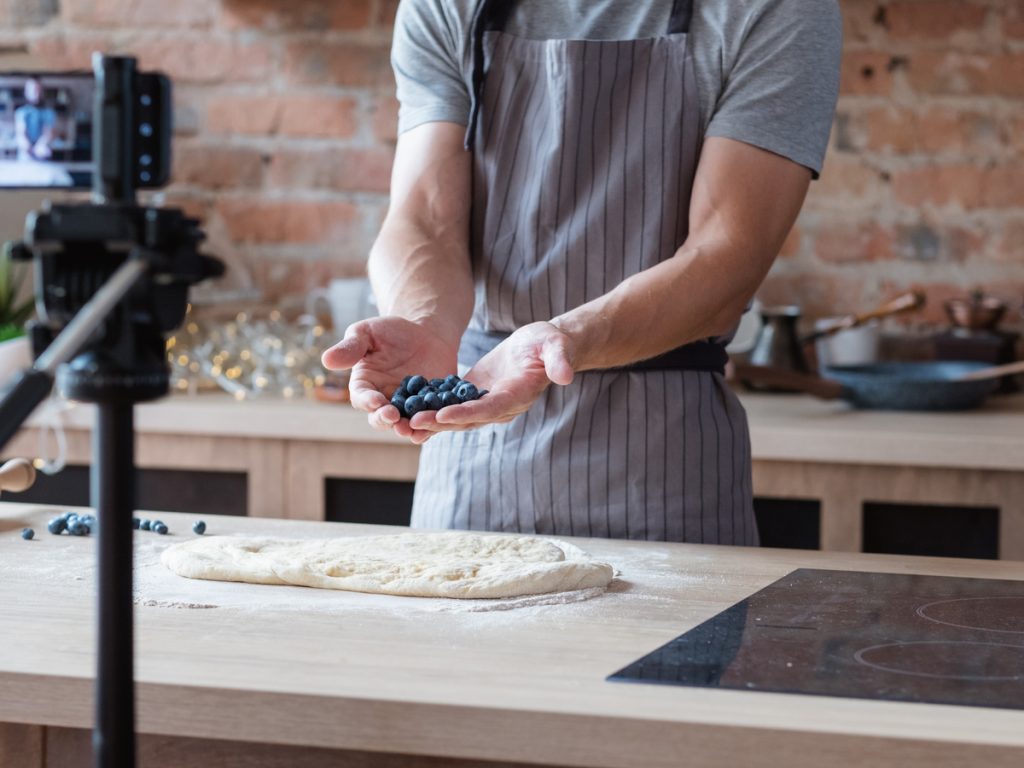 This fun list has it all. Sexy sommeliers, trained professional pasta makers, amazing home cooks with self-declared food addictions alongside top pastry chefs mouthwatering creations. It's a foodie's dream every there's something every foodaholic will be inspired by. Get ready to drool as these glorious foodie pics have your mouth watering.
Are you ready? Okay, ready … set … drool 🤤
Chef Federico Fusca
Fun and fresh, this chef knows how to make a mouthwatering reel. Become a chef at home with his great recipes and sense of humour. There's something for everyone. From iconic Italian staples like bruschetta through to delicious salmon, cream cheese and caramelised onion stuffed zucchini flowers.
Eva Andrini
"The curly haired girl who cooks" is as sweet as her creations. Her creations have us all craving amazing food and joining her in her food addiction. Foodaholics this page is for you. There's everything from comfort food to those indulgences we all crave and allow ourselves.
Paolo
Passionate about Italian wines Paolo's curiosity brings you the best. He's not afraid to get into every stage of the winemaking process. Sharing the best wines Italy has to offer. Plus, their evolution from grapes on the vine to ending up in your glass. Like a mini-vacation, every wine lover will enjoy the stunning wineries.
ledelizie_incucina
7,822 followers – blogger, passion for cooking.
"Tutto ciò che viene dalla mia cucina è cresciuto nel cuore" – everything that comes from my kitchen has grown in the heart. A perfect motto for this home cook with a passion for all things food. From cherry-picking to spending an afternoon making the perfect roast. Just looking at her profile will have your tastebuds screaming to make one of her dishes. Like this seafood risotto … wow!
Matteo Zanni Sommelier
Do you want wine? If you're like us and your hand is waving in the air then his smart sommelier is the guy to help with all things wine related. Tours, educating us on wine, it's terminology, processes and varieties, it's a one stop shop with this wine planner.
Chef Damiano Carrara
It's hard not to drool all over the keyboard as I write this when looking at Chef Damiano's profile. A top pastry chef, his sweet treats are enough to tempt anyone. It's easy to see that his motto of "a little sweeter" is a passion and an art form.
Simona Geri
This fun in the sun sommelier has the right attitude. She says "I'm optimistic because if I see the glass half empty, I fill it". Something that every wine lover out there will agree with. We know, we do!
Alessandra Lauria
Professional pasta maker sounds like one of those dream jobs. Living in Italy, making and sharing amazing food with friends. Yes we can see why Alessandra loves this life. As she says "Why a professional pasta maker? Perhaps because pasta is made with simple ingredients but is also being complex at the same time with fillings, texture, ingredients, shapes and sauces as well as pairings. It's a never ending journey! It brings people together and it has been family to me when I am not around mine."
Ilaria Cappuccini
Sommelier, social media expert and content creator Ilaria knows how to tease us with great wine photos and reels. With simple heartfelt moments like this one sitting in a favourite place soaking up nature enjoying a glass. Through to teasing us with amazing reels enjoying wine in the stunning Maldives.
Lorenzo Diamantini
Food porn. There's no other way to describe the beautiful photos on Lorenzo's page. Colourful, flavourful and inventive, it's a foodies fun page. From visiting the farms and hand picking ingredients to whipping up something wonderful in the kitchen, he has it all.
---
You may also enjoy reading…
Felix Jermann: Born to Be Wild About Wine!
Kylie Flavell Grows Romance Somewhere Between Artistry and the Algorithm
Panzanella Recipe
Interview with YouTuber Katie Quinn and 'Cheese, Wine, Bread' author
Summer in Italy: Top 8 Places to Visit